San Bernardino, CA
Glen Helen
Lucas Oil AMA Pro Motocross Championship
The more things change, the more they stay the same. For most of 2017, Monster Energy Kawasaki's Eli Tomac has had his hands full with riders from the sister companies KTM (Red Bull KTM, featuring Ryan Dungey and Marvin Musquin) and Husqvarna (Rockstar Husqvarna, featuring Jason Anderson). The Monster Energy Supercross title came down to that very scenario as team tactics played a role down the stretch. Eli didn't simply have to beat Ryan Dungey, he had to beat three of the best riders in the world who were all working toward one goal: keeping their team on top. Now, through two rounds of the Lucas Oil Pro Motocross Championship, this same dynamic is on replay. Eli is having issues with poor starts and mechanical troubles, while Anderson and Musquin are establishing themselves at the front. Eli is considered by most as the fastest rider in the class but just like we saw in supercross, that may not be enough.
On Saturday, Tomac's first moto start was not ideal. Further, he wasn't able to make quick moves and keep the leaders in sight. Musquin, on the other hand, got to the front immediately and managed the race to precision. He avoided mistakes and never dealt with any legitimate pressure. He was able to set his own pace, follow his pit board information and bring home a first moto win. Tomac, to his credit, was able to fight through to second place by the checkers. But when the title is expected to come down to only a select few, beating those few is paramount. Giving back three points wasn't the game plan. Eli was slow to get his forward momentum going, much like moto two at Hangtown. At Glen Helen, his charge was too little too late.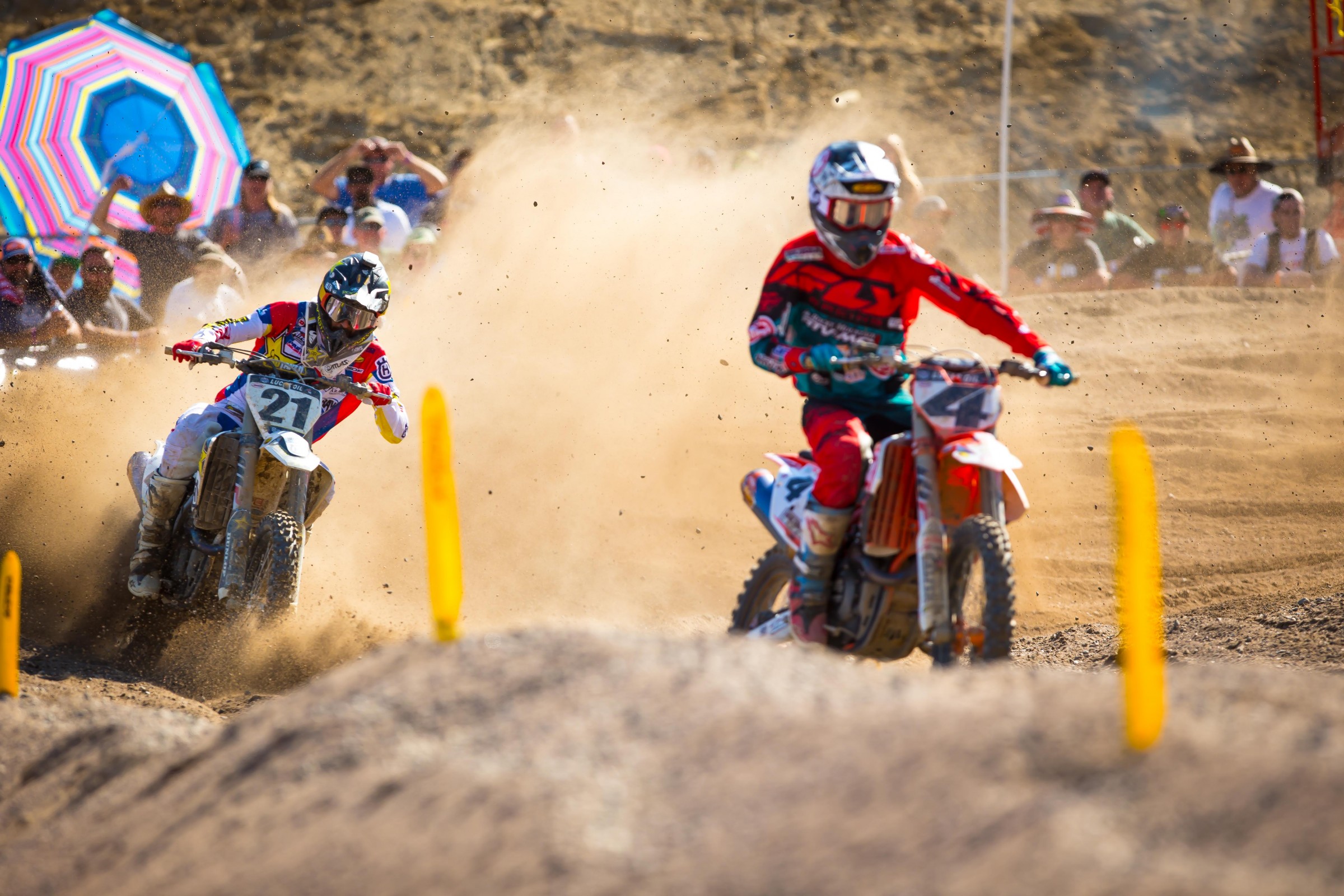 In the second moto, it was Jason Anderson's turn to make his move. He hunted down leader Blake Baggett, who had in turn passed Christian Craig, and never looked back. It was his first strong moto of 2017 after a rock forced a DNF at Hangtown and a poor start put him back in moto one of Glen Helen. Anderson proved that he will be a threat, though, as no one had anything for him in that second moto. Another of the KTM squad (via the Rocky Mountain ATV/MC-WPS team), Blake Baggett, would make his first foray toward the podium as well, staying strong in front of Musquin for 35 minutes. In the end, though, Musquin would laugh loudest as his 1-3 scores would take the overall win. Not only that, Marvin grabbed the red plate with his 2-2-1-3 motos to open to the series. Eli sits second but he has Baggett in his rear view mirror and Jason Anderson coming on strong in sixth.
And that's what KTM does. They have built such a strong level of depth that it becomes nearly impossible to overcome adversity. Between KTM and Husky, they have four of the top six in points. That creates a very tough maze to navigate when points become the focus. Tomac learned that the hard way this supercross season as he had to beat an entire fleet of riders and is looking to face the same against Musquin now. KTM (and Husky by association) has simply blanketed the field with supported riders. Eli has no friends and as the rider many consider the title favorite, a huge bulls-eye on his back accordingly.
So, how does he overcome this situation he was unable to defeat indoors? He has to leave no open opportunities, a la the front brake issues he suffered in Arlington and Saturday at Glen Helen. His 19th place finish opened a huge door for Musquin and left Tomac in a 15 point hole. This is exactly the trouble he put himself in with Dungey.
Leaving Atlanta in February, Tomac was down 27 points and looking like he was out of it. His win streak put him back into the lead but as said above, bad starts and trips to the mechanics area make life very hard when seeking a title. His speed edge and ability to win is being overshadowed by the mistakes. Musquin and KTM proper are surely aware that Eli has the speed to string wins together. They will understand that Eli will have his days of dominance, much like Hangtown. But their opportunity lies on days like Glen Helen. A bad start coupled with a mysterious front brake problem handed Musquin 21 points that most wouldn't expect. That simply can't happen against riders and an effort as solid as the one KTM puts forward.
That's where this title will be decided. Can Eli's raw speed and wins make up the difference for the bad days? Ryan Dungey was able to win the supercross title with only three wins (two plus the Musquin gift in New Jersey, which makes three). Eli should have won 10 (Vegas was easily his if he wanted it) but was left out when championships were divvied. Ryan maximized his points when he didn't have Eli's pace and pounced when Eli struggled (although his fourth in Arlington was a misstep).
To top it off, KTM was there to help when Ryan needed it most. The three points in New Jersey changed the dynamic for what was needed in Vegas. That was team tactics at its finest and if this title comes down to the wire between Musquin and Tomac, couldn't you see the likes of Baggett and Anderson making the difference? There is a plethora of racing and things will change all summer but after two rounds, the scenario is remarkably similar to what we have seen from the entire 2017 racing season. Tomac just handed Musquin a huge advantage and put the ball into KTM's court. Can he learn from his 2017 supercross defeat or will history repeat itself?