Glen Helen Raceway
San Bernardino

,

CA
Glen Helen
Lucas Oil AMA Pro Motocross Championship
Lucas Oil Pro Motocross is known, in part, for the chaos that is so frequently generated during the motos. Whether it's riders crashing, parts breaking, or breakout rides, the unpredictability meter is often redlining on race day. So when last week's season opener at Hangtown was largely bedlam free, you knew some surprises were bound to happen at Glen Helen. But did they? The answer is a resounding yes. Let's dive into this week's Saturday Night Live and break it all down.
Let's start with the biggest news from today—Eli Tomac only scored two points in the second moto. Thanks to a brake malfunction on the opening lap, Tomac had to pull into the mechanics area for repairs and reentered the race a lap down. When he did get going again, without a functioning front brake, he didn't have the same pace he did in the first moto and the best he could manage was nineteenth. The team isn't sure what happened. Initially they thought Tomac may have made contact with Josh Grant, who was remounting after a crash of his own, but Tomac told them he didn't think he touched Grant at all. What they do know is that the brake was locking up, and the problem was very similar to what happened to Tomac at the Arlington round of Monster Energy Supercross. Tomac, who finished second to Marvin Musquin in the first moto, will come into Thunder Valley facing a fifteen-point deficit to Musquin.
Tomac's teammate, Grant had a second moto that was even worse. After crashing on the opening lap he eventually suffered a mechanical failure that ended his day. Monster Energy/Pro Circuit/Kawasaki also suffered several mechanical failures of their own. Justin Hill and Austin Forkner both experienced motor failures in the first moto, and Joey Savatgy's engine let go in the second moto just before the two-lap board came out. Not a stellar day for the boys in green.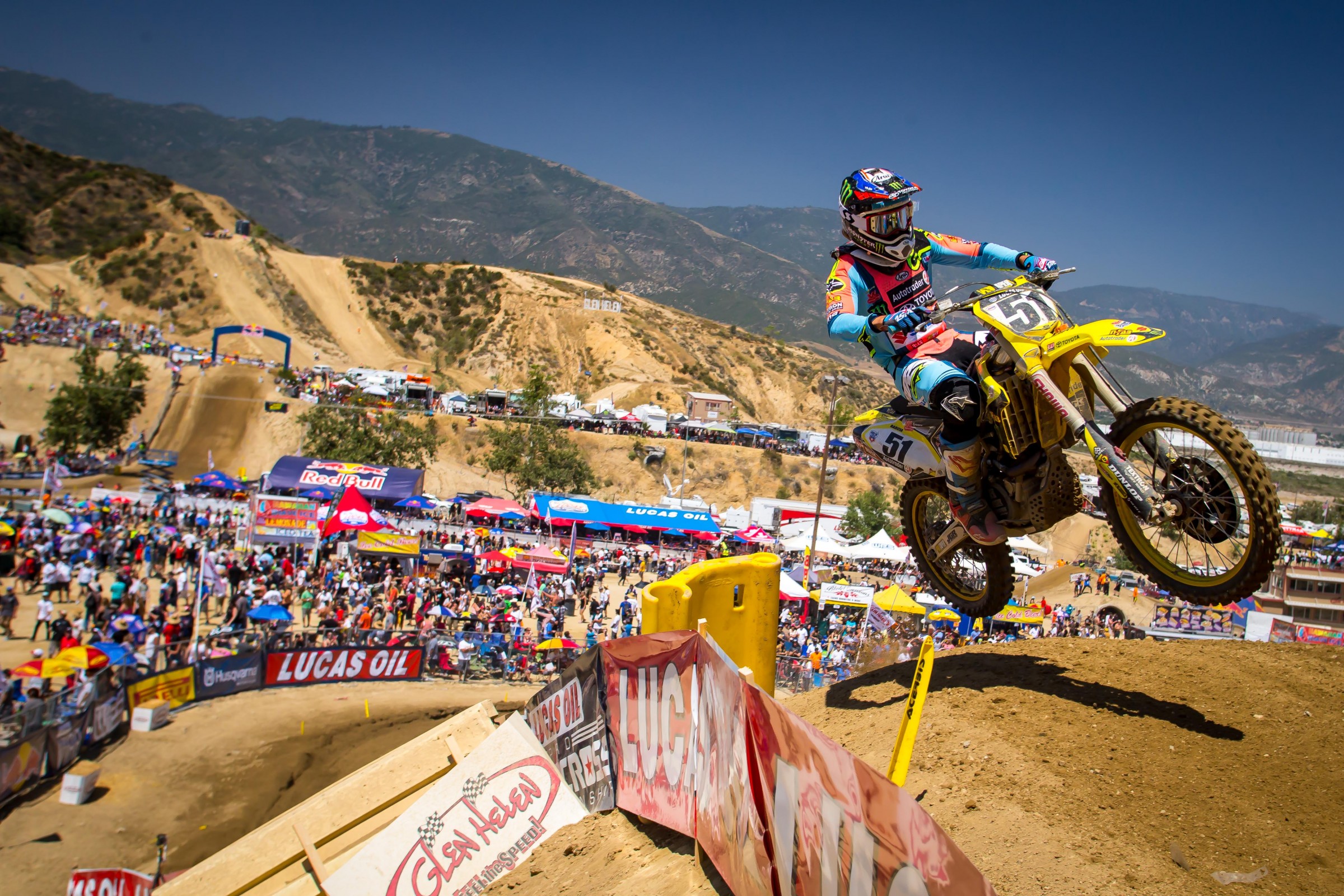 As long as we're on the subject of doom and gloom, we've got to mention Christian Craig. The Honda rider took fourth in the first moto and after pulling a holeshot in the second, was running comfortably in third. He was looking good for a podium until he made a mistake all by himself and crashed hard into the face of a jump and bounced over the other side. He got up instantly clutching his wrist/hand area and was unable to finish the moto. Afterward X-Rays did indeed reveal a fracture of some sort, but at this point the team is unaware of the severity of the injury. We'll have more to report on this next week.
Kyle Cunningham also had a big crash today. After getting a bad start in the first moto he was busy picking his way through the pack when he went down hard. He was visibly shaken when he got up and initial reports indicate he may have injured his spleen.
Okay, ready for something a bit more upbeat? Three riders earned their first moto wins today! Dylan Ferrandis won the second 250 moto, Musquin won the first 450 moto, and Jason Anderson won the second. Ferrandis was very excited when he crossed the line, and he was still smiling in the post-race press conference.
"Today I got to show what I can do on a dirt bike. I know my speed, I know what I can do on a dirt bike. Last week was my first National in America, and I felt a lot of pressure. The first moto today I rode bad because of the pressure I put on myself. I made some stupid mistakes. Also, in the GPs, we don't ride supercross so we have all winter to make the bike as best as possible. Here, I had two weeks after supercross. Everything is new, but I'm happy with my performance today."
Fellow Frenchman, Musquin, was also happy about his first 450 overall win.
"The goal is to try to win, especially after last weekend, getting second. Glen Helen is a unique track and winning that first moto was incredible. I rode pretty good and consistent and was able to get my first ever win outdoors on a 450. To walk away from Glen Helen with a win and the red plate, it's incredible."
Musquin will wear the red number plate for the first time on his 450 next week at Thunder Valley.
Anderson looked great in the second moto, hunting down Blake Baggett and passing him for the lead to eventually win the moto by over five seconds. Afterward he said it's time for him to start winning races on the 450.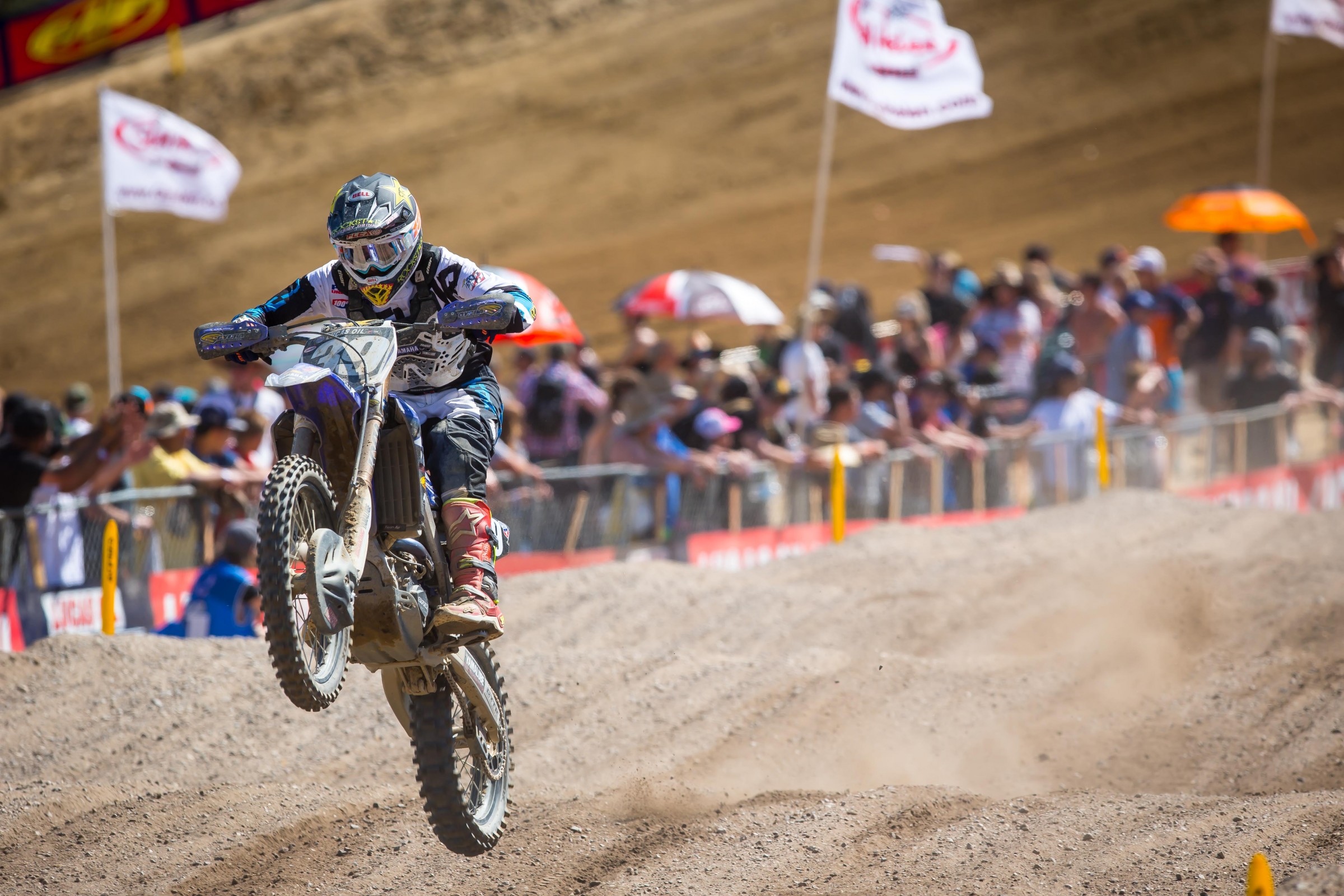 "That first moto was kind of similar to what I always do, just me putting myself in bad situations. But I feel like I'm getting better for the most part and I'm starting a little better—the second moto I think I was sixth or seventh and was able to work past those guys. As far as my speed and fitness and everything, I feel like I'm on point to be battling for podiums every moto, and even wins like I did today. I need to be more of a solid guy weekend to weekend. Everyone is getting hungrier, me especially. I've been in this class for three years and I have to start winning. I don't want to be stuck in the same spot. I want to start winning races and I feel like I've had time to learn. It's time to go."
Speaking of Baggett, he also earned a first today, for himself and the team—Baggett's third overall was his and Rocky Mountain ATV/MC – KTM - WPS' first overall podium in Lucas Oil Pro Motocross. When asked if he's got more in the tank this season Baggett said he believed it's within his capabilities.
"I got the podium for [the team] in supercross and that was cool, and it's good to be on the box at the second round. Jason [Anderson] had a little more speed than me in that last moto but we had a good pace and we had a pretty good gap. I've [won races] in the past, so it's in there somewhere. I might have to dig through a few boxes and knock some dust off but it's for sure in there. I'm still getting used to the KTM, I haven't had a chance to ride it outdoors much. I'm kind of trying to figure out what setup is geared to me and what I like. In supercross we had it figured out and I was able to race with these guys at the end of the season and battle with them. It might take us a few more rounds before we can put up a big fight, but we're definitely making improvements. And these guys, you can't take anything away from them. Marvin was solid all day and Jason was on it."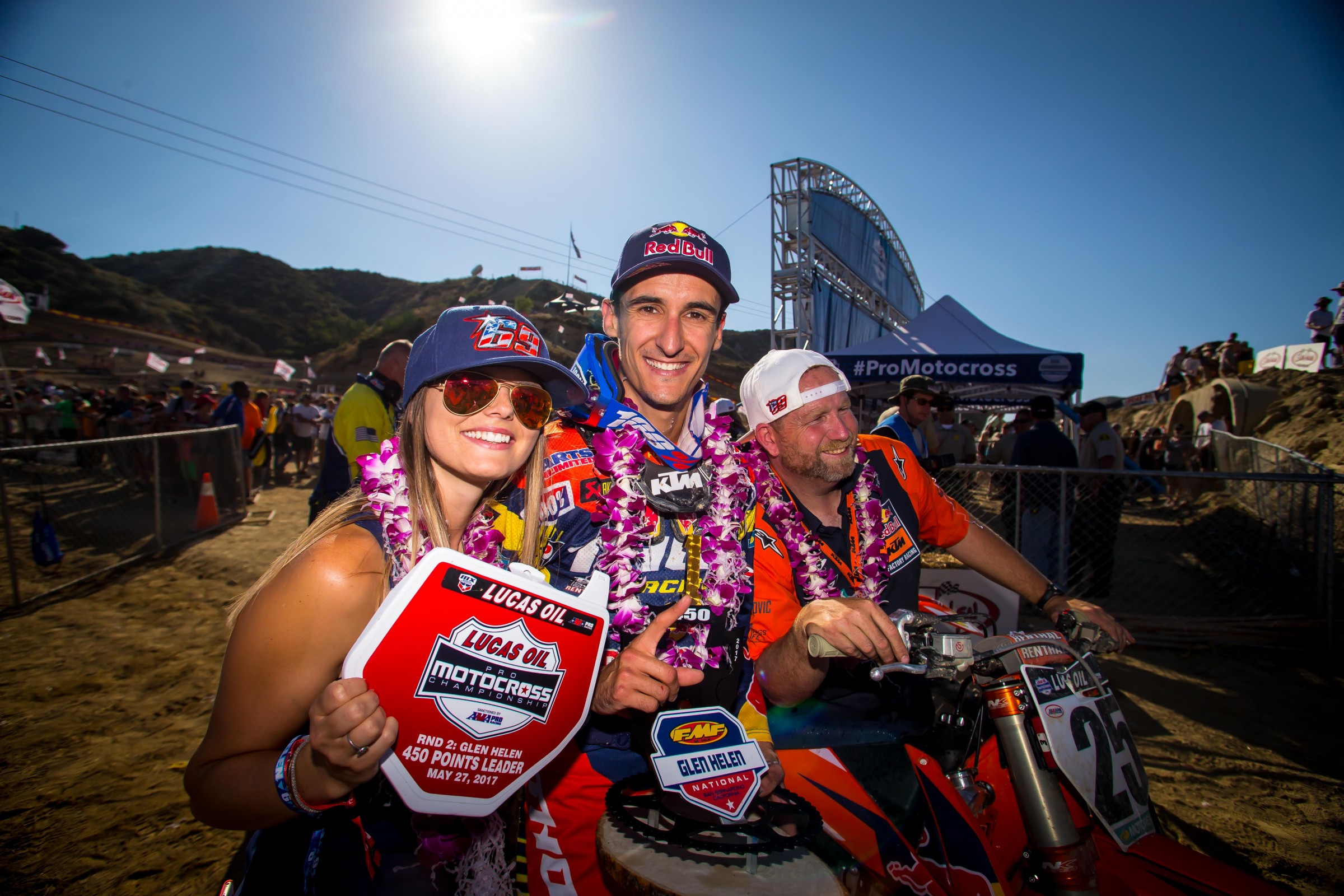 The day was so crazy and dramatic that Zach Osborne took home his second overall victory of the season, but it seemed overshadowed by all the other news. This overall came without any moto wins. In the post-race press conference Osborne was thankful to have done so well at the first two rounds, saying Hangtown and Glen Helen aren't typically tracks he excels at.
"I wanted to get out of California with two top five finishes and I've got two overall wins. I feel good about going to the East Coast. That's the kind of stuff I grew up on, this [California] is so alien to me. I feel better about my skillset, and overall just more comfortable, at other tracks."
If you're Jeremy Martin you have to be happy about leading every lap of the first moto and taking second overall, but you know he probably couldn't help being a little upset about going down while leading the second moto and throwing away a shot at going 1-1. Martin cited an overwatered track as the reason for his crash, and also mentioned how much Austin Forkner picked up the pace late in the second moto when Martin found himself on Forkner's rear fender.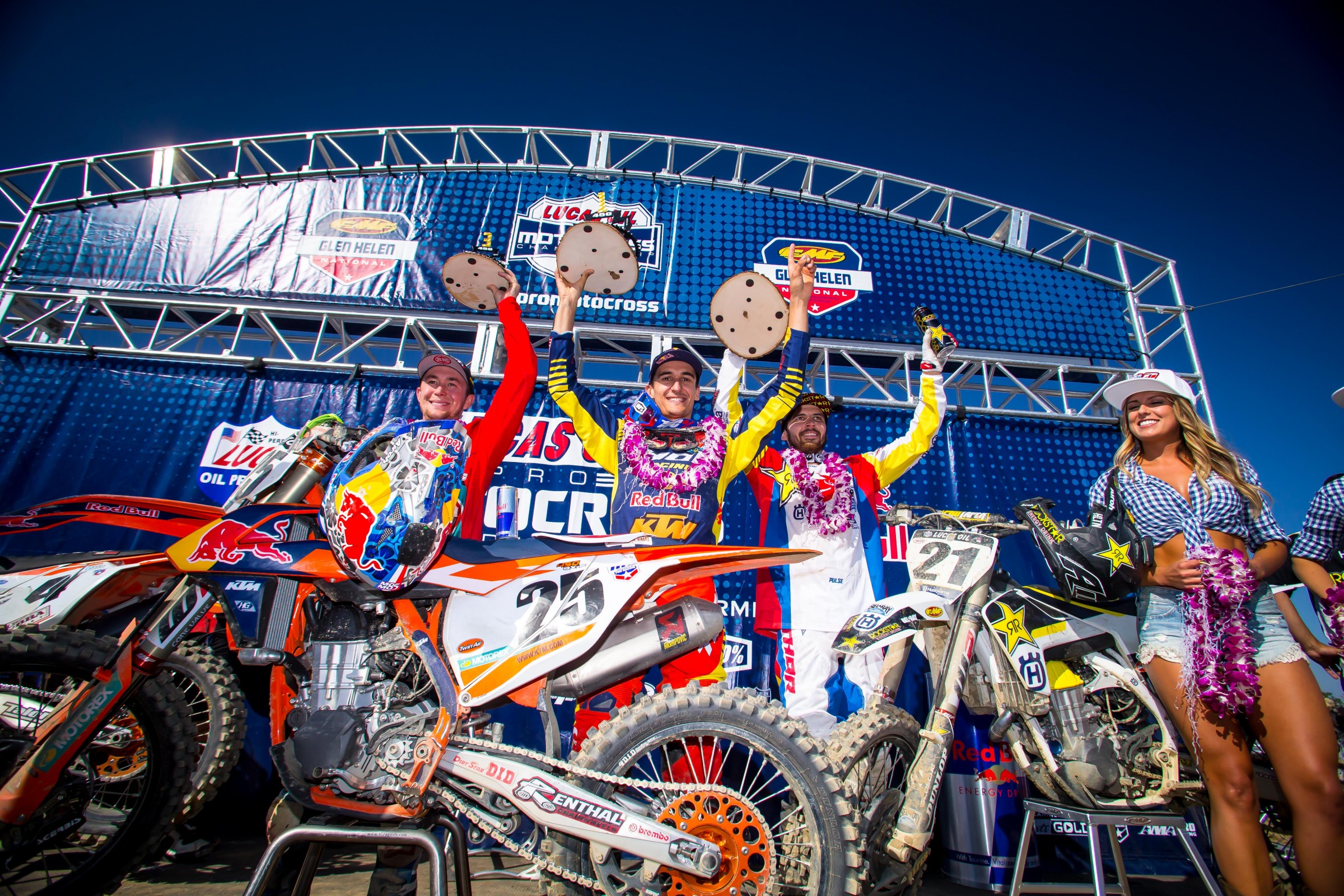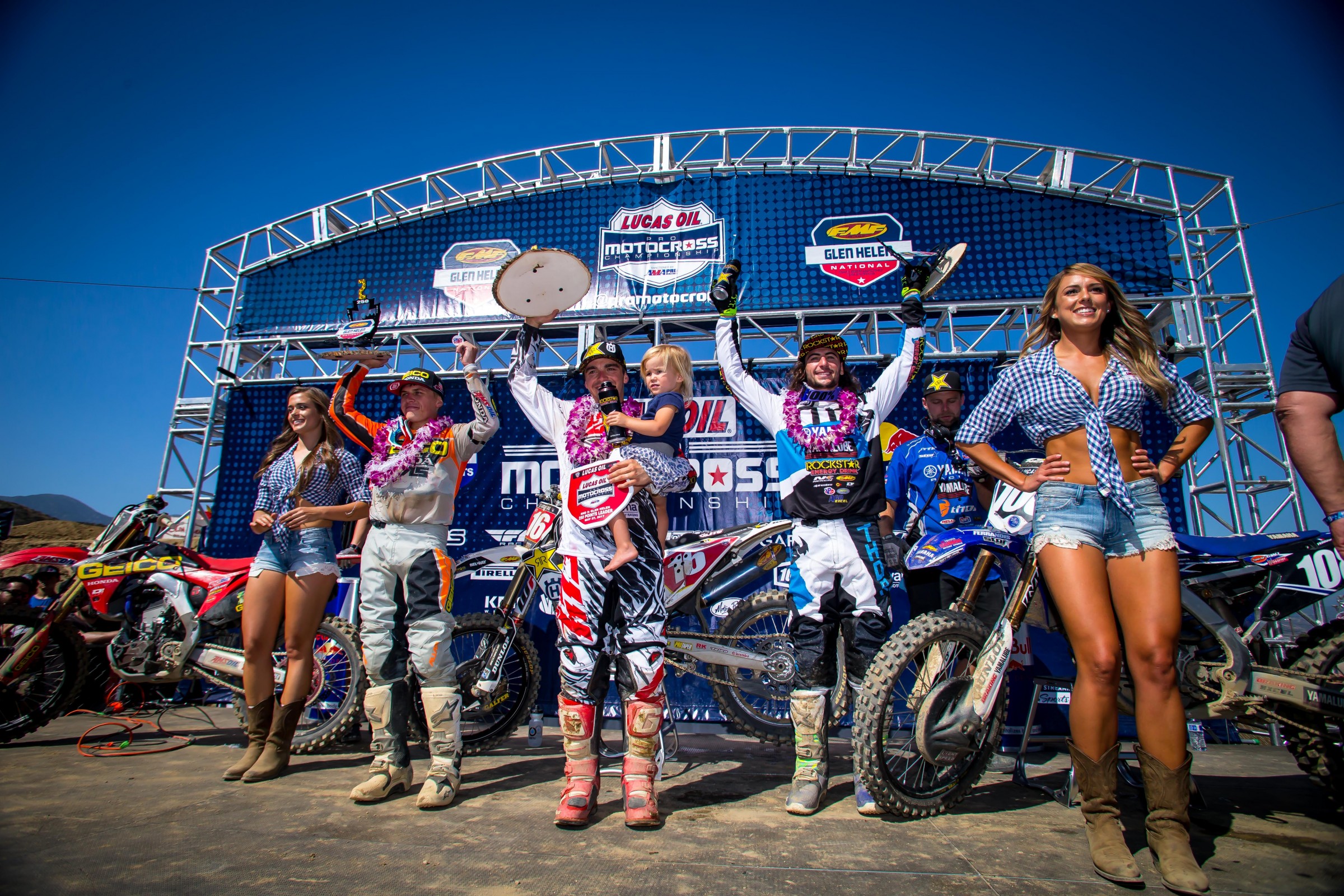 "From the parade lap we all lined up and they re-watered it again and I wasn't too pumped on that, it cost me. It is what it is, it was the opening lap and I should have been a little more cautious. As these guys know, we're all fast, we're all bad-asses, and we're going for it. I mean, we are, and it's the opening lap. It was just overwatered. [At the end] I was trying to get Forkner the whole time, it was reminiscent of Hangtown, we were just at each other. I caught him pretty quick but I tell you what, that kid picked it up. He picked it up big time. I was trying to get him and I got close a couple times, but he was just quick enough in a few places."