Glen Helen Raceway
San Bernardino

,

CA
Glen Helen
Lucas Oil AMA Pro Motocross Championship
Welcome to the Racer X Race Day Feed, coming to you from Glen Helen Raceway in Southern California. From practice reports, to moto summaries, and everything in between, this is where you'll find coverage of all the action going down at the FMF Glen Helen National. We'll be updating this page all day, so be sure to check back often. The Race Day Feed flows in chronological order, so scroll down to the bottom for the latest posts. For even quicker updates, check us out on Twitter, @Racerxonline.
Morning Report
There are two big questions waiting to get answered today—can anyone beat last week's 450 and 250 winners Eli Tomac and Zach Osborne? Both were excellent at Hangtown, and both started the 2017 season of Lucas Oil Pro Motocross with perfect 1-1 rides. Both are certainly capable of doing it again, but there are plenty of strong racers here today who would love to keep that from happening.
On the injury front, we've got Cycle Trader/Rock River/Yamaha rider Bradley Taft making his return after a long layoff following a concussion suffered in January. Dylan Ferrandis will also be racing today after sitting the second moto out at Hangtown after crashing and hitting his head. Cole Seely is also in after crashing hard in practice last week and hurting his hip. For a full list of who's in and who's out, go here.
There are a few notable changes to the track this year. The start is still long and still features the massive right-hand banked first turn (Talladega Turn), but after that it funnels down tighter than normal before heading up one of Glen Helen's many hills. The huge jump in the back area has been replaced by two uphill doubles, and there's a dusty sand roller section following the infield supercross section. As usual, the track is going to get rough and nasty as the day progresses, which is going to be tough for the riders. One challenge the rider's won't see today is the extreme heat they faced last week. Temperatures are expected to top out at 82 degrees today, making it a perfect day for racing. Practice is underway right now, so check back soon for a report on who's topping the field at the second round of the year.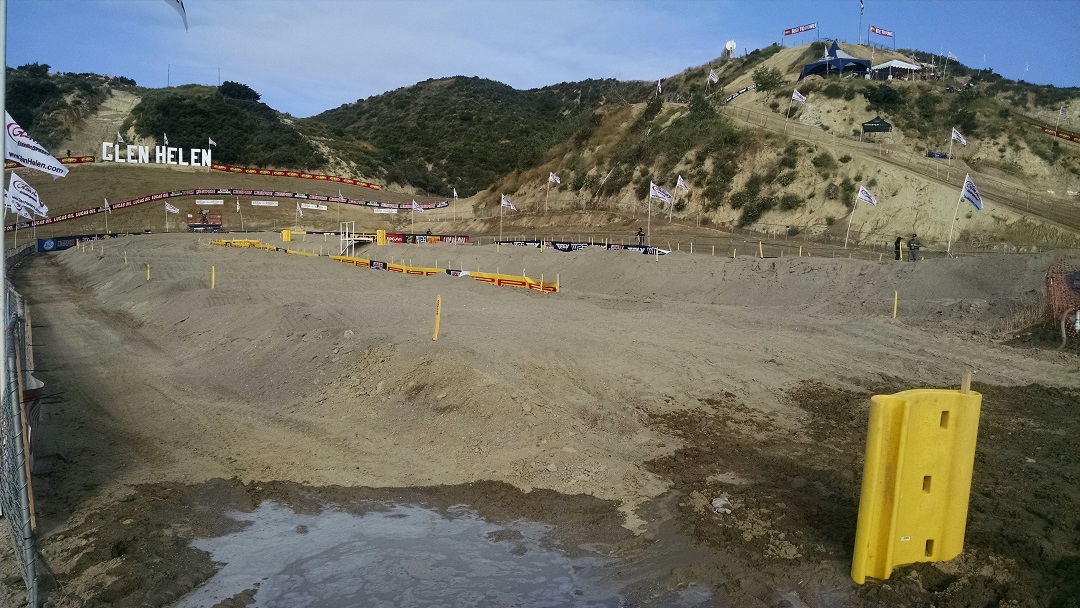 Practice Report
There were no big surprises to report from qualifying today here at the FMF Glen Helen National. Tomac was, as expected, very fast, although his fastest overall time came from the first session. He had a little tip-over in the second session, but after a quick stop in the mechanics area he went back out. He threw down a few hot laps but wasn't quite fast enough to top Josh Grant and Marvin Musquin. No damage done though, as his fastest lap from the first session stood strong. Like last week, he'll have first gate pick coming into the first moto.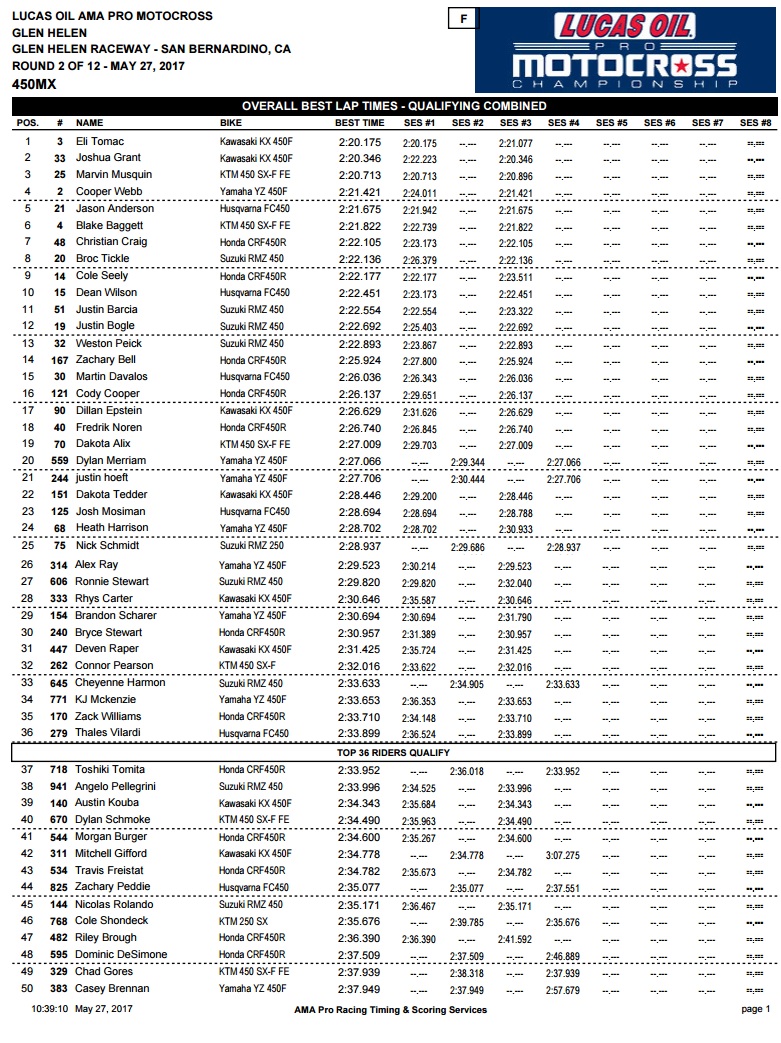 Adam Cianciarulo was fastest in 250 qualifying, and like Tomac, his fastest lap came from the first session. Jeremy Martin looked good out there too and was even the fastest guy in the second qualifier. His fast lap of 2:23.147 was good enough for second overall. Joey Savatgy also looked pretty good. He was third fastest overall and will no doubt look to carry that momentum into today's motos after going 7-7 for seventh overall at Hangtown. Last week's winner, Zach Osborne, was seventh fastest, nearly two seconds behind Cianciarulo's fastest time. He'll have to improve on that when today's gates drop if he wants to be perfect again here at Glen Helen.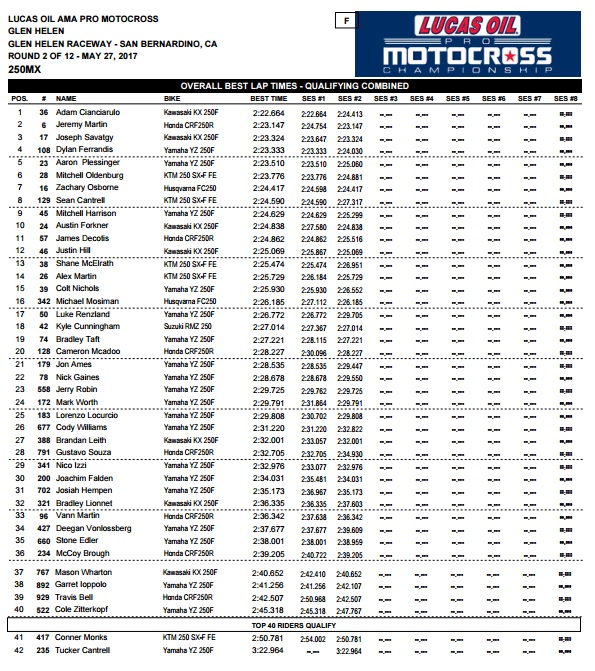 250 Moto OnE
Jeremy Martin got the first moto of the FMF Glen Helen National underway by nabbing the holeshot with Joey Savatgy close behind. That'd be all the pack would see of those two, as they both quickly checked out. Martin then dropped Savatgy and maintained roughly a seven-second gap over him on his way to the moto win. Savatgy, rode just about the entire moto by himself in second.
Behind them there was a bit more going on. Bradley Taft, who is back for the first time today since suffering a concussion in January, was riding extremely well early on and held third for a while before dropping a bit off the pace. He ended up fourteenth. Colt Nichols was riding well too and worked his way into third, which he held for quite a while before getting zapped by Aaron Plessinger and Zach Osborne. Osborne, who'd started in roughly fifteenth, was on the gas and with two laps to go was zeroing in on Plessinger for third. Then he swapped just a bit and had to back off, which gave Plessinger all the breathing room he needed to comfortably bring it home for third.
Austin Forkner was riding well but his moto went south when his bike simply stopped running. Just like that, a top-five finish was transformed into a DNF. Kyle Cunningham's moto also ended early when he crashed out while making moves through the pack. Fastest qualifier Adam Cianciarulo was way back early but worked his way up to seventh.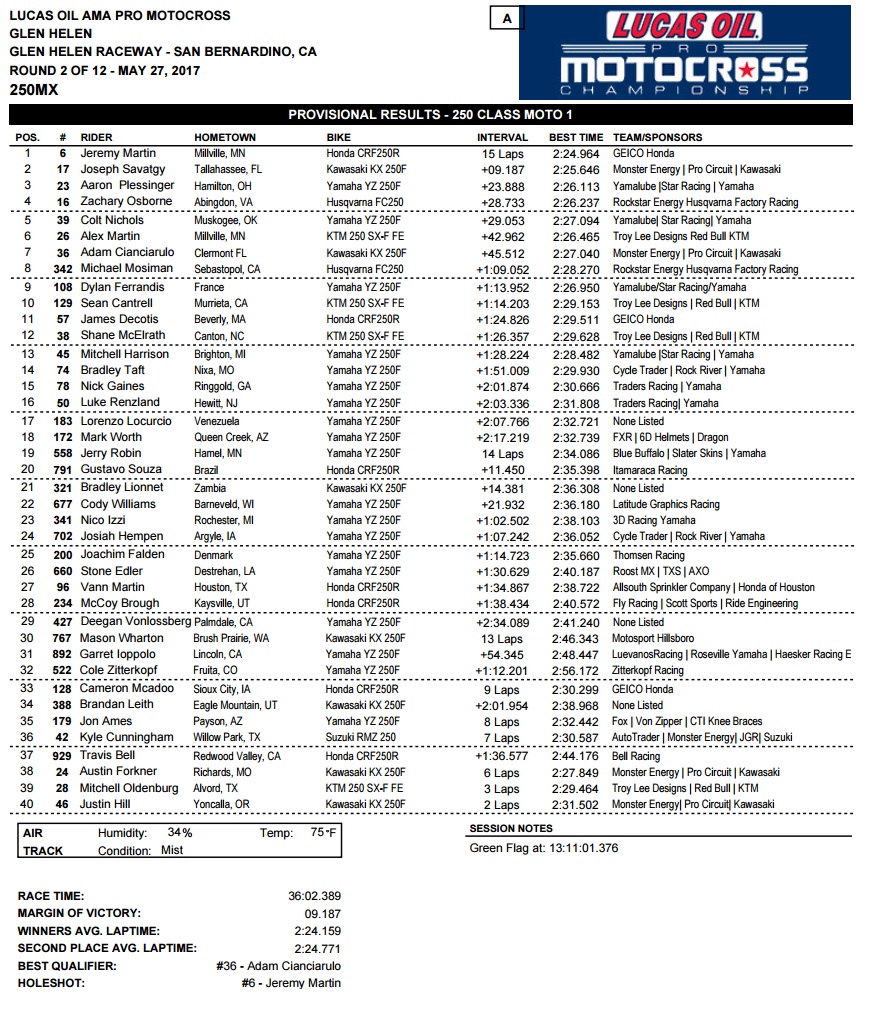 450 Moto One
If you're a Tomac fan who's been hoping for a perfect 24-0 summer, Marvin Musquin just ruined your day. The Red Bull KTM rider kicked things off with a holeshot and didn't look back, while Eli Tomac found himself buried in about twelfth. With a clear track, Musquin put his head down and started throwing down fast laps while Tomac was forced to pick his way through the pack. Once Tomac got into the top five and had a bit of a clear track he was able to bust out some ridiculous speed, but it was too late. Musquin's gap was just too big and Tomac had to settle for second as Musquin secured the first 450 moto win of his career.
Elsewhere, Seely, who is still sore from a crash in practice last week at Hangtown, was running a good race in second but started dropping spots around the halfway point. He'd end up in seventh. Christian Craig got a good start and ran third for much of the race until surrendering the final podium spot when Tomac came flying through. Josh Grant finished third after giving up second to Tomac late in the race.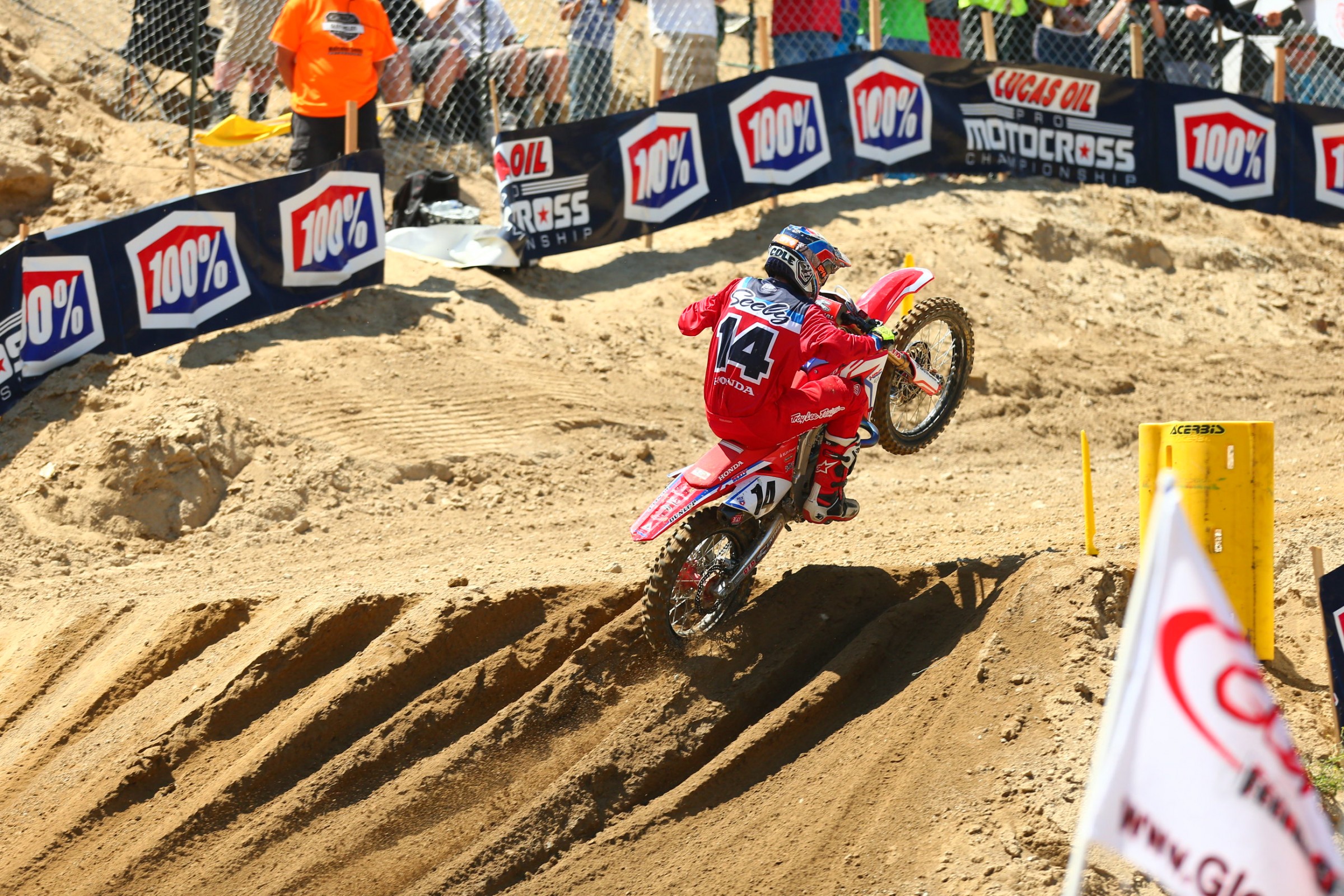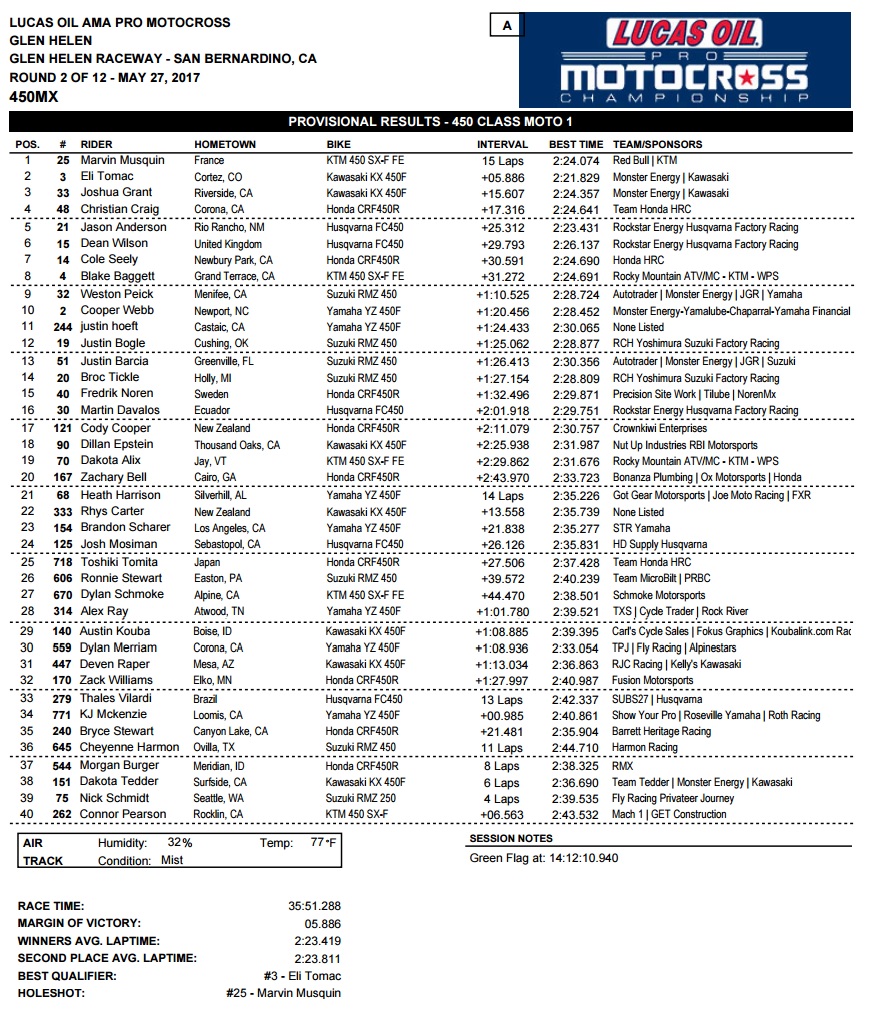 250 Moto Two
Wild start to this one. Jeremy Martin nailed the holeshot but ended up slipping n what looked like a wet spot and went off the track. He lost a ton of time and got ripping again in dead last. Osborne also had a scary moment on the first lap when he got out of shape and nearly threw it away. He took a moment to reset, and then Dylan Ferrandis got around him! Osborne did his best to hang with Ferrandis, but the French rider had some crazy speed in this moto and checked out for the win, beating Osborne by over twenty-three seconds.
Martin, meanwhile, was making his way through the pack in the hopes of salvaging some points. But as he kept picking off riders it became apparent he could even end up on the podium. He continued to charge, and he also got a little help when Savatgy's engine blew up just before the two-lap board came out. With two laps to go he was on the rear fender of Austin Forkner for sixth. At that point Martin had secured second overall, but he continued to push. He and Forkner put on a terrific battle but Forkner hung tough. Martin also bobbled while attempting to make a move in the final turn, but credit to Forkner for holding strong under immense pressure from Martin.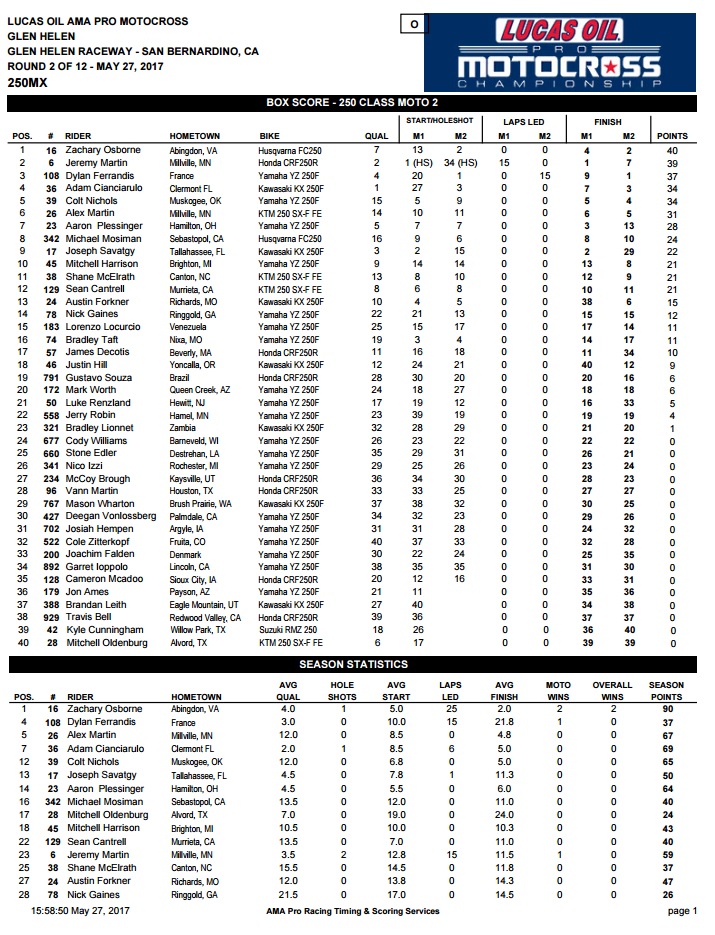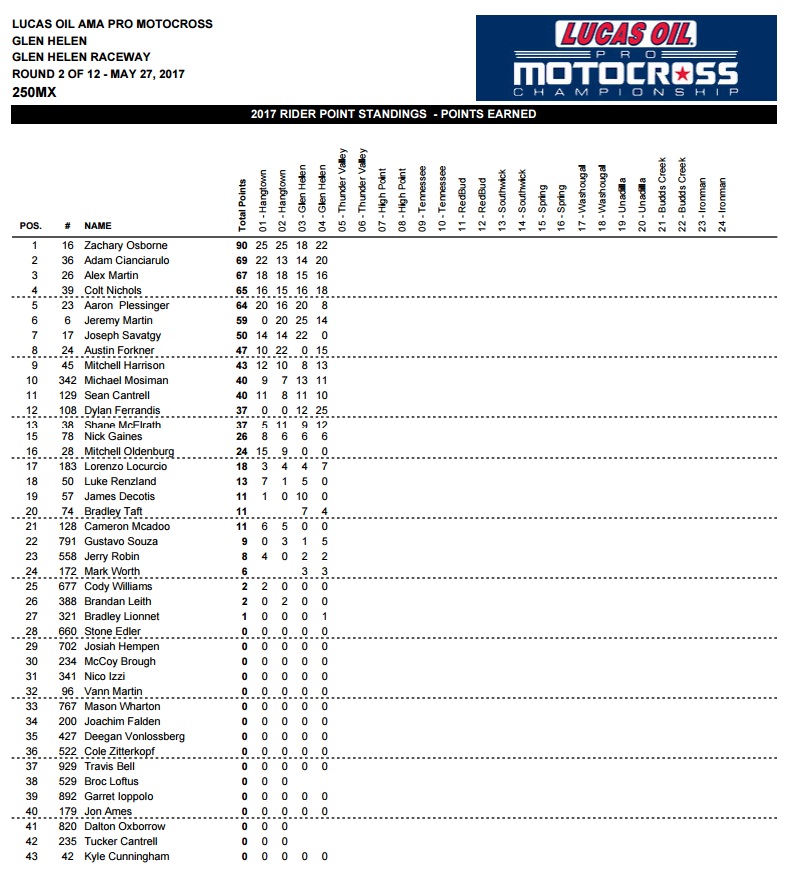 450 Moto Two
Christian Craig executed a perfect start to get the holeshot, but it didn't take long for the crazy vibes from the 250 Class to start affecting the 450 Class too. Josh Grant went down all my himself as he was trying to make moves, remounted, but eventually ended up pulling out of the race anyway. About the same time Grant went down something also happened to Tomac, who went off the track all by himself. When he tried to get back on it was apparent there was something wrong with his bike and he pulled into the mechanics area. It appeared as though they made some repairs to the front brake system and Tomac got going again about a lap down. He didn't seem to have the same pace though and ended up nineteenth.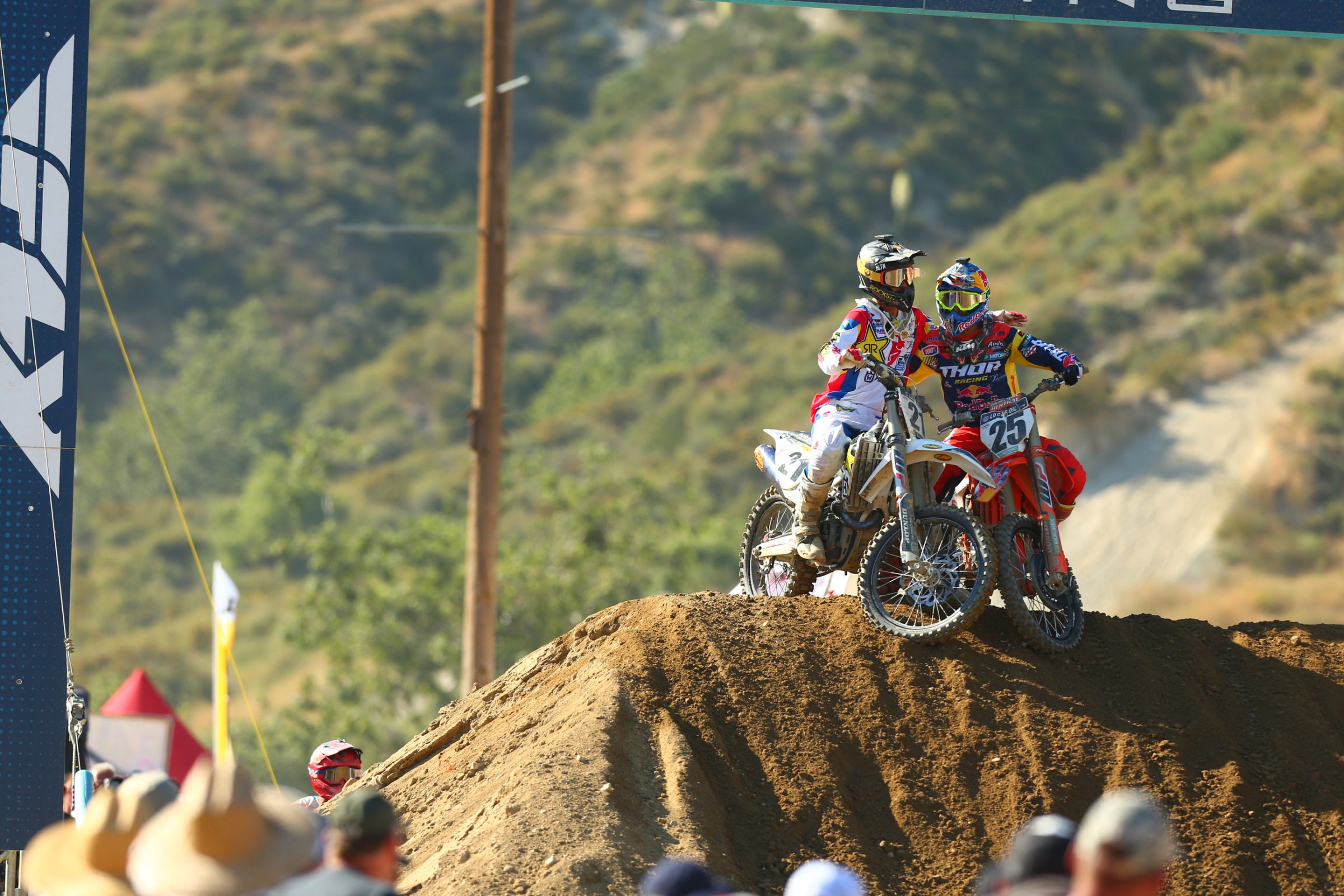 Up front meanwhile, Craig had surrendered spots to Blake Baggett and Jason Anderson, who battled briefly with each other before Anderson took over the lead and took off. He'd eventually win the moto by about five seconds over Baggett. Musquin hung around in fourth for much of the moto but inherited third when Craig went down hard. Craig immediately clutched his hand/wrist area and could be facing another injury. We'll report more on this situation when information becomes available.