Hangtown Motocross Classic
Rancho Cordova

,

CA
Hangtown
Lucas Oil AMA Pro Motocross Championship
For the first time since Ryan Villopoto missed the 2014 season due to a knee injury, the 450 Class champion will be unable to defend his crown. In fact, with Ryan Dungey announcing his retirement, no rider in the 450 Class has won a premiere class title in either Monster Energy Supercross or Lucas Oil Pro Motocross—Ken Roczen and Dungey accounted for the last three titles in supercross and motocross. Both riders were in attendance at the opener, and Honda released a statement from Roczen about his recovery from an arm injury sustained at Anaheim II that's required 11 surgeries to fix.
"I'm keeping positive for sure," Roczen said. "Things could've been a lot worse, so I'm grateful to be standing here on my two legs. This is the longest I've been off the bike in my entire career and we're probably only halfway through it, which is crazy but I'm confident I'll be back. My arm is a work in progress, but things are going well and I'm doing physical therapy pretty much seven days a week. I actually have my physical therapist living in my guesthouse. I feel a lot better though, now that all the surgeries are over, and I've been getting back into a good routine of eating healthy and working out—I even went for a run this morning. It's good to see my team and fans but honestly, it's torture being here at the race because I know I should be out there winning. I'll be back and we'll be seeing that number-one plate on the Honda again."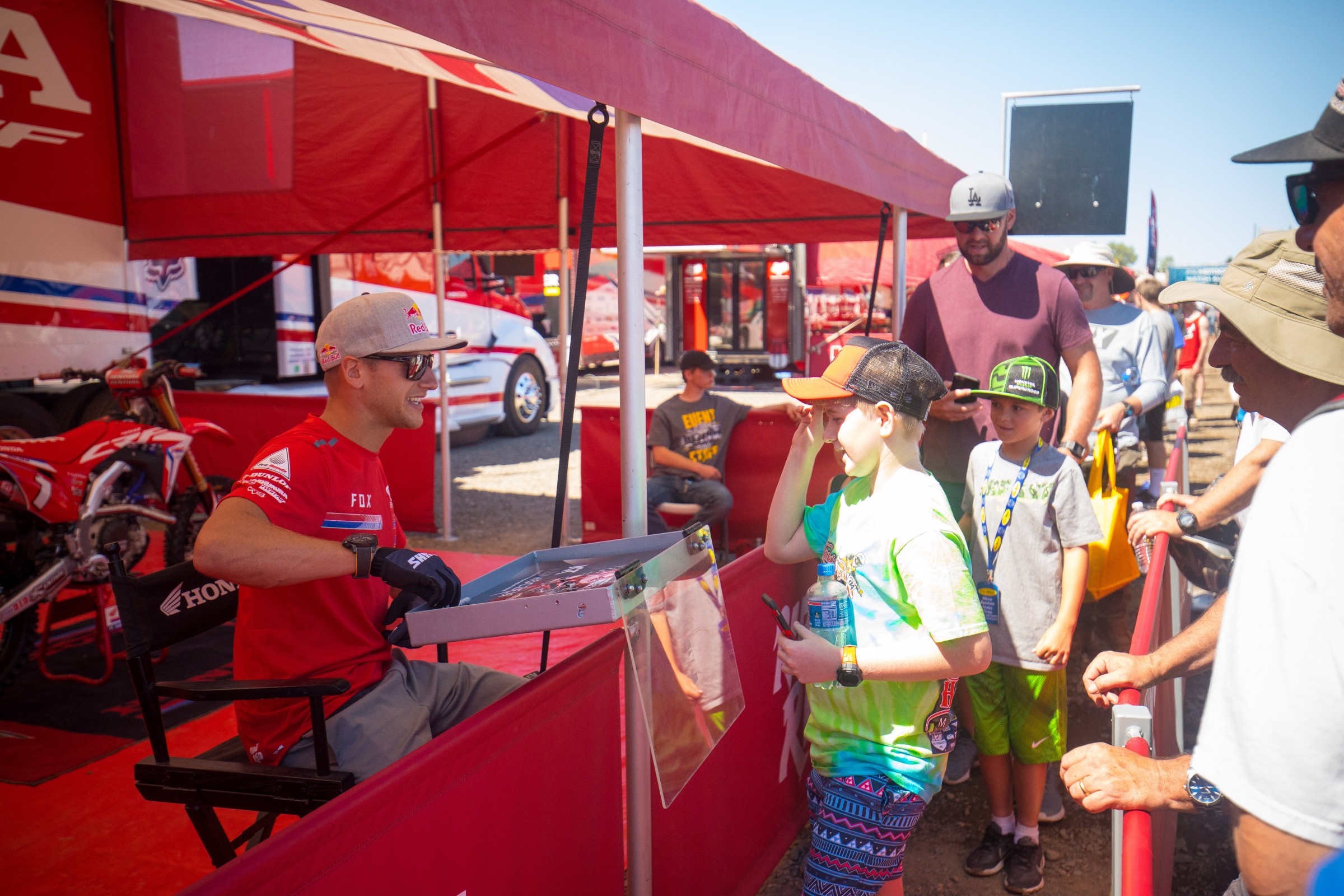 With Roczen out for the summer, Honda HRC tabbed Christian Craig to fill-in for the entire Lucas Oil Pro Motocross Championship. Craig, who rode the 450 outdoors before announcing his retirement, and has raced 250s since he returned in 2015, finished 12th overall in his return to the big bike.
"I ended up getting the holeshot in the first moto and led for a couple laps before cross-rutting and going down," Craig said in a team statement. "I was able to get up pretty fast, probably around 14th. I made some good passes throughout the moto to come back to ninth, so I was happy with my riding other than the fall. I was trying to find a flow in the second moto, but with the heat I didn't have much energy left in me. I made some mistakes and lost some positions. Midway through the moto something in my back popped and I wasn't able to sit down without it taking my breath away, so that made everything harder. I'm not happy with the end result, but I showed some good speed and know I can run with the top guys. There are 22 motos left to go and I'm looking forward to improving every weekend."
For much of the latter half of Monster Energy Supercross, Honda HRC's Cole Seely dealt with a torn adductor muscle (groin), and was nearly a scratch for the opening round of Pro Motocross after going down hard in practice and injuring his hip. Seely got X-rays taken at the Alpinestars Medical Unit and was cleared to race. He gutted out a fourth in the first moto, but the pain increased in moto two and he was only able to finish 12th, which gave him an eighth overall on the day.
"In the first moto, I just came out swinging and actually felt pretty good," he said. "I lasted a lot longer than I thought considering how little time I've had on the bike due to my other injury, and I was able to hang tough until the end. In the second moto the pain in my hip really set in so it was a struggle throughout the entire race. I just got into a pace that was comfortable enough for me to finish but not crash. The track was probably the roughest I've ever seen at Hangtown. It was brutal and made it very tricky so you had to really be focused."
RCH/Yoshimura Suzuki's Broc Tickle missed the final two rounds of Monster Energy Supercross due to a wrist injury. Tickle was diagnosed with a fractured triquetral bone (a carpal bone on the outside of the wrist, articulating with the lunate, hamate, and pisiform bones) in his right wrist, but was back for the opener. As complicated as that injury sounds, Tickle told us on Saturday that it was much less severe than the wrist injury he suffered last year, which cost him nearly three months of supercross. He was good at Hangtown, riding to a solid fifth overall behind 7-7 scores.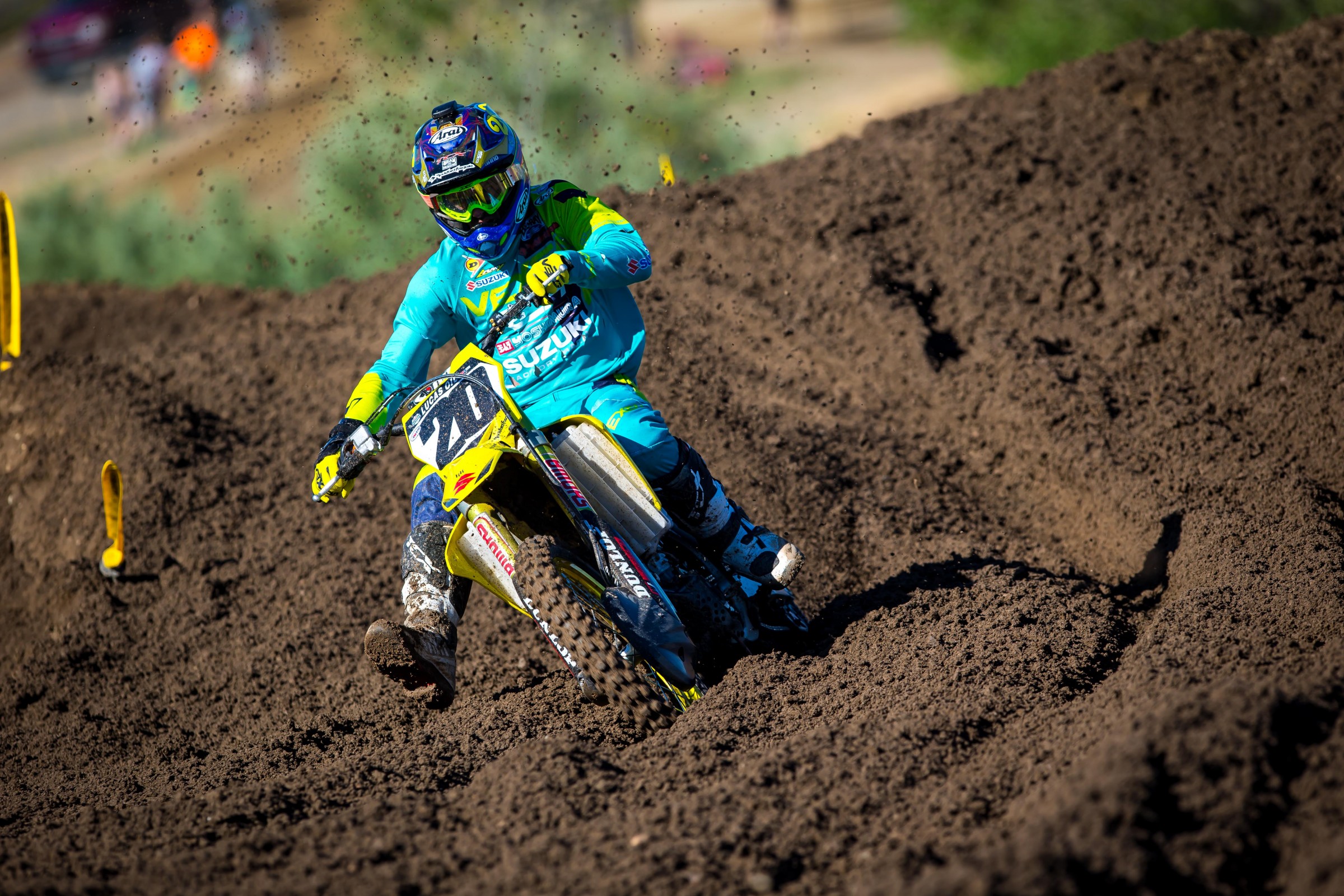 "Obviously, for being off the bike for two weeks and not training, to come out of Hangtown with a fifth overall and a 7-7 finish, is a great day," he said in a team statement. "I'm really happy with the bike. The track was gnarly and tough so I'm stoked with our finish. It's a great finish to build off of. I think we've got a ton of potential. Podiums are totally attainable each and every weekend as long as I get good starts."
Strange scenario in the first moto involving Rockstar Energy Husqvarna teammates Jason Anderson and Dean Wilson, and AutoTrader.com/JGR Suzuki's Justin Barcia. Anderson got hit with a rock right above the eye and was bleeding into his goggles. Unable to see, he went to pull off the track and actually took Wilson and Barcia down.
"I was off to a good start in the first moto, but unfortunately went down and got hit with a rock, which forced me out of the race and then I had to get stitches," Anderson said in a team statement. "I rode awesome in the second moto, though. I crashed in the beginning but then came all the way back to sixth so I'm happy."
Anderson came from the back to finish sixth in the second moto for 13th overall.
After being knocked down by Anderson, Wilson was able to get up and charge back to 10th in the moto. He finished fourth in moto two to take fourth overall.
"Obviously the fall first moto was unfortunate, I didn't have a great start and I was back in the pack, and Jason [Anderson] got hit with a rock in his goggles and had blood in his eyes, and he went to pull off the track … no one's fault, but I ran into him and crashed," he told our Steve Matthes. "So I did my best and fought through, but man I spent a lot of energy. I tried to recover the best I could, tried to hydrate, but I knew it was hot and rough so I knew a lot of people would be struggling, too."
Barcia came back to finish 11th in the first moto and backed it up with a fifth in the second moto. He finished ninth overall on the day.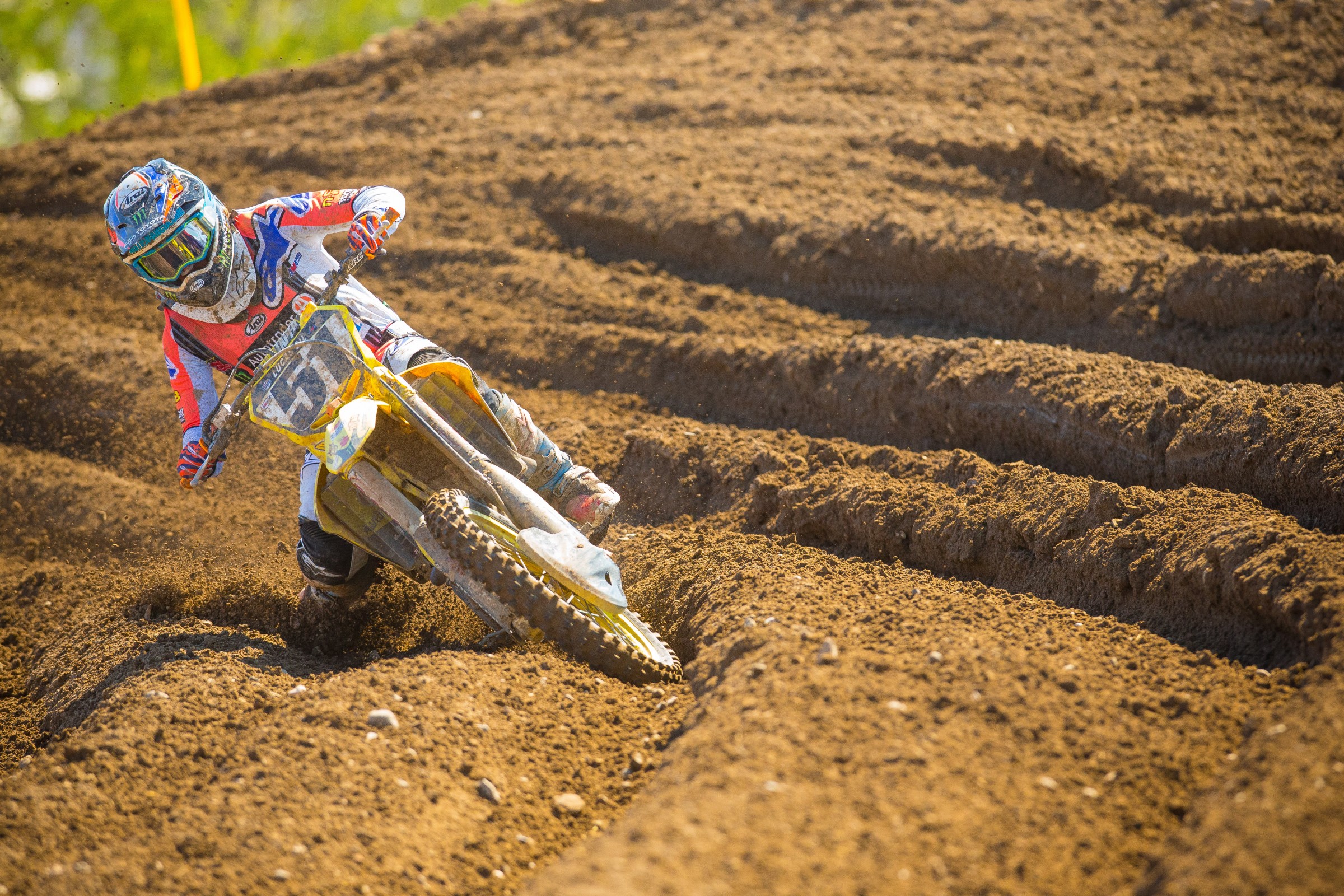 Barcia's teammate Weston Peick certainly wasn't 100 percent entering the weekend after sustaining a bad wrist injury in supercross. He was able to gut out an 11th overall finish, though. "What an awesome feeling to get back on the race track, came into the race wanting a top 10 but finished 11th OA. It's been a long determined recovery from January but to even be out there racing this early is all about where you put yourself mentally," he wrote on social media.
Reigning 250MX champion Cooper Webb made his 450MX debut at Hangtown. Webb finished fifth in the first moto and ninth in moto two to take seventh overall. "Decent start to the MX season yesterday at Hangtown," he wrote on Instagram. "Have some work to do."
Rockstar Energy Husqvarna's Martin Davalos didn't have much time on the 450 prior to his big bike debut. But he was strong out of the gate, qualifying fifth overall. He finished 14th overall on the day, but said he was happy with his riding.
"Today went really well," said Davalos. "I only found out about moving up to the 450 about a week and a half ago, so I think my debut went pretty well considering I haven't really been riding a 450 at all. I didn't know what to expect, and didn't know the pace, but I'm pretty happy and look forward to next week at Glen Helen."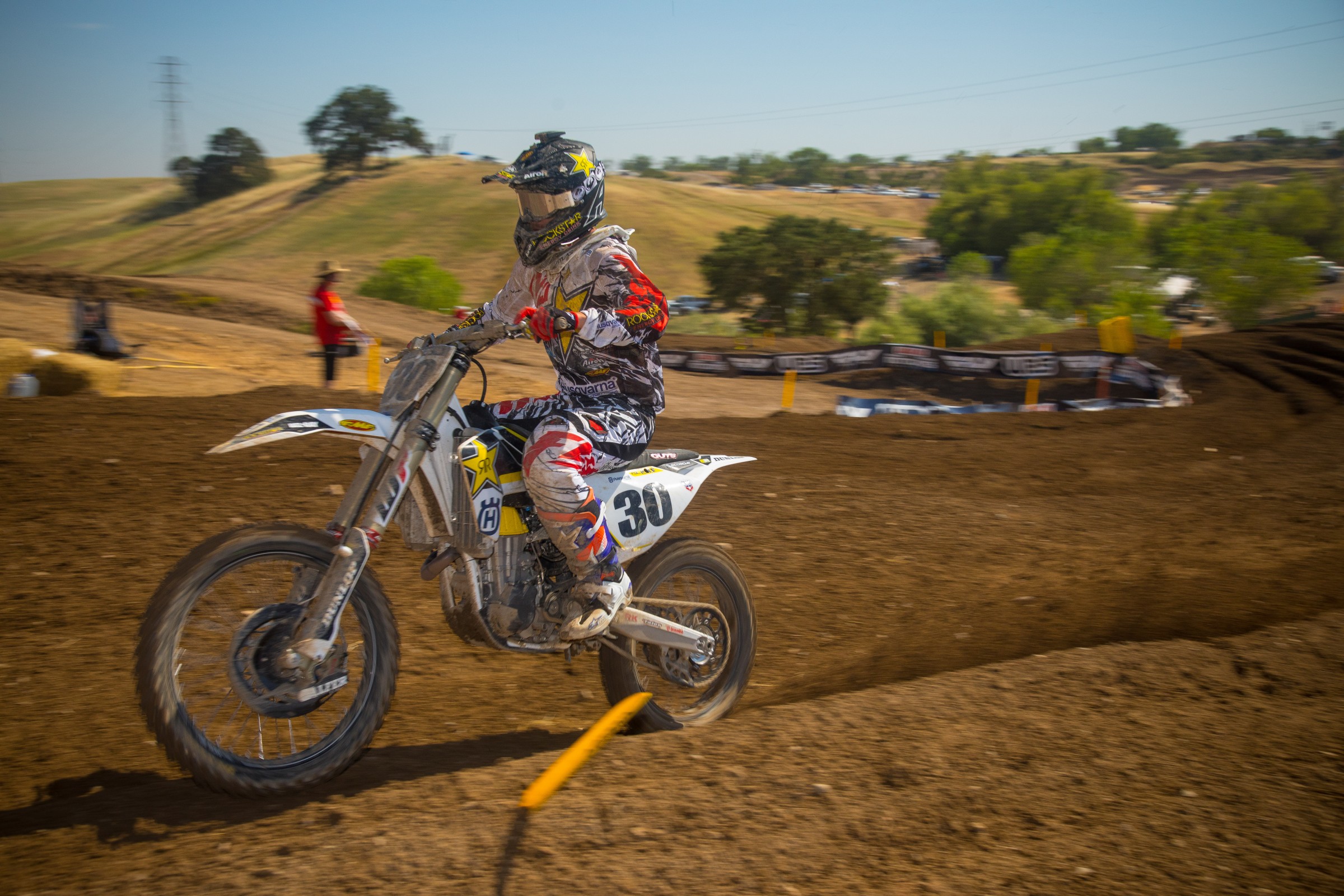 Yamalube/Star Racing Yamaha's Colt Nichols returned to action at the Lucas Oil Pro Motocross opener after missing five rounds of the 250SX East Region after tearing the MCL off the tibia and sustaining a small fracture in the tibia after crashing in a corner prior to Daytona at Cooper Webb's new supercross track in North Carolina. Nichols also sustained a broken femur prior to supercross. Especially considering all of those injuries, he was solid on the day, going 5-6 for sixth overall, which is a career best.
"For me, at the first round to go 5-6 for sixth overall, with two strong starts and two strong finishes in a pack of fast guys, I was happy with it," Nichols told us. "It was productive and I'm looking forward to building and continuing to move in that direction. I think I have a lot more in the tank. It's going to be a fun summer."
Monster Energy/Pro Circuit Kawasaki's Adam Cianciarulo led six laps in the first 250 moto, but was overtaken by a hard charging Zach Osborne. He held off Aaron Plessinger to take second, but finished just off the overall podium in fourth overall after taking eighth in moto two. "After the first moto, eighth wasn't where I wanted to be but we normally have been coming into Hangtown a little behind because of injury so we'll take it," he said in a statement. "The championship isn't won in the first race and I think we picked up some solid points to move forward with."
Austin Forkner was hoping to use the Pro Nationals to re-establish himself as a front runner after an under-the-radar rookie season in Monster Energy Supercross. Unfortunately, his season literally started badly when his bike ran into an electrical issue as soon as the gate dropped for the first moto. Forkner had to pull into the mechanic's area for a fix, and from there charged 39th to 11th. His second moto was fantastic, as he charged to second and and held off a furious charge from Jeremy Martin.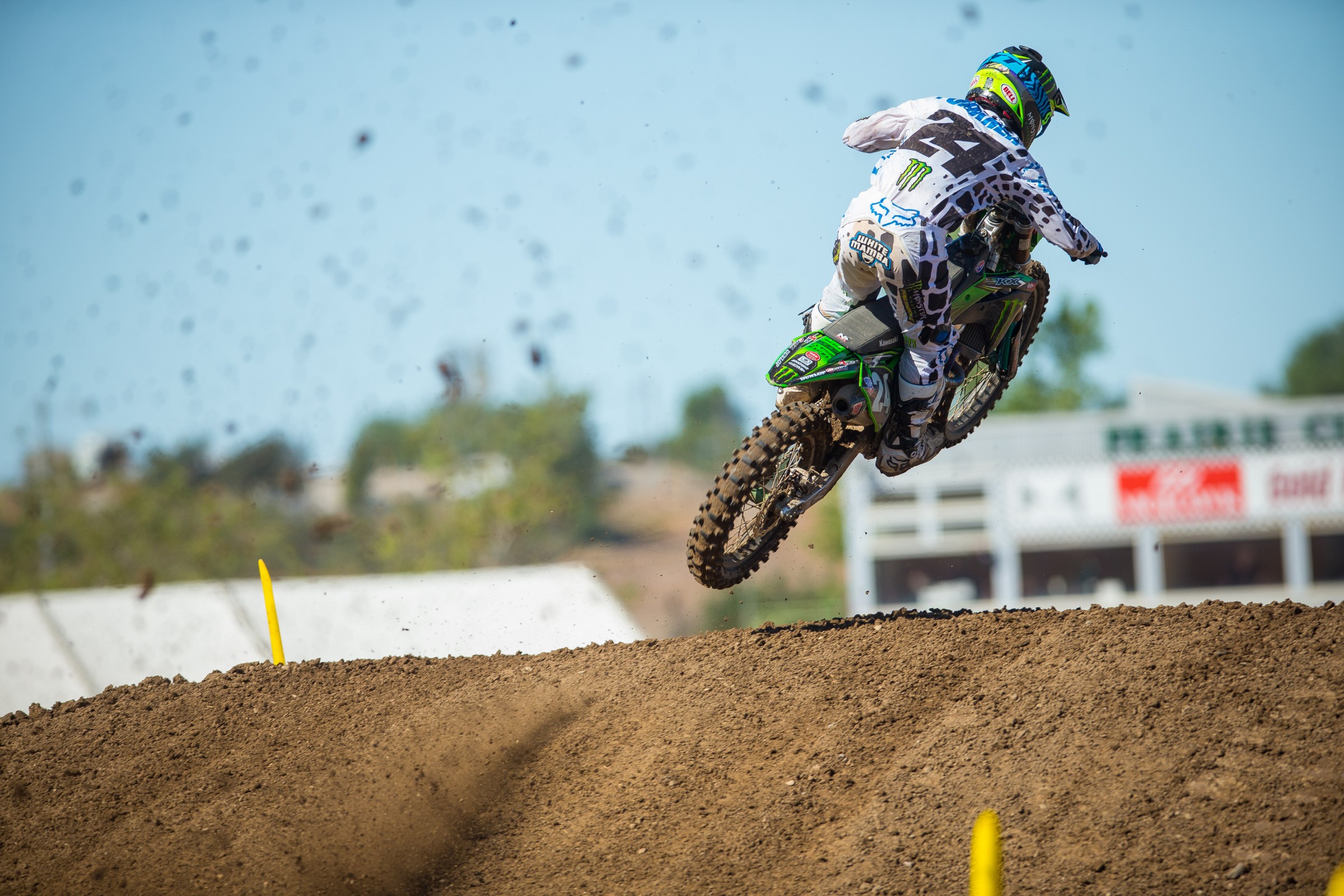 "It was unfortunate to have an issue in the first moto, but I'm hoping I was still able to showcase my speed and endurance throughout the day," said Forkner. "We've worked really hard to be able to run up front and I think with a better start I could be challenging for the win."
Last year's Hangtown 250MX winner Joey Savatgy didn't have the day he was looking for, going 7-7 for seventh overall. "Today wasn't the finish I was hoping for, but the conditions were tough and I know we can build off this race," said Savatgy. "We're looking at the long term and there are plenty more motos to go."
The 250SX West Region Champion Justin Hill finished eighth overall via 8-9 moto scores at the opener. "This track is always a tough circuit for the opening round, so to get out of here healthy and with a top 10, we'll take it," said Hill. "I know we can do better and I'm really looking forward to racing at Glen Helen this weekend with the big jumps and certain fast sections."
Troy Lee Designs/Red Bull KTM's Sean Cantrell and Rockstar Energy Husqvarna's Michael Mosiman made their professional debuts at Hangtown. Cantrell actually holeshot the first moto of his career before dropping back to finish 10th. He finished 13th in the second moto to take 12th overall. "All in all felt like we are off to a good start! Struggled a bit early on in the day but was definitely a great feeling being towards the front in moto 1," he wrote on social media.
Mosiman had a pair of crashes in each moto, but still put together 12-14 moto scores to take 14th overall. "My pro debut is in the books," said Mosiman in a statement. "I think I had a pretty good performance and I'm happy with it. I just have to limit my mistakes for next weekend. I had two crashes in each moto, but I'm happy with my speed and where I fit in. I think I can be a top 10 guy. It was good to get it out of the way and start the season at my hometown track. I'm really pleased for this being my first national."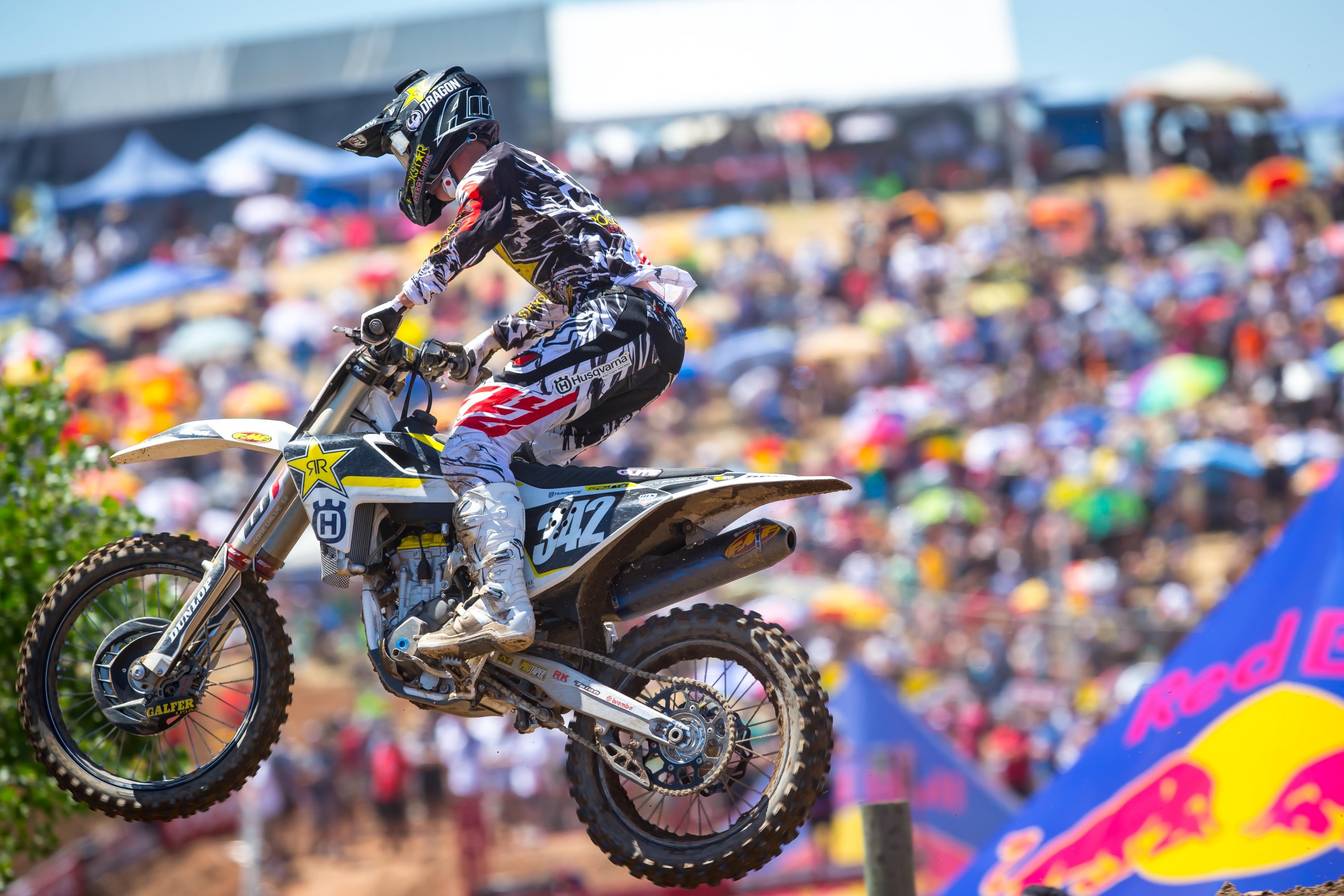 Cameron McAdoo also made his Lucas Oil Pro Motocross debut with GEICO Honda. Like Mosiman, McAdoo also crashed in both motos. He finished the day 16th overall.
"Hangtown was definitely pretty tough on me, but it was something to build off of and learn from," said McAdoo. "Moto 1 I hit a downed bike in the second turn and went down. Lost my back brake in the crash, too, but I ended coming through to 15th. Moto 2 I got my front wheel taken out coming into the first turn and ended up down pretty hard. At first I was unsure if I was gonna be able to finish the race until I gathered myself back up and got going and came through for 16th. Ended up 16th overall on the day, but we're healthy and going to come out swinging at Glen Helen."