Rancho Cordova, CA
Hangtown
Lucas Oil AMA Pro Motocross Championship
The opening round of the Lucas Oil Pro Motocross Championship at Hangtown went a lot like many expected, with Monster Energy Kawasaki's Eli Tomac opening the 2017 campaign with a 1-1 finish. But, as Tomac admitted in the post-race press conference, it didn't come easy.
"By no means was it easy, there was some good battling, especially in that second moto," he said. "We were a little bit deeper in the pack in the second moto and the track just got gnarlier and gnarlier."
Red Bull KTM's Marvin Musquin posed a threat to Tomac's 1-1 finish in the second moto, but he couldn't hold him off down the stretch. He went 2-2 on the day to take second. Tomac's Monster Energy Kawasaki teammate, Josh Grant, held the lead early in the second moto, but eventually dropped back to third. A 3-3 finish gave him third overall.
All three riders spoke with the media after the race.
Eli Tomac: I don't know exactly know what it is other than that this track gets really beat up and rutted and just broken down. I just happen to do well here. Obviously last year wasn't super great, but for the most part I've had good success here. I don't know exactly where I was gaining the most ground, but it is what it is. I really don't even know what to say.
Racer X: Josh, you're almost 31 years old. I think Eli was like 11 when you raced here the first time. What does it mean to you? I think you might be the oldest guy out there right now. It's weird to think of you that way, but what does that mean to you to be competitive once you've hit that new number?
Josh Grant: Honestly, it's a little bit different approach. I think with being older, I still feel like I have a lot to learn and left in the tank to really do good. I feel like every year it was either battling back from injury, but I feel like it's a new year, new me. I just feel better. I think with that age comes some wisdom and some stuff that I've learned over the years of being patient and trying to figure it out. I know it's not easy. I want to really see these guys do it when they're 30 with two kids. It's tough.
Eli, were you worried the second moto you weren't going to be able to get it done? At one point you were like eighth. There were a lot of guys going fast in front of you, and the gap even when I think you got to third these guys were almost 10 seconds out. I don't know if you could see them. Were you worried that you weren't going to be able to get there?
Tomac: There was a point, yeah, where I was a little bit worried. Early on, no. I was like, all right, second moto we'll put a good gap on them. Once we got going into the second one I was, like, I'm not making passes as soon as I wanted to. Just kept digging. Was struggling a little bit more. Plus the track broke down quite a bit more. First moto I felt really fresh. At the end of it I was all pumped up for the second one, but that second one was pretty gnarly.
Is that a decision you make? Was there a time where you'd say, I just got to take points and get second or third? Would that run through your mind if it gets really sketchy like that?
Tomac: I would say now yes, but I felt like I had enough there I wasn't taking huge risks. But this place, it gets straight up gnarly. It's the first round for us coming off supercross. It beats your body up. It's not a friendly one to begin with.
Could you both talk about the battle, Eli and Marvin? It was pretty good. Marvin, when a guy catches you it's easy he gets by, but you fought back over and over. Was that fun? That was pretty good. You were determined I guess to not let him just have it.
Marvin Musquin: Yeah, Eli got close to me. I knew he was right there. I started to tighten up a little bit. I didn't want him to pass me, so I kind of was trying to close the door, but there were so many lines. Definitely some of the turns he had better lines and he was able to carry a lot of speed. He was right there. He got around me, but I think it was before that step up. That was really tough right there and I was able to carry the speed around and pass again. It was pretty cool. I think that's what the fans want to see. We all want to win, so we're going to give our best.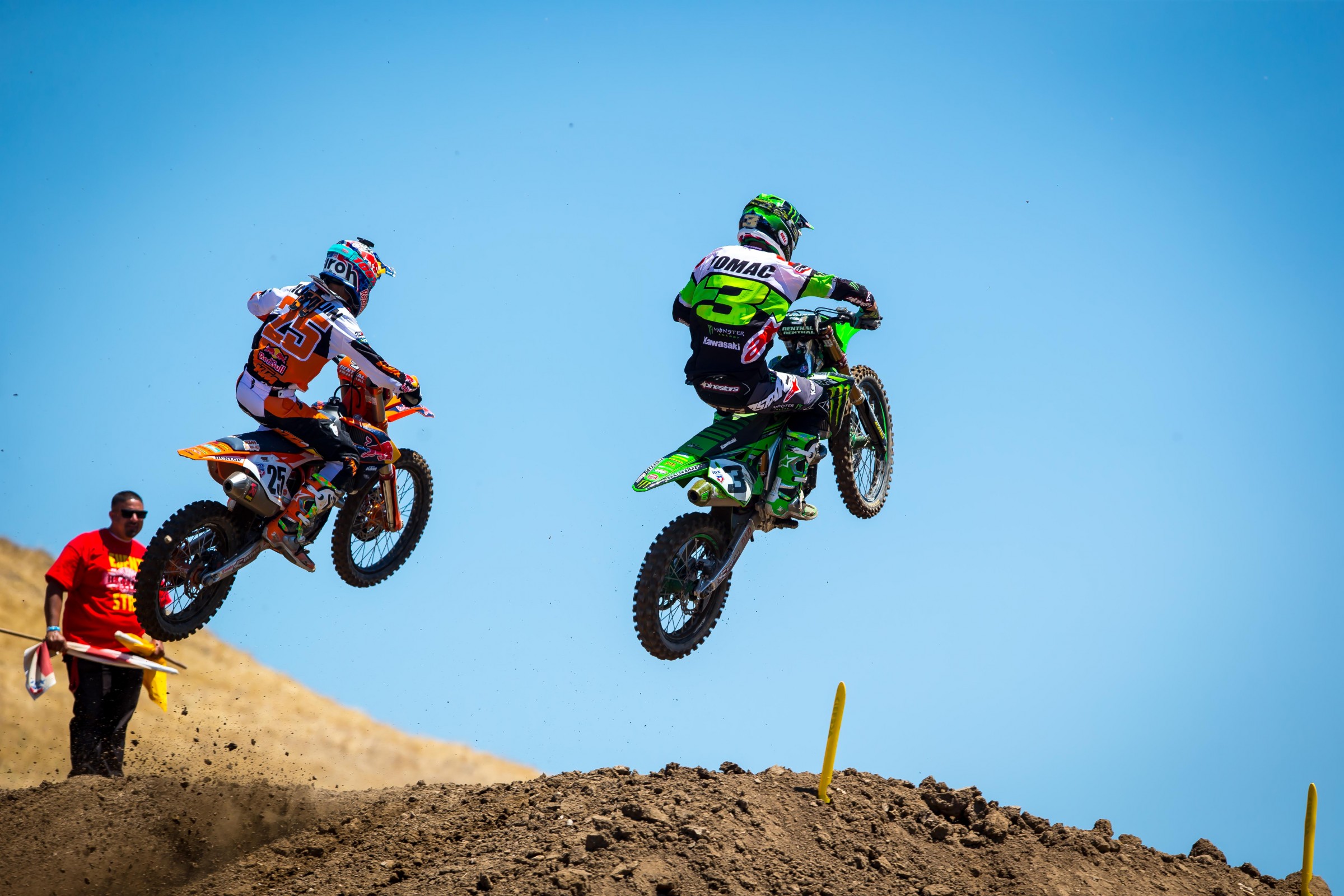 Tomac: It was good. Shoot, that was a big effort when we got together and started really going at it. The lines are gnarly out here. It's tough to make passes too. It was just good battling.
You ended up almost on the top of that half-pipe at one point and it actually worked. You got him back. Can you just take me through that?
Musquin: Yeah, we were side by side, even before I think. Eli was inside. That thing was super steep, so he couldn't get inside of me, and then the lap after we were in the same positon but he was closer to me. I was like, he got me right there. I was like, let's go all the way on top of that half-pipe. After going so high he was able to carry the speed. I thought he was going to run inside of me on the next one and he didn't. Maybe it would have been gnarly and maybe we would have been down. It was clean, so it's all good.
Eli, with supercross you spend months riding really stiff suspension and then you come to a beast of a tack like this. I think you guys were focused pretty long on supercross all the way through. How hard is it to come here and transition from supercross style suspension to outdoor stuff?
Tomac: It's tough. It's hard. The only thing you really have going for you is last year's base. We had it to a decent point the year before. We went all the way back to last year and that's where I was just way off. This year at least had a good base. You got to just count on your actual base physically too because you only get two or three weeks to really prepare, especially the situation I was in. I only rode outdoors three weeks before this round. So, it's tough. It puts you to the test.
We had the second winningest 450 outdoor rider retire recently in the last week or so. Talk about what it's like to see Ryan retire and what's it going to be like not having that machine here week in and week out at the front?
Grant: I'm happy.
Tomac: Ryan was one of the gnarliest competitors out there. By far the most consistent. His stats were pretty unbelievable. The guy won a lot of championships. You never want competition to go away, but like Josh said, it's kind of nice to not have him there because he literally was there every single weekend.
Musquin: For me it's weird being the only rider right now under the tent. Definitely missing Ryan. We've been together for many years, even when I was in the 250. So I'm really used to having him with us. It was kind of cool to have him today and have him around the track. See what he thinks about some of his lines and to watch us ride and give us his ideas and his opinion. It was good. As a competitor for sure he was really, really consistent. That's the way it is. A lot of respect to him and congratulations again to him for his great career. We'll see him soon.
Josh, we already had Steve [Cox] over here calling you old. Obviously, these guys are sitting here saying how rough and brutal the track was, how hot it was, and your fitness seemed pretty good today. Raising two children, having all the things you have on your plate—you have your competition, Baker's factory, obviously Eli Tomac knows his fitness. What are you doing to keep up and keep yourself in the position where you are?
Grant: Right now it's just motivation really. It's always been about rebuilding and figuring it out. I have a passion for wanting to be up here. That's all there is to it. I know I have the talent to do it. It's just the work ethic. I have a couple people in my corner that really help me. A lot of it's based on recovery for me because I don't have the ability to go out on Monday and just go out and hammer it again because I don't feel as young as I did. At the same time, it's all about motivation. I want to prove to my kids that I can still get up here and that's what drives me.