Rancho Cordova, CA
Hangtown
Lucas Oil AMA Pro Motocross Championship
During bench racing sessions regarding the upcoming Lucas Oil Pro Motocross Championship, Yamalube/Star Racing Yamaha's Dylan Ferrandis has become the trendy pick in the pits. The Frenchman, who has won MX2 GPs and was often Jeffrey Herlings' closest competitor, was right in the mix during his first foray into Monster Energy Supercross (fifth in East Region points, and just 29 behind champion Zach Osborne) and will no doubt be much more comfortable in motocross, where he has much more experience.
Our Kyle Scott found the Frenchman during outdoor testing last week to check in on his progress.
Racer X: How's it going today?
Dylan Ferrandis: Good, good. I'm a little bit sore since the weekend in Vegas. It was a good race. I pushed really hard. I enjoyed a little bit Saturday night. I enjoyed also Sunday. We make something [did some things] in Vegas that we cannot do in any different [other] race. I rode Pala Tuesday and we really pushed a lot this week with Gareth [Swanepoel], my trainer. So I'm really tired, but I feel good on the bike. That's the most important. We keep trying to have the best bike as possible, so we tried some front forks today. We tried many things in Pala Tuesday. I make a bit more [changes] with all the guys from the team while we are here this morning. It was really good. The speed was there, just struggling a bit with the fork. We have the solution.
How do you feel the whole supercross season went for you?
It was good. Especially at the main, I really had the speed that I was looking for, the consistency also. The first and second supercross everything was so new for me and it was not easy. New team, new bike, new championship, new country also. So that was the most difficult for me to learn everything. I'm really happy about my four last races of the season. I fight for the podium, for the win in Detroit. I got a podium in New York and in Vegas I had a terrible start, but I came from far back and I was fourth. So it's really good.
You seem to really be picking it up fast. Compare supercross versus motocross, how do you feel? Is it going to be more comfortable outdoors, do you think?
Yeah, for sure, because outdoors is more looking like what I did the last four years in GP. It's a little bit the same. Only the tracks are different, but it's motocross. Supercross is a really different world, so it's something that I really had to learn. Motocross is, I think, more easy and also now the relationship I have now is more strong with the team, with the people in the team. Everybody now knows me, and I know everybody. So that's also really important. I don't know. It will be my first season so it's difficult. I cannot say I would go out and win easy but for sure, we will go every track to win.
How similar is your bike setup compared to the rest of the team?
It's a good question. I'm really different. What I use is different than all the riders. They all ride a little bit the same and me, when I ride the same setup it's not working with me. So I don't know why. Maybe it's because I'm from the GP and I ride different. It's strange.
So what is different about your bike versus the other guys?
Fork and shock. The engine, we all have the same engine, but we have fork and shock are really different. I can't say why. We're just different.
How are you adjusting to the heat out here? It's a little bit hotter over there in the U.S. than over back home, right?
Yeah, everybody says that. I come from a region in France that in the summer we have three months [that are] really dry and hot. It's really, really hot. I love to make [participate in] sport when it's hot. I used to do that when I was home. I don't know how it's going to be this season, especially with the humidity because that's something that we don't have so much in Europe. Heat for the moment is not a problem for me. I think it will be not the big problem for me.
You're training with the team. How has that all been going? You signed up with the program. You've got a trainer. You get everything when you join up with Star Racing.
Yeah, I work with Gareth Swanepoel since the day one here in the States. We try to all work together but it's never really easy because some guys are more tired than others, or we maybe don't want to go to the same tracks. For me it's not easy, and especially because I'm French— Americans are friends since Mini Os and me, I meet all the guys a few months ago. It was the first time that I meet everybody. So it's not easy. But we make our moto this morning all together. It was really good. We all helped push each other.
What was your riding setup today? How many motos did you do?
We just make one moto because the track was only open for [two hours]. So maybe we're going to do more, but my plan is really to have a good bike for the outdoor season, to have the best suspension because I'm pretty sure the suspension is going to be more important than the fitness and everything. If I have a good bike for sure it will be more easy to fight for the win.
Have you been riding out here very often at Glen Helen?
Yeah, I think my fourth time here.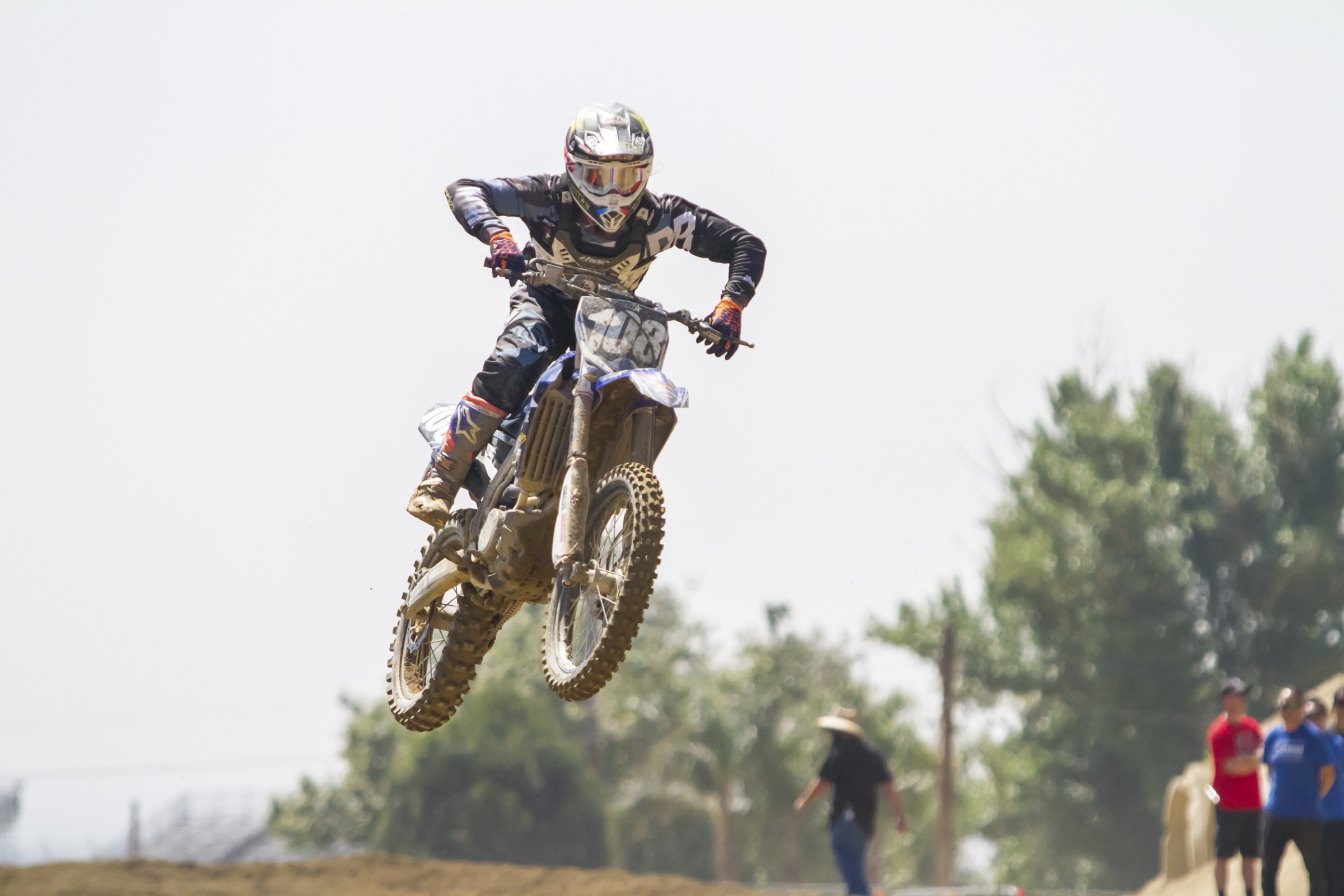 How long have you guys been doing the outdoor testing?
We did a little bit between the break. For me, when we had the break during the East Coast season, supercross, we did a little bit. The real testing is now because it's not easy when you try outdoors but you still have to train in supercross. Now supercross is over so I really can be focused 100 percent on outdoors. Also my teammate, when I was riding and they have a break they also improved on the bike, so I tried to use what they did. We are not different in what we rode this winter and also during the break. My setup is still the same, a little bit.
Are there any tracks that you're looking forward to going to?
If I moved to U.S. it was for the supercross and also for ride all the beautiful [motocross] tracks. You have many beautiful tracks. Glen Helen is like the most famous. You have RedBud, Washougal, Unadilla … all the tracks are tracks that I've dreamed to ride since I'm a kid. I always watched the outdoor season for 20 years now. I dreamed about racing on those tracks because they look amazing. There is no one special track that I want to ride. I can't wait to ride every track!