Eric Johnson's "1984" story ran in the July issue of Racer X Illustrated. Subscribe today to read the full feature and for more in depth stories about the Rockstar Energy Husqvarna team, Tony Alessi, and more. Here's EJ to tell you how his story came together.
You may have noticed that I have this thing for win ads—especially win ads from the 1980s. If I had to guess it has something to do with waiting for the new issue of Cycle News to show up at the friendly neighborhood motorcycle shop. When Tuesday came around, I'd always find a way to get a copy in my hands, and when I did, the first thing I'd dive into would be the motocross or supercross coverage from the previous race. After that, I'd look for the win ads produced by the big four Japanese manufacturers. If it was a winning rider I was a fan of—say Johnny O'Mara—or a brand of bike I had an affinity to—say Yamaha as I had my own YZ80—I'd pull the ad out of the paper, tape it together and hang it on my bedroom wall. The whole thing must have had some type of influence on me as once I got older and went away and college and ended up in Los Angeles, I wound up working for Chiat/Day Advertising, the same ad agency that produced the classic win ads for Team Yamaha in the 1980s. And yes, it was the win ads that served as the inspiration for the 1984 Supercross Series feature.
Not too long ago, and as I often catch myself doing, I was going through the Cycle News archives and, well, looking at old win ads. Going through the section featuring back issues from 1984, one ad in particular jumped up and bit me. Read the Team Honda ad celebrating Johnny O'Mara's mastery of the Buffalo Supercross that summer, "17 FLATTENED IN BUFFALO STAMPEDE." Seeing this, I immediately downloaded the ad to my computer desktop, as I did the event coverage written by Tom Kolnowski on Saturday, July 14.
I got to thinking, and as I often do, I rang up Davey Coombs and laid it on him, "Hey, DC, I want to do a story on the 1984 Supercross series and talk with all the riders who won that season. What do you think?"
In pretty much the same fashion the two of us have been working together for over 20 years now, DC basically said, "Sounds good. Get on it."
So I got on it.
To begin the task of researching every race from such an eventful season and then sort out the preparations to contact the five riders who won in back in '84 is no mean feat. In fact, it's sort of akin to getting a big rock to start rolling up a hill. But once that first call was made, the fun and entertainment began.
The first call went to Ron Lechien down at Maxima Lubricants outside of San Diego. As usual, the Dogger was informative, insightful, and downright funny. Always one to cut right to the chase, Ron's memories of joining O'Mara, Bob Hannah, and David Bailey at Team Honda for the '84 season provided a super-cool and unique angle to what was, arguably, the greatest single team in all of supercross history. Added Ron once we got done talking, "EJ, you know those win ads were just the coolest. I enjoyed getting the win ad almost as much as I did winning the race. Can you help me track some of these down? I'd love to frame them and put them in my office."
Jeff Ward and I spoke over the phone next. As opposed to the other racers featured in this piece, it took me a little bit longer to get to know Jeff, but upon doing so, he's become one of my all-time favorites and one of the most sincere and downright interesting people I've ever met. As I finished the conversation with Jeff, he said something I felt was profound. "You know we all sorted of disliked each other back then because we all wanted to win so badly, but now, I feel like these guys are like my family," he said. "I mean I'd do anything for RJ or Johnny or any of them. There almost like my brothers."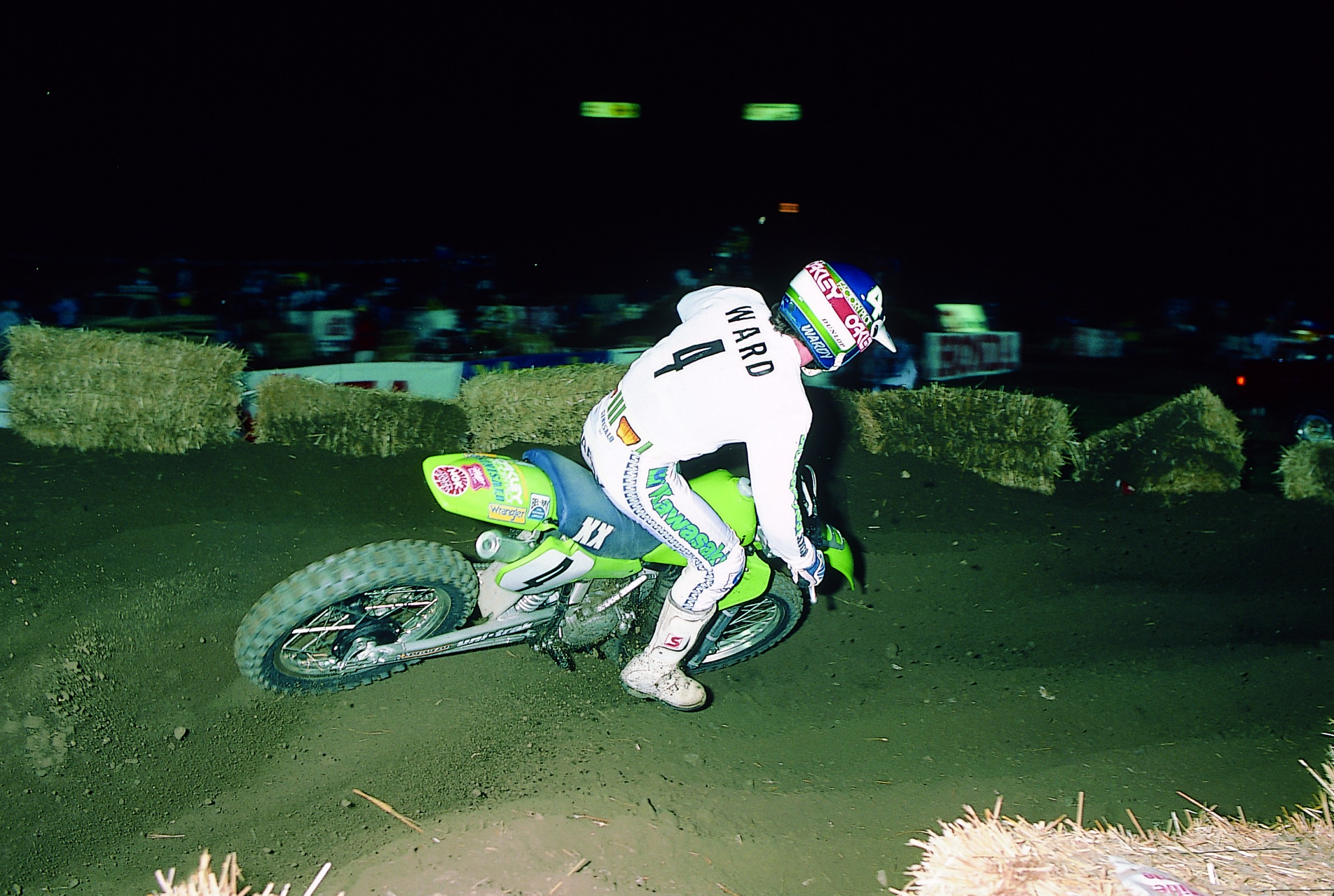 It took a few shots, but sure enough, "Hurricane" Hannah phoned in from his aircraft hangar in Idaho. I'm not going to lie, Bob Hannah is my all-time motocross hero and being able to speak with him about the '84 season was equal parts amusing and outrageous. Bob held nothing back. Some of the stuff we spoke about couldn't be printed in the magazine, but that's Bob and that's why we love him. Down deep I knew the piece would be made complete with Bob's words and reflections.
Of all the guys I spoke with, none of them could match David Bailey's razor-sharp memories and the attention to detail each one of them came with. A natural-born storyteller, it was just another thing David does well. David is one of those rare people I've come across in life who would likely be very good at anything they attempted to do.
Rick Johnson was my penultimate phone call and I ended up talking with Rick the longest. On his Yamaha YZ250, RJ was, in some ways, a one-man army against Team Honda in '84. One of the grittiest and most determined racers in the sport's history, Johnson always rose to the occasion when the gate dropped that season, and always, in the fight to the bitter end. RJ also spins a fantastic tale about motocross when the time comes.
The last dude I had to speak with was the man who won the title that season, Johnny O'Mara. Now one of my closest friends, Johnny swung by to watch a supercross at my home in Laguna Niguel, California, one Saturday night, and while we checked out the races, I had him recount, race by race, the entire '84 supercross season. In fact, after he won the main event at Buffalo that summer and while he was up on the podium that night, my brother and I screamed his name from the stands in trying to get his attention. I guess that's the sort of thing you do when you're 18 years old.