Las Vegas, NV
Las Vegas
Monster Energy AMA Supercross Championship
It was perhaps the most heart-stopping hour of supercross racing in the history of the sport. Not one, but two championships came down to the final turns of the final lap, with ever-changing storylines throughout the races, each tale wrapped around one simple truth: when everything is on the line, anything goes.
The craziness started immediately in the 250SX main event, which is called the Dave Coombs Sr. East/West Showdown at the finale. Three 250SX East riders, Jordon Smith, Joey Savatgy, and Zach Osborne, were separated by one point going into this final round, but Osborne crashed in the first turn and found his bike locked with Dakota Alix. Osborne actually had to grab Alix's bike and rip it off of his (Alix's footpeg was wedged in Zach's front spokes), so by the time he was going, he was 21st and far, far back. Only two laps in, Savatgy crashed, leaving Smith with an edge, until he cased a jump and bounced off the track, and then later wadded hard on the big ski jump and sand rollers. The crash ended Smith's night, and served to prove how championship pressure was indeed going to impact the proceedings.
Smith was too banged up to continue, but later revealed he was sore but uninjured. Savatgy, apparently, wasn't feeling much better. He was struggling and going backwards, and with Osborne only up to 18th and Smith out, the points began to shift in the direction of … Adam Cianciarulo? AC holeshot and led, and although was 14 points down coming in, he had made up 13 on Savatgy and needed just one more pass to tilt things in his favor. GEICO Honda's Cameron McAdoo closed on Savatgy to make the threat real, but then the rookie went off the track. But then … came … Osborne! He rode like a man possessed on the final laps, just as Savatgy found himself locking up and unable to charge. The potential of Cianciarulo, Savatgy, or Osborne winning the title was very real with two laps to go. Osborne had a brief battle with Mitchell Harrison, then Savatgy passed Hayden Mellross, then Osborne got Mellross on the last lap and got Savatgy within his sights. In the final whoop section and bowl turn of the race, Osborne unleashed everything he had, sending it through the whoops and into Savatgy's side in the corner, smashing the Kawasaki rider to the ground, taking the seventh spot, and with it the title in a most remarkable ride after being buried and locked up in turn one. It had literally come down to the next-to-last turn on the last lap!
"I had no idea [it was possible] until four laps to go," said Osborne. "Then with two laps to go I passed Mitchell Harrison and he passed me back, and then I saw Savatgy up ahead but I was still like, 'This is not going to happen.' But then, it happened. It's already a high-pressure situation, and then you get down to one set of a whoops and a bowl turn to go, and that's what stands between you and being a champion. I was just like, overwhelmed with nerves and pressure and emotion and everything, and I just broke down. Right there on the starting line."
"I saw him [Savatgy] the whole time," said Osborne. "I'd turn left to come into the stadium and he'd be in those doubles in the back, and it just seemed insurmountable. Even with three minutes to go, he was still the whole alley ahead, and it seemed insurmountable at that point. Even on the last lap, going into the first set of whoops, I was still not close enough, and I guess he didn't get a good run through them or whatever on the last set, and I sent it. Pretty hard, maybe a little too hard, through the whoops. It was definitely intense—you could never replicate that, ever. My heart rate, I don't know what it was, it was just … gone."
Osborne's pass on Savatgy was ultra-aggressive, but it ultimately delivered a championship. Cianciarulo won the race and somehow ended up just two points down in the final standings.
"It kind of killed my vibe when I was doing my TV interview, because I saw on the big screen that I was only two points down, and I was like 'Man, I wish it was 10 points of something,"' said Cianciarulo. "It was okay. I think this year, for me, if I had won the title and got lucky there at the end, I think it would have been one of those deals where everyone would have known I got lucky. I feel like I'm in a good position next year to really earn it, so yeah, we'll just go from there."
Justin Hill, who had already clinched the 250SX West Region championship, finished second and Aaron Plessinger took third. Safe to say hardly anyone noticed or watched them as all eyes were on the unfolding Osborne/Savatgy/Smith drama spilling out all over the track.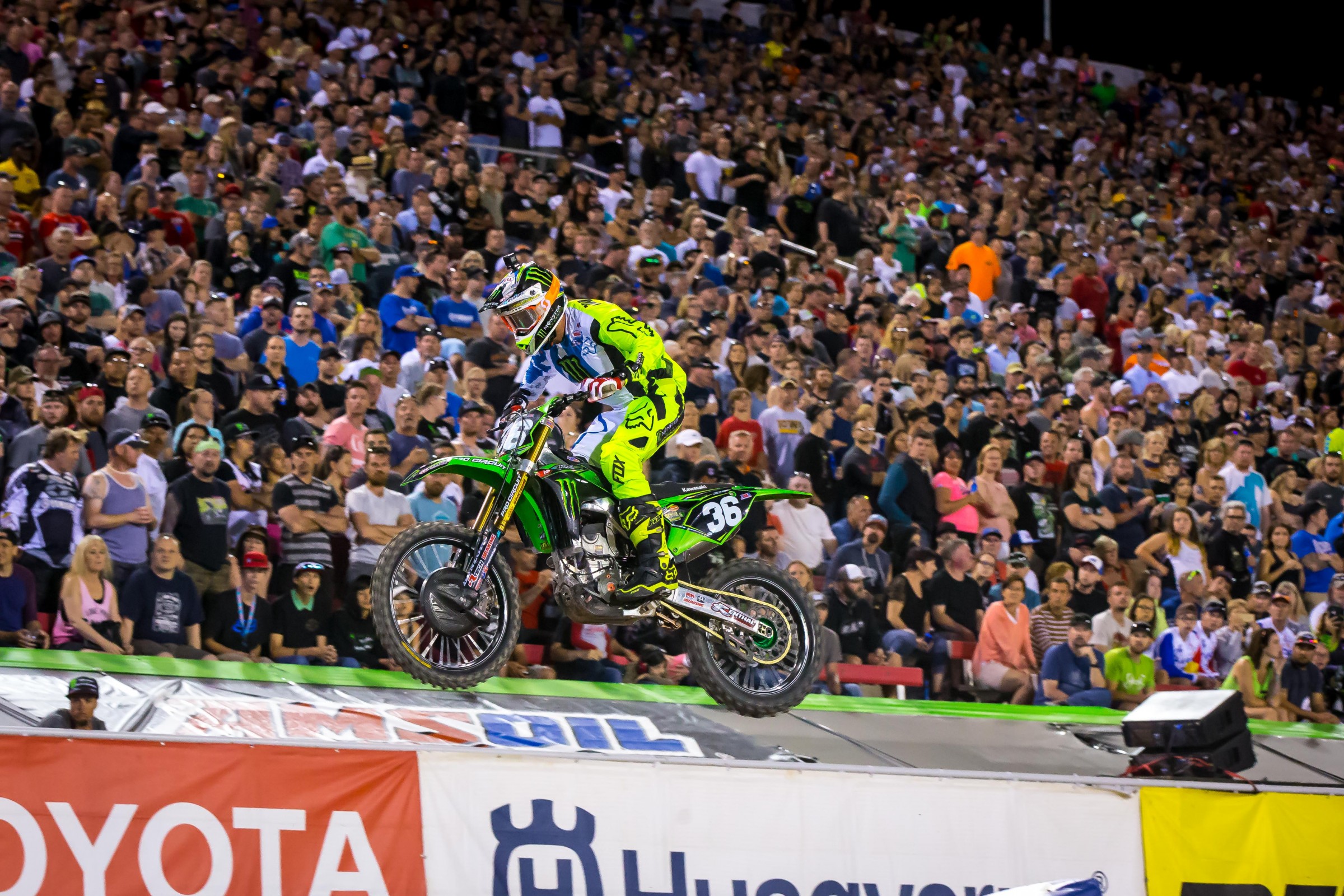 The incredible 250 race should have been the crescendo on the night since the 450 title scenario looked tame in comparison. Eli Tomac stood nine points behind Ryan Dungey, so Dungey just needed fourth or better to claim the crown, and Dungey had not finished worse than fourth in three years. Tomac, however, had a plan.
Dungey holeshot the main event. Tomac quickly shuffled around Blake Baggett into second and found an opening on Dungey in the same bowl turn Osborne used to knock down Savatgy. By now everyone knew the potential that corner held for chaos, and Tomac came into Dungey with contact and nearly knocked him off the track. Dungey stayed upright in second. From there, Tomac could have just taken off with the win and hoped some miracle bad luck would strike Dungey, but he instead chose to make things happen. Instead of pulling away, Tomac slowed, letting Dungey catch back up and baiting him into a battle. Dungey didn't want to engage and give Tomac another chance to hit him, so he tried to just ride behind him for awhile, but soon, Tomac's master plan started to unfold. A pack of riders—Jason Anderson, Baggett, Josh Grant, and Chad Reed—all started to close up as Tomac slowed the pace. Now Tomac had the numbers he needed to get between he and Dungey in the points, and finally he slowed enough for Dungey to pass him … and then Tomac stood Dungey up in a corner again! Dungey even found himself completely off the track, things were turning crazy as the chase pack closed, and the fans, already emotionally exhausted after the 250 race, found their heart rates launching back up in lockstep with the riders. It had turned insane!
"Yeah so, in my position, I was like 'Man I can try to sprint away from this thing and really just ride alone at that point, or I can maybe try to bunch up the pack a little bit and wait for a mistake, and see what could happen, you know?'" said Tomac. "Because when the pack catches up, you never know, maybe the nerves come into it, there's battling, there's bumping, and that's all I could do at that point. I wasn't just going to just lay over for this thing and give it away. I fought as hard as I could."
Tomac's plan started to work! As the pack slowed and closed, Dungey had no choice but to pass Tomac or risk getting passed by others, but then when he would go by, Tomac would instantly blast him with another block pass and stand him up—although, post race, Tomac was sure to remind us that he made sure to never go over the line and try to aim straight for his leg and try to hurt him. But Dungey had help in training partner Jason Anderson, who was in third. Tomac, though, had help in teammate Josh Grant, who was right behind Anderson, after Baggett bobbled and crashed. And then, of all people, here came Chad Reed, suddenly rejuvenated and fired up, and turning by far the fastest laps of the race. While Tomac and Dungey scrapped for first and second, Grant cased a huge jump while running fourth, and Reed slipped past. Then Reed passed Anderson for third and the crowd gasped thinking of Reed going after Dungey for second, until Anderson responded with a massive block pass on Reed that sent the veteran into the tuff blocks. Anderson couldn't even jump the finish line jump because he worked the corner angle so hard to block Reed, and Tomac and Dungey found themselves far ahead again. So Tomac just slowed Dungey up some more, and on the last lap, Anderson and Grant had caught them again, and Tomac set Dungey up again, letting the champion go around him to set up one more big block pass.
"The whole race I could kind of sense Eli has got to do what he's got to do," said Dungey. "The whole race, I was like 'Man, just keep her steady. Go and get your win and I'll just come in behind you.' But on the last lap, I passed him off the triple I was like 'Oh man, I shouldn't have done that!' As soon as I passed him off the triple I immediately looked over and I was like 'Where is he?' In the air I was like 'I've got to get to the inside' and then I went to the outside. And as he was checking up a little bit, the guys were coming, and you're just hoping and praying let's just keep her steady. It was quite interesting and quite tough, but it's racing."
Four turns to go, Tomac was block passing Dungey again, and finally Anderson in third had nowhere to go except around, and he took the lead and ended up scoring his first win of the season. Grant snuck past Dungey as well to take third, and Tomac finished second, basically sacrificing a win to take one last shot at Dungey on the last lap. Dungey finished fourth, which was enough to wrap the title. Immediately after the race, Dungey was heated and said on TV that the Kawasaki guys were giving him "cheap shots." In typical Dungey fashion, he apologized in the post-race press conference.
"I just want to clarify, I have mad respect for Eli and when desires run deep … we have a lot invested in this," said Dungey. "I don't blame him for what he did, there's a lot riding on a championship. It was good, hard racing and the fans got a show. It's nice and rewarding to get this championship, it's probably one of the sweetest ones."
"At the end of the day, people aren't going to remember the race wins," said Tomac. "They're going to remember who won the championship. Congratulations to Ryan, he was the better man this year."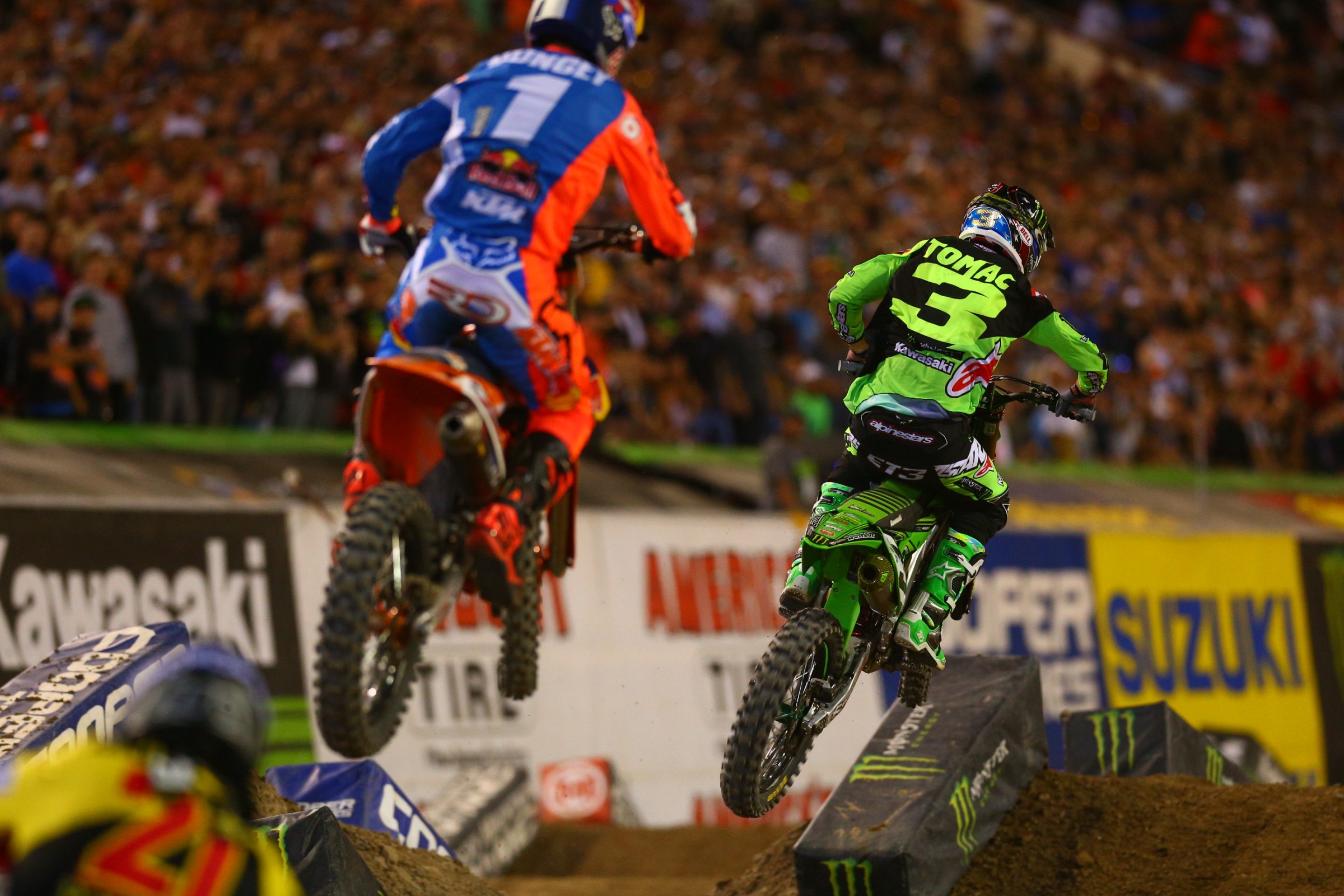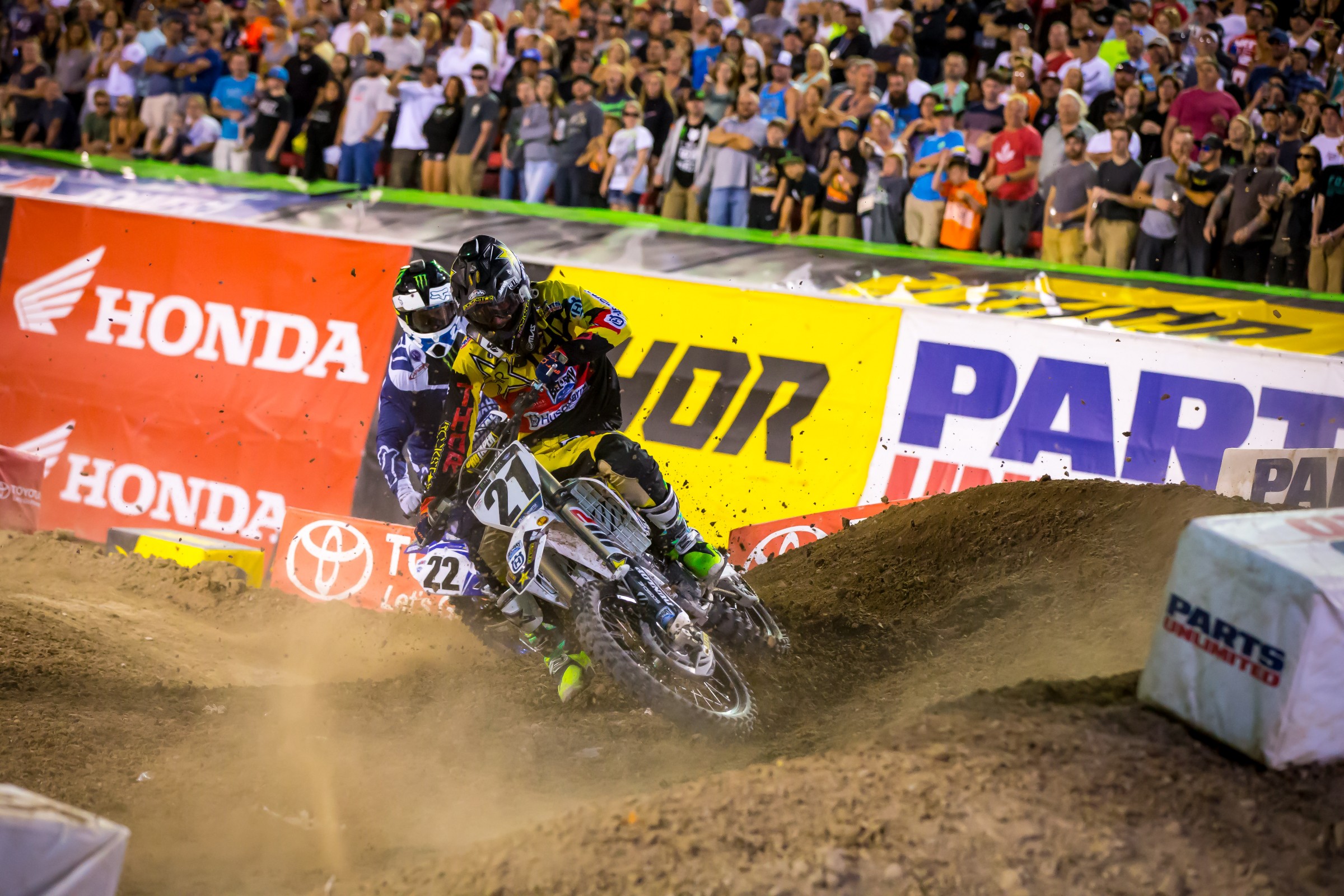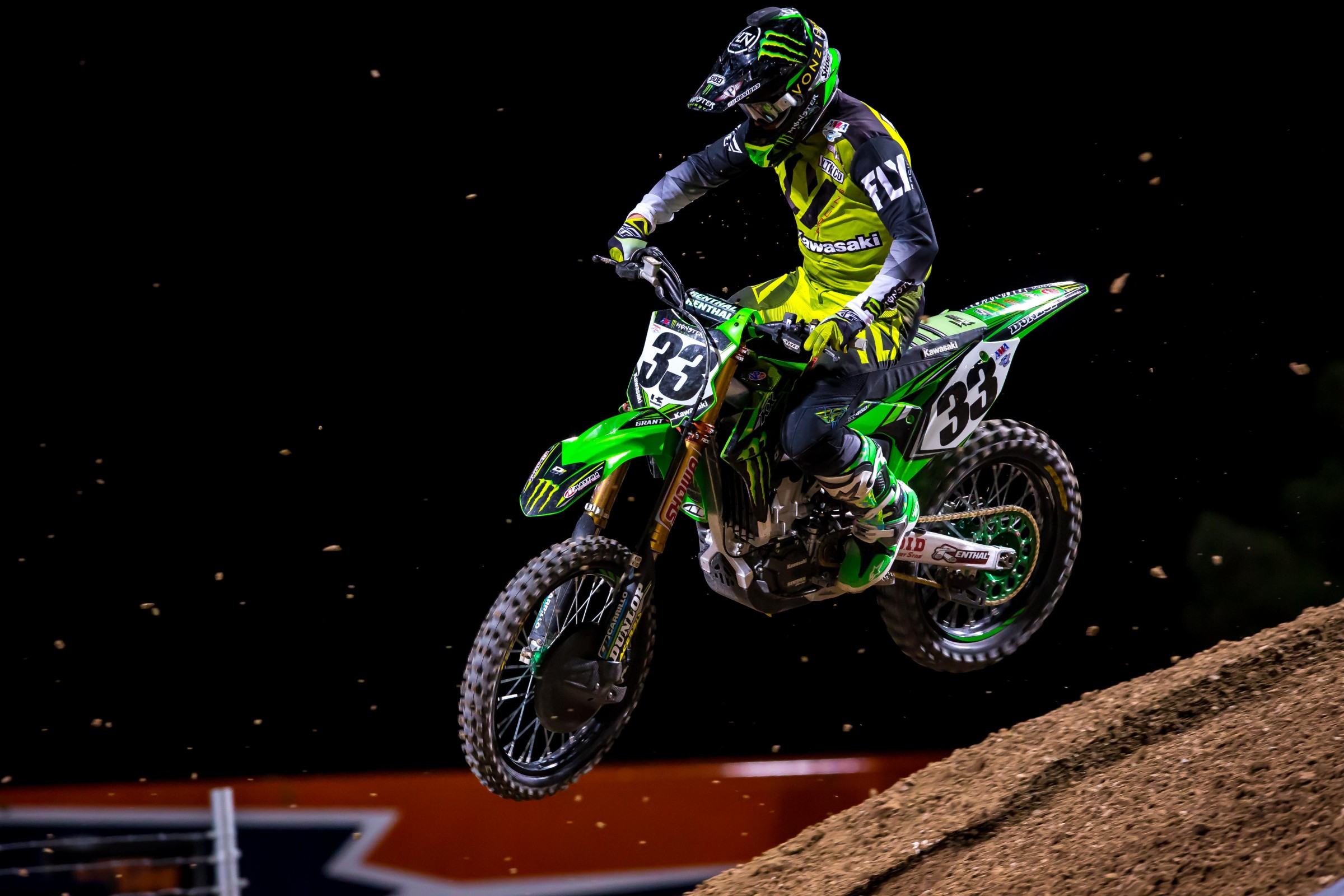 As for race winner Anderson, he was stuck trying to stay out of the title fray and not impact Dungey. "It's kind of an awkward position to be in, when you're in between the championship, and I don't want to be that guy to like make the decision [be part of the championship outcome], I wanted them to do their deal and battle that out. Luckily they did their deal at the end, and I did my deal with Chad, and I was able to get on the podium, and then they got together on that last lap and I was able to get by for the win, and that was cool. I really feel like I would have been able to get one last week, but at least I got one."
Much was made of last week's Red Bull KTM move with Marvin Musquin (who crashed out of the Las Vegas main) moving over to give Dungey a win. This time it was Tomac's teammate, Josh Grant, who rode well all day in hopes of stealing some points from Dungey.
"Obviously it was a little difficult because we knew the objective was to get as many points as we could," said Grant. "Yeah, it was craziness and I couldn't make a judgement call on it. I didn't know what was going on until I closed up on the guys, and it was a wild ride. [As for the podium] It feels good, I've been working hard, dealing with so many injuries [over the years]. I'm just looking forward to taking this momentum outdoors and doing some work."
In the pits after the race, a tale of two groups: The KTM group, celebrating a 450SX championship and the 250SX East Region title with sister company Husqvarna, and a somber Kawasaki gang, having seen title shots for Savatgy and Tomac both go by the wayside in races that came down to the last lap. It's a night of drama in Las Vegas that could truly live up to any other.
Supercross
Rider
Hometown
Bike
1
Jason Anderson
Edgewood, NM

United States

Husqvarna FC 450
2
Eli Tomac
Cortez, CO

United States

Kawasaki KX450F
3
Josh Grant
Riverside, CA

United States

Kawasaki KX450F
4
Ryan Dungey
Belle Plaine, MN

United States

KTM 450 SX-F
5
Dean Wilson
Scotland

United Kingdom

Husqvarna FC 450
6
Chad Reed
Kurri Kurri

Australia

Yamaha YZ450F
7
Blake Baggett
Grand Terrace, CA

United States

KTM 450 SX-F
8
Davi Millsaps
Cairo, GA

United States

KTM 450 SX-F
9
Justin Brayton
Fort Dodge, IA

United States

Honda CRF450R
10
Cooper Webb
Newport, NC

United States

Yamaha YZ450F
11
Christian Craig
Temecula, CA

United States

Honda CRF450R
12
Malcolm Stewart
Haines City, FL

United States

Suzuki RM-Z450
13
Justin Bogle
Cushing, OK

United States

Suzuki RM-Z450
14
Jake Weimer
Rupert, ID

United States

Suzuki RM-Z450
15
Vince Friese
Cape Girardeau, MO

United States

Honda CRF450R
16
Alex Ray
Jackson, TN

United States

Yamaha YZ450F
17
Dakota Tedder
Surfside, CA

United States

Kawasaki KX450F
18
Adam Enticknap
Lompoc, CA

United States

Honda CRF450R
19
Ronnie Stewart
Easton, PA

United States

Suzuki RM-Z450
20
Scott Champion
Temecula, CA

United States

Yamaha YZ250F
21
Justin Barcia
Monroe, NY

United States

Suzuki RM-Z450
22
Marvin Musquin
La Reole

France

KTM 450 SX-F
Full Results
Supercross
| Position | Rider | Hometown | Points |
| --- | --- | --- | --- |
| 1 | Ryan Dungey | Belle Plaine, MN | 359 |
| 2 | Eli Tomac | Cortez, CO | 354 |
| 3 | Marvin Musquin | La Reole | 293 |
| 4 | Jason Anderson | Edgewood, NM | 273 |
| 5 | Davi Millsaps | Cairo, GA | 221 |
| 6 | Blake Baggett | Grand Terrace, CA | 220 |
| 7 | Cole Seely | Newbury Park, CA | 212 |
| 8 | Dean Wilson | Scotland | 185 |
| 9 | Chad Reed | Kurri Kurri | 182 |
| 10 | Josh Grant | Riverside, CA | 175 |
| 11 | Broc Tickle | Holly, MI | 167 |
| 12 | Justin Brayton | Fort Dodge, IA | 147 |
| 13 | Cooper Webb | Newport, NC | 129 |
| 14 | Jake Weimer | Rupert, ID | 113 |
| 15 | Malcolm Stewart | Haines City, FL | 103 |
| 16 | Vince Friese | Cape Girardeau, MO | 84 |
| 17 | Justin Bogle | Cushing, OK | 83 |
| 18 | Justin Barcia | Monroe, NY | 83 |
| 19 | Mike Alessi | Apple Valley, CA | 59 |
| 20 | Ken Roczen | Mattstedt | 51 |
Full Standings
Supercross
Rider
Hometown
Bike
1
Adam Cianciarulo
Port Orange, FL

United States

Kawasaki KX250F
2
Justin Hill
Yoncalla, OR

United States

Kawasaki KX250F
3
Aaron Plessinger
Hamilton, OH

United States

Yamaha YZ250F
4
Dylan Ferrandis
Avignon

France

Yamaha YZ250F
5
Mitchell Oldenburg
Alvord, TX

United States

KTM 250 SX-F
6

Jimmy Decotis
Peabody, MA

United States

Honda CRF250R
7
Zach Osborne
Abingdon, VA

United States

Husqvarna FC 250
8
Hayden Mellross

Australia

Yamaha YZ250F
9
Mitchell Harrison
Lansing, MI

United States

Yamaha YZ250F
10
Cameron McAdoo
Sioux City, IA

United States

Honda CRF250R
11
Shane McElrath
Canton, NC

United States

KTM 250 SX-F
12
Austin Forkner
Richards, MO

United States

Kawasaki KX250F
13
Dan Reardon
Queensland

Australia

Yamaha YZ250F
14
Joey Savatgy
Thomasville, GA

United States

Kawasaki KX250F
15
Tyler Bowers
Danville, KY

United States

Yamaha YZ250F
16
Kyle Chisholm
Clearwater, FL

United States

Honda CRF250R
17
Cole Martinez
Rimrock, AZ

United States

Yamaha YZ250F
18
Martin Davalos
Quito

Ecuador

Husqvarna FC 250
19
Anthony Rodriguez
Caracacus

Venezuela

Yamaha YZ250F
20
Justin Starling
Deland, FL

United States

Husqvarna FC 250
21
Jordon Smith
Belmont, NC

United States

KTM 250 SX-F
22
Dakota Alix
Jay, VT

United States

KTM 250 SX-F
Full Results
Supercross
| Position | Rider | Hometown | Points |
| --- | --- | --- | --- |
| 1 | Justin Hill | Yoncalla, OR | 202 |
| 2 | Shane McElrath | Canton, NC | 164 |
| 3 | Aaron Plessinger | Hamilton, OH | 163 |
| 4 | Martin Davalos | Quito | 145 |
| 5 | Jimmy Decotis | Peabody, MA | 137 |
| 6 | Austin Forkner | Richards, MO | 114 |
| 7 | Dan Reardon | Queensland | 104 |
| 8 | Kyle Chisholm | Clearwater, FL | 90 |
| 9 | Cole Martinez | Rimrock, AZ | 77 |
| 10 | Mitchell Oldenburg | Alvord, TX | 76 |
Full Standings
Supercross
| Position | Rider | Hometown | Points |
| --- | --- | --- | --- |
| 1 | Zach Osborne | Abingdon, VA | 173 |
| 2 | Adam Cianciarulo | Port Orange, FL | 171 |
| 3 | Joey Savatgy | Thomasville, GA | 166 |
| 4 | Jordon Smith | Belmont, NC | 161 |
| 5 | Dylan Ferrandis | Avignon | 144 |
| 6 | Christian Craig | Temecula, CA | 97 |
| 7 | Mitchell Harrison | Lansing, MI | 86 |
| 8 | Luke Renzland | Hewitt, NJ | 84 |
| 9 | Anthony Rodriguez | Caracacus | 82 |
| 10 | Kyle Cunningham | Aledo, TX | 77 |
Full Standings