East Rutherford, NJ
East Rutherford (New Jersey)
Monster Energy AMA Supercross Championship
Round 16 of Monster Energy Supercross was an eventful one as we saw a huge shakeup in the points battle between Eli Tomac and Ryan Dungey and lots of drama in the heat races and semis.
If you look at the day's scorecard, Dungey's day went perfectly as he logged the fastest lap in practice, won his heat race, and the main event. Going into the weekend many said it was do or die for the defending champion, and the pressure of the championship didn't seem to phase him much. He now holds a nine point lead over Eli Tomac who crashed early in the main event and seemed to struggle to get back up to speed. He finished eighth.
Marvin Musquin was also fast throughout the night, logging the second fastest lap in qualifying and he even passed Dungey around the 10 minute mark during the main event. He held the lead until the very last lap when he drifted wide in the sweeper before the whoops and Dungey cruised by for the win.
Jason Anderson got out to an early lead before making a mistake after the first triple and going down. He got up in eighth place and worked his way back up to third by the checkered flag. It was his third podium in a row and his fifth this year.
All three riders spoke to the media after the race.
Racer X: Congratulations, Jason. Got out front early in that main event and had the mistake after the triple. If it wasn't for that mistake and fall, do you think tonight could have been a win?
Jason Anderson: Yeah, for sure. To be honest, that heat race, practice I didn't feel that good but I felt like I was coming around. I got that heat race win and then got the start in the main. Honestly, I feel like with how rutted it was, it was not how fast you were tonight—I feel like it was just not making mistakes, and I made that one mistake. But I definitely feel like I could have been the guy and been up front and definitely battled for that win. I was pretty excited that even though I fell I was able to come back through the pack.
Congratulations, Marvin. Take us through the last lap. You had the lead, made the mistake, Ryan got around you. Just take us through that last lap.
Marvin Musquin: Well, not only that, it took me a while to get going and I saw Eli [Tomac], I saw Jason going. I was like, you better get going. I was a little bit slow at the beginning and I was searching for good lines. Finally, I got a good rhythm. Obviously Eli went down and then Jason went down. You could tell it was really difficult to not make mistakes. The track was really tough. Me and Ryan [Dungey] were first and second, so that was really cool. Then I was able to get around him. I think I had one or two better lines, but then I feel like maybe he saw some of the lines and he kind of picked it up. I felt like I was getting away a little bit and then he was coming back on my rear wheel. I tightened up a little bit on the last lap, and I got a good run through the whoops, but maybe too fast. That sweeper, that rut was really difficult. It was hard to feel the front end right here and I made a mistake. At the end, it's a KTM that wins so it's good for us. It's hard. I felt like it was going to be a good race, but still second place. It's good.
Congratulations, Ryan. Something seemed different with you today. Qualifying, heat race, everything. Just a little bit of extra fire. Was that maybe a mental adjustment this week? Physical? What was the change this week?
Ryan Dungey: Just really trying to apply it. Obviously, it was two races to go and we need to be there from the beginning of the day. Especially practice is a good way to set the tone. The first practice was okay. Made some adjustments for the second one and it really helped us out. I just felt comfortable. I was able to hit my marks. The track was really deep in some sections and rutted, so really challenging. But it was nice. It kind of felt effortless in a way. It was tough for sure, but I was able to hit my marks, put the track together. The heat race win was good, got out front. Then the main event wasn't a great start. I snuck in there and I came out third. I was pretty blown away. I don't know how I snuck through like that. After the first lap I found myself in about third. Eli was right there and we were trying to hold each other off. Then Jason made the mistake, like we were talking, and then Eli made the mistake. I was like, all right, just no mistakes. Kind of a patience track. Like Marvin said, there he was and his lines were better. I was thinking maybe it's not a bad thing if I let him by. I know I'm going to pick up on a few lines—and I did. The track was very physical, really physically tough there at the end there. Had my head down and I come around a corner and Marv's to the left and I was able to sweep by. It was good to get a win. It's nice to see all three of us up here. We work pretty hard. I know [Aldon] Baker's pretty pumped right now and KTM as well, and the Husky. But for sure, all three of us up here is pretty cool.
Ryan, when you saw Eli down, you guys battled pretty hard for about a lap or two and then you saw him down, what was your reaction when that happened?
Dungey: Just really like, wow. I haven't seen him make a mistake. When I was forcing it in the first practice I was like, I can't do that. Then the second practice I kind of just chilled out a little bit. So, when I seen Eli make the mistake, obviously all right, go underneath, get by, and then just kind of hit my marks. The track from 15 minutes after the 250 guys and then us 20 plus minutes, including the one lap, it's a lot of guys out there. I stuck to the same line and I think that line just got deeper and deeper and deeper. After the start there was the double, double, triple, left-hand turn. I was struggling there. I saw Marvin's line—over and jump on, jump off. It might have been a little slower, but it was a lot more effortless and a lot more consistent. So, that really was nice. But just when I saw him down, now we just got to not think about the championship—just race to win at this point.
This question is for Marvin and Ryan. Both of you are on the same team, Red Bull KTM. What are the team tactics involved with winning a supercross championship? We know that Marvin made a mistake at the end, allowing Ryan to pass. Is there any team tactics involved, and if not are there team tactics discussed say in a theoretical situation where the three of you are up front with Eli?
Dungey: No. I think there's a lot of pressure on both of our sides. KTM has a lot invested and we're both up front and running and going for a championship for sure. All that's running through my mind is race to win. We've got to make the pass on Marvin—obviously, I know those are three incredibly important points. So, with that being said, honestly I had my head down and there was Marvin to the left and, like you said, he made the mistake. I think one-two is still good for KTM. Do we need the points? Absolutely. Moving forward, especially with one race left. But I think we both race to win, for sure.
Musquin: Well, I think it would have been different if Eli was with us, I think. But right now I proved that I was behind Ryan and I wanted to win. I show you guys that yeah, I got around him. It's not like I was behind and just waiting.
Marvin, at the beginning it didn't look like you wanted to force the issue with Ryan either, though. You were kind of being patient. Was that going through your mind a little bit?
Musquin: Yes. I wanted to get going and to get around those guys, but at the same time obviously I don't want to run into anybody and take the risk to crash because of those ruts. But with Ryan it's even more. I didn't want to hit him or something, so it was really hard to get around it. Those guys in front of us, they made mistakes. I kind of want to say we were maybe a little bit smarter, maybe not. It may be bad luck for them, but at the same time we stayed on two wheels. But definitely at the beginning I wanted to make the pass, but at the same time you don't want to do stupid mistakes and hit the guy and go down. It was tough. Tracks like that the ruts got super deep and they kind of cut inside. You get on the inside and you can hit the guy really easily and go down. So, it was a difficult situation at the beginning. It was hard, just difficult to see Eli going and then get into the lead. That was not good, but he was going for it. That rut, I think I saw the replay and he really railed that rut. I think it grabbed you. It was super deep and he went down.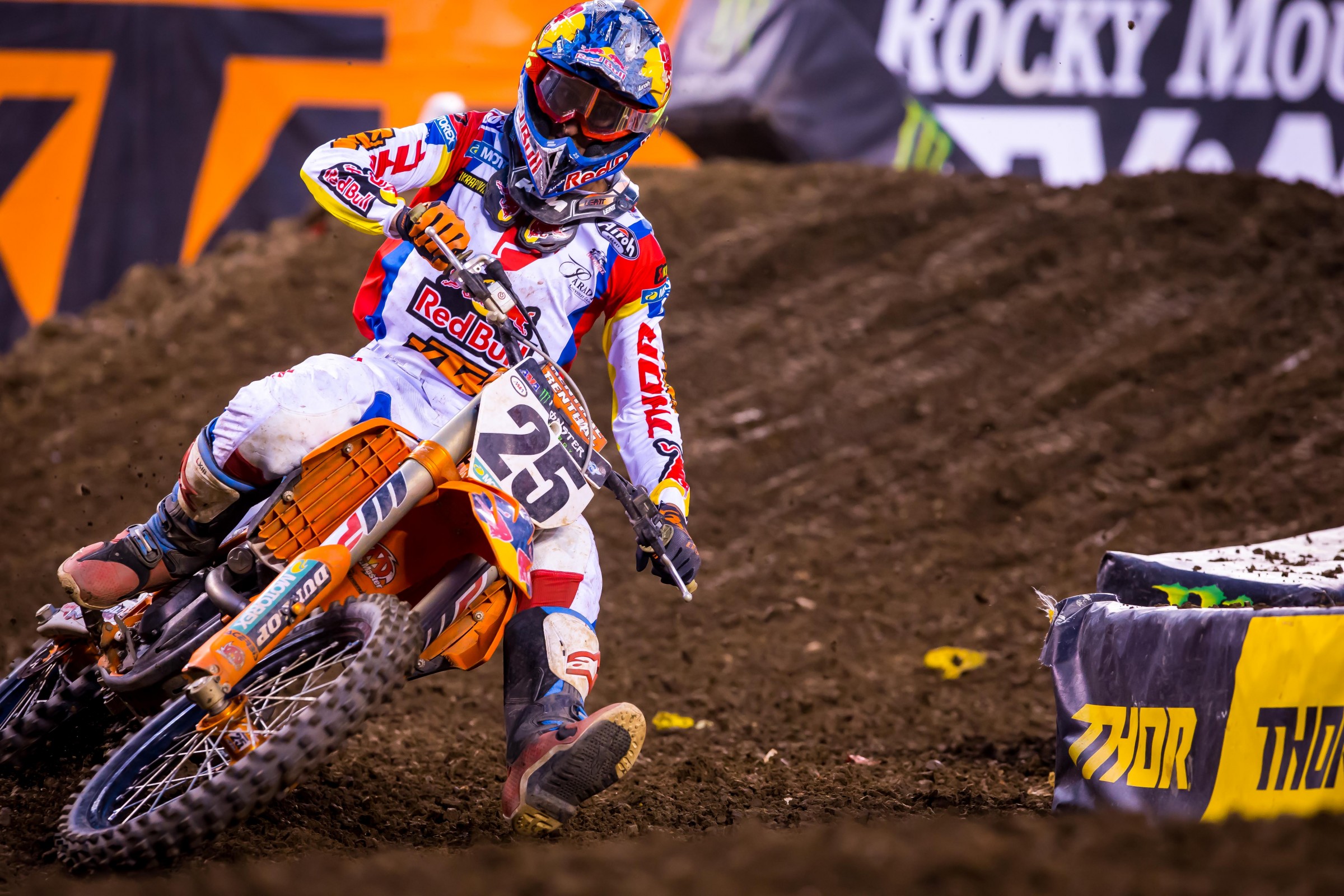 Ryan, I think in the past I've heard you say, obviously you want to set some fast times in practice and stuff, but I don't think that setting the fastest time in qualifying is the end of the world or anything to you. But setting the fastest time today, that was pretty huge. Did that give you some added incentive or motivation? How did that impact you going into the night's race?
Dungey: I think it's a positive. Like you said, it is only a time but at the same time you're on top of the leaderboard. You know how you felt. You know you can go the speed. I know that when I'm not the fastest guy I know I need to pick it up a couple tenths. If Marvin's the fastest I need to find a couple tenths around the track. Same with Eli's the fastest. It's important. Like I said, it kind of sets the tone. Marvin kind of touched on it, but it wasn't a track like … you couldn't bring that intensity. You almost kind of had to take a step back to go faster—go slower to go faster. Especially in the main event, it just got to a point where it got so deteriorated. But yes, I think it's very important to be there. And I want to be there all year as far as the times go and coming into the night show, but we haven't been. But it was good to see. We made some progress. We've been trying some stuff and trying to get better. I trust the team in making adjustments and changes. They come to me with this. They guide me and they direct me. It's great and it's helpful. We made a good decision today. It was good.
Jason, throughout the first half of the year you kind of struggled with consistency, and now you have three podiums in a row going down. How big is this for building into next year? Still looking for a win before it's over?
Anderson: Yeah, for sure. I think getting three podiums in a row is in the right direction. I feel like my starts have gotten better. I've been up front a lot, so I think that's been helping me. I really just wish I'd have started bringing this riding and race craft more at the beginning of the year, but I'm learning still. Hopefully I'm learning for next supercross season so I could keep getting these good starts and string these podiums together and hopefully be in the spot that Ryan's in right now. Be in that championship battle. It'd be cool. But at the same time, I'm excited that I'm progressing and learning, but it's not that fun being on the third spot of the podium. I want to be up front a little bit more. That'd be cool.
Ryan, over the last 10 championships or so quite a few of them have been almost runaways by the leaders. What's it been like to have a much closer championship over the last three races? Is it a lot more pressure on you? What's it been like?
Dungey: No. I think if I was younger … you grow, you kind of learn how to handle things a little bit more. It's not so much pressure. I think it's just for me knowing the situation that I'm in and not overlooking it. I think in the past it was easy for me to go think about this guy, what he's doing, or go over here. Just kind of lose track of what I'm doing. If I can keep the focus on myself and apply myself good and just do it like I practice at home, and race to win. Race to put myself up there, and race for the best result. That's all I can do each and every race. Eli had a string of wins there and some consistent finishes, and then we were fourth and kept chipping away at that points lead. You get a rival like that, or you get a guy who challenges. It's racing. Obviously it is nice when you've got a big lead. You don't feel that, I don't want to call it pressure, but maybe it is. You don't feel that kind of push there so you can relax a little bit. But this is more of a high-pressure, intense situation and you want to win. You put in a lot of work trying to keep yourself calm and everything. But I think mainly just doing my deal, focusing on myself, applying myself good, not getting ahead of myself and just giving it my best each and every night and being happy with that. That's all I can ask for myself. It's good for the sport, too.
For all three of you, since you do train down in Baker's Factory in Florida, how do you feel like that puts you at an advantage racing here in New Jersey where the humidity here was quite high today and quite a bit warmer this week than last week in Salt Lake?
Dungey: Honestly, I haven't been in this humidity since probably last year when I was riding a little outdoors when I came back from my deal. This was humid today. I would say it was kind of a little bit of a test. Real thick and you're sweating a lot. It's good. We push each other. Usually we're together quite a bit. But it was humid. It was on another level.
Anderson: Yeah, for sure. Definitely for supercross when it's warmer out you definitely get the heart rate up a little bit higher. But when we're in Florida we don't really have a winter. It's always warm there and these guys never let me relax any day. So, it's cool. Although we do push each other and we do battle, we have a good time.
Musquin: You're right. It's a good thing to have practice in Florida. I've actually been in California for the last few weeks. I was already here on Thursday in New York and it was actually not hot. Then yesterday and today it was really humid, so a big difference. But yeah, nothing you could do. We've been working hard so conditioning is I think really good. Mentally good too, and the endurance too. It's 20 minutes plus one lap and in these conditions you've got to be on point. We'll keep working. Outdoors is coming, so it will be good.