Injury Updates on Seely, Grant, Alldredge, McConahy, and Marquier [Updating]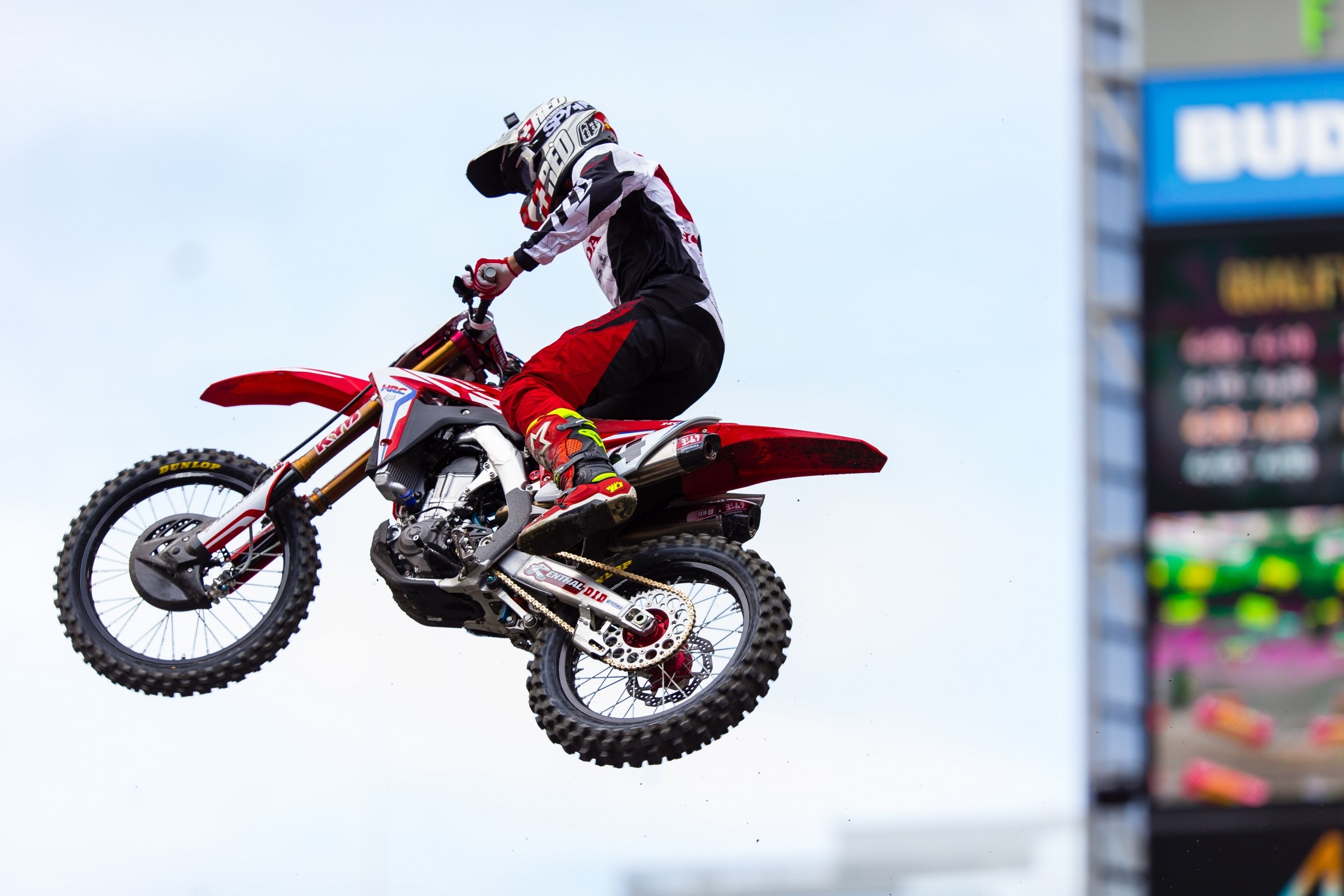 Seattle, WA
Seattle
Monster Energy AMA Supercross Championship
Cole Seely
Honda HRC's Cole Seely missed the main event on Saturday after hurting his knee in practice. According to a TLD press release, Seely has been dealing with a torn adductor muscle in his knee and tore it again on Saturday.
"I've been dealing with torn adductor muscle since last weekend and dabbed my leg in practice today tearing it again," said Seely on his Instagram. "So bummed to be sitting out the race today in one of my favorite stadiums."
[Update: Monday, April 10]
According to a Honda HRC press release, the team won't know more about his injury until he undergoes an MRI. Below is a statement from team manager Dan Betley.
"I'm really disappointed for Cole and the entire team. It's unfortunate not having him out there tonight. These conditions have suited him well in the past and he looked good early in practice, so we had high hopes for tonight. We're hoping for the best but we won't know the severity of the injury until he gets an MRI. We appreciate everyone's support and will keep our fans posted on his status."
[Update: Wednesday, April 12]
Seely underwent an MRI yesterday and it was determined he sustained a sprain and partial tear of his adductor muscle, per his Instagram account. With Ken Roczen already out, Honda HRC may be without Seely for a few rounds as well. Below is his full post.
"Little update: I had an MRI on my leg today and I have a sprain and partial tear of my adductor muscle. Going to be working the next couple weeks to be race ready as soon as possible."
---
Josh Grant
The Monster Energy Kawasaki rider missed the main event on Saturday night after going down in qualifying. According to Grant, doctors told him he wouldn't be allowed to race after he "rang my bell a little." Grant did say his ankles, which he had surgery on last year, were doing fine.
"Not exactly how I planned my weekend in Seattle but after watching the video Doc said I was done for the night. Rang my bell a little. On a good note those Ankles be looking solid! joining the OTB gang."
Chris Alldredge
Barn Pros/Home Depot Yamaha's Chris Alldredge was injured during qualifying when he went down and was hit by Shane McElrath, who had nowhere to go. Alldredge released an update on his Instagram account:
"I'd like to apologize to @shanemcelrath_ I'm sorry for wrecking where I did and leaving you no outs. Hope you're doing alright man, and congratulations on the 5th Place last night. And prayers to @noahmcconahy59, you're trooper and I hope you feel better bud!


Update: Staying in Harbor View Hospital for a few days. Partially Collapsed Lung, small bit of Air in my Chest, Grade 1 Lacerated Liver and Adrenal Gland which are still bleeding a very small amount. Fractured 10th Rib, Fractured Pelvis, and Fractured L1, L2, L3, and L4 in my Lower Lumbar. Thanks for all the get well wishes, and be sure to send lots to @noahmcconahy59 as well."
[Update: Monday, April 10]
The team released an update this morning on Alldredge's status. Per the release, Alldredge was released from the hospital on Sunday and is currently at home recovering.
You can read the full release below:
BPRMX Home Depot Yamaha rider Chris Alldredge was involved in a qualifying practice crash on April 8 at the Seattle Supercross round of the Monster Energy Supercross Series. Chis was taken to Harbor View Hospital for X-rays and evaluations.
Chris suffered a number of injuries including Partial Collapsed Lung, Grade 1 Liver Laceration, and Adrenal Gland laceration, Fractured 10th Rib, Fractured Pelvis, and Fractured L1, L2, L3, and L4 in his Lower Lumbar Spine. In the early stages the doctors were looking to keep him in the hospital until Monday for observations.
Sunday afternoon with the great progress that Chris had made the Doctors release him and is now resting at home for the next few weeks. Chris will meet with his family doctors to decide his next move and start working towards a full recovery and will be back on the bike soon.
Everyone at BPRMX would like to thank our fans for all the calls, emails, Instagram posts and prayers for Chris and his family. To say Chris will be missed is an understatement, he has incredible talent, drive and determinations and we know he will be back to racing in short order.
---
Noah McConahy
The 51FIFTY Energy Drink Yamaha rider was involved in a scary crash in the 250 main event on Saturday with Chase Marquier. The race was red flagged and the Washington native was taken to a local hospital with a broken L5 vertebrae. Per his Instagram account, he underwent surgery today.
"Can't thank this dude @motohead372 enough for coming to the ER to make sure everything is ok. Just an update for everyone I sustained a bad break on my L5 vertebrae and will undergo surgery first thing tomorrow and start the road to recovery. Extremely thankful The injuries aren't worse and we will be back soon!!!!"
Chris Alldredge posted this earlier this morning.
[Update: Wednesday, April 12]
McConahy is on his way home, which is great news.
Chase Marquier
Marquier was also injured in the crash and posted the following update on his Instagram account:
"Wanted to give a little update! I got a pretty good start in the main and on the second lap I had to check up on a jump in a section which caused me to get landed on. At the hospital now with a broken scapula and dislocated shoulder, waiting on surgery now. Not how I wanted my season to end but thankful it wasn't worse. Also everyone say a prayer for my bud @noahmcconahy59 who was involved."