Centurylink Field
Seattle

,

WA
Seattle
Monster Energy AMA Supercross Championship
Finally Monster Energy Supercross has come back to Seattle! A city rich in supercros history has missed the last seasons due to construction in the area surrounding the stadium, which temporarily removed space for pits. But now the pit has been moved to the convention center which is connected to the side of the stadium, which is great because that means it's indoors and away from Seattle's inclement weather. These pits have the feel of Atlanta and St. Louis' indoor setup, and those are some of the most popular scenes in the series.
But the stadium still doesn't have a roof on it, so inclement weather will be dealt with for the races. The track was built and covered several days ago, so even last night's heavy rain didn't hurt the dirt. But the problem is there has been so much rain here throughout the winter that the dirt was already kind of soft. To combat that, today's practice schedule has been reduced to the bare minimum, one session for 10 minutes this afternoon. Otherwise we're in a long rain delay here at the stadium. Right now the track has been uncovered and it looks dry. We'll see if it holds up (and if any more rain holds out).
The short practice and the chances of rain tonight will just add more drama to the series. Justin Hill holds a solid 21-point lead over Aaron Plessinger in 250SX West, we talked to him yesterday and he's enjoying the moment and not shying away from it. Hill pointed to the blank space on the door of the Monster Energy/Pro Circuit Kawasaki truck where another number-one plate would live, and said his goal is to fill that space.
In the 450s, you already know Eli Tomac has pared Ryan Dungey's points lead down to just four after winning his fifth-straight race last weekend in St. Louis. Dungey of course had some drama with Chad Reed last week and we spotted he and Reed talking in the Yamaha pits this morning, hashing it out.
We talked to the FIM's John Gallagher yesterday and he told us when he explained last week's fine to Reed, Reed said he did not intend to be "that guy" and was not holding up Dungey on purpose.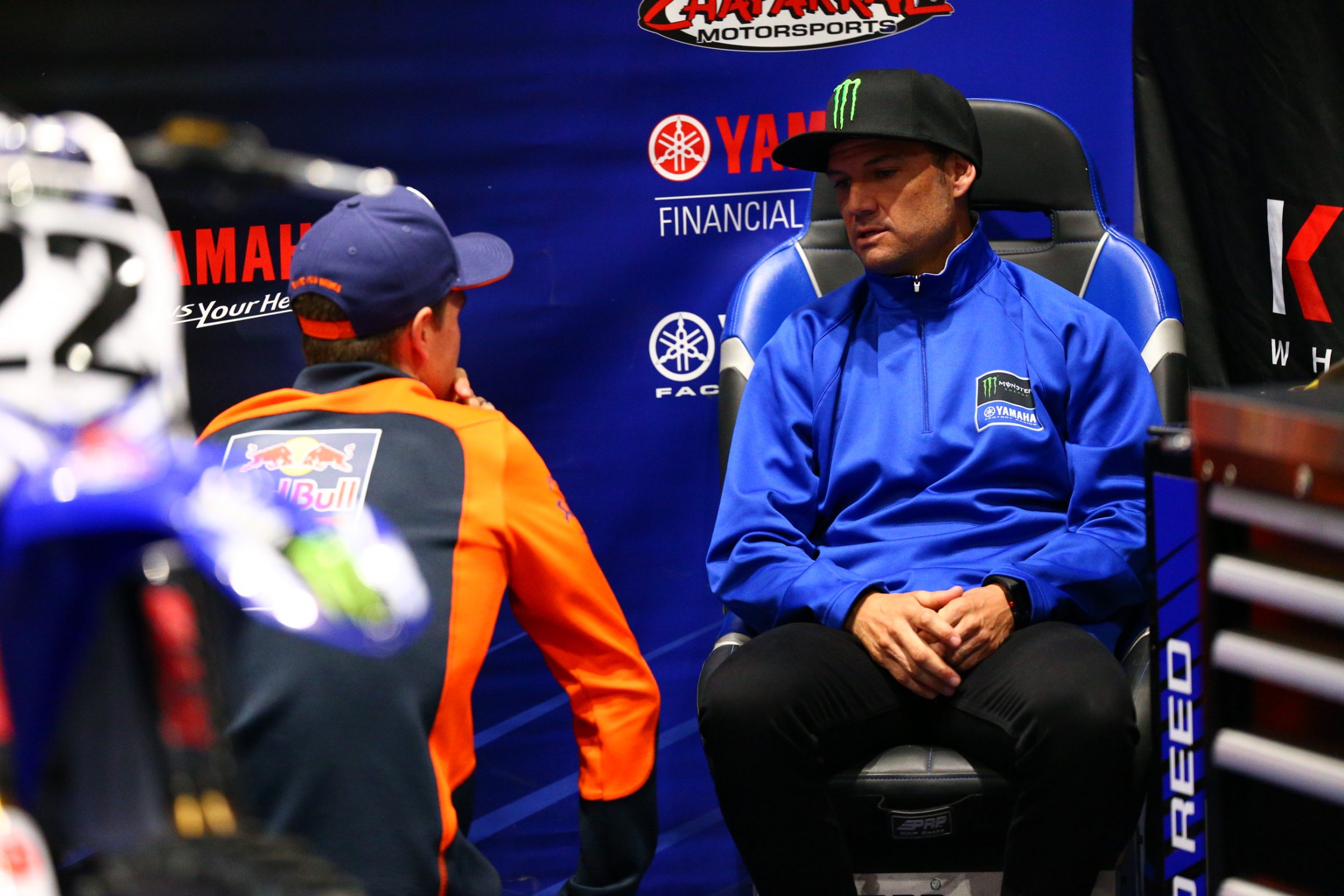 Anyway, practice begins at 4 p.m. local time. We'll be back with more.
Practice
Yup, this is the only practice today, 10 minutes per session. After track walk everyone finally had a chance to size the track up, and the consencus is that the dirt looks good but is soft and will get rutted and gnarly—we talked to JGR men Jake Weimer and Justin Barcia and they said doubling through rhythms would probably be the order of the day.
They were right. Ruts formed almost instantly as soon as practice began, and while the regular supercross triple could be jumped, the rhythms were indeed down to just doubles. We had star expert analyst Ryan Villopoto stop by the press box to tell us it looked like the doubles were made a little longer than usual so riders could jump them without going long or slamming into the face of the third jump.
Justin Hill continued where he left off when the west went to break two months ago, taking the top spot in this session. But the track was getting bad! Mitch Oldenburg was fastest early in the session and then had a big get off, he was lucky to shoot off the track and get up okay.
Things got worse soon after, as Chris Alldredge crashed hard, and then Shane McElrath crashed into the back of him. McElrath was able to get back p
After the red flag, Plessinger found his groove and absolutely blitzed the track, flying past everyone. His time wasn't fastest, but that's because the track keeps getting slower and slower. But when the track was bad, yeah, he looked incredible. Or maybe he just looked more spectacular and Hill was just efficiently effective?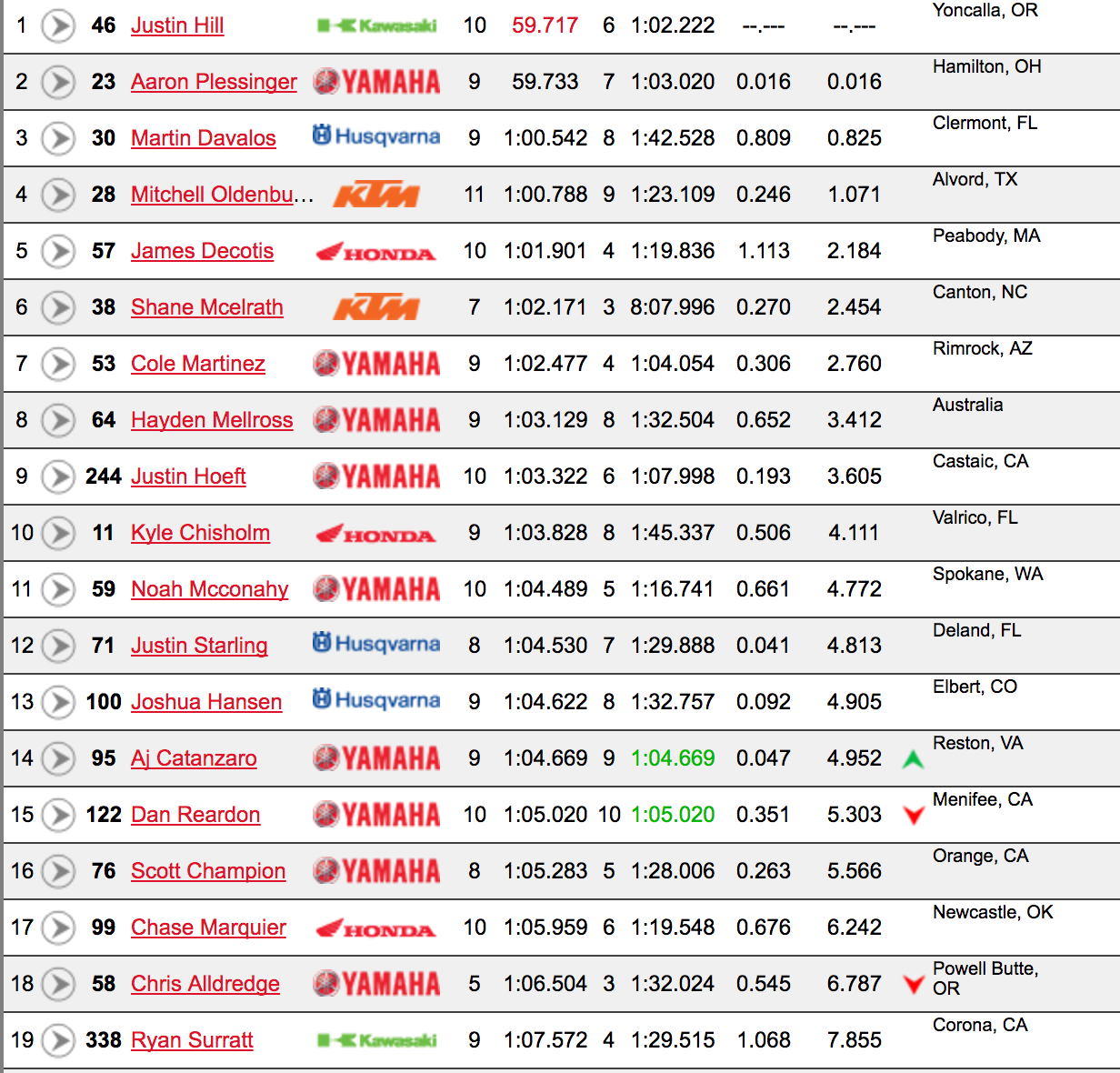 The track was even worse when the 450s came out, Justin Barcia knew he had 10 minutes to log a time and he pinned it immediately and put his number to the top. He made some big mistakes on that lap, but that's what it takes to go fast on this crazy track. Actually, as the session went on, everyone was making mistakes! Davi Millsaps, always good in ruts, jumped to the top of the board after a few laps, then Eli Tomac, and then Cooper Webb.
Marvin Musquin crashed bike was in a tough spot and took forever to get going, having to straighten out his front end. But he did a great job on the alignment, because he jumped to second fastest . "That's a technical track to say the least," said Musquin.
Cooper's time held out as fastest of the session, a nice shot in the arm for him after two rough races coming back from a shoulder injury. "I felt awesome, it's cool to have a different challenge and have this one session," said Webb. "It's a man's track out there and I like it. We had a good qualifier and we'll take it into the main event—who knows? Maybe tonight is the night. It's an awesome track and it's going to be gnarly."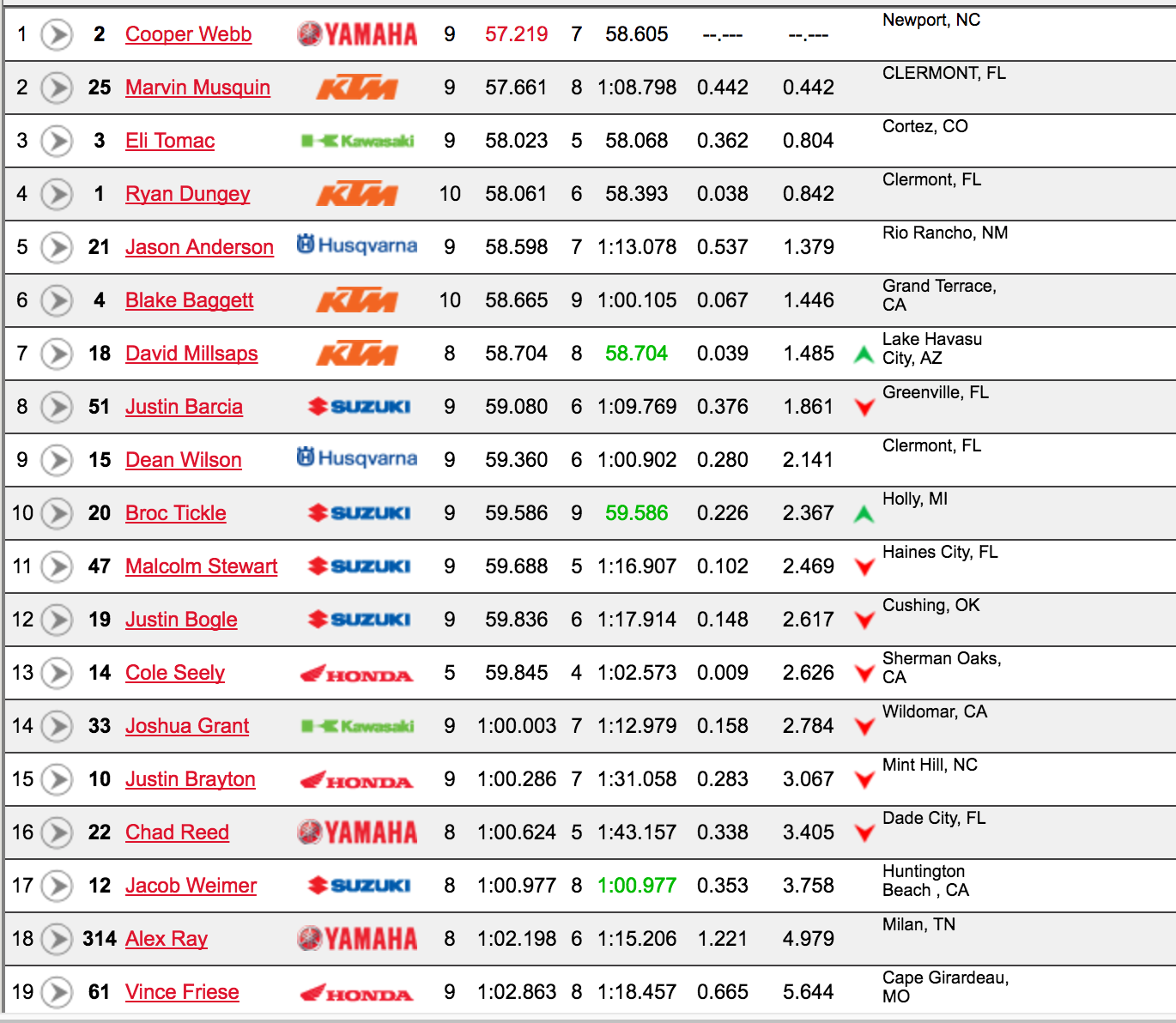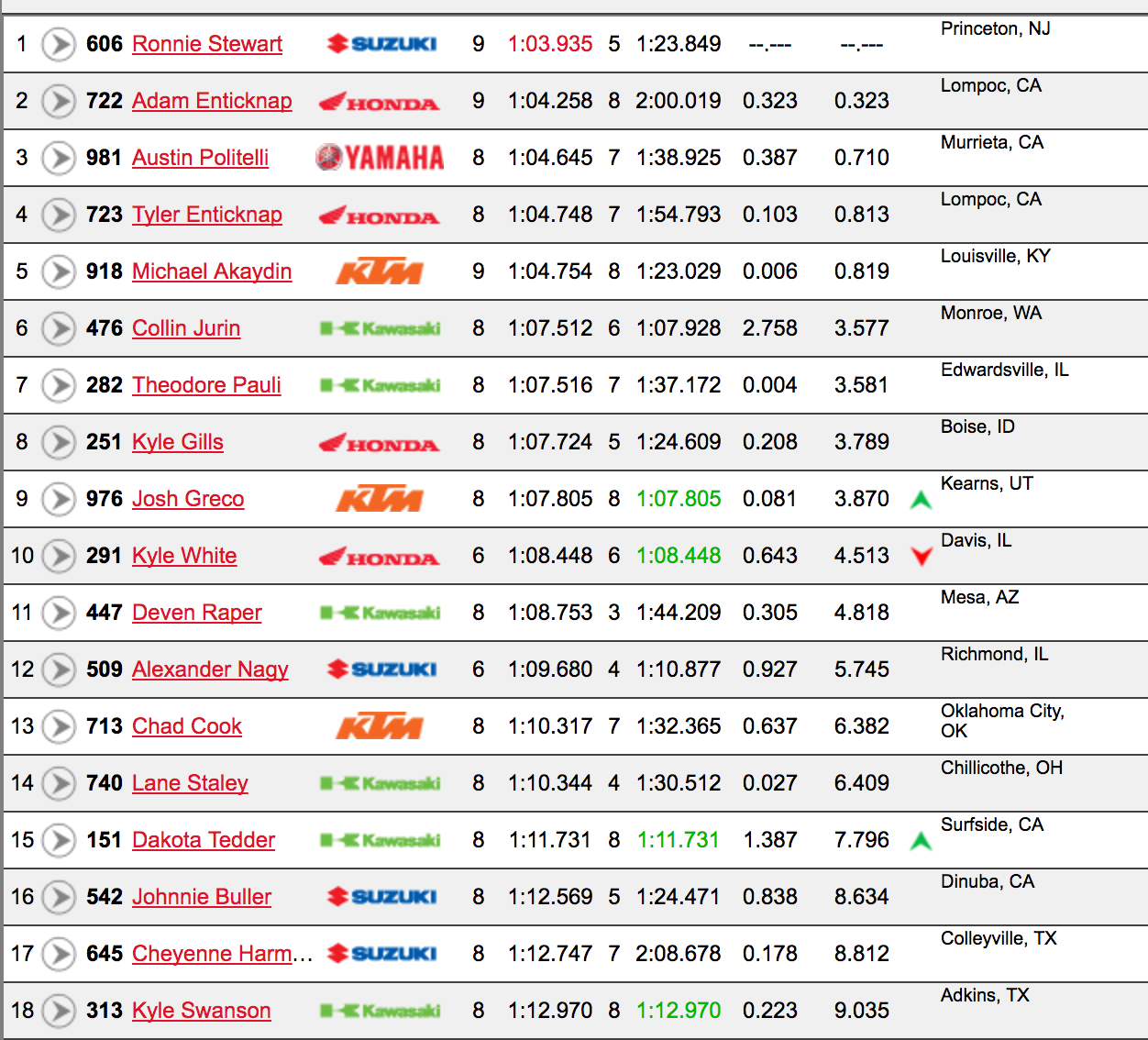 Update before the night show: We've received word that the mains tonight will be cut down three minutes due to the gnarly track conditions. So that's 17 minutes and a lap for 450SX and 12 minutes and a lap for the 250s.
Another update: Cole Seely is out for the night with a torn muscle, not sure how severe it is.
One more update: Blake Baggett told us with the extra time he had this morning due to the late practice schedule, he was able to visit Seattle's famous Pike Place Market and order some crepes with ice cream and whipped cream on them. Then he chased it with a giant steak burrito from Qdoba. For breakfast! Blake tells us he ate a dozen Krispy Kreme donuts during the days leading up to the Atlanta supercross, where he scored a podium.
Heat Races
250 Heat 1: Jimmy Decotis grabbed the holeshot on his GEICO Honda with Aaron Plessinger right behind. Then they went at it hard. Plessinger wheelied through the whoops on the first lap to make the pass, but Jimmy D wasn't giving in and passed him back. Plessinger tried a new rhythm through the lane after the start, pulling the trigger on 2-3-3, and he used that to pull next to Decotis, but Decotis sliced back underneath to repass him again. It was good racing, and they battled for another two laps before Plessinger finally got it done. Decotis hung on for second, ahead of Mitch Oldenburg, who had to work his way forward after a bad start.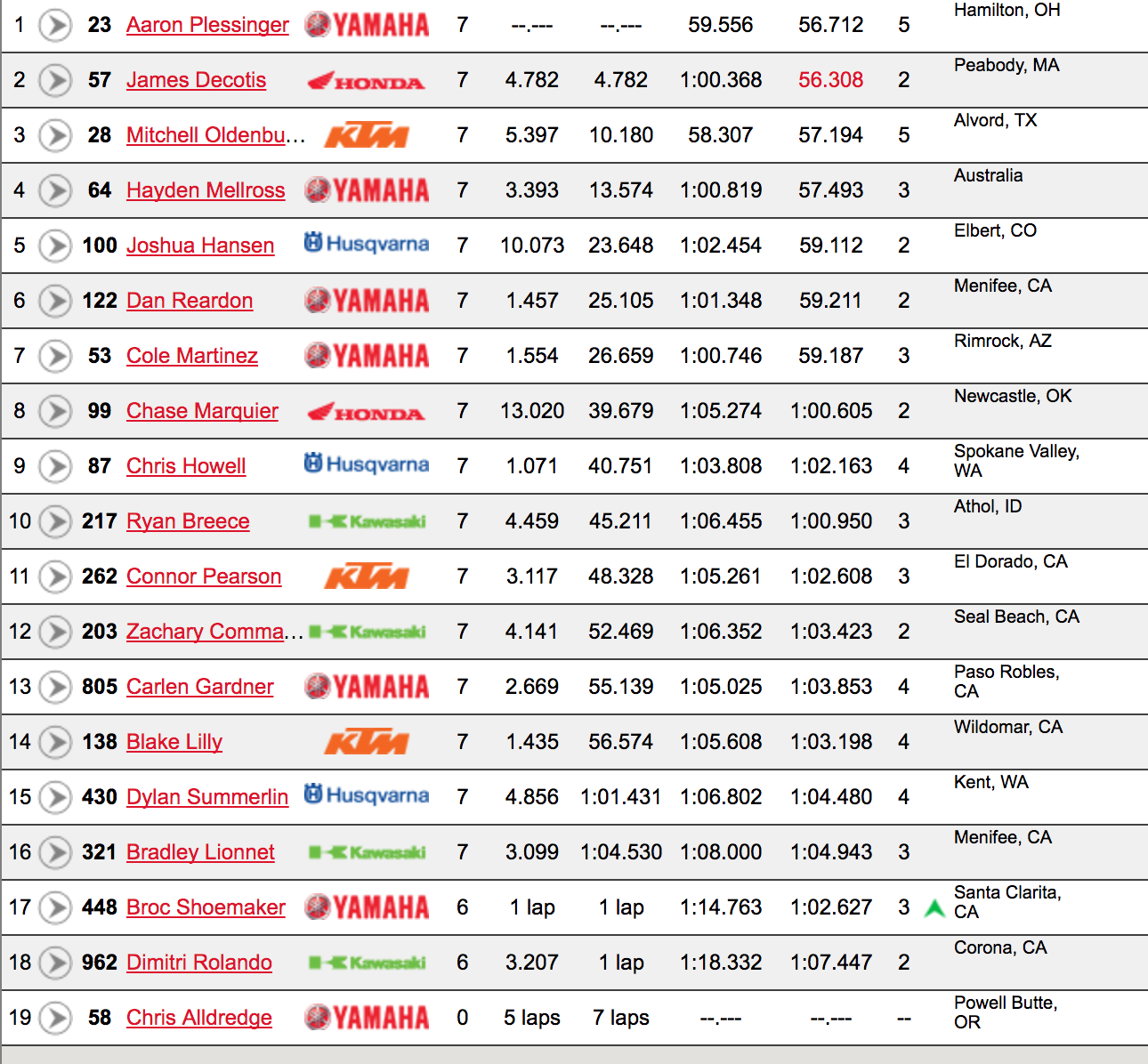 250 Heat 2: Martin Davalos grabbed the holeshot with points leader Justin Hill in second. Hill reeled in Marty and then they battled hard, but Davalos made a mistake and shot off the track, into a tuff block, and into a track worker and went down—luckily the track worker appeared to be okay also. Not soon after, Davalos cased a triple and went down again, but he was able to remount and salvage a fifth, with Hill long gone up front. Shane McElrath worked his way up to second.
Late in the race, a gnarly battle broke out for the final transfer spots. Kyle Chisholm came from 17th to 6th, then Justin Starling fell and got sucked into a huge battle with Ryan Surratt and Noah McConahy. McConahy and Surratt took it down to the final corner battling for 8th, with Surratt just edging him out. A few moments later came AJ Catanzaro, coming up Just Short in 10th.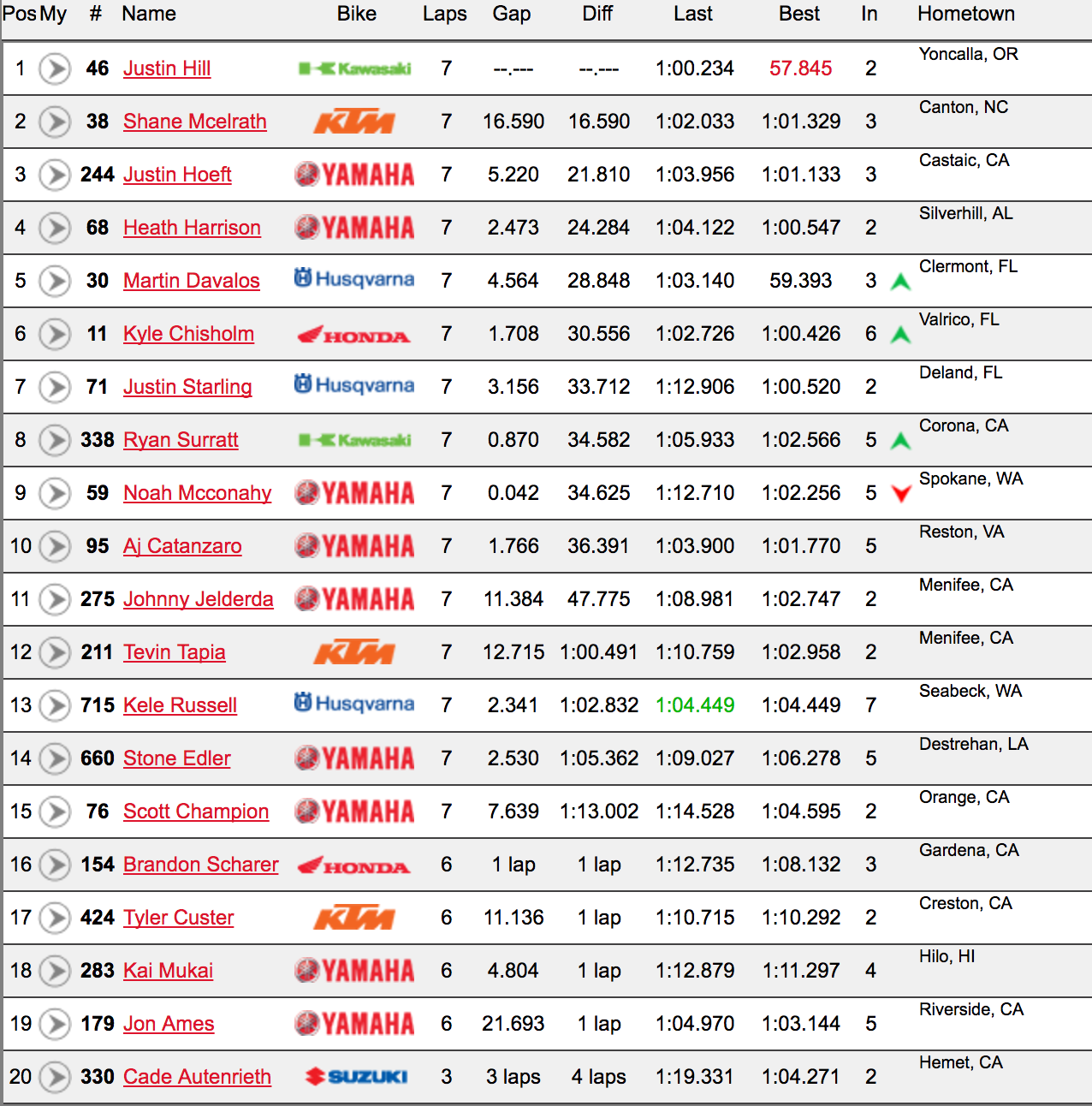 450 Heat 1: Marvin Musquin grabbed the holeshotbut Ryan Dungey pulled his normal move by slicing inside in the first turn to get to second, and show Marvin a wheel. Chad Reed followed Dungey through, and the fans were getting excited as he and Dungey looked set to battle for second. But Reed started losing time, and positions, as Justin Barcia and Blake Baggett got around him. Barcia was going fast and actually caught right up to Dungey and showed him some pressure for a few laps, while Dungey also stayed close to Musquin. In fact, Dungey looked a little faster than his teammate, but Marvin did a good job keeping his bike wide and holding on to the lead. Dungey would end up second ahead of Barcia and Baggett.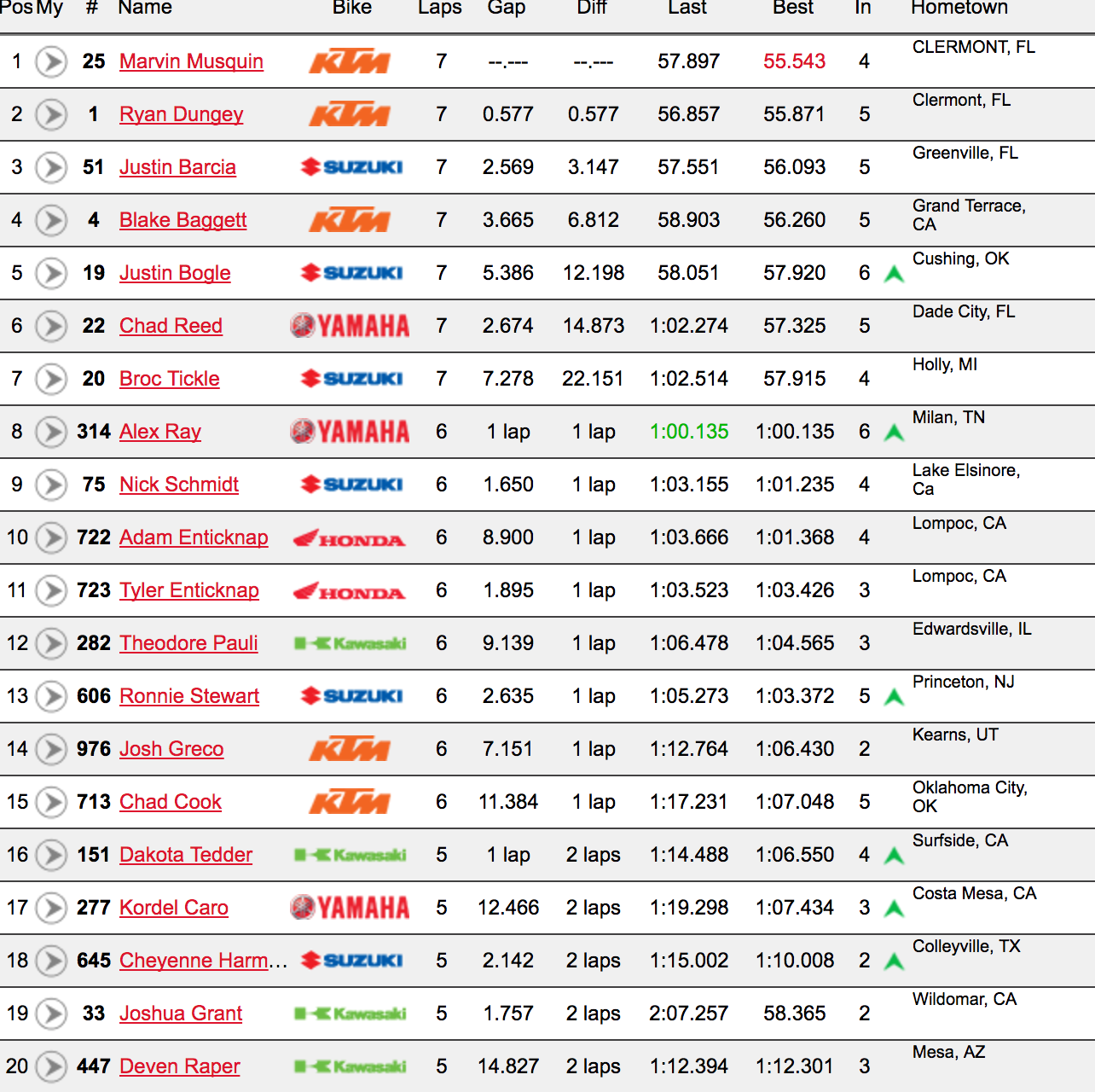 450 Heat 2: Davi Millsaps shoved his way into the lead off the start, but Cooper Webb was quickly around and into the lead. Webb showed his fast qualifying time was no fluke, he pulled away immediately and took the win by eight seconds. Just forget about the Cooper Webb you saw the last two weekends—the real CWebb is back tonight, and clearly comfortable and a crazy gnarly track.
Millsaps was second and Malcolm Stewart third early, while Jason Anderson tried to get Jake Weimer for fourth. They battled, then Anderson basically crashed without going down—it was an incredible save, but he also almost ran into Eli Tomac, who was coming through from a bad start. Anderson then had another huge moment, then another, but never let off the gas and hung on to repass Weimer. But this one wasn't over, as Anderson found himself back under fire from Tomac for the final transfer spot. On the last lap, Stewart crashed all by himself in third—a rare mistake from Heat Race Mookie—and Anderson lost the front end trying to avoid him. This let Tomac slip past both riders into third, and Anderson pulled probably the fastest recovery from a crash ever to get back up in fourth, just ahead of Weimer. If you're counting at home, that's three near-death crashes for Anderson and one washout, and yet he still made the top four to get to the main. Yes, this track is making strange things happen.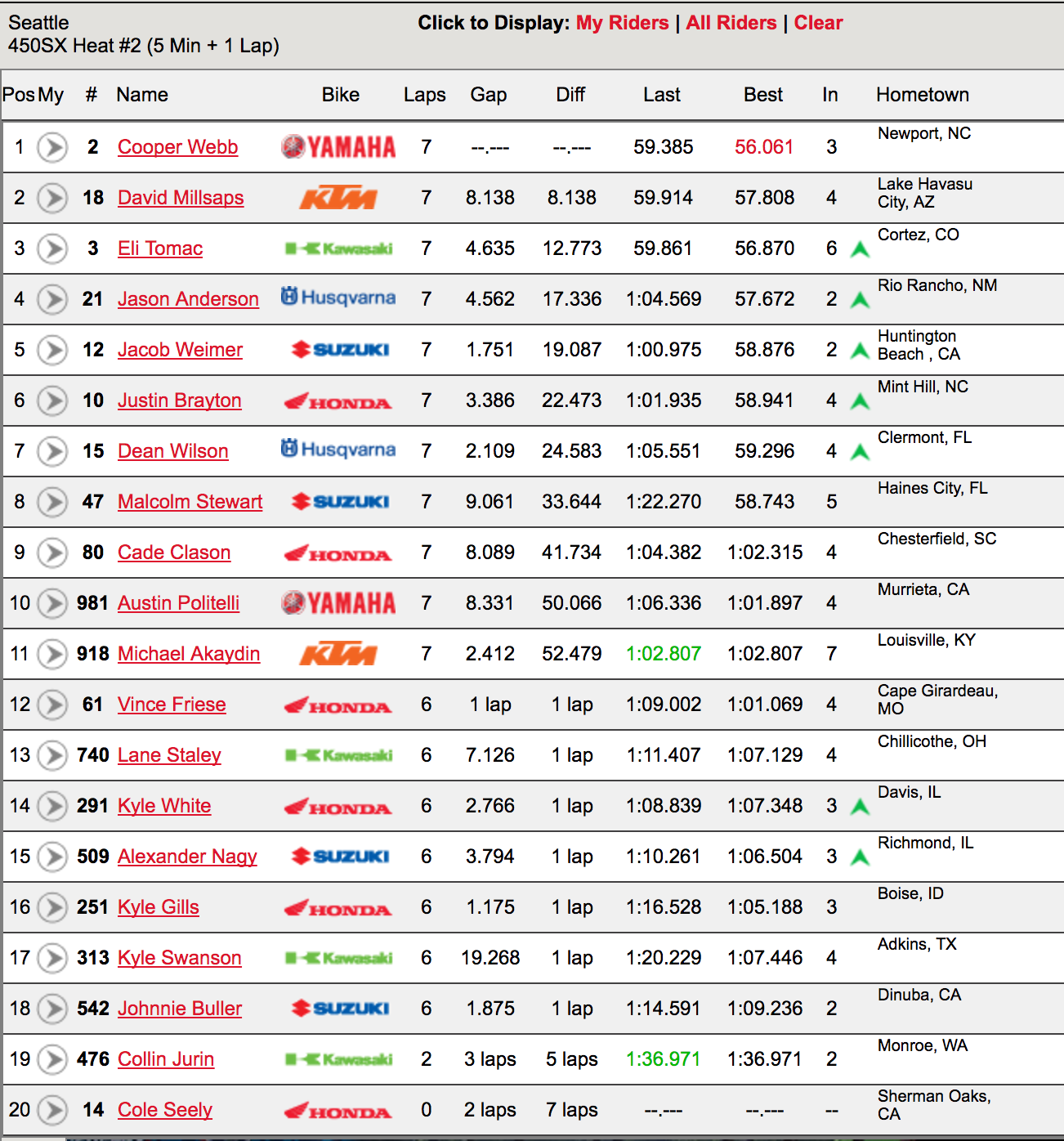 250 LCQ: Jon Ames took no chances here, grabbing the holeshot and checking out immediately. Behind him came the typical 250LCQ chaos, with AJ Catanzaro and Zach Commans busting through, and then Ryan Breece making late moves to get the final transfer. Seemed like a half-dozen other riders were in contention for this one, including Stone Edler and Tevin Tapia, who ended up down in a heap, and also Johnny Jelderda. A tough track/250 LCQ combination always makes for good racing.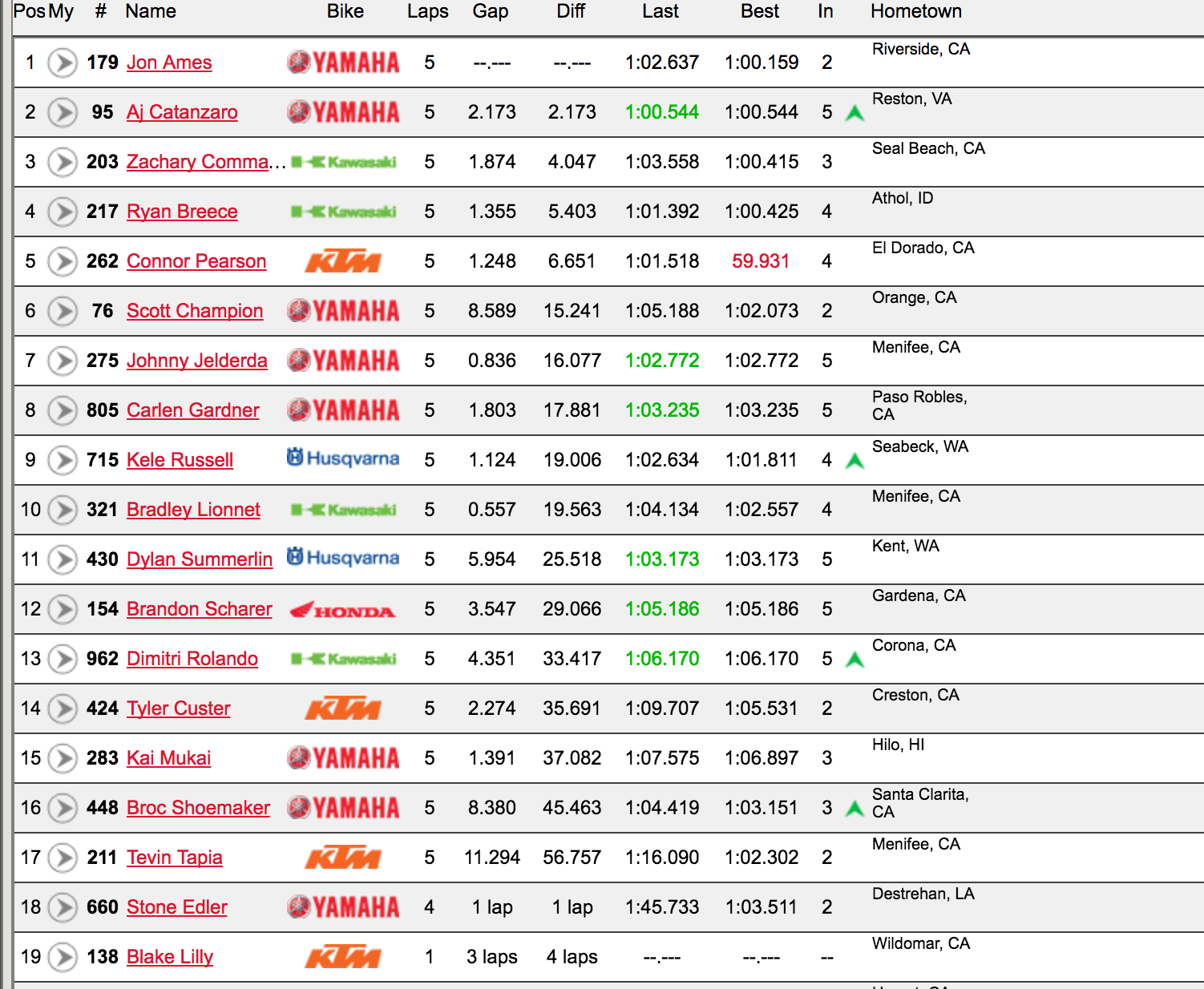 450 Semi 1: Justin Brayton got out to the early lead and made it look easy up front. The big battle came behind him, with Chad Reed trying to chase down Malcolm Stewart for second. It came down to the final lap and Reed kept trying, he and Stewart went flying over the finish side-by-side, with Malcolm just getting the edge. Vince Friese and Alex Ray rounded out the transfer spots.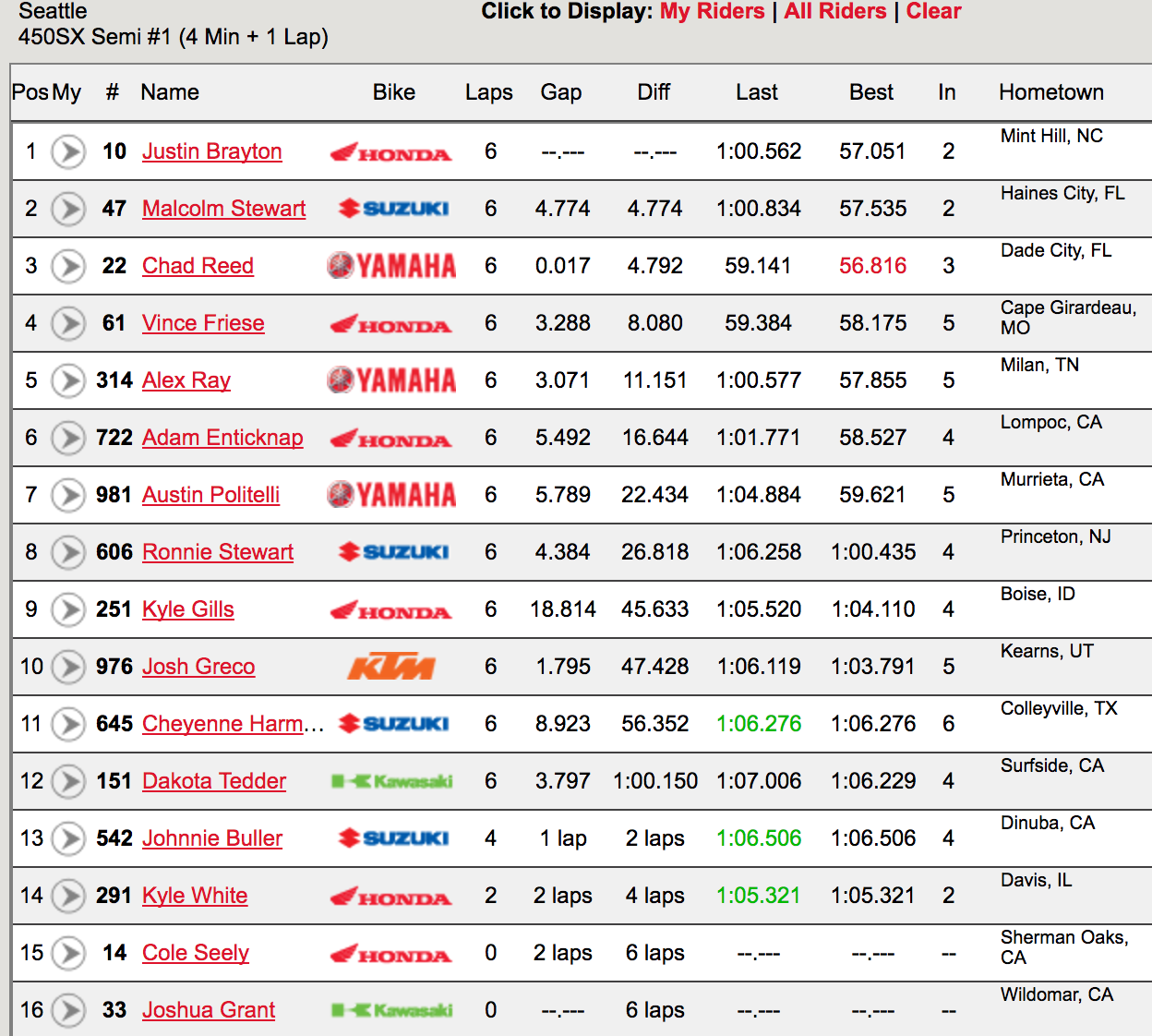 450 Semi 2: Justin Bogle got the start and led early, then he stalled and struggled to get his bike restarted, going all the way back to sixth temporarily. He managed to get right back past Cade Clason to retake the fifth and final transfer spot, and then kept going, getting Nick Schmidt to take over fourth. Up ahead, Dean Wilson grabbed the lead when Bogle stalled and hung on for the win, ahead of Jake Weimer, and Broc Tickle.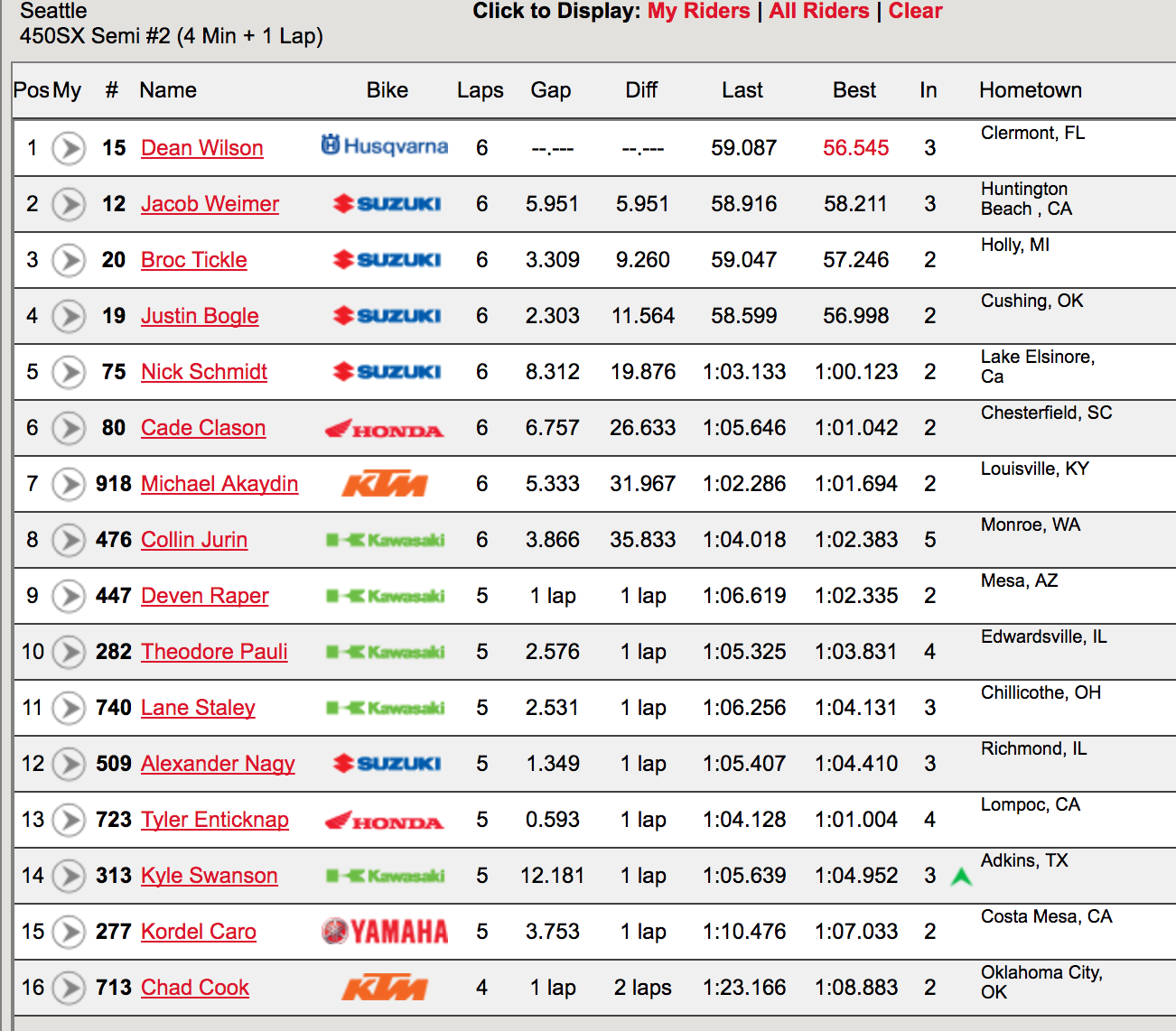 450 LCQ: Cade Clason got the holeshot, Ronnie Stewart tried getting inside of him and stalled it on the first lap. Dakota Tedder was third but lost a few spots….then Clason dumped it while leading! Then the biggest pileup of all time broke out with both Enticknap brothers and Devin Raper all taking each other out. This left Austin Politelli and Mike Akaydin battling for the lead, Politelli took it over and took off from there. Clason came back to third, and the battle for the final transfer came down to Theodore "Bubba" Pauli and Collin Jurin. Jurin took a shot at him with two turns to go, but was Just Short. Pauli has the final spot into the main.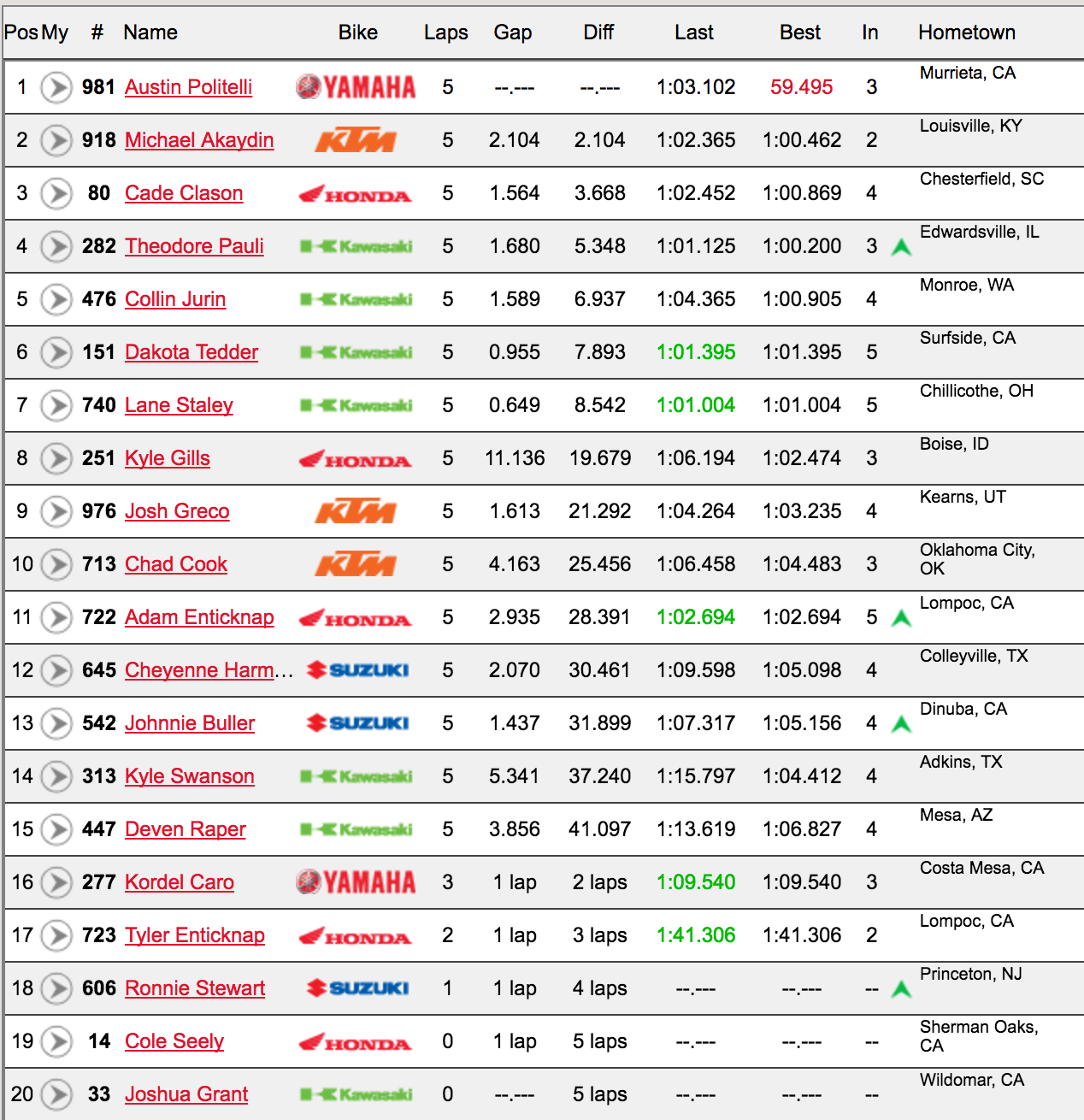 250 Main Event: Jimmy Decotis with the holeshot over Mitch Oldenburg and Martin Davalos, then Plessinger, McElrath and Hill. On the third lap, Plessinger was battling with Oldenburg for second, but then blitzed right past both him and Decotis to take over the lead. Plessinger was right where he wanted to be, but then the red flag came out due to a big crash, as Chase Marquier bobbled and got landed on by Noah McConahy, leaving them both down and out.
On the restart, Davalos got the lead over McElrath, with Decotis, Hill and Plessinger next. At the start of lap two, Decotis bulled his way past McElrath for second, but they slowed each other, and that let Hill slip through to take the spot. Now it was Plessinger's turn to make moves, he got Decotis and then got side by side with Hill in the table tops after the finish, and then took away second. Hill stayed close to Plessinger, but on lap four AP used a big 3-3-3 combo in the rhythm lane to take over the lead from Davalos. Hill immediately got Davalos as well and set off after Plessinger, with Decotis lurking in fourth.
Decotis stuck with Davalos for a few laps then pulled the trigger for third with a block pass, gunning for his first career podium. Davalos then battled with Oldenburg, they bumped and Davalos nearly crashed, somehow he was able to hold on and not crash, but Oldenburg had taken away fourth.
With three to go, Oldenburg caught Decotis and took third away on a double past the start, but Decotis responded with the 3-3-3 rhythm and got back around. Two turns later, Oldenburg went for the block pass and retook the spot. As the white flag came out, Decotis crashed going up the face of the finish line jump and lost spots to Davalos and McElrath.
Up front, Plessinger rode incredibly well in the ruts—as expected—and wheelied away from the field. He won it by a six seconds, his second career win and first of the season. Hill was a safe second, and Oldenburg has his first career podium with third.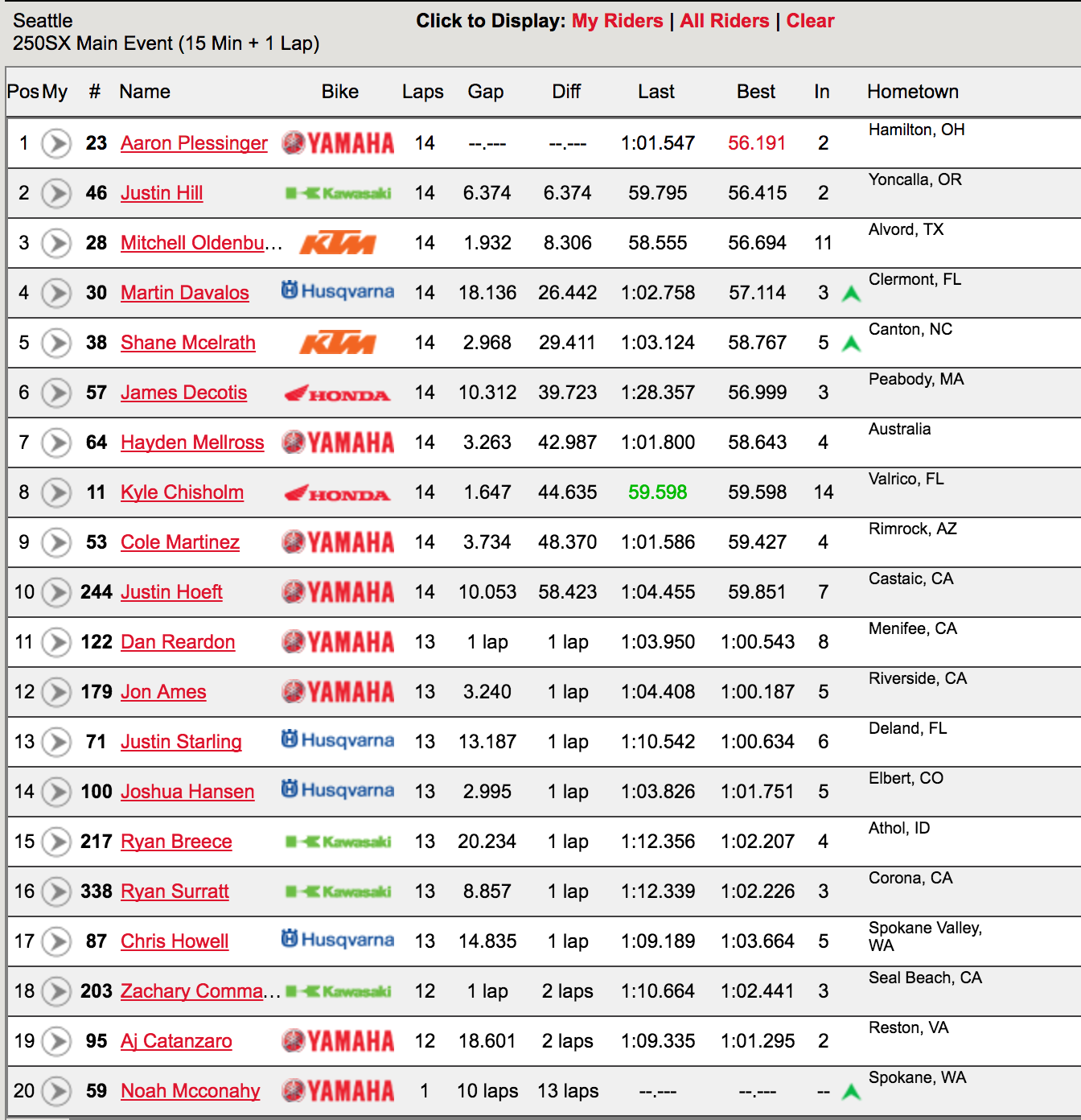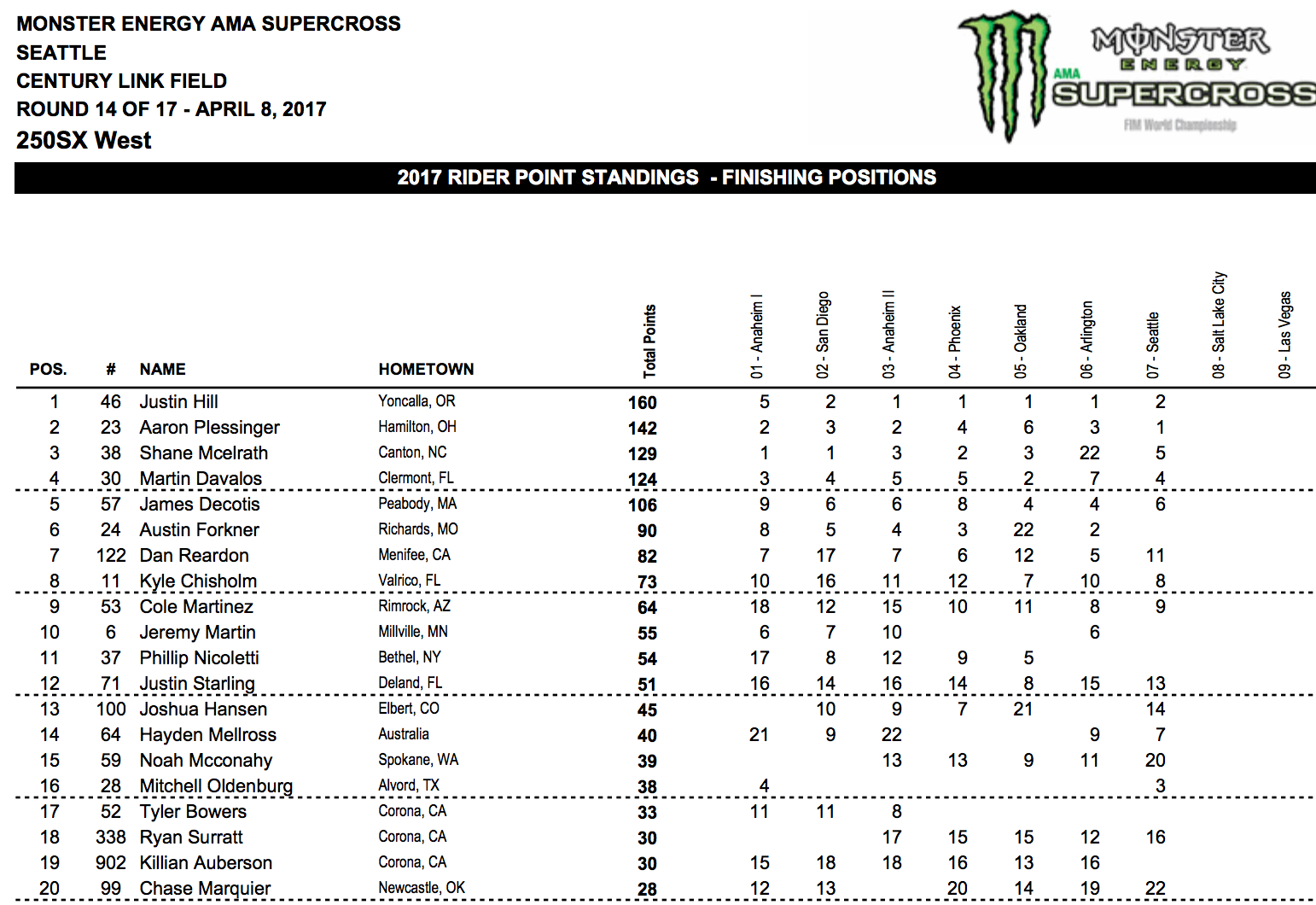 450 Main Event: Jason Anderson gabbed the holeshot, but Marvin Musquin got right around him to take the lead followed by Davi Millsaps and Cooper Webb. Bad start for Eli Tomac, but Dungey was stuck in the first turn and his bike stalled. A tuff block got dragged out from the inside, it hit Justin Bogle and knocked him down, then he caught Dungey, putting the champ on the dirt.
Tomac was tenth after a few laps, he got around Broc Tickle, then Blake Baggett bobbled while battling his teammate Millsaps, and Tomac got him. Now Tomac was starting to go…he passed Millsaps and then Malcolm Stewart in one lap. He was on fire and up to fourth with 12 minutes and a lap to go. Specifically, he had a huge triple-onto-a-table after the finish. Tomac's lap times kept dropping, the intensity rising, and the crowd came to life saluting his ride. He caught Webb for third with 10 minutes to go, and zapped Webb before the whoops. Webb wasn't having it! He came back inside with a block pass to retake the spot, that's probably the first pass anyone has made on Tomac in two months. Up ahead, Musquin was slowing getting away from Anderson, and Webb and Tomac started to catch up to create a three-way battle for second.
With eight to go, Webb caught Anderson and the battle for second began, and Webb gave Anderson an "Anderson" with a hard block pass for second. Tomac followed, overjumping a big rhythm to leap past Anderson for third. Then Eli went down trying to get Webb! He got the front end high and clipped the landing and went over the bars. He was down but back up quickly.
At the same time, Dungey was finding his stride. He got Blake Baggett and Malcolm Stewart, up to seventh, with Tomac back in fourth. Dungey got to Broc Tickle, but he had several chances to get by him by tripling through rhythms, but didn't pull the trigger. It took him two laps to finally get Tickle.
With two minutes to go, Tomac was catching Anderson, so Anderson put the hammer down and started catching Webb. Anderson made a pass on Webb, then Webb cased a jump and went flying over the bars. Tomac slipped past for third.
As for Dungey, he was up to fifth and trying to catch Millsaps, but he bobbled in the whoops. Then Tomac pulled a huge block pass on Anderson with a lap to go to take second. Moments later, Dungey outjumped Millsaps through the tables after the finish to take over fourth, a clutch move.
Chaos and drama all over, but up front nothing to worry about for Musquin, who took the second 450SX win of his career. Well, until after the race, as Marvin was cruising on a victory lap and crashed after the race while celebrating!
Tomac was second, Anderson third, Dungey and Millsaps filled out the top five.
Tomac and Dungey and now tied for the points lead going into the break.