Guanajuato, Mexico
MXGP of Mexico
FIM Motocross World Championship
On Sunday afternoon at the MXGP of Mexico in Leon, American Thomas Covington raced to 4-1 moto scores to win the second MX2 World Championship Grand Prix of his career. It was his second triumph at the Mexican round in three years (he won with the same exact 4-1 moto scores at Leon in the autumn of 2015).
Racing for Rockstar Energy Husqvarna Factory Racing for the second consecutive season, Covington has admittedly struggled with bad luck and even a few mechanical issues throughout the first three rounds of the 2017 MX2 World Championship season, but south of the border, it all lined up for the California (via Alabama) standout.
Fast, skilled, and backed by 1993 500cc World Campion Jacky Martens, the 53 year-old Belgian who oversees the Husqvarna outfit, the ever-friendly, well-spoken Covington spoke with us a few hours after the race.
Racer X: Thomas, congratulations on the big win down there in Mexico. Another Grand Prix win for you, huh?
Yep, another one!
Right from the first time you hit the track on Saturday, it seemed like the entire weekend went well for you.
Yeah, for sure. I felt good from the first session on Saturday. The speed was there and that's always a good confidence booster. In the qualifying race I pulled the holeshot and pretty much cruised to the win. I got a little gap the first few laps and then just cruised for the rest of the race.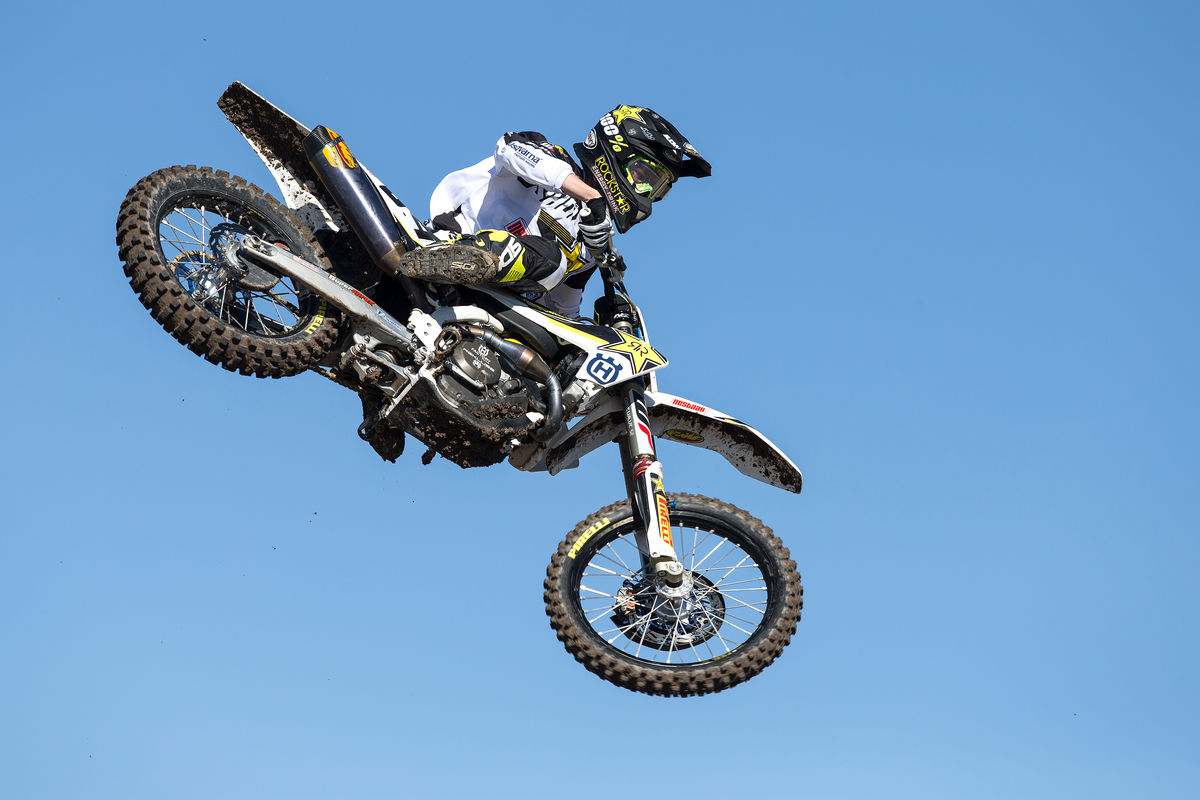 And you won the race by over 12 seconds. Impressive.
Yeah, and that set me up with a good gate pick on Sunday.
And you ultimately raced to 4-1 moto scores today. Can you tell us how the two motos went?
In the first one I nearly had the holeshot, but I held it on too long in the first turn and just about ran off the track. I came out seventh or eighth going towards the second corner. I was able to get back to fourth, but I never really found my rhythm. In the second race I pulled the holeshot again like I did on Saturday and [Pauls] Jonass was fighting me pretty hard there for the first half of the race. He passed me on the first lap and I just followed him. I stalked him for, I don't know how long it was, maybe 10 or 15 minutes, and then I finally found a line where I could make a pass happen. After that it was smooth sailing.
Fourth wasn't a bad finish at all, but while back in the pits between the first and second moto, did you think you still had a shot at the overall victory?
No, not really. I was just hoping to get a podium. I knew if I had a decent moto in the second moto that I could get up on the podium, so that was what I was really shooting for after getting a fourth in the first race. But, yeah, I knew if I won the second moto that anything could still happen. Getting that good start in the second moto helped a lot. I was pretty much just going for the win at that point. I wasn't even thinking about the overall or anything. It was kind of the same deal when I won here in Mexico two years ago. I wasn't even thinking about the overall that day. I didn't even know I had won the overall until after all the pictures and everything. I was like, "What place did I get overall?!" and everyone yelled, "You won! You won the overall." It was a cool surprise.
When you came off after the second moto today, did you know you had won the GP overall?
No, I came off the track and I was high-fiving everybody and once I got around behind the podium, I said, "What place did I get overall? Second or third?" I figured [Jeremy] Seewer would have the overall. But that was when they told me I won so I was stoked.
Why do you go so good there? Is it the hemisphere? The dirt? Is the place similar to California?
Nah, I don't think the place really has anything to do with it. The track was pretty brutal this weekend. They overwatered it for Saturday so it got some gnarly lines, but it dried super-hard at the end of the day. It was a really gnarly track. I think the reason why I always go so good here is because I always get to spend a couple weeks back at home before I show-up here. Riding at home and spending some time with family and friends just puts me in a good place mentally coming into this race. Hopefully I can start making this happen in Europe. That's the plan, anyway.
During this opening phase of the 2017 FIM Motocross World Championship—Qatar, Indonesia, Argentina, and Mexico—you guys go to some really far-flung places. I don't want to put words in your mouth, but these venues don't really go all that far back in motocross history. I mean some of these races, be it the weather, the organizations or countless other things, sort of seem like a crapshoot. Do I have that wrong?
I mean some of them are that way, but then with Qatar, that's always been a really good race and Argentina is my favorite GP of the year. It just depends. This year the Indonesian GP was, yeah … it was below average, for sure. We were just unlucky with the weather there. Other than that, the first three races were fine. I just had some bad luck with some things that were out of my control. I enjoy the first four races and traveling all over the place to these places. That's something I love about the GPs. For the most part I like to travel and spend time in these far out places. It kind of makes it fun. It's not so serious. I enjoy that part of it.
Are you looking forward to now getting back to your home base in Europe? Especially now that you have some positive momentum behind you?
For sure. This is a good confidence booster for me heading into Europe. I spent a lot of time in Europe this off-season, and ever since I signed with Husqvarna, we've done a lot of testing and a lot of training in Europe. I'm looking forward to the European rounds to show what I've got.
After today, you're now eighth in points in MX2 with 15 rounds and 30 motos yet to be run.
Yeah, I'm in eighth right now. That's kind of a bummer, but there was nothing I could do at those first two rounds. It was just some bad luck. There are a ton of races left and the season is long and anything is still possible at this point. You couldn't ask for a better confidence booster than today—especially after having such crappy results at the first three rounds. A turn around like this is exactly what I wanted to do. I just need to keep it going from here and get solid points every weekend. I think at the end of the season we can be there fighting for the title.
So in a two weeks you'll be racing the MXGP of Trentino at the Arco di Trento circuit in Italy. A good place for you?
Arco, that track has been tough for me the last few years, to be honest. This year is a new year and as long as I keep getting good starts like I have been, everything will be smooth. Especially at Arco. The starts there are super important. It's a pretty narrow, hard pack, old-school Euro track, so getting a good start there will be key.
And then the MXGP of Europe will run a week later at Valkenswaard in Holland. I know that's something of a home race for you, right?
Yeah, Valkenswaard is a cool track. I stay, I'd say, about 20 minutes from there during the season. That'll be cool as I'll get to sleep in my own bed. I'll just drive out to the GP. I'm really looking forward to it.
I have to ask: How was your team manager Jacky Martens after you won the GP?
He was pumped. He was beyond happy. He has helped a lot ever since I came over there to the team. With bike set-up, he's unbelievable. He's super-smart with the whole technical-side of the bike and everything. With him being a World Champion before, he knows what he's talking about. I feel pretty lucky to have him in my corner.