MXGP of Mexico Results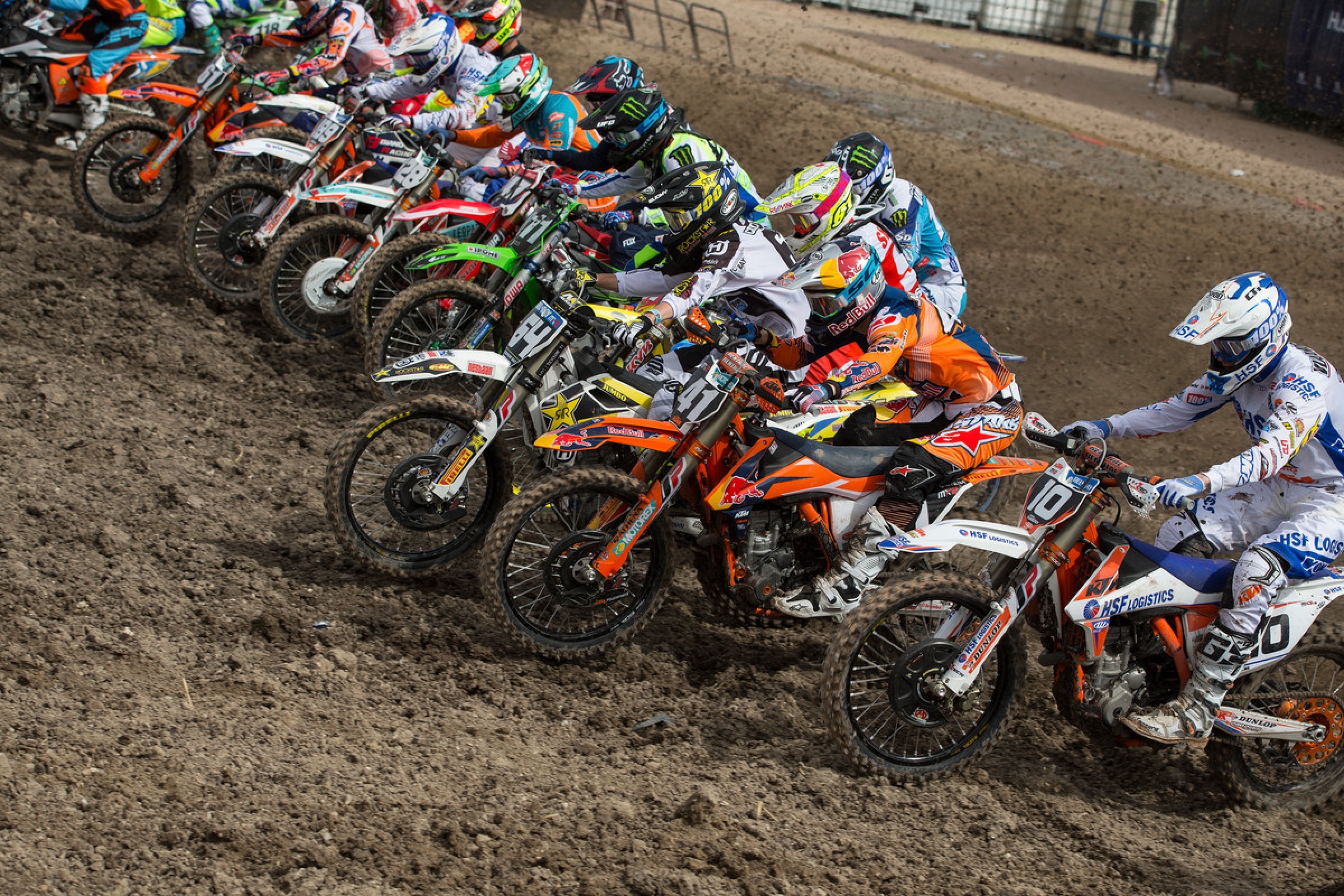 Honda HRC's Tim Gajser went 1-1 today at Round 4 of the FIM World Motocross Championship in Leon, Mexico to extend his points lead to 20 over Red Bull KTM's Antonio Cairoli.
Cairoli captured second overall on the day in front of Rockstar Energy Husqvarna's Gautier Paulin.
In MX2, American Thomas Covington won the second moto to capture the overall ahead of points leader Jeremy Seewer. Julien Lieber finished third.
We'll have a full report from Mexico later.
MXGP Overall
| | |
| --- | --- |
| 1. Tim Gajser | 25-25 |
| 2. Antonio Cairoli | 18-22 |
| 3. Gautier Paulin | 20-20 |
| 4. Arnaud Tonus | 15-18 |
| 5. Jeremy Van Horebeek | 16-16 |
| 6. Evgeny Bobryshev | 22-7 |
| 7. Clement Desalle | 13-15 |
| 8. Max Nagl | 14-13 |
| 9. Romain Febvre | 10-11 |
| 10. Kevin Strijbos | 11-11 |
| 11. Max Anstie | 12-8 |
| 12. Jeffrey Herlings | 7-12 |
| 13. Armina Jasikonis | 8-9 |
| 14. Shaun Simpson | 9-6 |
| 15. Glenn Coldenhoff | 4-10 |
| 16. Valentin Guillod | 6-4 |
| 17. Alessandro Lupino | 5-1 |
| 18. Jose Butron | 0-5 |
| 19.Tanel Leok | 2-3 |
| 20. Gui Goncalves | 1-2 |
| 21. Jake Nicholls | 3-0 |
| 22. Nathen LaPorte | 0-0 |
| 23. Eduardo Andrade | 0-0 |
MXGP Points Standings
| | |
| --- | --- |
| 1. Tim Gajser | 156 |
| 2. Antonio Cairoli | 136 |
| 3. Clement Desalle | 119 |
| 4. Jeremy Van Horebeek | 116 |
| 5. Gautier Paulin | 112 |
MX2 Overall
| | |
| --- | --- |
| 1. Thomas Covington | 18-25 |
| 2. Jeremy Seewer | 25-18 |
| 3. Julien Lieber | 20-20 |
| 4. Pauls Jonass | 16-22 |
| 5. Benoit Paturel | 22-13 |
| 6. Brent Van doninck | 13-16 |
| 7. Thomas Kjer Olsen | 14-14 |
| 8. Calvin Vlaanderen | 15-9 |
| 9. Adam Steery | 11-12 |
| 10. Vsevolod Brylyakov | 7-15 |
| 11. Michele Cervellin | 12-10 |
| 12. Iker Larranaga Olano | 9-8 |
| 13. Hunter Lawrence | 10-7 |
| 14. Brian Bogers | 0-11 |
| 15. Anton Gole | 6-4 |
| 16. Samuele Bernardini | 8-2 |
| 17. Stephen Rubini | 3-6 |
| 18. Darian Sanayei | 4-5 |
| 19. Ben Watson | 5-0 |
| 20. Ivo Monticelli | 1-3 |
| 21. Jorge Prado | 2-1 |
| 22. Ivan Petrov | 0-0 |
| 23. Magne Klingsheim | 0-0 |
MX2 Points Standings
| | |
| --- | --- |
| 1. Jeremy Seewer | 153 |
| 2. Pauls Jonass | 145 |
| 3. Benoit Paturel | 139 |
| 4. Juilen Lieber | 139 |
| 5. Thomas Kjer Olsen | 127 |