Detroit, MI
Detroit
Monster Energy AMA Supercross Championship
Rocky Mountain ATV/MC-WPS-KTM teammates Blake Baggett and Davi Millsaps are absolutely in the hunt every weekend, with podium-level speed and impressive consistency lately, as well. In Detroit, Millsaps ran third for most of the race and made Ryan Dungey work hard to get the spot, while Baggett came from way back to close in on both. On the last lap, Baggett slipped past Millsaps to get fourth. It was a furious 20 minutes plus one lap.
We talked to them about it when they came to the post-race press conference.
Blake Baggett | 4th in 450SX Main Event
Racer X: You were pretty far back.
Blake Baggett: Yeah, I was buried.
What happened?
I went to Chicago and the race was in Detroit. I had a long ways to go! I took I-94 the wrong way.
Okay, no one will admit this, but come on, do you get tired by the end of these races? It's coming down to the last lap and you're charging hard from the back the whole time. Are you on the edge, or the limit, physically?
No. When it's going your way, you can just start that timer over again.
Come on. You passed Davi on the last lap?
Yeah.
Are you breathing hard and pushing?
I'm sure you're breathing hard, but at that point you just get into a zone and you don't feel anything, you're just going.
Does that happen only in races? Does that happen during the week?
It happens during the week, yeah. The last five laps, you're just going.
But does your heart rate monitor say you're really, really working hard?
Well, I'd have to wear a heart rate monitor first!
You don't ever?
No.
Okay, so did you know what position you were in as you were coming through?
I had to be like 12th and then ninth. But if you're not in first, you just keep going.
Where did you make your passes?
The whoops and the dragon's backs. The whoops is where I got Davi.
You were not far back from Marv [Marvin Musquin] and Dunge [Ryan Dungey]. Did you see them?
I saw Dunge yeah, I knew I was catching those guys for sure. I didn't look for Marv, but I knew I was catching them until I made the mistake in the sand and lost two seconds. But still, I was right there.
So when you ride this well, but you miss the podium, are you bummed or are you happy?
It's bittersweet for sure, but at least you know you were good. Hey, it just wasn't our night. One of these nights it's going to be our night. Plus I get to talk to you, that's always good, but the restaurant we were going to go to is going to be closed now, so it's your fault that we're going to miss the post-race meal.
---
Davi Millsaps | 5th in 450SX Main Event
Racer X: I've heard through the rumor mill that your training program has changed? [Millsaps has parted ways with trainer Tyla Rattray.]
Davi Millsaps: Yes. Two weeks ago it changed, very, very suddenly. It was out of my control, but it's what the team wanted, and I don't have a ride for next year so I'm going to try to do whatever makes the team happy. Forrest [Butler, Rocky Mountain ATV/MC-WPS-KTM team owner] is a good friend of mine, and I've known Byrner [Michael Byrne, team coach] forever. They wanted the opportunity to help and they wanted more control over their investment. It's different, for sure. I have nothing bad to say whatsoever about working with Tyla [Rattray]. We're still great friends. The team wanted a change, more so, and he [Rattray] understood completely, and I'm pumped that he took it that way. Anyway, it's a little different, I felt good tonight, but I felt good before. My riding is starting to come around, I just have to keep getting used to that pace.
Okay, your teammate and others just would not say they got tired. Will you actually admit it?
[Davey nods yes].
Okay! There we go! At least your admitting it, or maybe you're the only one feeling it.
No one admits it because no one wants to admit they got tired. But me? I'm old! I got tired! I admit it. Hey, if it was a 20-lap moto I would have gotten third! But we did three or four more. I told my team when I crossed the line I could have just fallen asleep right there.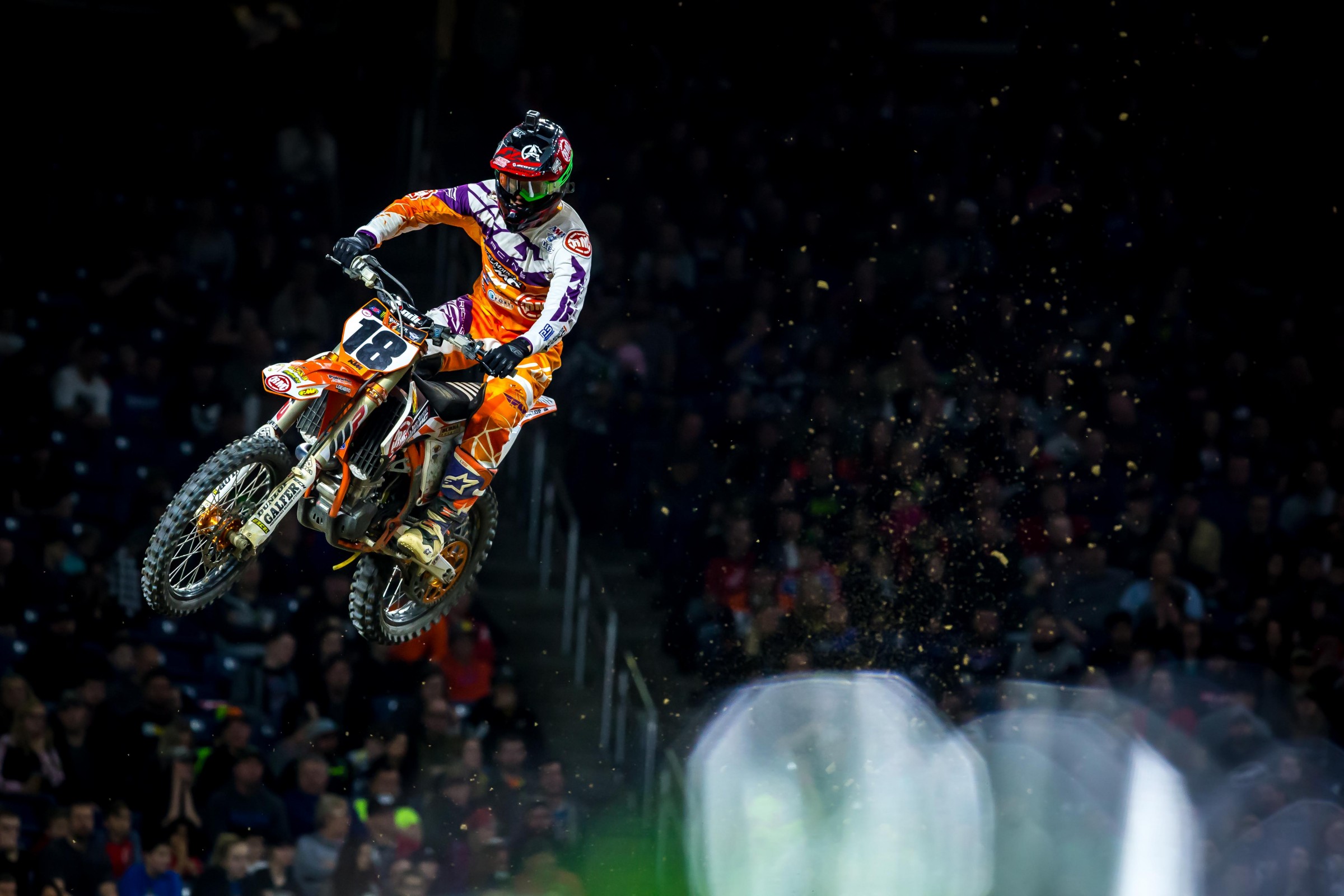 When Dunge got to you, I feel like you rode really smart. You covered the inside in the whoops….
I never changed my line in the whoops.
I thought one lap he showed you a wheel and then you moved to the left the next time.
If I changed my line it's because I missed my rut and made a mistake. He came in good there, but over the dragon's backs I would get back away a little bit. The lap that he got me, I messed up, I thought he was going to come in, so that made me go a little bit wider, but he's going for the championship so I get it—I'm not stressing about it. Plus, I was really tired! I made a mistake bad, near the finish line, I almost endoed. At that point I was done.
And then, after you fought so hard but Dungey got around you, where you like "Oh no there's someone else back there?"
No, I knew he [Baggett] was there. But at that point, it was everything I had just to hang on. I'm not scared to say it. Dude, we're racing supercross, we're using our legs, we're using our arms. I haven't done that pace in four years! I'm bound to get tired after a little while.