Indianapolis, IN
Indianapolis
Monster Energy AMA Supercross Championship
On a recent tour of his El Chupacabra Ranch in Florida, Rocky Mountain ATV/MC-WPS-KTM's Blake Baggett spoke about how recently he's started to enjoy supercross, whereas before he just put in the work to get it done, without actually liking it. It's showed this year, as Baggett's speed has been great. His results haven't always showed that, though, as he's had a slew of first-lap crashes, as well as crashes while running up front in Toronto and again in Indy (he, like Alex Martin in the 250 Class, made a mistake in the section after the finish. Jason Thomas has a good explanation on why that section was so tough in his Breakdown column.) Former pro Michael Byrne, who now works for the team and Baggett, spoke with our Steve Matthes about Blake's season.
"His speed has definitely been impressive. It's been great to watch, that's for sure. Like I said, now it's just trying to harness that and have him now be able to control that for 20 minutes and not make a mistake or fall down. Toronto he fell twice and still got fifth. The speed's definitely there. It's just him now getting used to that speed, and I think his confidence is starting to show that."
Baggett finished fourth in Indianapolis on Saturday following his crash. He's gone 3-5-7-4 in his last four races after beginning the year with three finishes outside of the top 15 in seven rounds. "I felt good tonight," said Baggett in a team press release after Indy. "I am getting the starts I need, and it felt good to get the holeshot in the main. Unfortunately, a little mistake cost me a podium. I feel confident on the bike, and the team is working hard. I'm looking forward to Detroit and getting a podium."
Of course, for Baggett to say that little mistake cost him a podium would mean he would have held off Marvin Musquin all the way to the end, and in the second half of the race, Marv was moving! Baggett will get another shot at the box this weekend in Detroit.
You know who else has been quietly good this year? Baggett's teammate Davi Millsaps. The veteran has only finished outside the top 10 once this year (Daytona), and has been dealing with a wrist injury since Atlanta. Millsaps finished sixth on Saturday, his best finish since Minneapolis. "It was a solid night," said Millsaps in a team statement. "We have been working hard, and it is starting to pay off. I am feeling good out there, and I am ready to break into the top five next weekend in Detroit."
Honda HRC's Cole Seely expressed his frustration following a second consecutive fifth place finish. As Seely acknowledged, it's not that his results are poor, but when you're expected to be on the podium, fifths just aren't good enough sometimes. "I'm really frustrated. I got another fifth tonight, and although that isn't a bad result, I feel like I'm just stuck in these top five finishes. I keep trying to push forward and am not able to make it happen. I want to be back on the podium and know I have the speed to do it, but just need to put it all together. It's definitely tough when you don't put yourself in a good position off the start, which is what happened in the main. I didn't make the passes I needed to early enough and by the time I got in fifth, the top four were already gone. The bike is good so I just need to go back this week and work on myself to come back fighting in Detroit.
RCH/Yoshimura Suzuki's Broc Tickle got back on track this weekend after a disappointing 14th at Daytona. Tickle, who was on the podium in Toronto, finished eighth on Saturday. "Indy was a step in the right direction," said Tickle in a press release. "After our struggles in Daytona, I was really looking forward to getting to the race track and picking myself up. I really enjoy racing in the domes in the Midwest. The dirt is great and the tracks get rutted so it's always a little more technical and those are the kind of races where I ride well. I qualified eighth in both practices and transferred into the main from the semi. I wasn't completely happy with my start but I made a few quick passes, settled in, and finished eighth. I thought I was going to be able to pass [Chad] Reed at the end but I couldn't get around him."
Saturday was a struggle for his teammate Justin Bogle as he dealt with an illness the week prior. Bogle finished 15th Saturday. "It was a tough weekend," he said. "I was sick all week and couldn't shake it. I felt great in the semi but about halfway through the main, I just didn't have anything left in the tank. After the way Daytona went [note: Bogle failed to make the main event], I was happy to make the main event. It wasn't the finish we were looking for but I'll take it and look ahead to Detroit."
A crash in the main event kept Monster Energy Kawasaki's Josh Grant out of the top 10, but man, look at how silky smooth he looked here. Style points, at least?
Rockstar Energy Husqvarna's Zach Osborne made an interesting remark in the post-race press conference about giving the line he used to pass Joey Savatgy away too soon. "I maybe should have just waited a couple turns until I was closer and did it before I kind of showed my hand there," he said. When you go back and look at the tape, Osborne is right. He first tried the pass at the 12:30 mark in the main event. Savatgy, who was taking the outside prior to that, quickly caught on and used the inside in the following laps:
12:30
With Savatgy hugging the inside, Osborne had no room there, or anywhere else, to make a pass. When you look at how he made the pass stick, you can see Savatgy made just enough of a mistake to allow a sliver of room for Osborne to make the push through.
Pass
This wasn't the only time Osborne was aggressive on Saturday. He and Savatgy's teammate, Adam Cianciarulo, got into it in practice. According to Cianciarulo, Osborne made a move that Cianciarulo didn't like—although he later realized it wasn't that bad after watching the footage—and then took Osborne high soon after. Osborne then retaliated and slammed Cianciarulo off the track. We asked Cianciarulo about it after the race:
"I think we were going through that little rhythm section there on the side and he just kind of jumped … I looked at some footage. I saw an Instagram and it didn't even look like he hit me. But just from my point of view, to be honest, he's kind of already on probation in my mind of somebody that's kind of sketchy and a little bit not scared to run it in. So he came close to me there and I was like, yeah, I'm not about to let this guy just run me for the rest of the season. So I wanted to come in aggressive on him. I didn't torpedo him or anything. I crossed over into his rut and bumped him. He had every right to retaliate. I guess I should have saw it coming. He got a really good drive through the whoops, we saw on tape. I think he definitely took it up a couple notches with the pass, for sure. But I'm not going to cry about it at all. I don't want anybody to think I'm whining or anything. It's an aggressive sport. I know we both got warnings from the AMA on it, and I think going forward we should be able to leave that stuff for the race."
During an interview following the qualifying session, Osborne did apologize for hitting AC that hard, but said that AC started it.
Osborne says he "feels bad he hit Adam as hard as he did but Adam started it"

— Racer X (@racerxonline) March 18, 2017
As for Savatgy, he didn't seem too pleased with Osborne after the race either. "Yeah, there was contact in practice and in the main event. I think if that's what it's coming down to, then for sure, I'm game. It is what it is. Got to make the pass happen one way or another. So if that's how you've got to get it done, then that's what we'll do moving forward." This will certainly be something to keep an eye on as the championship moves forward.
According to a post on Pulpmx.com, GECIO Honda's Christian Craig and riding coach David Vuillemin have parted ways. "As of today, Monday, we will not be working together anymore," wrote Vuillemin. "We worked very hard since the beginning of October but something is obviously not clicking. There's no need to keep going if it's not working and if there are no results. I'm back in retirement mode, watching the races on TV from my couch and going to my kids' basketball games…"
In a GECIO Honda press release issued before the announcement was made, Craig said following a sixth place finish in Indianapolis that it's easy to lose the fun part when you have all the pressure, and that he will be stepping away from social media at this time. "The week before Indy was no doubt the best week I've had during the season. I got caught up in my own head for the first few rounds and kinda just lost touch with where I should be mentally," said Craig. "I had my mechanic stay in Florida with me and we did a week from last year. I had fun riding again. When you're in season and have all this pressure, it's easy to lose the fun part. I also am having a detox from social media and any dirt bike websites! I need to focus on myself right now so that's what I'm doing. My plan for Indy was to have fun and race for me again and I did just that."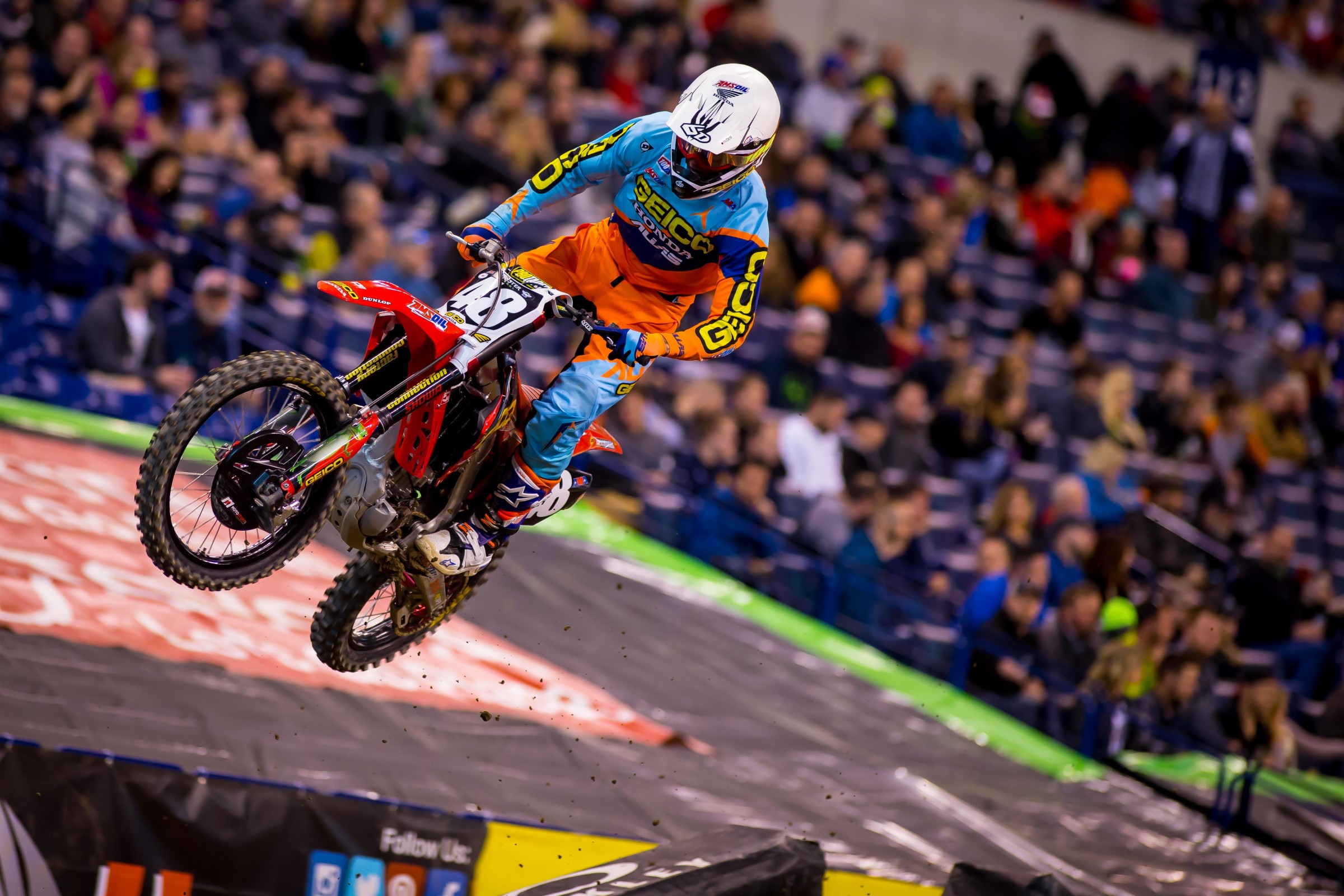 "Did I want sixth place? No, but I was happy with where my head was during the day," he continued. "I was thoroughly enjoying myself and my bike. I was happy to get through the day and start building myself back up to where I should be. Like I always say, you can see where I am in practice and even in the heat races. I belong up front and I need to bring that to the main."
Rocky Mountain ATV/MC-WPS-KTM showed up with a new rider in Indianapolis. With Benny Bloss out for the remainder of the supercross season, the team brought on Dakota Alix for the remainder of the East Region. Alix crashed in the main event in his debut and finished 12th. "Overall a pretty good weekend in Indy," he wrote on Instagram. "Made a stupid mistake in the main by landing on a tough block and that cost me big time, but other than that it was a step in the right direction. Ready to get used to the new setup a little more this week and come into Detroit feeling good to go. Thanks everyone for the support!"