Indianapolis, IN
Indianapolis
Monster Energy AMA Supercross Championship
On Saturday night, at Round 11 of Monster Energy Supercross, Eli Tomac captured his sixth victory in the last eight races. In the process, he cut his points deficit to just 12. As we pointed out in Saturday Night Live, in the last three races, the Monster Energy Kawasaki rider has led 57 of a possible 69 laps.
Red Bull KTM's Marvin Musquin recovered from a recent bout with the flu to take a hard fought second behind Tomac. Musquin actually came from behind to catch his teammate and points leader, Ryan Dungey, to capture his first podium since Minneapolis.
Dungey, as mentioned, was passed late by Musquin and finished third. At one point in the race, he cut Tomac's lead to just one second and looked like he was going to make a charge, but he couldn't get it done.
All three riders spoke with the media after the race.
Racer X: Ryan, at this point in the championship with six rounds to go, are you focused on the championship at all or still night to night?
Ryan Dungey: No, it's for sure night to night. I think knowing big picture where we need to be, for sure it's in the back of our minds and what needs to be done, for sure, moving forward. Just trying to take it one race at a time and just be there, be in the present moment, live in the moment and get the most out of each and every individual night, for sure.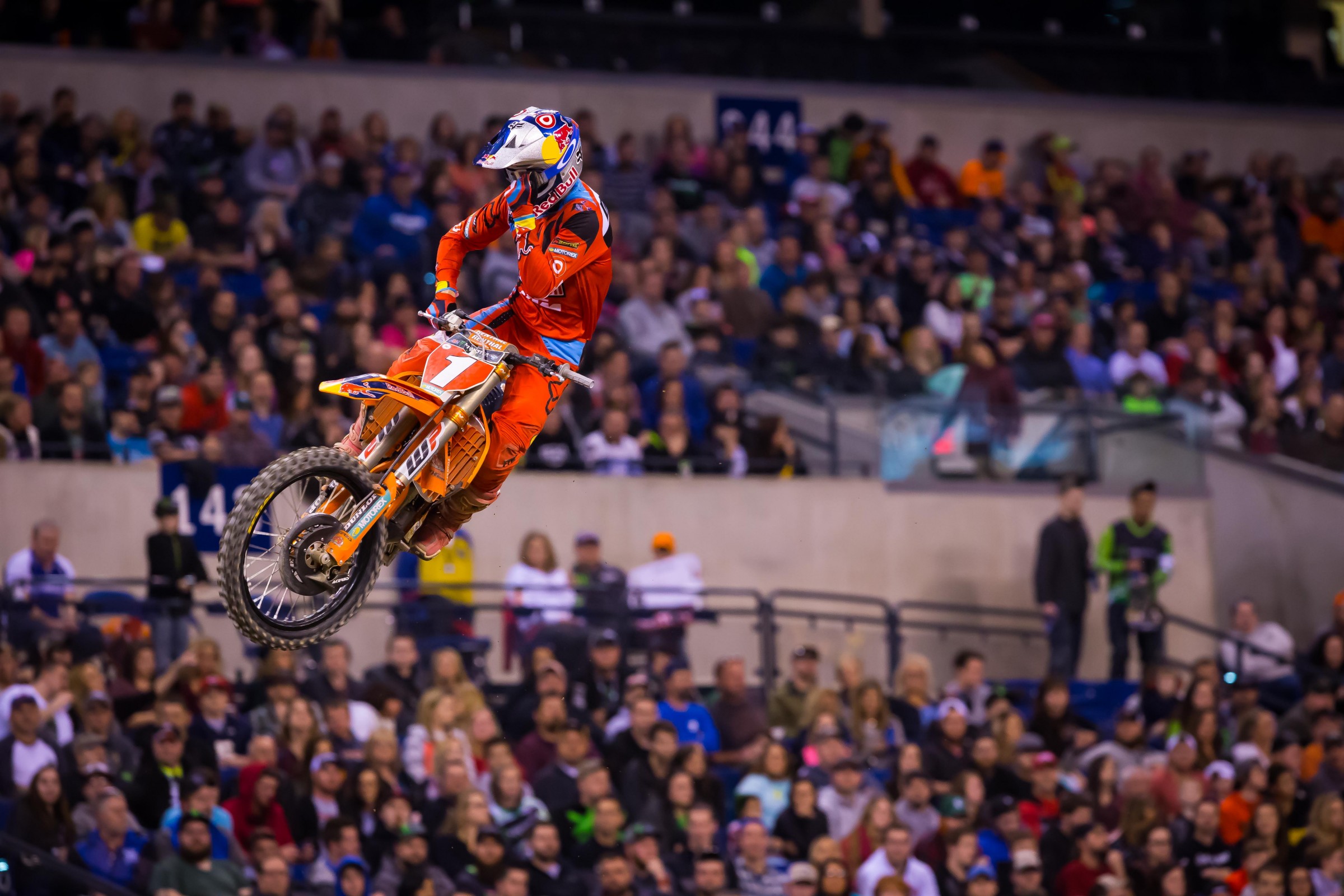 Marvin, you were fast all day and tonight getting your first heat race win. What was it about this track that suited your style? You seemed to find your rhythm pretty early.
Marvin Musquin: I think when the dirt is tacky like that and soft it made it a really technical track, whether the rhythm sections or whatever [in the] the layout. When you see the ruts in the whoops or each turn, it made it so technical. So I was able to have different lines and play around and move and see what I could do different than all the guys. All day long I felt really good. We've always been trying different stuff on the bike. I wasn't sure about some of the setups, but we ran it this weekend and it worked out really good. So overall it was a great day.
Eli, three wins in a row now and all three of those wins came with good starts. Is there any kind of adjustments that you've made over the past three weeks that's maybe made your starts a bit more consistent?
Eli Tomac: No, nothing major, other than just believing that we can go out there and do it. That even starts with good qualifying position and getting a good gate pick and getting a good rut outside the gate. We're all really good starters, but at the end of the day even the little bump in the rut can make the difference. Then you've got to go out there and do it. Really happy with the way things are going right now.
Ryan, in the past throughout your career you've achieved so much success that it seems like that's all you are judged against. It seems like lately anything less than that has been kind of picked apart by naysayers. Do you feel that that's fair considering the way this year has gone, or is it a bit like people are jumping to conclusions because you aren't winning every race like you have the last few years?
Dungey: For myself, not to put heavy expectations on myself but I've always wanted to be a top running guy, I've always wanted to get the job done. I felt like when companies and manufacturers hired me we had the same goal in mind. I've had some great success and still prove a lot to myself, still I'm learning a lot with races and championships. It's been a lot of good results within the sport. Something to be happy with. Even if it was to be done today I could be pumped. But moving forward, I don't care what people think … I say that respectfully. I'm not out there to please people—I'm out there to get the job done. I've won the championship two years in a row now and it's like of course we don't want nothing less. I don't want nothing less. The team doesn't want nothing less. You get challenged and each year is different. You go through tougher moments here and good times there. It's a balance. Through thick and thin we need to keep on it. The pressure isn't on me, necessarily. I've won championships. These guys haven't [yet]. They're going for their first one. If anything, I'm in a good position. With the position I'm in with the points and everything, I wouldn't change it for the world. I've been in his [Tomac's] position, behind Ryan Villopoto for four years, and I don't like. It bothered me and it upset me a lot, to the point where I hated the sport. I didn't like it at all. I wanted to be done. So bringing that back, I work too hard not to get the top result. We all do—myself, the team, the people around me, everybody. It's a complicated question you're asking, but it's very simple as what we want to accomplish.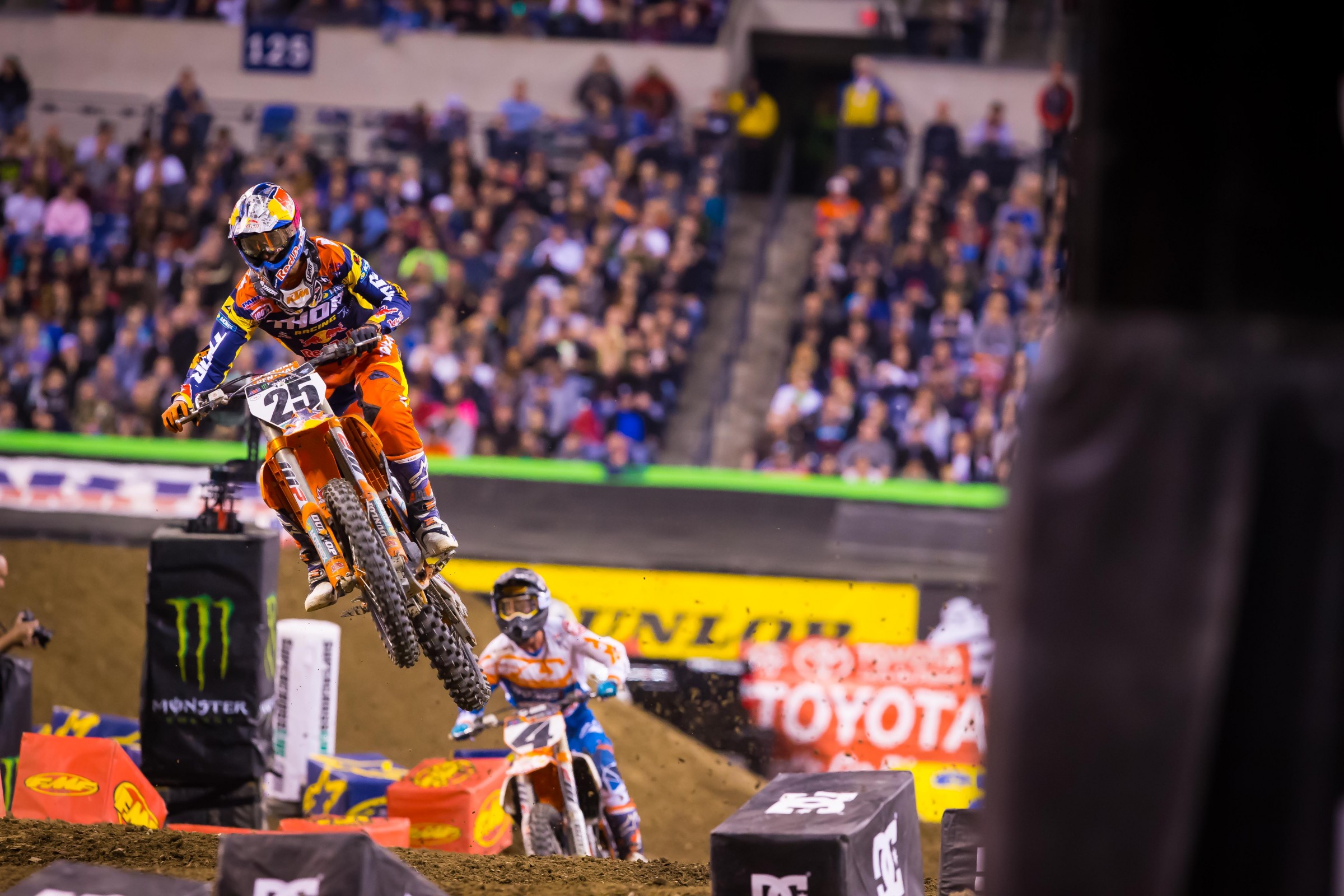 Ryan, are you able to rely on your championship experience down this stretch?
Dungey: As far as the past years?
Yeah.
Dungey: It's the past. Honestly I've lived that; I've lived in the past. You try to simulate everything that you did in the year before, but this worked last year and that was good, or I need to go back to this, whether it's vitamins, supplement, electrolytes, the training, everything. Then the wonder and the doubt starts to creep in. I have no wonder or doubt in my program. I've got a good group of people behind me. I go back to work during the week, put in my time, try to be as ready as I can on race weekend. I think we can all see tonight I wasn't there. But it's not necessarily a sign of giving up. But the past was the past. I need to build new memories. This is a new year. Take the good from the past and apply it to the future and forget the rest. Just move forward. Quit living in the past. You think your better days are behind you when you look at it like that, but really our better days are ahead of us.
Ryan and Marvin, training together all the time and obviously Marvin going by tonight cost a couple extra points. Does that create any tension during the week too?
Dungey: No. I don't expect Marvin even if he's my teammate to help me on the championship. He's out there racing his race. We race each other hard and clean. He ran it in on me multiple times out there on the track, but he was trying to get by. It wasn't necessarily nothing I take as, "What the heck are you doing?" He was just riding hard, and he was going a little better. If there was some taking out action and some dirty stuff, I'm sure we'd have some issues, but Marvin's a great guy, and his wife. They're respectful and they work hard. To be in the position they're in too, we've all worked hard to be where we're at today. So I can have a lot of respect for the other riders, too.
Marvin, you were sick a couple weeks ago. It's the time of year where there are a lot of flus and everybody's getting sick. I think a lot of us with our day jobs can stay home and take a day off and spend the day sleeping. How does it affect somebody like you that is training, traveling, testing? It must really set you back I would think.
Musquin: Yeah, it was really difficult. You definitely don't want to be sick when you have 17 rounds in a row pretty much, just one weekend off. Every weekend you have your routine and your program and you're putting in a lot of work. At one point you get sick, it happens. I got sick pretty bad. I had a bad flu and a fever every night. You're laying down all day and you're so used to every day wake up and do your workout or go on the bicycle or go to the track. You're so used to that, and then at one point you have to rest. It's kind of frustrating and it's tough mentally but you have no choice. Try to get better. Good thing I have my wife on my side trying really hard to get better really quick. But it was tough. We still went to the race in Toronto. It was terrible. I was not myself. I was really tired, no energy. I was riding scared. I lost a lot of points in the championship, and it's tough but [you have] no choice. You just try your best and try to come back. Last weekend in Daytona I felt much better, and this week I was able to train the whole week. I feel like I'm back to being myself 100 percent. I proved [that] today and all day long.
[Stephan Legrand of LeBigUSA.com, a French website, asked Marvin a questions in French. While we're not exactly sure what he said, it drew plenty of laughs and chatter from the podium.]
Musquin: Me and my wife have been living here in the U.S. for over six years now and we've learned a lot. I know when me and my wife were with anybody or Stephan and we started speaking French and there were people next to us, they think we are speaking about them! [So] It's not fair. I don't want to do that.
Dungey: He gets crazy at the track. He starts changing languages. I'm like, what are they talking about? I'm going to learn French! [Laughs]
Eli, there in the middle of the race your lead shrank quite a bit in just a few laps. Was that something you were aware of? Then you were able to reopen it immediately, so were you kind of laying up for a bit to give it one last push, or was it just, "Okay, we've got to go now?"
Tomac: Yeah, I'm watching, for sure. If you do have a little bit of a gap on someone you can mark them on the track. I saw it. I was making a few little mistakes here and there. I was struggling a little bit before the finish line with that on-off in there. Just little things that were eating at us. Ended up cleaning those up, which was good. It was a hard-fought 27 laps tonight. Twenty-seven laps is a long time, so it wasn't over until it was over.
How much does setup change from coming Daytona to here, if at all?
Tomac: I think a lot of people just do things differently. Some guys will set up a Daytona track and they'll attack a Daytona setting, or some people just go there and click around. It's just personal, I guess.
Eli, obviously you'd rather have a points lead but given the way the bike's working now, the number of races left, and how you're riding, are you feeling way better about the season now?
Tomac: Yeah, feeling good. We're getting race wins but we're still 12 points out. If I go out there and win every race right now it still takes four races to get there and we have six left, so that's a big ask. But just doing what we can right now. Just taking it week by week.