Indianapolis, IN
Indianapolis
Monster Energy AMA Supercross Championship
On Saturday night, at Round 11 of Monster Energy Supercross, Zach Osborne captured his third win of the 250SX East Region in a hard fought battle with title rival Joey Savatgy. The Rockstar Energy Husqvarna rider now holds a nine-point lead with four rounds remaining in the series.
Savatgy held the lead early in the race, but was passed by Osborne after the whoop section. Savatgy held close to Osborne, but wasn't able to make a move and get the lead back. He finished second on the night.
Jordon Smith found the podium for the first time since the 250SX season opener. Smith ran with the lead pack before getting held up by his teammate Alex Martin when Martin crashed. He lost the lead pack, but rode to a strong third.
All three riders spoke with the media after the race.
Racer X: Jordon, congratulations. Take us through the fall. Alex Martin goes down and caught you up a little bit. Take us through that.
Jordon Smith: Yeah, we were all right there with Zach [Osborne] and Joey [Savatgy]. Alex had a little tip-over there about halfway through the race. I definitely got a little hung up with him and let those guys get really far away, which was kind of a bummer. I felt like I had the speed to run with those guys and challenge them a little bit tonight, but it just wasn't the night so we'll come back next week.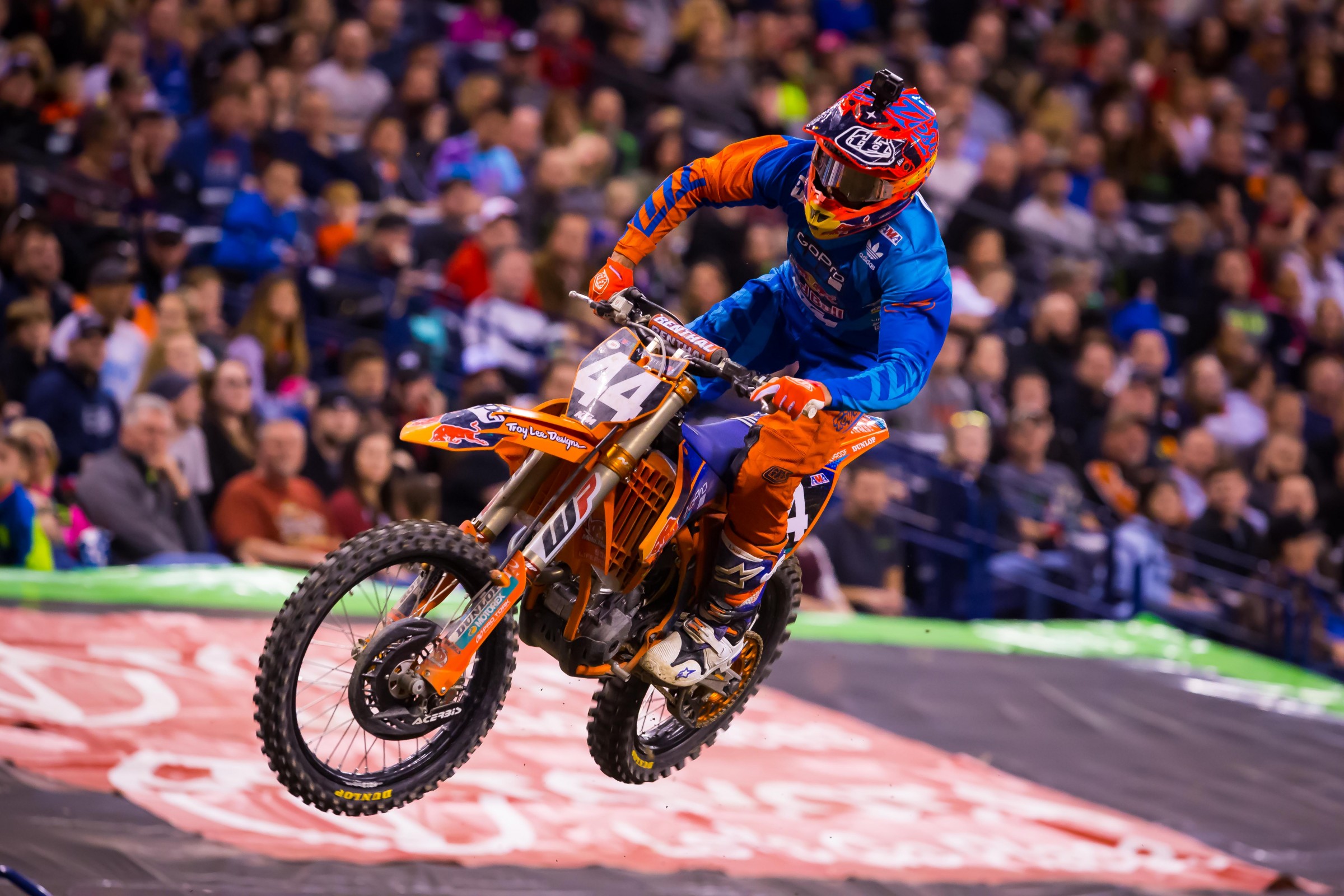 Joey, congrats. Did you know early in the main event that that was Zach behind you, and did that affect you at all?
Joey Savatgy: No. I was trying to focus on me. It wasn't our best performance, but we're walking out of here. We made some gains over the last couple weeks, so we'll keep our head down and keep it going.
Zach, congrats on the win. Early in the main event we saw you go to the inside line after the whoops. Joey picked up on it and then a few laps later you gave him a little bump. Did you know that that was a spot where you could make a pass, or were there other spots on the track that you thought you could?
Zach Osborne: No, I kind of maybe gave that away too soon in the race. I maybe should have just waited a couple turns until I was closer and did it before I kind of showed my hand there. I knew from the start whenever he pulled the holeshot that it was going to be a tough race. I just kind of tried to bide my time and make it happen when it did. It's going to be tough all the way to the last lap in Vegas. So I'm happy to pull off a win tonight.
We switched to the timed format this year. It's been 15 minutes at every one, so that's not a change, but because tonight's track was so short you ended up doing a 20-lap main event, which is quite a bit considering what you're used to. Was it easy to get caught up and maybe forget or lose focus out there? Or was it fairly easy because it's 15 minutes and it doesn't matter?
Smith: We were just pretty much pushing the whole time out there. Whether it's 15 minutes or 15 laps you're pretty much going to the checkered flag anyway. We caught up to a lot of lappers, and that was kind of sketchy. I felt like a lot of them were … I came in contact with a couple people that went down in front of me, so I thought the lappers were the toughest part.
Osborne: For me, just like he said, it doesn't matter what it is we're racing until the checkered flag. I don't think I saw the time until … I did look at the board to see the laps one time and I realized that it wasn't there anymore. But one time off the one triple going towards the finish line I looked over and I think there was like three minutes left, which that's already almost 15 laps. It is what it is. We practice those distances, so either way.
Savatgy: I think it's pretty easy to get adapted to it. Like you said, it's time. It's the same every weekend. Obviously the laps vary and the track changes, but its 15 minutes plus one lap. I think it's pretty easy to adapt to. It's pretty straightforward. It's 15 minutes. So it's not too bad.
We saw a little bit of full contact in the main, it looked like also in practice. Did the track kind of force that or is it that time of the season?
Savatgy: Yeah, there was contact in practice and in the main event. I think if that's what it's coming down to, then for sure, I'm game. It is what it is. Got to make the pass happen one way or another. So if that's how you've got to get it done, then that's what we'll do moving forward.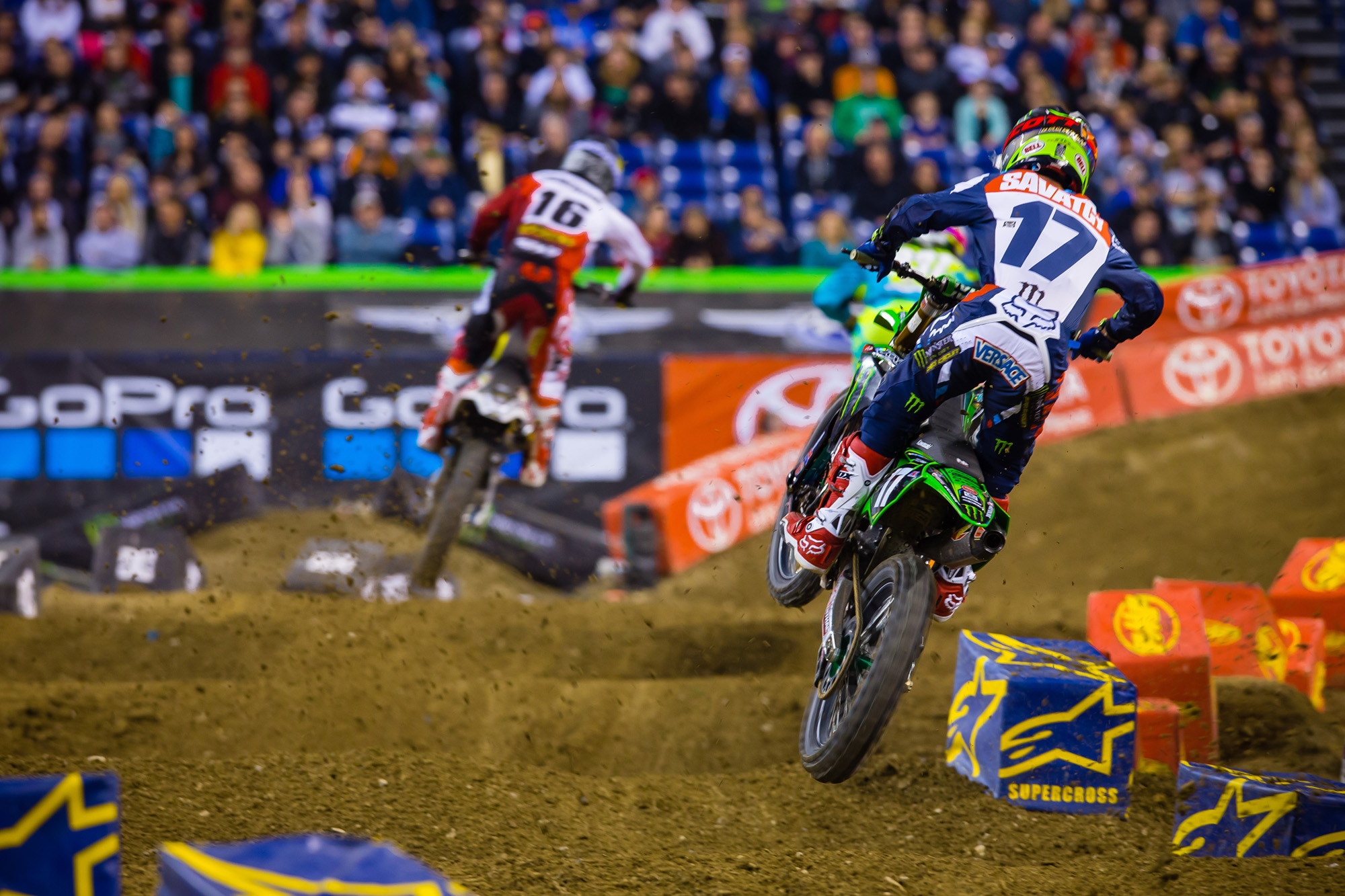 Smith: Yeah, I think everyone's going pretty fast right now and the tracks have been really tough to pass on I feel like this year, more so than my first two years pro. It's definitely made for more aggressive racing, I think. Everyone's going so close to the same speed.
Osborne: I think just the level is high right now and it's tough to make a pass. It's hard when you're all doing the same thing every time and there's a small opening, you have to take it. It's racing.
Jordon, you kind of touched on this. When you got into third the leaders were pretty far ahead, yet you had a big gap over fourth. When you're in that type of spot, when you've got a big gap ahead of you and behind you, is it difficult to kind of maintain your focus? What do you do to keep that going?
Smith: Yeah, it's definitely pretty difficult in that situation to keep the focus. I tried to keep pushing there for the first few laps after Alex and I got together. Then I couldn't even really see them on the straightaway even coming back the other way. I knew that it was going to take a mistake by one of those guys for me to be able to get them. So I just kind of settled in, and once we got into the lappers I just tried to focus on hitting my marks and focus ahead on the track and be aware for anything that the lappers were going to be doing in front of me.
I think you guys lapped up to eighth. Was it tough to find a rhythm out there?
Osborne: I didn't actually feel like the lappers were that bad tonight. There's been other times where it was worse. I felt like they were more strung out than normal. We weren't coming up on like clumps of them. So I didn't really notice it as much as I would normally, I don't think.
Savatgy: I didn't think they were terrible. There were obviously times where they'd definitely affect the flow and not intentionally get in the way, but you have your line that you take every lap and if they end up in your line you've kind of got to change it up a little bit. There definitely was a little bit of carnage. There was that crash on the on-off section and that was kind of gnarly. But all in all for me personally I struggled to find the flow a little bit. I kind of didn't let the track come to me quick enough. That's something that we'll learn and build on and adapt to and make it better.
Smith: I felt like it wasn't so much trying to pass the lappers, it was more the lappers being down. There was just crashes in the whoops and like they said, in the on-on section. On the last lap a lapper landed in the bales in front of me, and then got cross-rutted in the next turn. I had a pretty decent gap on fourth and I just tried to kind of cruise it in.
There was a lot, as you kind of touched on, a lot of carnage tonight and with lappers in front of you and behind you. Any particular section of the track that you really felt was more of a struggle than the rest of it?
Osborne: I just think when it gets rutted it's hard to be really, really decisive. Often times you get in a rut and you think you're going to go straight and it pulls you one way or the other just kind of out of nowhere. So I think it's easy to get into the Tuff Blocks. In our heat race there was crashes everywhere. I felt like the yellow flags were out the whole race. You just have to kind of bide your time. Like Joey said, there was that one big crash in the main rhythm section in the middle of our main and it was right in front of us. That was pretty hairy as well. It's just something you've got to watch for, I guess.
Smith: I didn't think really any one section was worse than any other. The whole track was pretty rutted, but Indy, we kind of expect that coming here. My rookie year it was very rutted. It wasn't too bad tonight, but you got to be on your toes out there for sure.
Savatgy: My thing, like everyone else said, when the ruts get gnarly they come up and bite you without you even knowing. So I don't think there was anything too gnarly, other than the ruts being unpredictable sometimes. Sometimes you get through good and sometimes they grab the pegs and slow you down. So I think that was the hardest thing.