Daytona, FL
Daytona
Monster Energy AMA Supercross Championship
Full Disclosure: MX Sports Pro Racing, promoters of the Lucas Oil Pro Motocross Championship, is a sister operation of Racer X. For years, the Lucas Oil Pro Motocross Championship had a contentious relationship with the FIM World Motocross Championship in Europe. Suddenly, that changed on Saturday morning, when a press conference was held at Daytona to announce that the two sides would work together, with MX Sports assisting Youthstream with the USGP for 2017 and beyond. Also announced was that the Motocross of Nations would return to the U.S.—with MX Sports' assistance—in 2018.
Actual track locations have yet to be announced officially, but MX Sports Pro Racing's Davey Coombs said the 2017 USGP will be held "in the Southeast" and the 2018 Motocross of Nations will be held "at a popular track in the Midwest." We have a feeling fans will be getting what they want when they finally do hear what the tracks are.
But how did there end up being peace in our times? We talked to Youthstream's David Luongo, the son of Youthstream owner Giuseppe Luongo, about that.
Racer X Online: I'm sure people watching this press conference live were like, whoa, that came out of nowhere. Did it actually come out of nowhere or has it been a thought for a while?
David Luongo: Yeah, we have been talking about it I would say some months. It was very important for us to set up a great organization for the USGP. It cannot be better than with MX Sports because we are talking about the two best promoters of motocross in the world, Youthstream and MX Sports. We can just find the great deal to make an event in U.S. and to be successful in U.S., because U.S. deserves to have a great USGP. It's the biggest market in the world. The Motocross World Championship is very good. We have 19 races now around the world, but we need to have a good one in U.S. So it was great news.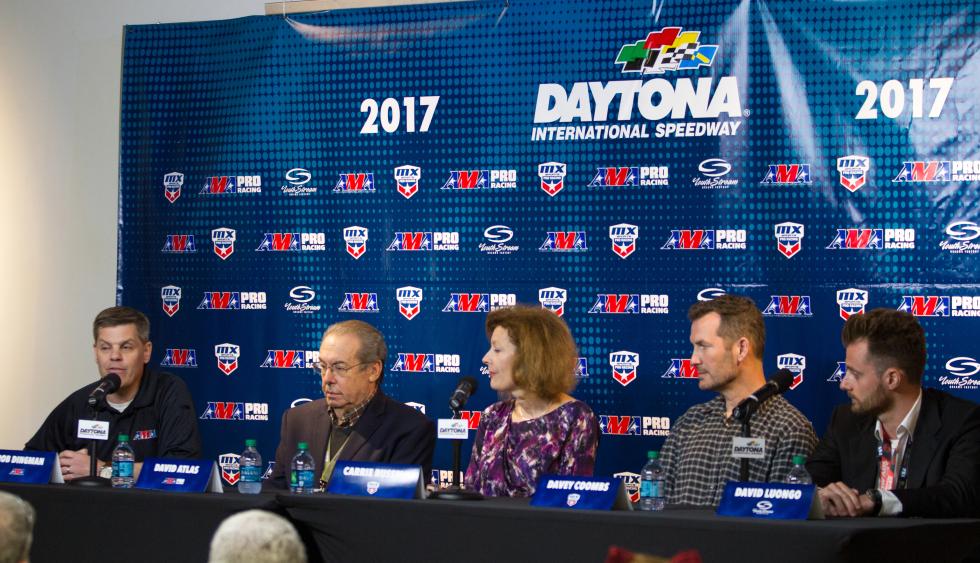 You said something really interesting there, you said, "We've been contentious with each other for a while, but for why? We're doing the same thing. We're trying to help the sport compete against other sports, together in a way."
Motocross is not Formula One. Motocross is not soccer, it's not football. It's a fantastic sport, but we have to fight together against all those sports. We don't have to fight together against each other—this is very important to understand because our target is to get new kids to like our sport, otherwise they're going in other sports. Then we lose them forever. So we have to make them discover that this sport is so great. This collaboration will help us and will help motocross to grow. So it's very important to have this target in mind.
With Youthstream and MX Sports working together on the USGP, how does that help the USGP? How will that make it more successful?
We will use all the experience of MX Sports because nobody knows better the U.S. market than them. So they will advise us the best place. They will advise how we should do it, how we should organize it. We will really be on a white [blank] page and set up a great event together. We will use their experience and their advice to make this GP great again.
So both sides, they can talk about it all year, you guys talk about it all year, promoting it constantly.
Yeah. We will use our championship to talk about this race around the world, but in U.S. …
Yeah, let's be honest, the USGP wasn't being mentioned much in the past over here.
Yeah, that's clear. So it will help a lot for the promotion of the Grand Prix.
Is it going to be the final round?
No, it will not be. It depends really always about the calendar, but today we have 19 dates and also we have a lot of demand to finish the championship in Europe because the teams have the big infrastructure to make a party.
That makes the most sense. That's where the teams are based.
So it will be normally into the last two or three rounds, depends about the calendar.
Your teams have to be excited about it. I'm sure they want to get the chance to race in front of this audience.
Yeah, that's clear. It's a global championship for sure, but USA is a great market. To have the championship without USA, without France, to have a championship without Germany—we need to have those. When we have the full package as we would like to have also a race in Japan, a race in Australia, to really make the complete package of our championship.
So there could be a GP back in Japan at some point?
Yeah, we are working on that. It's always like it was in Indonesia. Indonesia, it's the best market in Asia for the motorcycle. We had 30,000 people there, so we have to go where there is a great market for the motocross because you have a lot of fans, you have a lot of kids. Again, we talk about the same things. We are bringing kids inside our motorsport. It's very important for the future of motocross.
The question always when there is a USGP is will there be more riders from both series racing? Does this connection with MX Sports impact that somehow? Does it maybe make it a little easier?
I think so, because the dream of every fan will be to have one round with 20 American riders and 20 riders from the World Championship. This would be the perfect scenario. I really think that with this new collaboration it will help. Then we will know before the race how many riders we have. Of course you will have injuries and other things that can happen during the season, but yes, our will is to increase the participation of the great American riders.
And it's always that Labor Day Weekend? That's what it going to be so everyone can plan in accordance?
Yeah. It has to be at the end of the outdoor season.
What about the des Nations?
Yeah, so what I said, the des Nations will be in 2018 in USA. So the collaboration started pretty well—we already gone one year early, actually. Normally we had planned to have it here in 2019, but we will be back here in '18 to bring this great event in USA.
But tracks for the USGP and the des Nations aren't known yet?
No.
But it will probably be a track that's known as a motocross track?
It will be a very popular track. It will be one of the most popular tracks in U.S.
What has it actually been like working side by side with the MX Sports people? Is it one of those things that once everybody actually talks you're like, everybody's pretty cool? Is that how it actually turns out?
Yeah, I think the times change. It was some tough moments 10 years ago, but now we have to go over that. So we saw that our two series are working well. We will never come in U.S. and make a championship here, because our work remains in Europe. We want to create a global series. U.S. has to be part of our global series [USGP round in FIM World Motocross Championship]. I think we can help each other very much. For that, it's very relaxed. We work for the best and we work to make a great event here.