Daytona International Speedway
Daytona

,

FL
Daytona
Monster Energy AMA Supercross Championship
Following his second straight victory at the Daytona Supercross by Honda, Monster Energy Kawasaki's Eli Tomac has won five of the last seven rounds of Monster Energy Supercross. With this win, Tomac now trails points leader Ryan Dungey by 17 points.
It was a solid 450 debut for Jeremy Martin. The full-time 250 rider led 10 of 20 laps in his one-off ride with the Honda HRC team. The GEICO Honda rider will return to the 250 Class following his second place finish on Saturday night.
Rockstar Energy Husqvarna's Jason Anderson rode to a quiet third for his first podium since Arlington. All three riders spoke with the media following the race.
Racer X: The start was a little crazy. Talk about the whole race played out for you. You came away with a podium here at Daytona.
Jason Anderson: Yeah, for sure. Next to me I had Marv [Marvin Musquin] and on the other side I had Dunge [Ryan Dungey] and Marv hit the gate. I kind of flinched a little bit and kind of got messed up. Through the first corner I was on the inside so I was able to tuck around and then just kind of hold it wide open. It was like left, left, left, so I was able to stay inside. I still was maybe eighth going around the first lap. Then just started working my way up and was able to get up to the third spot, but then I was in no-man's land. But I was able to stay there and get a podium. It's cool to be back up here but at the same time I need to put myself in better situations.
Now we go to our second place finisher, Jeremy Martin. Jeremy won the 250 here last year. His first career start here in 450. You opened up I think 10 laps of the Daytona Supercross by pounding the first 10. Podium finish for the fourth time since 1976 we had a rider get a podium finish on his first start. Talk about the run tonight. Got to be pretty proud of the podium finish for Daytona.
Jeremy Martin: For sure. Honestly I was surprised that I qualified good. These guys are really fast and they've had a lot of experience. I just had a good feeling today. That new Honda is an amazing bike. Today was my eighth day on the bike and I've really enjoyed it and working with the whole Factory Honda team. The bike's good. I had 18th gate pick and I was on the outside. I knew I had to do something, so I threw it into the first turn on the outside and I monorailed the crap out of that berm. Just tried to do my best and the green machine over here on the right, it was coming.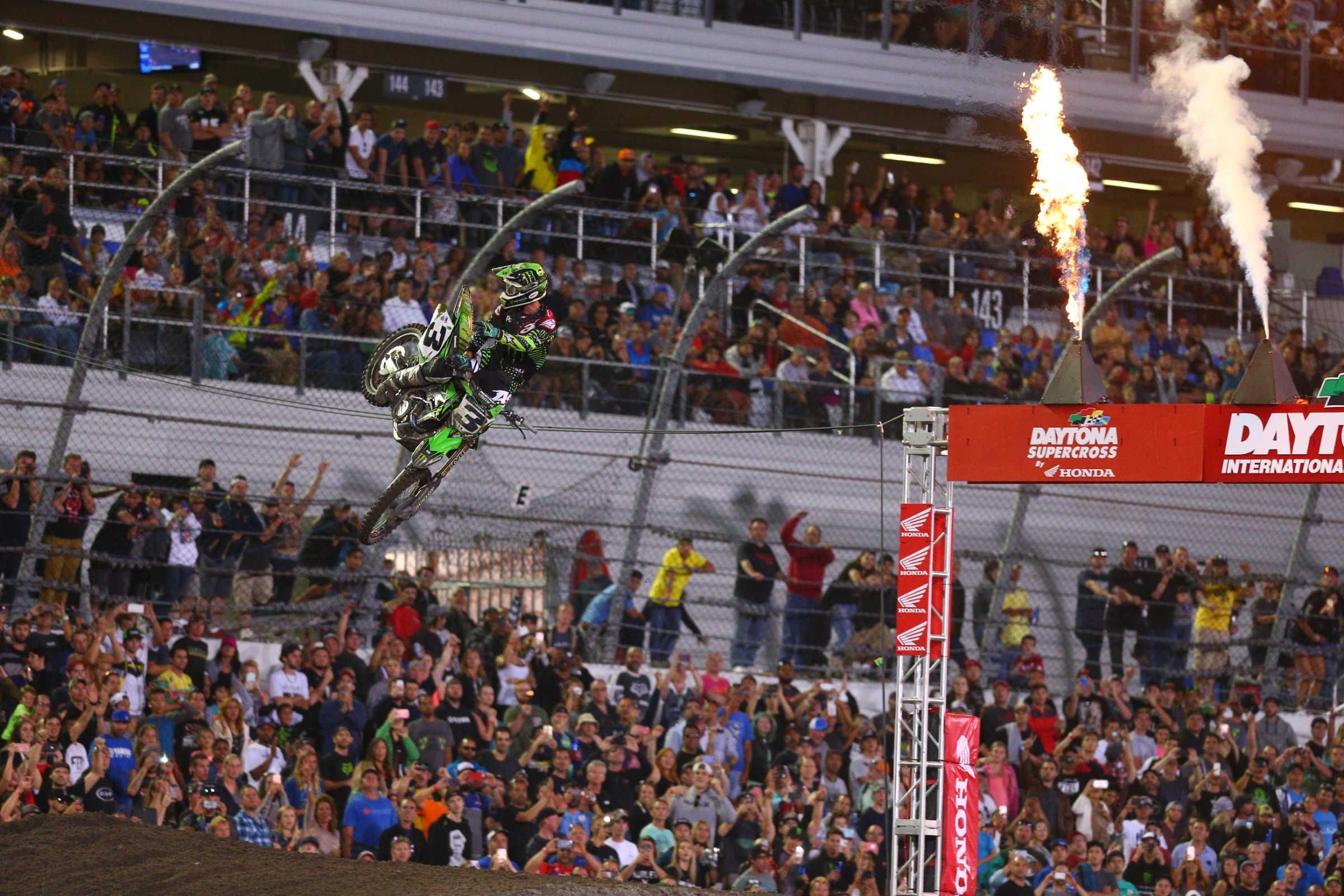 Now to our winner, Eli Tomac. Ninth rider to do back-to-back victories in the 46-year history of the Daytona Supercross by Honda. You also cut into the point lead now. Seventeen point difference between you and Ryan Dungey. Fifth win of the season. Talk about how you chased down Jeremy. With about 10 laps to go you made the pass and brought it home again for back-to-back wins at Daytona.
Eli Tomac: I went around the first turn there and wasn't in a really good spot. Tucked the inside and Jeremy came ripping around the outside. I honestly couldn't believe who it was because I knew how far out he was. So after that we went at it for those first 10 laps. Jeremy was running a pretty fast pace. I kind of had to back off and kind of relax for a minute, and then try to make another run at it. Once we were able to get by that it was all about just maintaining a smooth, clean race.
Eli, were you surprised that Jeremy was leading the race right there at the beginning, because he doesn't have much of a history in this class.
Tomac: It wasn't as much of a surprise as who it was in the front, but it was more a surprise on where his gate pick was. I think he said he had 18th gate pick, so that's pretty rare to come flying from the outside and able to manage that holeshot. So it was a surprise. It just goes to show you if you do have a bad qualifying heat race or semi just to never give up. You never know, and you can make a start like that happen.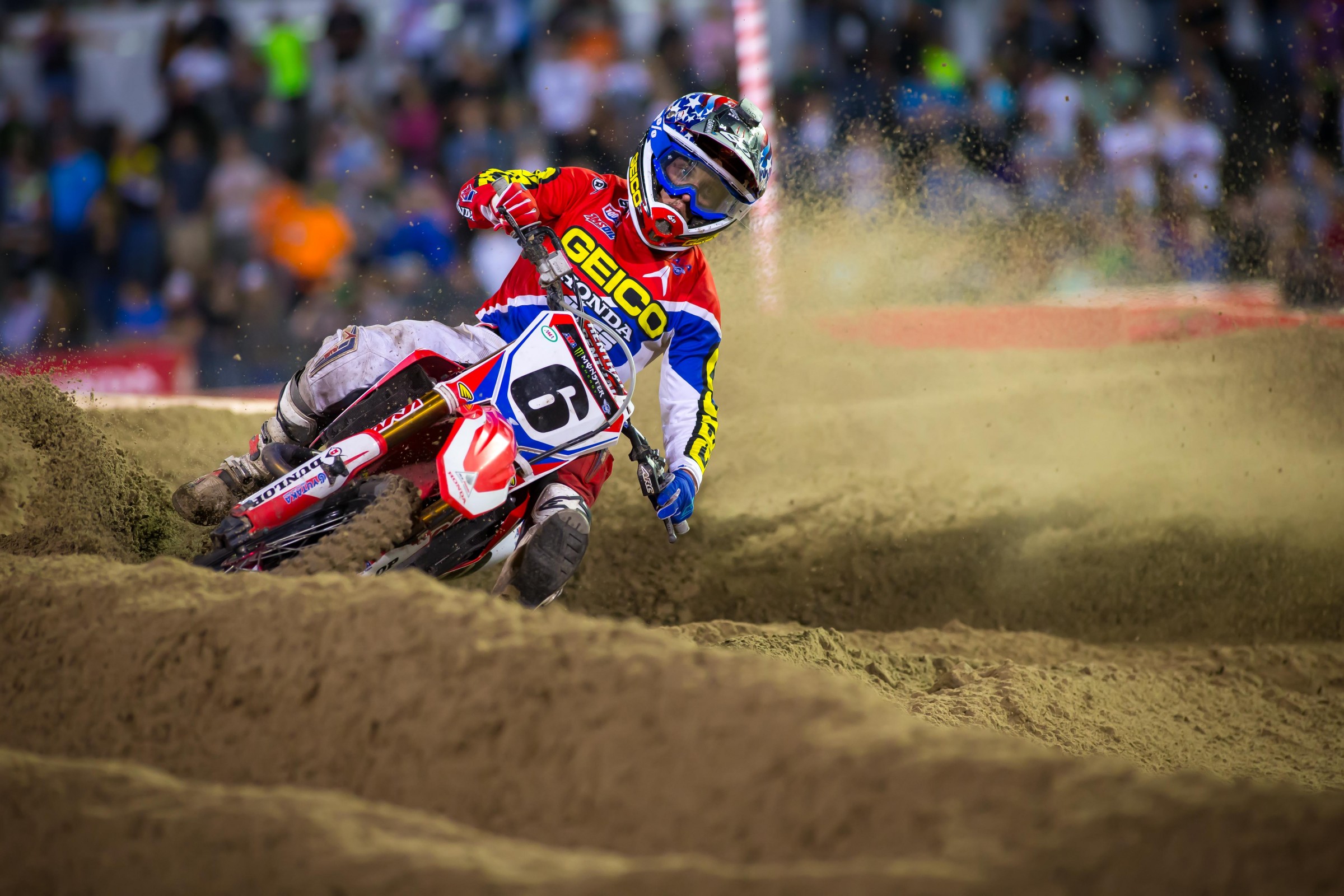 Eli, were you tracking where Dungey was or getting messages or were you just focused on the lead and staying up there?
Tomac: I actually looked up at the tower once to look at the numbers, but I didn't even really see it. I knew there wasn't anyone right behind myself and Jeremy, so I figured I was in a good position. It was a good day of picking up some points.
Jeremy, leading at Daytona, how big of a rush was that for you? How does that help your career?
Martin: It was definitely a big rush. This is the premier class and these guys are all badasses. They all put in the time. They put in the time for over five years. These guys are the real deal. The 450 is a big machine. I think we've had to detune mine probably four or five times because it was just so fast. To be able to lead, I think it was 10 laps, 10 or 11, it was just cool. Much respect to everyone in the class. I just got a good start and put myself in a good position.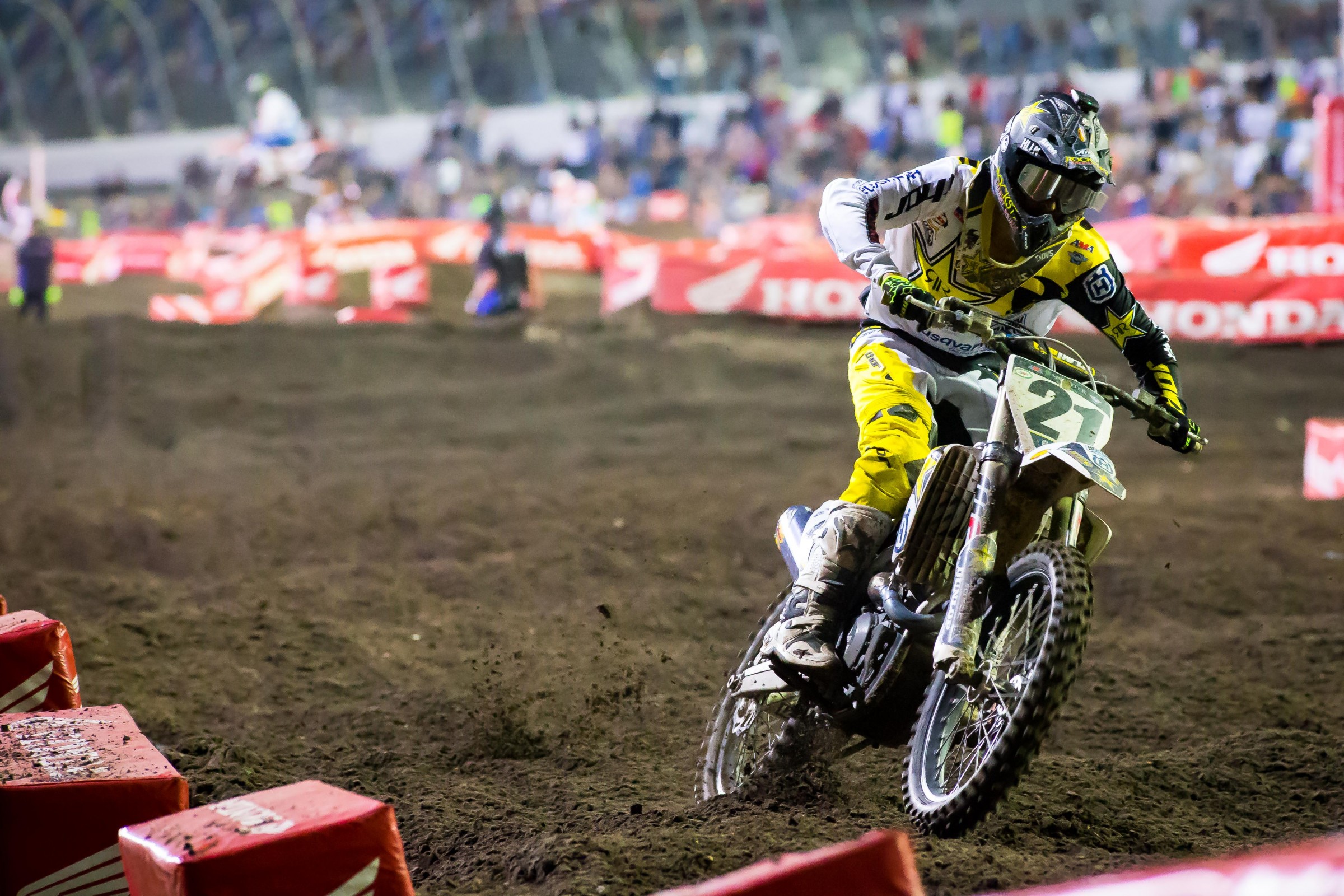 Jeremy, it's been a bit of a struggle in the 250 class this season, then jump up and instant podium. What's that feel like? Do you think just 450s are just easy now?
Martin: No, 450s aren't easy. Like I said, this is the premier class and they're good. I thought I've always rode a 450 well, and I've definitely struggled on the West Coast—there's no secret about that. But I really jelled with the new bike and hopefully we can carry this momentum back to the 250 class and get that GEICO Honda 250 working really, really well here in the next couple weeks and hopefully get a holeshot and get out front.
Eli, it was a sweep with Kawasaki today. I know you probably know Adam pretty well. Can you talk about his struggle to reach this podium finish, this win tonight?
Tomac: We've had similar injuries in the past, which is injuries to the shoulder, even both sides. So for me it took me well over a year to really get all of my strength back, to feel like I can get back to doing what I want to do on a motorcycle and be able to maintain that pace throughout the moto. He may not have had the same injury, but the same body part so it's one of the hardest things to rehab and get back to 100 percent. You can see it's taken him a few years to really get back into it. It's nice to see that he was able to make that rebound.