Daytona International Speedway
Daytona

,

FL
Daytona
Monster Energy AMA Supercross Championship
It's been a long road back to the winners circle for Monster Energy/Pro Circuit Kawasaki's Adam Cianciarulo. After winning three races in his rookie season in 2014 before injury, Cianciarulo has missed the last two years of Monster Energy Supercross due to injuries. Last weekend in Toronto, Cianciarulo finished second for his first podium since 2014. At his home race in Daytona on Saturday, Cianciarulo held off his teammate Joey Savatgy to capture his first win since Detroit 2014.
Following his win, Cianciarulo is nine points back of championship leader Zach Osborne. He spoke with the media following the race.

Racer X: Adam, you did a bunch of media earlier in the week talking about coming back here and you said it would be very special. Tonight you win here at Daytona. Talk about how that felt and what it means to you.
Adam Cianciarulo: It's just surreal. Growing up here, it was the first supercross race I ever went to. I didn't even have any idea really about the sport or anything. It was just kind of one of those family deals. Three or four years old back when it was a night race still watching RC, MC back in the day… just kind of where I fell in love with the sport. Getting close to winning here when I was here my first time in 2014 and then just kind of going through everything I've gone through since then, to get back here and to win my first one in three years in front of my home crowd, it was unbelievable.
Talk about the race. You took the lead right off the bat and held it for 15 laps. Did you feel the pressure of that position? Did you feel the energy of the crowd there towards the end? What got you through it?
Yeah, actually I felt really good all day. Feally, really confident in my riding. I knew in the heat race I got a good start but I went past the corner and was in, like, sixth. I felt everybody in my camp too was like, "Dude, you rode really good," and I got fourth. So I knew I was going to have to get a good start to be successful today. It was so one-lined, especially in the sand. It was ridiculous. I was actually running a paddle tire, just to get through there a little bit better. But I was able to sneak by Joey [Savatgy] there. I actually lined up next to him, which we're not supposed to do really. Mitch [Payton, team owner] isn't a big fan of that. I was rolling into the gate and my mechanic had some heat over the headset about me lining up next to Joey. I was like, "Dude, I'm sorry, but this is the only decent rut left available." Luckily he got actually a better jump than me. I just followed him. I was able to square under him. I knew if I didn't square under him there I was probably going to get second. So I was able to get that done and I told him, every time I went through the sand I was trying to blow those things up to get a little bit of a gap on him, but it was good.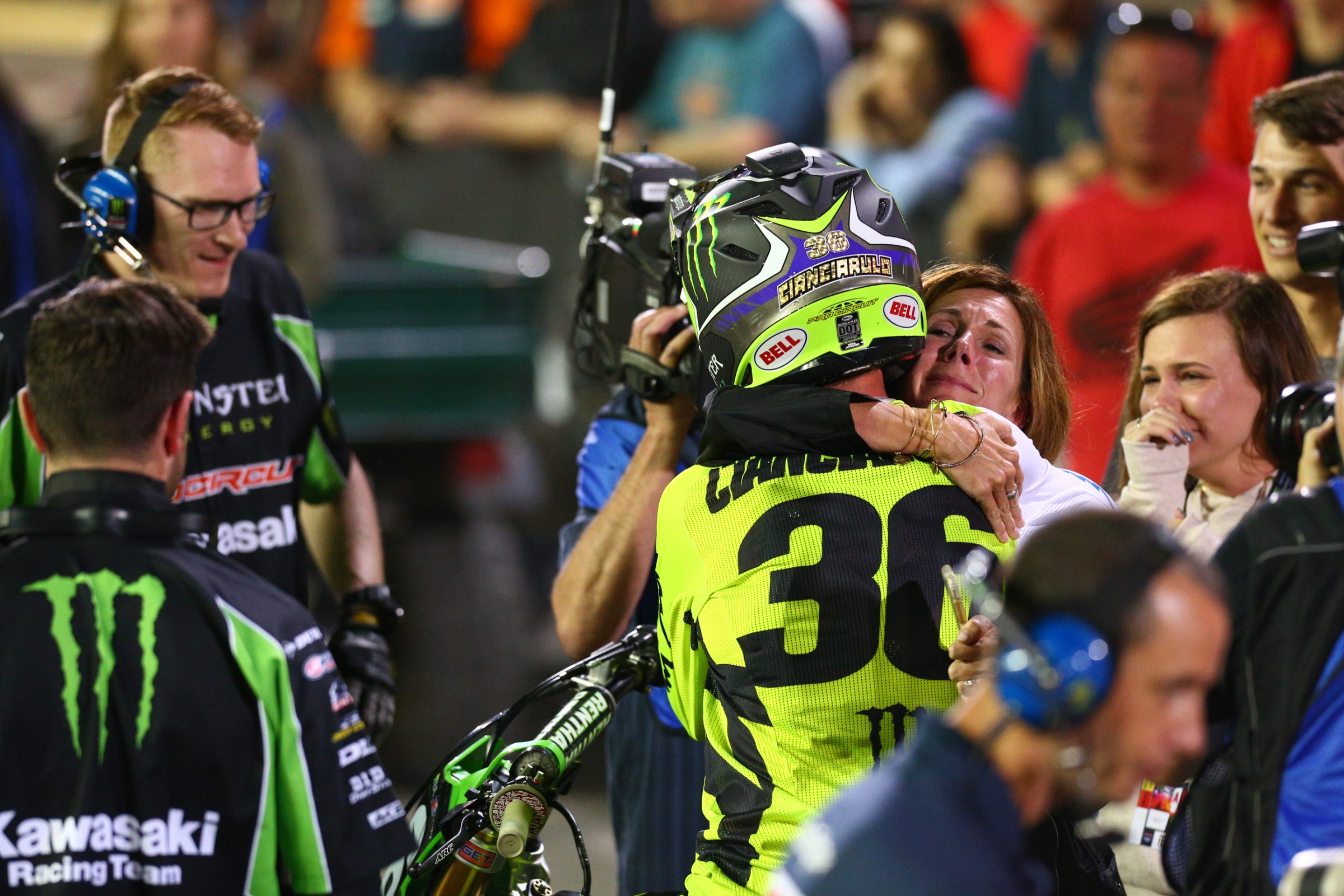 Tell me the raw emotion right when you took the checkered flag for this win.
I think for me it's just been three years of just me thinking about that moment. Just anywhere. I could be driving to Starbucks in the morning and it's like, what am I going to say on the podium after I win again? It's surreal. I just wanted it so bad and just to kind of have it all, and just here at Daytona right where I grew up… I'm staying with my parents this week. It's just crazy. You just don't know it's going to happen like this. I've gone through a lot and it sucked but just this moment in itself is worth it just to get back here. The emotions are incredible.
You're only nine points out for the lead now because of this win. That's got to mean something, getting you points and nearing in on that championship.
Yeah, definitely. I think the goal coming in here today was definitely to take some points away from Zach [Osborne]. Obviously for myself I want a good result, but it's kind of a short series with the split coast, the East and the West. It's kind of short. You got to make it happen. I kind of sort of needed to go the other way starting this weekend and luckily I was able to make up some points. I was 18 down coming in here and I think I'm seven points [Adam is down nine to Osborne] down now. We still have a long way to go. A lot can happen. We still have seven points to make up. I'm just stoked. Getting the podium last weekend in Toronto, getting a win here… I feel like the momentum is on our side. I think we can capitalize on that going forward.
It looked like one end of the course favored Joey, and one end of the course favored you. The gap would kind of shrink and grow there. Were you feeling that pressure? Were you watching? Could you hear him back there?
No, to be honest with you, I came today and I had put so much pressure on myself the first few races and I almost said today… It's hard to explain. There's a difference from riding and racing and being locked in and being conscious while you're out there. There was a time in that main event where I was actually going through the sand and I was like conscious. I was feeling the pressure and I was starting to make some mistakes. It's easy to give in at that point. I thought to myself, what's the worst that can happen? I'm going to wake up tomorrow and I'm going to drive back to my house. I'm going to wake up Monday morning and I'm going to go to the track. You almost put this fake consequence in your mind. That pressure is not really real, it's just something you create for yourself. I thought of that in the sand section going into the left-hand corner before the sand, and I was like, "You know what? We got like five to go. Let's do this thing." To answer your question, Joey was hitting that three-three still and I told him, I said, "I did it the first few laps and I cased it one time." I was like, "If you're going to keep doing that, go for it." It was a little sketchy for me.