Toronto, ON
Toronto
Monster Energy AMA Supercross Championship
For the first time in the last four years, Bobby Regan and his Star Racing team were in unfamiliar territory coming into 2017. Since the start of 2013, the team knew they could rely on Cooper Webb and Jeremy Martin—who raced for the team as amateurs—to deliver race wins, and more importantly, titles. The duo combined for five titles (the most in the 250 Class) in supercross and motocross since 2014.
This off-season, they would lose both riders, as Webb moved up to the 450 Class and Martin signed with GEICO Honda. The team was also tasked with replacing Jeremy's older brother, Alex, who was leaving for TLD/Red Bull KTM after just one year. Last year, the trio accounted for two titles, seven Monster Energy Supercross wins, and 14 motos wins in the Lucas Oil Pro Motocross Championship.
Regan knew he had former SX and MX rookie of the year Aaron Plessinger in his back pocket. The team was also hoping that Mitchell Harrison could develop in his second professional year. They went out and signed former MX2 Grand Prix contender Dylan Ferrandis and brought on Colt Nichols from CycleTrader.com/Rock River Yamaha. Plessinger was known, but what would Ferrandis and Nichols bring?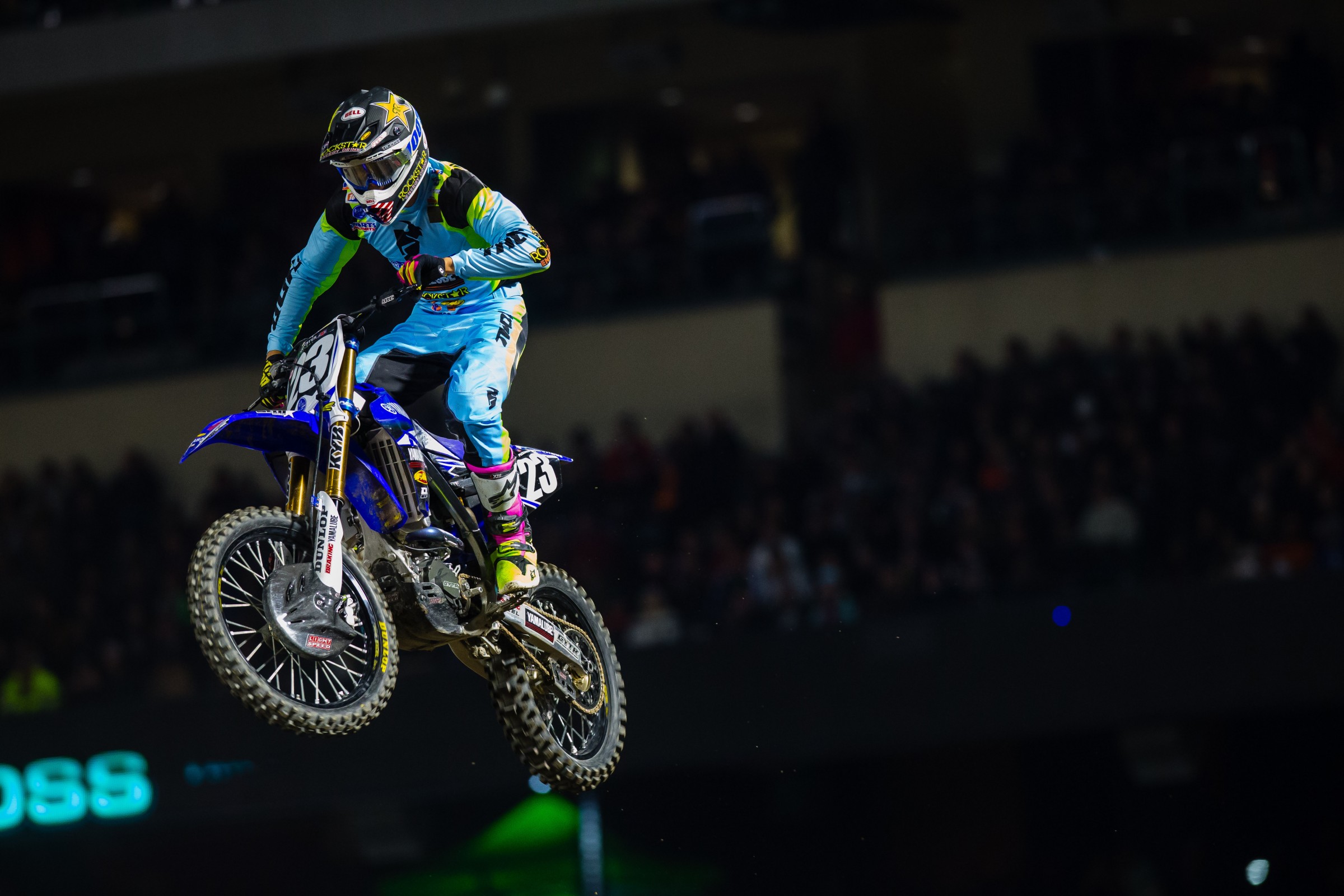 The first hiccup came in November, when Nichols broke his femur testing. It forced the team to bring on veteran Dan Reardon as a fill-in in the West Region. The team was optimistic Nichols could return for the East Region, but most considered it wishful thinking. But with the help of trainer Gareth Swanepoel, Nichols underwent intense therapy to be ready, and landed on the podium in just his second race back.
Meanwhile, Ferrandis was adapting well in supercross, and even led his heat race in just his second career start. Further signs of progress came this weekend, with both Ferrandis and Nichols winning their heat races. Ferrandis led his first career main event laps (four) before falling out of a podium spot after Zach Osborne and Joey Savatgy got around and finished fifth.
For the second time in two weeks, Nichols was a strong podium candidate, before making a mistake in the rhythm section late in the race and finishing fourth. While Ferrandis and Nichols may not challenge for a title this year, early on in the replacement process, Star looks to be coming out ahead.
We spoke with both Ferrandis and Nichols after Toronto.
Colt Nichols
Racer X: What kind of work went into you getting back? When the team initially said that you might be back for the East Region, I think everybody was like, that's not going to happen. Wishful thinking.
Colt Nichols: Yeah, very much so.
How did it get to this point? How were you able to race two weeks ago?
Literally as soon as I got home we didn't get to do anything for maybe four or five days. I got a really bad concussion actually whenever I crashed and did my femur. So that was the big thing on our minds, not trying to move too quick and take time for my head to heal up and do whatever I needed to do for that. We actually worked out day five after the surgery. We were in the gym on the arm bike and trying to just sweat it out and get back to where I felt like we could be. We were doing this thing called CVAC treatment. It's kind of like a hypobaric chamber. It's supposed to be really, really good for recovery. I was in there literally two hours a day. It was brutal. It was boring. It sucked ass. It was something that he [Garth Swanepoel, trainer] thought would be good for me to do. It cost a lot of money to do it too, but I was like if it's going to give me any shot at racing we're going to do it. So I was doing that for two hours a day. I was in the gym literally every single day. I did not miss one day until I went home for Christmas. I went home there for a few days. We did everything we could. There was nothing that we could have done that was more than what we were doing. I just wanted to race, regardless of whether I got first or 21st. I didn't care. I just wanted to line up for Minneapolis and try to get points. I really felt like if I could get back to where I was before I got hurt then we could be in a championship hunt. I felt like I was riding really, really good. Everything was going pretty easily. I felt like if we could have got back to that then we'd be all right. We're getting there. We're making a lot of progress each week. I think we will get there.
How much time did you get on the bike?
I want to say three and a half weeks. The first week was riding obviously outdoors and just trying to get my feet wet back on a dirt bike. Then we had probably two solid weeks of supercross. Then that other half of the week was still riding some outdoors and trying to kind of get into supercross slowly. But we didn't have much, honestly. It was kind of showing up … I have no idea where I'm going to be. I don't even know if I'm going to make the main event. So for me that was kind of a trial period, if you will. I was going to see how the first one went. If I was like, "man, we're way off," then I was going to maybe tone it back a little bit, just try to get prepared really. But seeing how close we were [to running the pace in Minneapolis] already I was like, man, no reason to do that. I felt like we can do it. Even the first round, I know I got 10th and had that crash on the start but I felt like I rode good. So I felt like if I can do that, we can run with these guys. We have so far, just dumb mistake tonight kept us off that podium.
Are you exceeding expectations?
Maybe other people's, but for myself, no. I feel like I'm fully capable of doing what I have been doing and more. It's just putting it all together. This sport's tough. What we do, all these guys are professionals and they're good at their jobs. So for me it's just a matter of putting myself in a position to do good, getting good starts and trying to get the bike a little better during the week. Just everything we can to improve.
This has been a long road for you. From arenacross, to MotoSport Honda to Cycle Trader, and then I think there was even a point in your amateur career you didn't have a ride. Maybe not rushing back, but was it, "I got my first factory ride and then I break my femur?" Was that kind of what drove you to get back and want to race and kind of maybe want to push it a little harder?
Oh, 100 percent. This was the opportunity I've wanted my whole life. In 2014 I raced arenacross and afterwards I went and raced in Costa Rica and actually got lucky. It was an awesome deal for me, but I had no opportunity to do anything. Two thousand and fifteen—no ride. Took a long time to get it. Once we did we were very unprepared with that one too. But this was a dream of mine from the get-go, so to be here and not be able to race it would have been heartbreaking. So I was like I'm going to do literally everything I can. We're going to come back and race and we're going to try to win one of these damn things and hopefully do it. I feel like we're on the right track. We've still got a lot of room to improve, like I was saying. I don't feel like we're anywhere close to our peak, making baby steps, but we're getting there. But definitely that's what drove me to get back. I want to go out there and put it on the box for these guys. This is a good team. They're awesome. All the dudes there—I don't not have one bad thing to say about any of the guys. My mechanic, team manager, everybody's just awesome. I just want to do it for myself. I feel like that's where I belong. But definitely got a lot of motivation from the team.
---
Dylan Ferrandis
Racer X: How's the transition going for you? Not just racing here but moving here and just the culture and the people and everything. How is the adjustment going?
Dylan Ferrandis: It's the biggest transition ever. I was living home with my family where I'm born and everything was normal, and I leave for [to] make my dream come true racing supercross and try to win supercross. So it's really a big, big change. To live in France and now in California is so different, but it's what I chose to do and I'm really happy about my choice. I'm learning. Even if I have a lot of experience in GP and fight for two years for a championship, supercross is definitely really, really different. It's a war that you need experience for win. You cannot win the first one. The first one ever I think it's not possible to win. I'm learning. I think I'm learning fast. I just have to wait and try to keep me a little bit more calm sometimes and it will come. I really enjoy ride [riding] supercross but it's really a different world than the GP series.
You actually knew you wanted to come over here. You raced Bercy and all that stuff. Was that the plan to get some experience on that so you could come over here?
I always ride supercross. Since I'm on 85 I train [for] supercross. I make [raced the] French championship. We have a good French championship supercross at home, but it's completely different than here. The tracks are so smaller and more easy. Also all the rules make [are] different with the fuel rule, the sound exhaust. It's really different. Everything is different and the bike is really different. Also for outdoors I'm sure that the bike … the guy who win the outdoor in the U.S. cannot have the same bike in Europe. Like Villopoto [when he tried the GPs], we see it.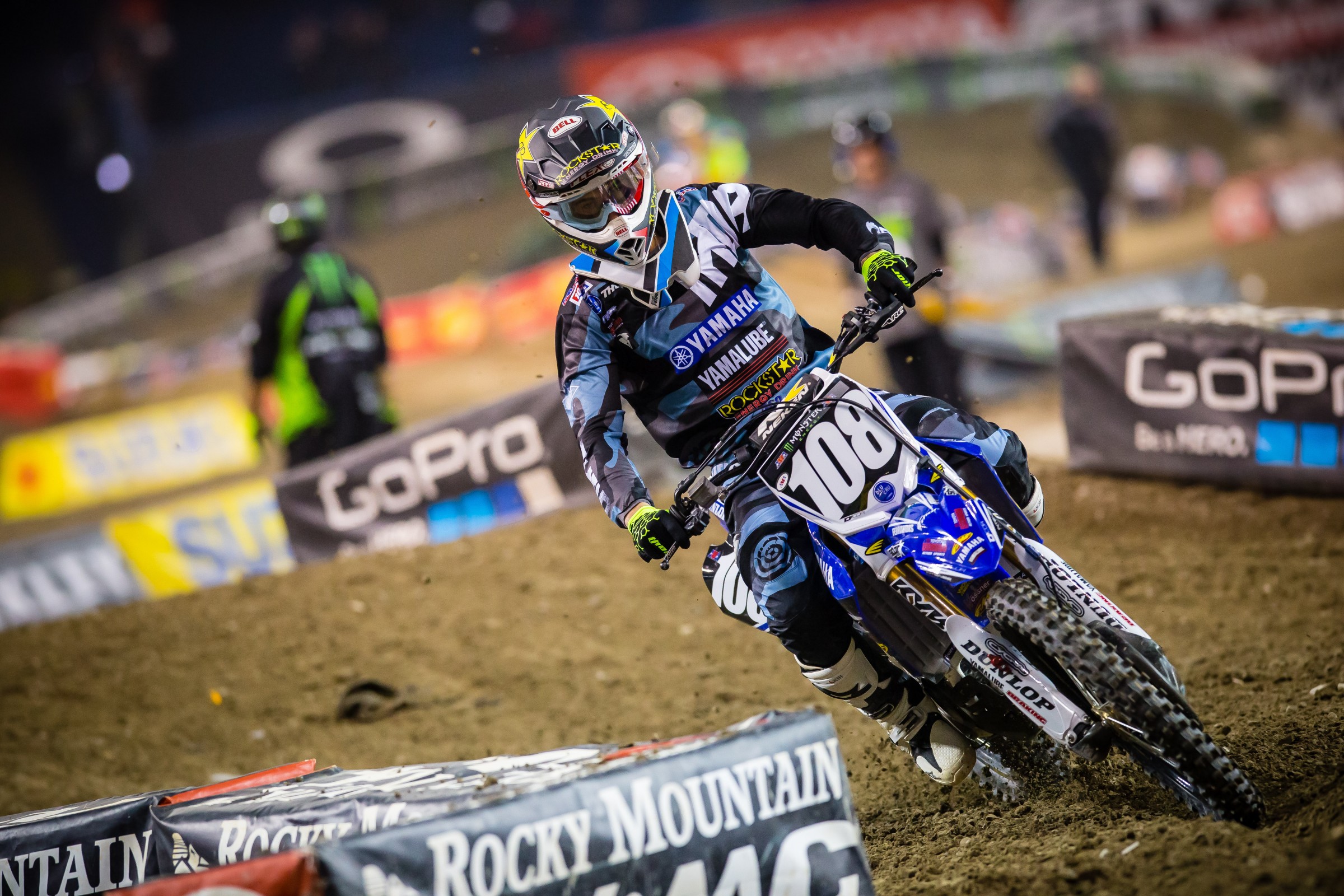 Talk about leading tonight. What was that feeling like?
I make my first lap leading last weekend, so I was really tight last weekend about it when I was in front. So this weekend was a little bit better, but for sure for the heat race I had to fight so much for the win. It was good but that helped me so much to learn to put less pressure on myself. It was good. I'm not ready for [to] win a main event. I need to train a little bit more, to have more experience, to ride more different tracks. Every weekend the track is different. On the East Coast championship you have to have so much the bike for the track, so it's kind of a thing that I have to learn. But it's coming. I make my first main lap leader this weekend, so I'm really happy about it. I crashed because I pushed a little bit too hard, but I make a top five. It's my first top five, so it's coming.
Are you close with [Marvin] Musquin or [Christophe]Pourcel? Were you able to kind of go to them for advice on how to transition here or get used to supercross or anything like that?
No, many people ask me this question but we have a big different age, so I never ride with Marvin or Christophe when they were in Europe. I was too young for ride the GP, so I don't know the guys very well. But for sure I always look what they do because it's been for a while that I want to come in US. Everybody is different. From what I remember about Marvin's first year I'm quite similar as what he made the first year, so it's not so bad.