GNCC Welcomes Four Co-Sanctioning Series to 2017 Schedule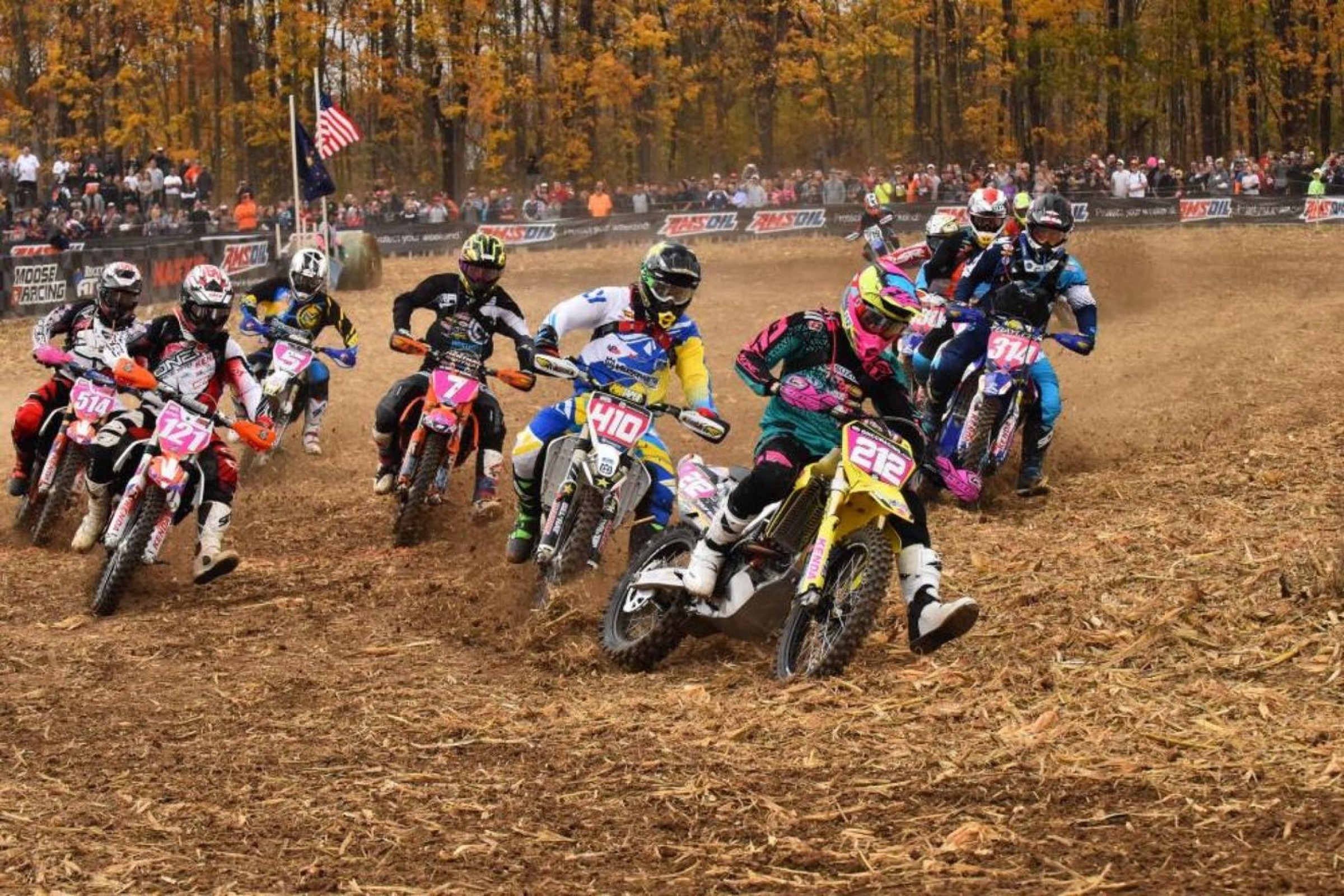 MORGANTOWN, W.Va. – It is with great pleasure that Racer Productions, producer of the AMSOIL Grand National Cross Country (GNCC) Series presented by Maxxis, an AMA National Championship, welcomes four race organizations to serve as co-sanctioning partners in the 2017 season. With a total of 10 of the 13-round GNCC series now partnered with premier regional racing bodies, racers will now be able to connect with various racing series and continue to advance the sport of off-road racing.
"National level racing could not exist without a vibrant grassroots racing rider base," said Tim Cotter, GNCC event director. "We are pleased to work with our co-sanction partners who are the most organized, well attended events in the regions in which we race."
Southeastern Enduro and Trail Riders Association (SETRA) is back and co-sanctioning an astonishing four rounds on the GNCC circuit. SETRA members will compete in the VP Racing Fuels Big Buck, Maxxis Cannonball, FMF Steele Creek, and CST Tires Camp Coker Bullet GNCC races.
"SETRA, a non-profit organization that has been a long-time promoter of Enduro and Hare Scrambles races in the southeast area, with 1000 plus members, is very excited to be a part of the GNCC series this season," said SETRA president Chris Doran. "The four races that we are co-sanctioning partners, which is more than any other organization, will not only provide a chance for our members to race against the best racers in the country in a national venue, but also, will determine our class and overall champions for our next season. On behalf of the members of SETRA, I would like to thank the GNCC crew for allowing us to be a co-sanctioning partner in these southeast races and look forward to a great season."
Indiana Cross Country Racing (IXCR), established in 2007, will be co-sanctioning the inaugural X-Factor GNCC in Peru, Indiana on May 6 and 7, and the popular season finale AMSOIL Ironman GNCC the last weekend of October. The Ironman GNCC has been associated with the IXCR circuit since 2009, helping the event grow into a popular destination for racers and motorsports fans. In 2016, with the help of IXCR, the event set a record becoming the largest attended GNCC event in history.
"IXCR is once again very excited to co-sanction with GNCC for both Indiana rounds for the 2017 season," said Tim Bowman, IXCR President. "We have enjoyed our long-standing relationship with the national GNCC series, as it gives our racers the opportunity to test their skills against the best in the country. With the newest addition to the GNCC schedule being in Peru, Indiana it gives national racers the chance to see the type of diverse terrain we offer in the state."
Celebrating their 13th year partnering with GNCC Racing is Western New York Off-Road Association (WNYOA). WNYOA membership numbers are at a record high, and multiple racers compete in both the entire WNYOA and GNCC series. The 2016 XC2 Pro-Am champion Greg Covert, XC1 Pro rookie Marty Christofferson, and XC2 Pro-Am rookie Hunter Hart, are just a few of the dedicated WNYOA racers who travel the East Coast to compete in America's premier off-road racing series. WNYOA will co-sanction with two rounds in the Empire State, including the Dunlop Tomahawk GNCC in June and the Parts Unlimited Unadilla GNCC in September.
"Since partnering with GNCC 13 years ago, Unadilla has become one of the most anticipated races on our WNYOA schedule," said WNYOA president Scottie Rich. "With the addition of the Tomahawk two years ago, our riders have local access to two of the biggest off road races in the country. It's nice to watch the real time scoring and witness our local racers of all skill levels and ages competitively bang bars at a GNCC, then stand tall on the podium representing WNYOA."
After a successful first year of partnership, Woods Extreme XC Racing (WEXCR) is back on the GNCC schedule. Founded in 2011 with events throughout West Virginia and Ohio, the WEXCR Series is rapidly growing. Top ATV competitors Brycen Neal and Adam McGill often make an appearance at the WEXCR events, along with UTV driver Kyle Chaney. WEXCR competitors ranging from motorcycle, ATV and UTV racers will compete at this year's Wiseco John Penton GNCC and Polaris Ace Powerline Park GNCC events in Ohio.
"We are honored to be able to join forces with the GNCC series by being co-sanctioning partners again this season," said Tim Wood, WEXCR president. "We are looking forward to being back at The John Penton event again as well as making the Powerline Park event our second co-sanction event for the 2017 season! Both of these GNCC events are right in the 'backyards' of many of our regular WEXCR racers and it's a great opportunity for them to compete against other nationally ranked racers while also earning points towards our series championships. We also see this partnership as a great way to introduce our series to all the GNCC racers, as we provide a great place to come get some practice on their off weekends as they chase their national championships."
The highly anticipated 2017 AMSOIL GNCC series kicks off next weekend, March 4 and 5, with the Big Buck GNCC in Union, South Carolina. To find out more about the SETRA, IXCR, WNYOA, and WEXCR series, please visit their websites.
For more information on the GNCC series, visit the official series website at GNCCracing.com or call (304) 284-0084. Join the conversation on the series Facebook page, follow us on Twitter and Instagram, and be sure to always hashtag #GNCCLIVE.