Minneapolis, MN
Minneapolis
Monster Energy AMA Supercross Championship
The start of the 250SX East Region marked Adam Cianciarulo's first supercross race since 2014. After getting a bad jump out of the gate, he was forced to be patient through the first few tight corners while the pack spread out and allowed for some breathing room. Cianciarulo would spend his main event working his way through the pack to finish fifth. It was also a solid opening round for GEICO Honda's RJ Hampshire who ended up in fourth place, nearly matching his career-best third place finish.
We caught up with the two 250 riders after the press conference to see how they felt the opening round went.
RJ Hampshire | GEICO Honda | Fourth in 250SX
I struggled all day, to be honest. The practices weren't the greatest and I didn't even jump a whole rhythm section, I wasn't getting over the dragon's back. We made a huge change from the heat race to the main event and I didn't know what to expect. I got a decent start, not great, but the carnage helped me out. I was around fifth, made some passes, but had no idea where I was. I thought I was riding terrible, but when I looked at my lap times afterward and I had the second-fastest lap of the race. On a bad night, to come away with a fourth, I'm happy with that. I'm happy with the result, but how I felt was just awful. We'll work on comfort this week and hopefully we find a good setting.
Do these timed races make it harder to keep track of where you're at, in terms of race duration?
Yeah. I looked up at the board, which used to show what lap you were on, but you can't now that it's timed. Where the time was on the finish line, it was tough to look at it and you're not going to look at it when you're coming out of a turn right before the finish. I'd try to look over off the finish, which is almost impossible when it's behind you. I had no idea. I thought we had like three-minutes left, then my mechanic on my pit board told me we had eight-minutes left. I just had to settle in and do my laps. That's kind of what we did tonight and tried not to make mistakes. Ended up fourth, I'll take it.
Adam Cianciarulo | Monster Energy/Pro Circuit Kawasaki | Fifth in 250SX
Coming into the day, I felt good. I've felt really good lately riding supercross. I'm more comfortable than I've ever been. I think I've grown into my body a little bit and I'm a little more coordinated after growing so much. I think today I rode kind of tight—the track was a little bit different, kind of soft and spongy. But as I got more laps on the track I felt better and I took second behind Joey [Savatgy] in the heat race and I felt pretty good there. The main event just came down to the start and I ended up double-clutching it and ended up getting caught behind guys going down in the rhythms. I rolled the triple and I was way back there. It took me so long to pass a lot of those guys, I think I was in 11th or 12th after a couple corners, and by the time I got to fifth I think the guys in front of me were like 20-seconds ahead already. I used a lot of energy to try to pass everybody to get to that point. Overall, I'm happy with the night. I kept it on two wheels and scored some good points, but fifth isn't where I want to be. I feel like I'm a championship contender and I want to contend for race wins. That's the goal.
You're bringing your win percentage way down with nights like this you know.
Yeah, totally. But hey, it's better than a DNF, right?
You set a fast time in practice without a helmet visor or a front number plate. When are you going to start racing like that?
Well I was fourth fastest overall in qualifying so that's not going to cut it. I did set a fast time, though. I was on top of the board for about 15 or 20 seconds, but I think I'll keep the visor and number plate on.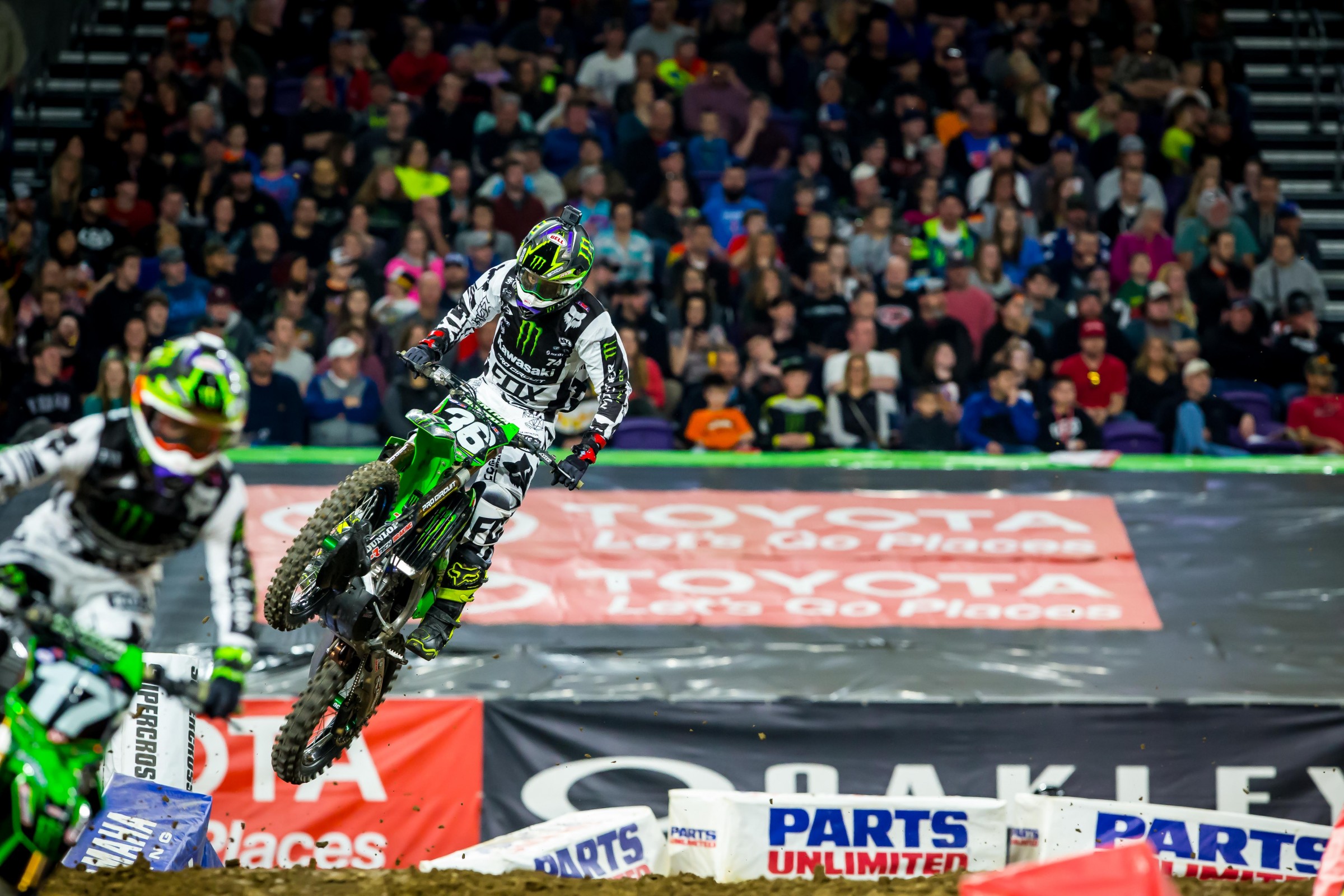 You've had a few rough years but you always seem to stay happy—social media can be rough. But here you are tonight back at it and you seem totally good.
It's just the nature of the game. It's human nature. I find myself thinking the same thing about athletes in other sports. You see a guy get injured a lot and he keeps coming back. Maybe someone like Derrick Rose in the NBA, or Tiger Woods, it's like, what are you doing? But you can't take away the love of the game and I think I've found that more as I've struggled to come back healthy. I think I've found my love for it even more. You really have to be committed and have a love for the sport to come back from what I've come back from. I've enjoyed it more than ever, and that's what's kept me going. It's what's motivated me to reach my potential.