Minneapolis, MN
Minneapolis
Monster Energy AMA Supercross Championship
His fourth year as a full-on professional racer, the 2016 season was a breakout affair for Joey Savatgy. As a member of the storied Monster Energy/Pro Circuit Kawasaki team, Savatgy won three 250SX West Region main events on his way to missing out on the title by a mere point when Cooper Webbed pipped him after a dramatic last race showdown in Las Vegas. Undaunted, the 2016 Lucas Oil Pro Motocross Championship started off with a resounding bang for the native Californian, Savatgy winning three of the first four National rounds before being tripped up by a somewhat mysterious physical issues (more on this below).
Third overall after all was said and done at curtain dropping Ironman National in Crawfordsville, Indiana, Savatgy basically disappeared into the off-season fully focused on getting himself back up to speed and whipped into fighting shape for the 2017 Monster Energy Supercross Championship.
The 22 year-old is now ready to avenge that heart wrenching title fight loss, beginning this Saturday night at the new U.S. Bank Stadium in Minneapolis, Minnesota, when the opening bell rings-in the AMA 250SX East Region. Back in Florida, where he has been almost the entire winter, Savatgy took a break from packing up his gear bag for the Twin Cities to get Racer X up to speed on just what comes next.
Racer X: Joey, where are you at today?
Joey Savatgy: Right now I'm back east in Tallahassee.
How is it all going?
I feel good. Practice is one thing. I think everyone feels good at their own place. Everything, for the most part, has gone good. We've had a pretty good off-season and training camp and we've been fortunate enough to get a lot of good laps in over the course of the last couple of months. There's not a lot to complain about, man. I've been at the Farm [Ricky Carmichael's] putting in work and trying to be as ready as we can be. We'll get to the first round and kind of pick it up from there and see where we're good and where we'll need to be better. Other than that, I think it's going to be a good year. I think the bike is good. In fact, I think the bike is even better than it was last year. Everything has been good.
Yes, thus far in 2017 the entire Monster Energy/Pro Circuit Kawasaki effort has looked fantastic, hasn't it?
Yeah, all and all it's good. The biggest one I'm happy for is Mitch [Payton, owner]. Over the last couple of years I've seen him put in a lot of work and not get as much success as I guess you could say he's used to, but all in all, it's been really good. Justin Hill is four in a row now and they've got the points lead. It's our turn now and we're going to try and keep the ball rolling and keep it going.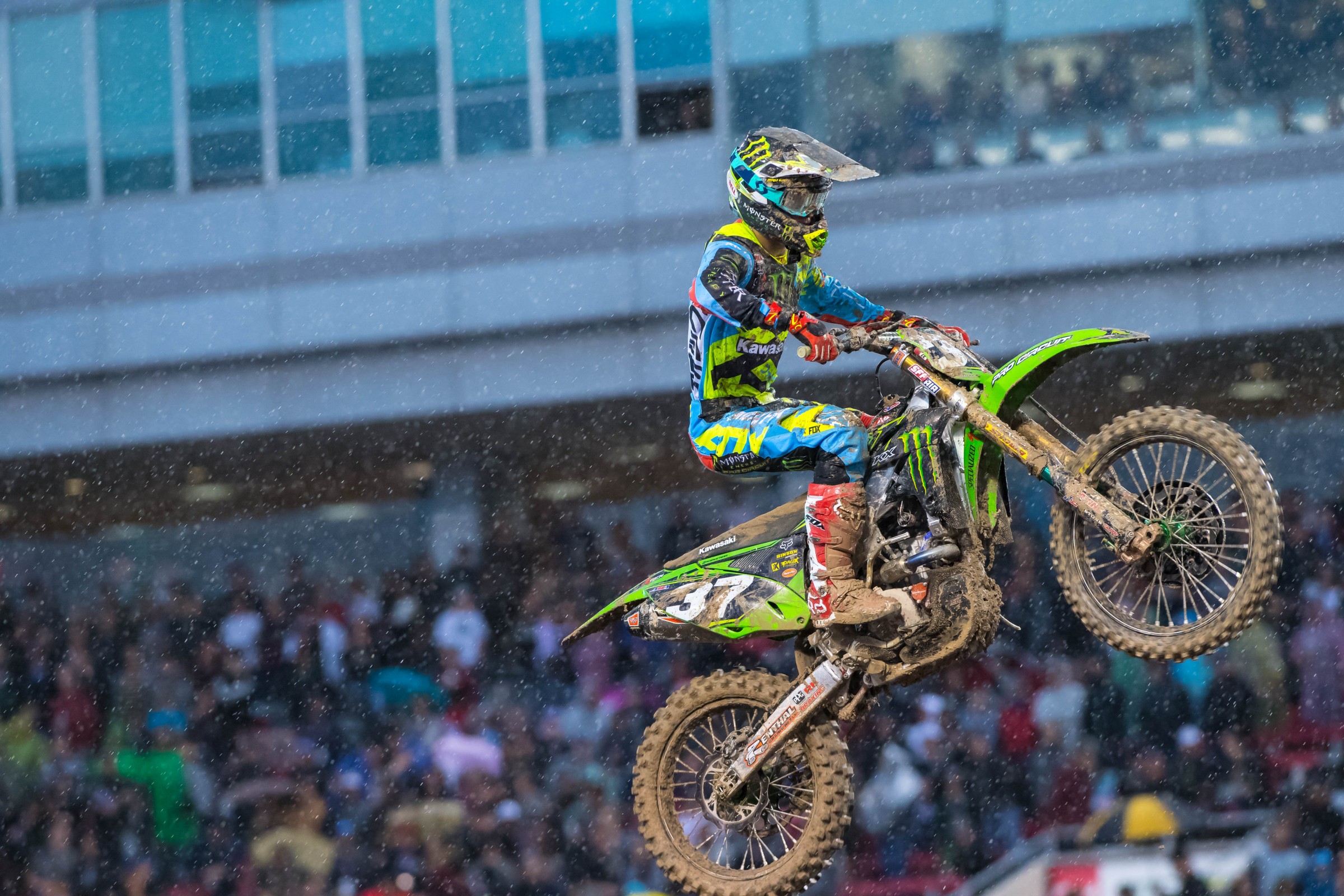 You kept a low profile during the off-season. We didn't hear from you or see you all that much. Was that by design?
I came out to California for a week and that was all the testing that I've done. The bike has been really good. I went to California for a week and other than that, I've really just been at the Farm. I haven't needed to go back to California to test or anything and like I said, I've been able to get a good, productive off-season in. Low-key for me is good. I'm good with that. I've never been one that needs a lot of attention or one that needs to update people on everything I'm doing. At the Farm we have a tight ship and get our stuff done. We show up every day and we work on some stuff and go to work on things I feel like we need to work on and we continue to progress and get better. It's been good. Ricky and Jeannie help me out and Big Rick has been helping us out with some track work. As far as track work, Ricky and Jeannie really help me out and we have a pretty solid program going. For the most part, I feel like we get our homework done and that's the most important thing.
You won three main events and missed the 2016 250SX West title by a single point. Going into this new season, I'd assume the success you experienced last year is very confidence-inspiring. Thoughts?
For sure. Last year I made quite a leap as far as everything. My confidence and the training program and the gains on the bike and the race strategy and just everything else made it an all-around very good year for me. And like you said, the confidence is there and I've done it before. Getting that win is the hardest thing and we did it three times in supercross and we were able to win some motos outdoors and a couple of overalls so the confidence is there. We learned a lot last year and I feel like we're a lot more experienced and we're in a better position this year than we've ever been.
I was in the Pro Circuit pit area right after that main event in Las Vegas and it was pretty easy to see how bummed you, your dad, and Mitch were to lose that title by a point. Did it take you guys a little while to shake that off or did you just keep moving forward?
There wasn't really a lot to be upset about because at the end of the day I had a talk with Mitch after the race—and Ricky was also there—and we talked about it. As far as me, personally, there was nothing for me to be upset about. Like Ricky told me before the race, the only thing I could was to do everything in my power to win the race. I was able to get a good start and put ourselves in a position to win and we won the main event and that's all I could do. And Mitch was stoked. It sucked to lose it by one point, but at the end of the day Mitch knew that we didn't lose that championship due to a lack of effort. I think that's one thing Mitch has learned and that is every time I go out there I'm going to give it my best effort. When it came down to Vegas we knew it was a long shot and I did everything I could do. I went out and won the main event and we came close.
"There are always unknowns and that's what drives me crazy the most."
Then came the Lucas Oil Pro Motocross Championship where you won three of the first four rounds. You started off good in the class until things seemingly started to slow down for you come the months of June and July. There was talk that you were run down and perhaps even sick. Do you want to talk about that?
No one has really asked me about it. It hasn't really been brought up and for me it's nothing that I'm going to go out of my way and talk about it. I'm not really one to make excuses, but at the end of the day, there were some things that got out of control. There were some personal health issues and some other things that went on that we let get out of control. Anyone that was smart could see that the Joey Savatgy that showed up for the first four or five rounds was not the same guy that showed up for the second half of the series. It was frustrating, especially knowing how strong we started. We were sitting in a strong spot. We had the speed to win and we had been winning and just to show up on the weekends and have it just not be there mentally or physically really wore me down a lot. And then there were all the rumors and people saying that it was the pressure. That wasn't it at all. I look for the pressure. I want to be in the position where I guess you could say it is do or die. Like in Vegas where we lined up for the race and I knew we had to win, I live for those types of moments. I like being in that position where it's, "Alright, you have to do this if you want a chance." To me, I think that's where the competitiveness is really deep in me. I'm always up for a challenge. Being in that tight points' battle outdoors was mentally exhausting, but I was very motivated because I knew I had the speed to win. Then the races went on and things weren't getting better and we started going to doctors and getting results and we came to find out it was all out of my hands. For me, that was a big sigh of relief.
Your teammate Adam Cianciarulo will line up against you this Saturday. I've spoken with Adam a few times during the past few months and he told me that while you guys are pretty good friends you still really want to beat one another. True?
Oh, for sure. I don't want to say that people are counting Adam out, but I think because of his history and the injuries that he's had, people are very quick to forget that guy can ride. He won three races his rookie year. The guy knows how to win. He's won his whole life and he's someone who is very dangerous, especially if you count him out. With that being said, he's definitely one of the guys at the top of my list going into this season. You can never count anyone out, but there is always that handful of guys that you know are going to be good. He's definitely one of the guys at the top of the list and that's based on the fact that he knows how to win and he's won before at this level. He's been hurt and he's been MIA because of injuries, but that doesn't mean he forgot how to win and forgot how to go fast. He's very capable of doing both. No one wants to lose in general, but you definitely don't want to be the last guy on the rig. It's going to be interesting.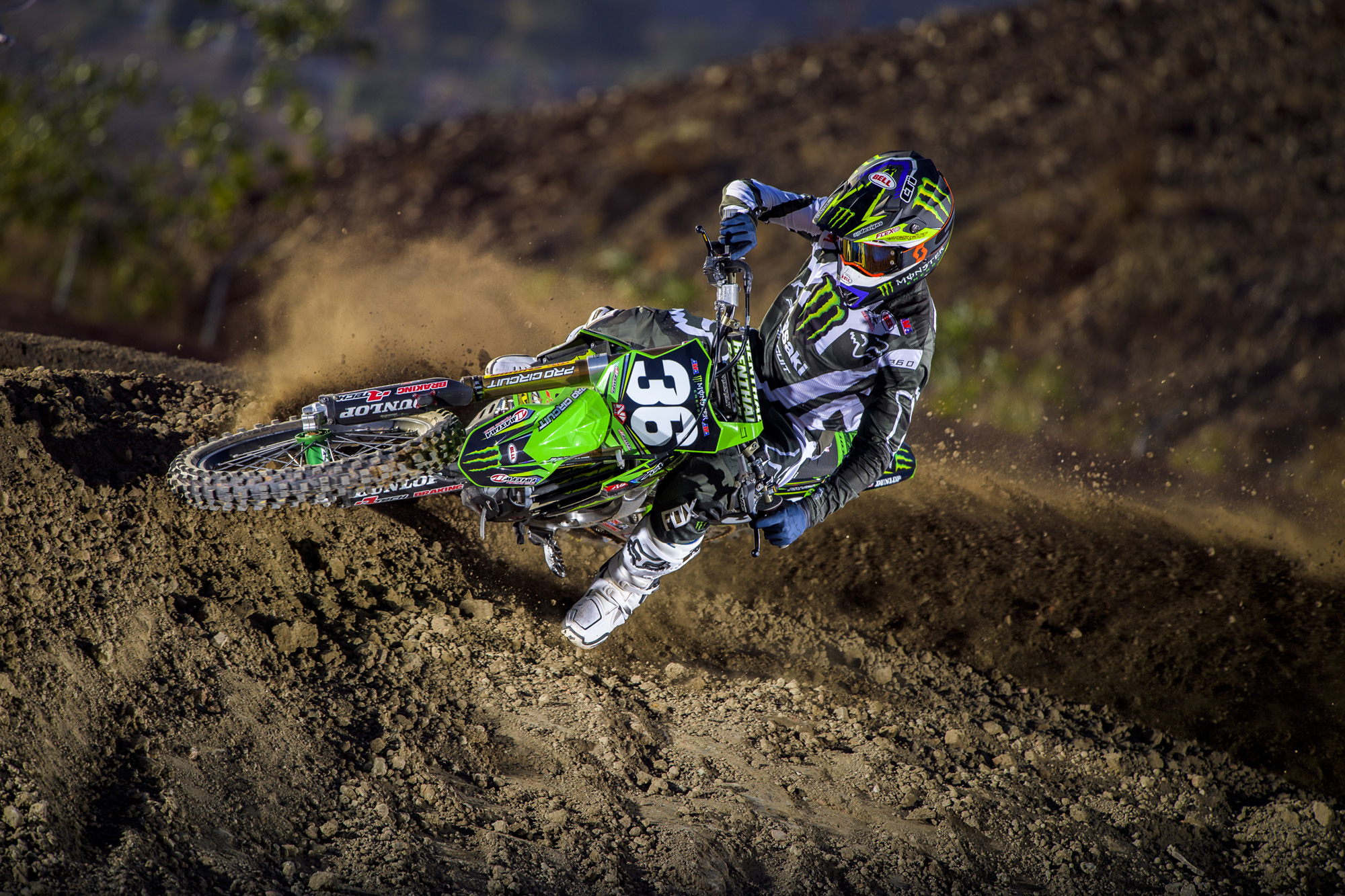 What's your take on what's about to go down this Saturday?
The first round is always so unknown and there is so much going on. You're thinking, how's this guy going to look? Or, how's this guy going to do? No one really knows until you show up and you go out for practice. When you get into timed practice is really when you see where you are at and who looks good and who is struggling. There are a lot of unknowns and that's what I hate the most—just not knowing what to expect or who to expect to be fast. There are always unknowns and that's what drives me crazy the most. We've got a couple more days and we're going to find out. I have goals, but I'll just keep them inside my brain and if we meet those goals, maybe at a later date we'll catch-up and we can go over what the plan was. Other than that, I have a race strategy planned, but we'll keep that under wraps. The biggest thing is that I have to put my head down and know that it's going to be a fight. Nothing is going to be easy and we'll take it race by race.
And hopefully no post-race texts from your guy Ricky Carmichael, huh? You've told me before that those things can be harsh!
Yeah, hopefully I don't get any texts from him and I hear from him on Monday. That would be ideal. It's never any good when you hear from him right after the race because that usually means you did something wrong. If you hear from him Monday, you know it's been a good weekend. That's the plan—not to hear from him on the weekend.