Arlington, TX
Arlington (Dallas)
Monster Energy AMA Supercross Championship
Round six of the 2017 Monster Energy Supercross Championship went off this past weekend in Arlington, Texas, home of the Dallas Cowboys. I'm not a fan of Jerry Jones for a number of reasons, but I have to admit that he built a beautiful stadium. It might be the nicest one we visit all year. And props to Jerry for building this thing with very little public money in the form of bonds that will be paid back at some point. Note to all the greedy billionaire NFL owners on how you get a stadium built!
Anyways, I digress. Let's talk some supercross.
The change to timed main events wasn't something I felt strongly about when they announced it. I mean, I was on the bandwagon that the fans need to see the stars of the sport more (last year in Santa Clara, Ryan Dungey was on the track for 19 minutes in a four hour show; he needs to be out there more, in my opinion) but I thought there should be some bracket races, two main events, another qualifying race or something instead of just more laps in the main event. After all, most times the lead will only increase with more time and the races will be more monotonous than before. Supercross is very, very hard, people, and the longer they are out there, the more the gap between the elite riders and uhhhh, not so elite riders, grows, which isn't always thrilling. Remember, we are entertainment as well as a sport. Change is good!
This past weekend we saw five extra laps in the 250s and six in the 450s compared to the old format and through six races with the new timed format we're seeing the track break down more than most thought it would. The riders I speak to say it gets dangerous out there near the end of the main events as the track is down to the pavement/plywood in many spots, the lips are beat up and ruts are developing.
In my opinion, the Feld track crew needs to either invest in more dirt each week and/or devote more time to fixing the trouble spots on the track between the races. I understand many times they're following a live TV schedule and that doesn't allow much time but I'm telling you, the riders I speak to say that they don't mind the timed events, bit they don't think the tracks are capable of handling more laps. Keep an eye on this as we go forward. Hopefully, somehow, the track crew can squeeze in more track prep time.
Also, a lot of riders are telling me they don't know how much time is left in the race. The mechanics' area is, more times than not, useless for the riders as the riders shoot through the section so quickly that they can't look over at the board. Riders used to be able to take a look at the tall scoring tower by the finish to see how many laps are left but that doesn't help now. So a suggestion for the promoters is to install a giant countdown clock somewhere that's easy for the riders to see. Cole Seely told me he somehow managed to look up and read the small font on the finish line banner; Malcolm Stewart told me at Glendale he was able to see the Jumbotron. But for the most part, these guys can't tell how much time is left. Someone's gotta change this.
Congrats to Marvin Musquin on his first 450SX win of his career this weekend! It was an awesome ride by Marv as he grabbed the start in the second main event gate drop (Justin Brayton caused a red flag due to a hard crash the first time around. Look for JB10 to be out a few weeks) and took off, leading every lap on the way to the win. It feels like Marv's got a few wins already, right? He's been so close, probably should've won Atlanta last year and it was just a matter of time. Well, in Arlington, it was time.
Musquin was using this move in the second set of whoops where he jumped into them, touched once and jumped out. We always talk about Musquin's "jump whoop" technique hurting him in the big whoops but in this case, with smaller ones, it was WAY fast. Cole Seely, who finished second, told me that he could see Marv's front fender way up in the air and knew he was getting pulled there so he figured out what was going on. Marv was great and it's cool to see emotion like he had afterwards over the win.
Marv is 18 points down to his teammate Ryan Dungey and why can't he make a run at this thing? Wouldn't that be something if the "secondary guy" on the team started moving on up on the big dog on the team? Made even stranger by the fact he rides and trains with Dungey during the week! If Marv gets some wins here, stay tuned to this development.
Speaking of Dungey, he was off a bit again this weekend, although he didn't have to go to the semi this week. He only managed a sixth in qualifying and in the main he was stuck behind Dean Wilson for the longest time before getting by late and ending up fourth. It was only the THIRD time in the last 41races that Dungey has missed the podium. Yes, you read that right.
Yeah, yeah I know we've spent the last couple of weeks wondering about a guy that's leading the points also appearing un-Dungey like the last little while. Myself, I don't buy into the whole "Kenny Roczen's crash has affected him" narrative that's out there. These guys at Dungey's level are mentally strong, they know the risks out there and they've seen injuries to just about all of their competitors at one point or another.
As a former mechanic, I'll take that I think Dungey's been fighting his bike a bit with these tracks that are breaking down more and more. Dungey's never been a great tester although with the new bike I've heard he's been more hands-off than ever before which means he's happier. These tracks on the West Coast have been soft (due to the rain), they've been getting worked over like Clubber Lang in the second fight and, to me, you can watch Dungey's bike and see that it's not working great.
This weekend, in his hometown, is a big "test" for Dungey. He should be pumped to win as the series returns to Minneapolis for the first time since 2013. If Dungey isn't his usual "Dungey self" this weekend, we may have a real issue here.
Shane McElrath had the heartbreak of the weekend when his KTM 250 SX-F just stopped working after he holeshot and took off with the lead. Shane lost the points lead last week to Justin Hill and needed a big weekend to stop Hill's three race win streak. And he was going to do it! McElrath answered with a great race and was on his way to the win (although Hill was closing a bit) and reclaiming the points lead when his bike went kaput … or semi-kaput, because he was able to ride around at a slow rate. Absolute crushing blow to McElrath, KTM, and the TLD guys as Hill zoomed by for his fourth-straight win and a big points lead with three races left.
I spoke with TLD KTM manager Tyler Keefe and he told me as of Monday that they still didn't know what was wrong with the bike (as an aside we had Mitch Payton on the Pulpmx Show and I asked him about McElrath's deal and he admitted that they've had mechanical issues with motorcycles that they have NEVER been able to find out what the problem was. Welcome to the electronics age, people!) but they were working on it. More than anything, Keefe wanted me to know that he couldn't believe how well Shane took the DNF. Basically saying that it's okay, they're not out of this thing yet and sometimes, stuff happens. To the ultra-intense Keefe, this was an amazing response. If the old saying about you learn more about people in defeat than in victory is true, I think we've learned that McElrath is a good dude.
I really thought Chad Reed was "fixed" ala Eli Tomac after his great ride at Glendale. I don't know if he was going to start racking off wins and podiums every week, but I thought he'd be in the mix now. I especially thought that after Chad told everyone that he found some things on his bike that helped out. Well, since the runner-up finish he's gone 8-DNF (bike issues this week, but before those he was running just outside the top-10).
His starts have for the most part been pretty crappy—averaging an 11th place after lap one—and he's not "2005 Chad Reed" anymore where he can rip through the pack and school these dudes. He needs a start and then he can run the pace. Look at his times once he gets settled in, they're close to the leaders. He just can't get starts.
Reed, like many teams in the pits over here and in MXGP, runs the GET Data system on his bike and there's a launch control start map on the bike that gets it close to the right RPM and power delivery to ensure good starts. His teammate Cooper Webb has been nailing the starts for the most part the last four races or so. I spoke to someone close to the team (not Dan Truman from GET) and they told me that they wished Reed would trust the data and use it. Reed's old school and believes that he can get better starts without using it and sometimes, the data shows that he can! But it's really tough to nail RPM, shift points, and throttle delivery perfectly every time. So, just rely on the data and trust the force (data) Chad, it's your only hope.
In contrast, Webb was gone on the first start. I think he would've won the whole thing if the red flag hadn't been thrown but hey, ifs and buts, right? His second start wasn't quite as good but he got into second and looked good until a flat tire struck. Yeah, that's weird for sure that he got a flat in supercross. And yeah, that's weird that Reed had bike problems also. The good news is that thanks to the 20 minute plus one lap format, the guys at Yamaha were able to change Coop's tire and get him back out there to salvage seven points. Webb was 17th at the end of 20 laps, so the longer race got him three more spots.
Kawasaki's Eli Tomac was coming off two-straight amazing rides and he and Musquin took turns in qualifying practice being the fastest guy on the track. The first start, Tomac tangled bars and had a horrible start; the second one he was much better and had made it up to third in the main. If I'm being Johnny Honest, he probably would've passed Seely to finish second on the night. But Tomac damaged his front brake somewhere out there and crashed because of it. He then had to pull into the mechanic's area and get the line cut. With no front brake Tomac went out and salvaged a 15th but it was a crushing blow to his momentum that he had collected.
Tomac gets the cool move of the day award when he went three in on the stadium-long rhythm lane. I believe he only did it in practice and only once or twice—I caught him out of the corner of my eye one time and then never saw him do it again. And I also believe he was the only guy to do it. The team said it was slower but I don't even care—it was cool.
The Rocky Mountain ATV/MC-WPS-KTM guys had the most up and down weekend in the pits. Davi Millsaps crashed on the first lap and pulled into the mechanics' area to straighten his front end and was WAY back. Like, going to be lapped, way back. He got it going and went forward to an astounding eighth in the main event. It was a great ride. That was the "up."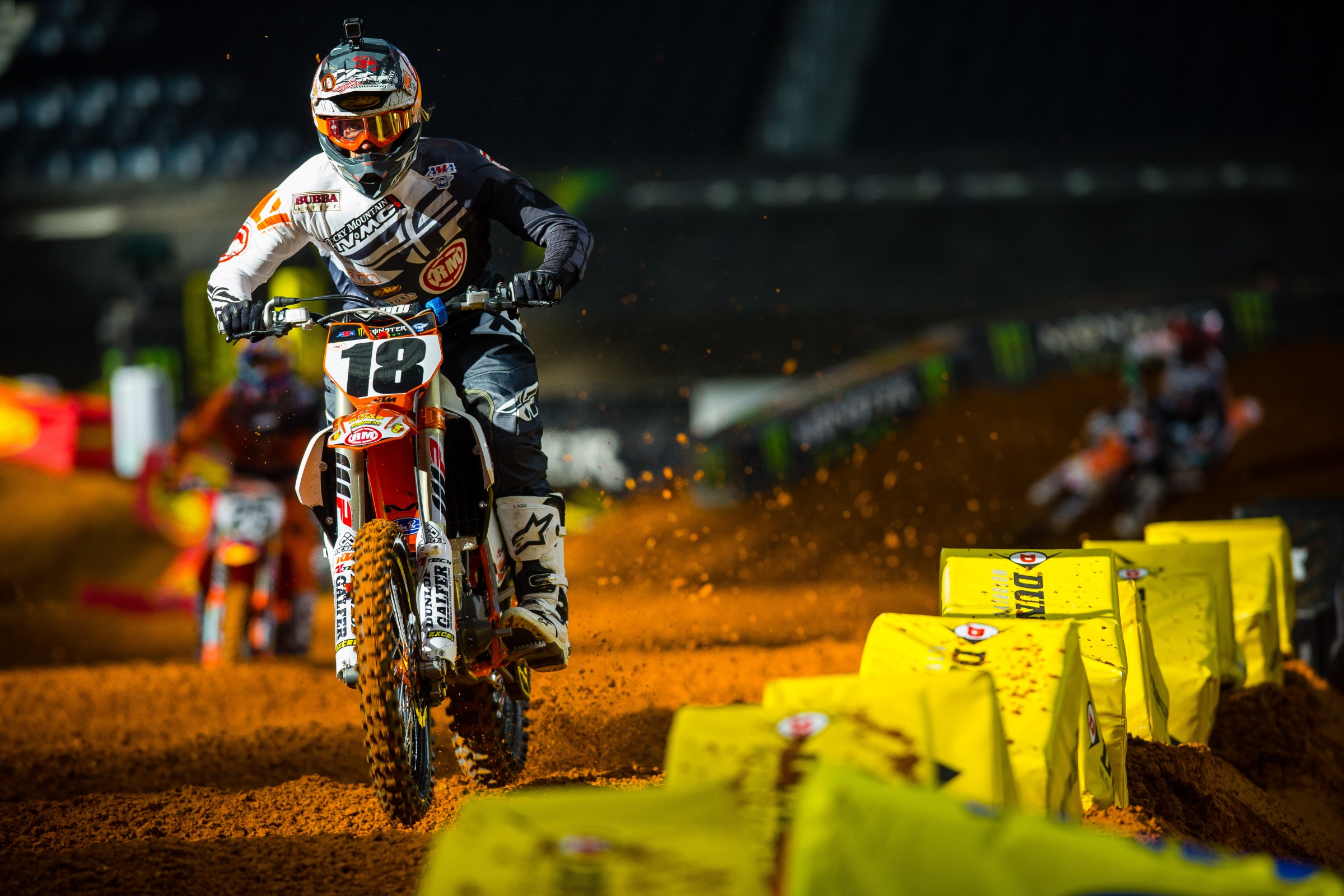 His teammate Blake Baggett crashed probably 84 times in the main event and at some point, in some crash, he broke his throttle tube which caused him to crash some more. Why Baggett doesn't have an aluminum throttle tube on his factory motorcycle is a bit strange but yeah, he didn't. Finally he pulled it in and thankfully for him he was still in one piece. Blake's been very fast all year long and qualified fourth going into the night show.
The RCH/Yoshimura Suzuki guys had a good weekend in Arlington and they needed that; it's been a semi-tough start to the year. Justin Bogle won his heat race, which was great, and was up there in the main before getting taken down by Jason Anderson (I didn't see it, but Bogle was not pleased) but he eventually finished ninth in a good showing. The team's other rider, Broc Tickle, pulled a "Broc Tickle" where he doesn't get a great start, moves up throughout the main event and finishes sixth. And then you see that finish and go "Huh, never really noticed him." That my friends is called "pulling a Broc Tickle."
Props to Martin Davalos for even finishing the race after a horrendous case of the triple on the first lap of the main event. It was as bad of a case as you'll ever see and if I had done that, my wrists would have turned to dust. Marty went slow for a few corners, regrouped and went back at it for a decent finish.
Jimmy Decotis had another strong main event but afterwards wasn't happy. JIMMMYYYY DEEEEEE wants a podium and wants one bad. Unfortunately, he's now got a two-month break to think about getting that elusive podium. He's finished fourth at the last two races.
His teammate Jeremy Martin came back after suffering a concussion in Glendale and Jeremy being Jeremy, crashed off the start and was way back. Seriously, this SX season for the #6 might be worse than any other ones he's had on the Yamaha. It's not for a lack of speed but it is for a lack of starts, lack of some luck, and probably something else like some sort of voodoo doll of him somewhere. Maybe, just maybe, Jeremy Martin is the new Mike LaRocco who just happens to be his team manager.
Jake Weimer had to go to the LCQ, which sucks for him, but it did lead to his best finish of the year with a seventh. In the semi race he had just moved past privateer Brady Keisel into the fifth and final qualifying spot when Keisel over jumped a triple and flew into Weimer taking him down. It was an aggressive move by Kiesel made worse by him not being able to stop. Or maybe he meant to fly into Jake? Not sure. Either way, after the race Weimer went to talk to Keisel about the "move" when Kiesel and his mechanic just started yelling back at Jake that he should beat it, they're racing too and they belong on the track, etc, etc. Which Weimer's reply was "You hit me!" All in all it was pretty funny to hear Weimer tell it.
I was talking to Malcolm Stewart about the craziness of the race and he agreed with me that it was nutty with Baggett, Webb, Reed, and Tomac all pulling into (and out of) the mechanic's area. Here's a small exchange we had:
Me: Guys had to pull in the mechanics area like NASCAR.
Mookie: I'm not going to lie, I came out of the corner and I see a blue motorcycle come out of nowhere. I look and I'm like, Cooper? What? I swear to God. It blew me away. I was like, what just happened? I saw Baggett come in and out. I saw Tomac. Chad was in there. Chad was behind me. I thought he lapped me and I guess he wasn't lapped, and next thing you know his bike blew up, or something happened. So I didn't know who was … it was funny. It was the most craziest race I ever seen in my life. This is like worse than Geneva [Supercross]. This is insane.
Is that [Geneva] when you and Barcia were hitting each other wide open?
Yeah. But at least I knew I only had one guy to worry about. This time I had guys coming out of the mechanics area, guys going into the mechanics area … when you're supposed to turn right and people are turning left.
Malcolm's usually good for a funny interview or something after each race and he didn't disappoint this week.
Thanks for reading everyone, good times! Email me at matthes@racerxonline.com if you want to chat about this or anything else—I'll be there. Bye for now! #ErictheActor