Antonio Cairoli Clinches Italian Motocross Championship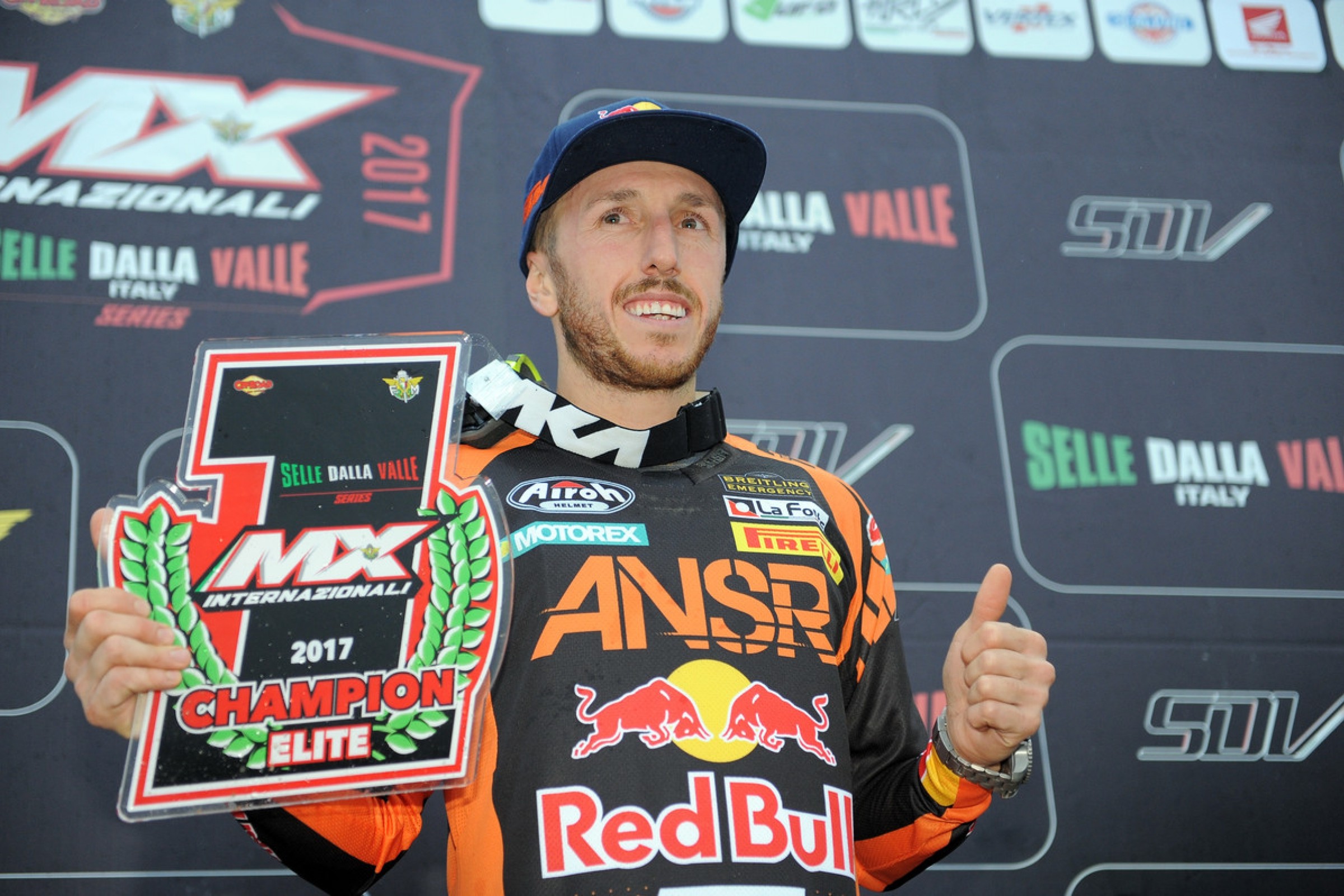 Pre-season preparations for the opening round of the 2017 MXGP World Championship set for February 25 in Qatar continued over the weekend with the third, and final, round of the Italian Motocross Championship.
Eight-time world champion Antonio Cairoli continued his fine pre-season form with a second place finish behind Jeremy Van Horebeek in MX1. Cairoli won the first two rounds of the championship and clinched the MX1 title with his result at round three in Ottobiano.
Three-time MX2 world champion Jeffrey Herlings exited the race early after a big crash that also claimed reigning world champion Tim Gajser. Gajser would remount and finish 10th.
In MX2, Spanish teen Jorge Prado clinched the title with a second place finish to Italian Michele Cervellin.
Italian Motocross Championship
Round 3 –Ottobiano, Italy
MX1 Overall
| | |
| --- | --- |
| Finish | Rider |
| 1st | Jeremy Van Horebeek |
| 2nd | Antonio Cairoli |
| 3rd | Evgeny Bobryshev |
| 4th | Tanel Leok |
| 5th | Valentin Guillod |
| 6th | Ken De Dycker |
| 7th | Jose Butron |
| 8th | Alessandro Lupino |
| 9th | Rui Goncalves |
| 10th | Tim Gajser |
MX2 Overall
| | |
| --- | --- |
| Finish | Rider |
| 1st | Michele Cervellin |
| 2nd | Jorge Prado |
| 3rd | Samuele Bernardini |
| 4th | Calvin Vlaanderen |
| 5th | Giuseppe Tropepe |
| 6th | Simone Furlotti |
| 7th | Filippo Zonta |
| 8th | Brian Bogers |
| 9th | Nicholas Lapucci |
| 10th | Simone Zecchina |
MX1 Championship Standings
| | | |
| --- | --- | --- |
| Standing | Rider | Points |
| 1st | Antonio Cairoli | 340 |
| 2nd | Jeremy Van Horebeek | 320 |
| 3rd | Evgeny Bobryshev | 200 |
| 4th | Tim Gajser | 196 |
| 5th | Tanel Leok | 165 |
| 6th | Romain Febvre | 130 |
| 7th | Alessandro Lupino | 125 |
| 8th | Jose Butron | 122 |
| 9th | Ken De Dycker | 104 |
| 10th | Rui Goncalves | 102 |
MX2 Championship Standings
| | | |
| --- | --- | --- |
| Standing | Rider | Points |
| 1st | Jorge Prado | 300 |
| 2nd | Michele Cervellin | 280 |
| 3rd | Brian Bogers | 165 |
| 4th | Samuele Bernardini | 159 |
| 5th | Benoit Paturel | 155 |
| 6th | Julien Lieber | 146 |
| 7th | Simone Furlotti | 134 |
| 8th | Alvin Ostlund | 130 |
| 9th | Giuseppe Tropepe | 103 |
| 10th | Filippo Zonta | 97 |