Arlington, TX
Arlington (Dallas)
Monster Energy AMA Supercross Championship
Just a couple weeks before Anaheim 1, AJ Catanzaro wasn't expecting to race on the West Coast. He was focused on rehabbing his torn ACL and making a push to do 450SX on the East Coast starting in February. A call from Broc Schmelyun from the Blue Buffalo/Slater Skins Yamaha team changed those plans quickly, and a couple days before the series started, AJ was hoping onto his new Yamaha for the first time in California.
We called Catanzaro up to see how it's been racing back into shape, what happened when he got landed on by Josh Hansen, and to get a little insight on a new program he's working on called the Collective Experience.
Racer X: So starting before supercross began, how did your opportunity with the Blue Buffalo team come about?
AJ Catanzaro: So Broc [Schmelyun] … he gave me a call probably two weeks before A1 and asked if I wanted to ride for those guys. I had already put together my entire East Coast program, even to the point where I had booked flights and hotels and everything, so I was totally ready to go as far that. So it took me a little bit to make the decision. Just mentally I was totally ready to go ride a 450. Actually, I hadn't ridden a bike but two or three times up to that point because of my ACL injury. So I ended up giving him a call back four or five days later and after some thinking I just said, "Screw it I think it'll be good for me to go out and get as many gate drops as I can and try to race my way into shape."
Coming off that ACL injury and only getting the call from Blue Buffalo two weeks before the season started, how much time did you get on the Yamaha before A1?
So I flew out to California the Tuesday before A1 and we rode Wednesday and Thursday. [Laughs] It sounds crazy and a lot of people probably wouldn't believe that but those were really my only two days riding period. It was kind of crazy thing, but no seat time is nothing I'm not use to. It's such a mental game. I'm seven years in now and as long as I can mentally trick myself, like, "Listen, you haven't taken any time off. You know how to hit whoops, you know how to hit triples," it comes back fairly quick.
And you're normally and East Coast guy. How have you been adapting to the tracks?
It's different! I think the rain maybe has helped me a little bit. But yeah, it's totally different. In timed qualifying it's super hard pack and then you get those kind of greasy ruts that form. It's just so different from East Coast.
You've done the privateer effort on both a 250 and a 450. Which one is easier?
You know, if you're doing 250 West Coast, it's hard to beat that from a logistics standpoint. You don't really have to drive very far at all to most all the rounds. I think the furthest one you have is Dallas so as far as that goes that's pretty darn easy. Other than that though, if you really want to be competitive I think that having a stock 450, yeah it may not be ideal, but it's certainly going to be more competitive than a stock 250. And that's where this year … being with the Blue Buffalo guys and actually having a competitive 250 I feel spoiled. To be able to get start … I've proven that I can get holeshots now that I finally have a good bike.
Would you say that's the best setup you've been on so far?
This bike just pulls. I mean I've always gotten good jumps off of the gate, and I'd be so used to 100 feet out everybody just taking off. It's so nice to have a bike where 100 feet out, if anything I'm the one that's starting to pull. It's just a confidence thing too.
Let's transition into last weekend. You got second in qualifying and I know there's a debate where people are saying you only did that because you were in the C practice. But what did that do for your confidence?
You know, it's a little frustrating to hear all the talk just because it was raining in our practice pretty hard and it wasn't raining in A Group. So they had three or four laps at the end of their session where their ruts were starting to form and it was pretty tacky and it wasn't raining—the sun was starting to come out. Not to say their track was perfect, but I think they're making excuses where they shouldn't be making excuses. Anybody that knows me knows I can go fast on a dirt bike. Whether it's consistent or not, yeah it's probably not consistent. But when I'm feeling it, I'm fast you know? It was just nice … I think something mentally clicked in my head after that.
"I think overall both of us got very lucky."
The AMA came up to me and said everyone was giving them a bunch of crap and they were kind of joking around about it. And I said, "You know what. Well I just gotta prove it in this heat race." And I think I did. I proved it with fast times in the heat race and I battled for the lead and ended up third. In the main event I was coming through the pack pretty good before the incident. I think just have to go out this weekend and try to prove it to everybody again. That'll be a big goal is just to do my thing in qualifying. I should be in A Group, so if I could be top five or top three in qualifying that should silence everyone I would think. [Laughs]
So why were you in the C Group for that practice?
Because I'm smart! [Laughs] After the B Group—there was like 23 guys out there—and with the track being a little more difficult it's a disaster. And trying to ride around those people it's dangerous. So we went up to the AMA, Broc and I after first practice, and we saw there's only six guys in the C Group. So we thought to ourselves that would be a good opportunity if they'd let us go in that. They were more than happy to throw us in that practice because B Group is so flooded with riders and no one wanted to go to C. Don't ask my why, I don't know if it's an ego thing or whatever, but I was happy to go into that C Group.
And then in the main event you had that incident with Josh Hansen. Did you have a feeling he was going to land on you as soon as you knew you had to roll the jump?
Yes! [Laughs] I think it's pretty obvious when you watch the footage that I was like, "Oh, here we go," I was kind of just bracing for impact. You know, it's an unfortunate situation. I like to consider myself a really smart rider so when I hit neutral and make a mistake and have to roll a jump, trust me I do everything in my power to try to get out of the way and to try to get out of the main line. I turned around … in the footage in slow motion it looks like I turned around for forever, but in my head that was a split second. I didn't know who was behind me, I couldn't tell if they were putting the power to the ground to go for the jump or if they were rolling it. I think overall both of us got very lucky.
What's the etiquette after an incident like that? Did you and Josh talk?
Yeah, well he came up to me right after the race kind of with his posse and I'm thinking, "Oh, here we go. I'm gonna get yelled at here." He came up and he apologized to me, he's like "Dude I'm sorry I hope you're okay," and I was like, "No, I'm sorry! I know it's neither of our faults. I'm just glad you're alright." He was super cool about it. You know what, it could happen to anybody on a track like that.
Switching gears a little bit. You do a lot of riding schools in your free time. What made you get into that?
It's crazy to say, but racing is a very small part of what I'm doing right now. I've been doing private one on one lessons for almost my whole career, probably seven or eight years. And over that time I developed a skill with that. A lot of people don't realize it's one thing to ride a dirt bike fast and it's another to articulate that information and get it to the rider. Try to make sense of it all for the person that's learning. Over that time, I really developed a technique and it seemed like everybody that worked with me was super excited about the results and saying how much easier it was to learn from me than perhaps other riders that they've worked with in the past. And over last summer actually when I tore my ACL I was taking the pain pills for my knee like right after surgery, usually it like gets people down and depressed and for whatever reason I was just like, "Go! Go! Go!" I was on my agenda and ready to go, it was crazy. It was like I was taking Adderall. [Laughs] Over that time, with the help of a few others of course, we created the website and put everything together and started reaching out to tracks and scheduling these camps. It turned into a pretty huge ordeal. We actually sold out every single camp we scheduled, I think. It was amazing to see.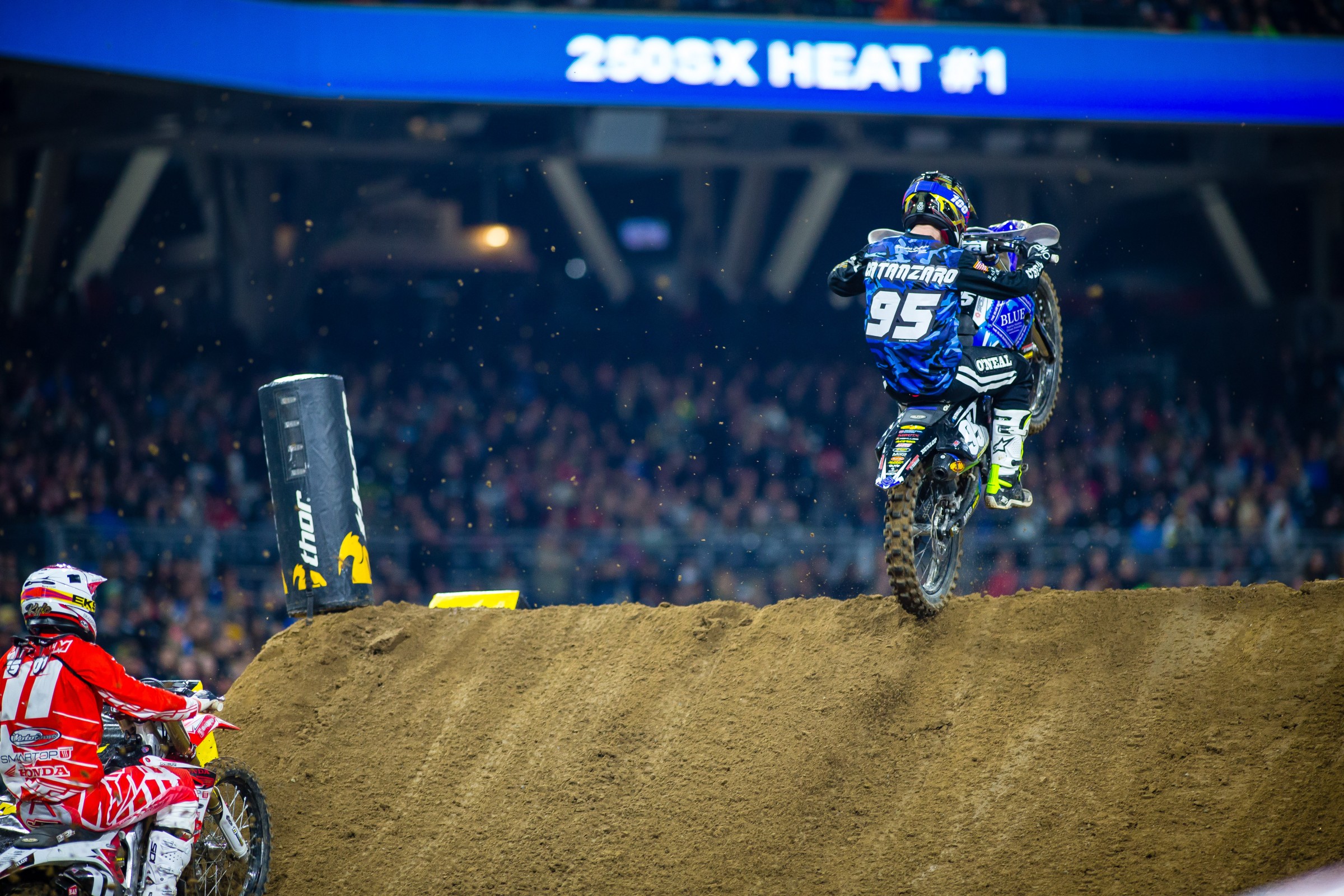 Is this something you want to keep going after you're done riding?
Yeah, for a little bit. I think I found my niche and a huge part of its success is due to remaining relevant in the sport. You can see the fluctuation in interest in the schools with my results or with my TV time. It's funny to see. After last weekend being on the highlight reel with the crash, doing well in the heat race and qualifying, the kids were looking at me like I was one of the top guys and it made them that much more interested in the class. [Laughs] It was just funny, you know? They were just asking me a million questions about the race. When you have somebody who's been retired for six or seven or eight years, it's harder for the kids to relate.
What's one of the most common mistakes you see your students making?
Overall, I would say the biggest mistake and most common misconception is clutch abuse. For whatever reason people rely on the clutch so much. I try to teach everyone that in 90 percent of situations the clutch is your enemy. I don't know if it's the kids that grew up on the two strokes are used to riding that clutch a little more, but when you get to the four strokes it's all about staying away from that clutch for the most part. You see a lot of that and it's just people … I don't think they know the correct way to do it, and to try and break that habit is very difficult, trust me. I was going through it yesterday with some private one on one lessons. We spent the whole day working on staying away from that clutch.
And you used to dabble in some car builds in your free time too.
Yeah, you know, I think that was more of my younger generation addiction. [Laughs] Now my addiction has almost gone more towards the bicycle end of things with road bikes and mountain bikes. Which is good because it's a healthy addiction! Although it hurts my wallet at least I'm staying in shape while doing it.
Is there anything else you're working on?
This is another thing I'm involved with, it's a program that's about to release here in a couple weeks. It's called the Collective Experience. It's a program where fans can go on the website and sign up for basically a VIP behind the scenes experience at each one of the East Coast rounds with their favorite privateer rider. I think the coolest thing with this is the fans are going to get a really cool … basically shadow the privateer rider [and whoever is at the race with them] throughout the day and all of the profits actually go to the privateer that they're shadowing. [Ed Note: The website is still being developed, but they are hoping to have it launched soon so they can begin this program in Minneapolis. Right now the Collective Experience has five privateers signed up with the program: AJ Catanzaro, Josh Greco, David Pulley, Adam Enticknap, and Alex Ray. Look for more on this soon.]
Well that sounds really cool. Any sponsors you'd like to thank?
I'd like to thank Blue Buffalo, Slater Skins, Waynesburg Yamaha, Enzo, FMF, Defiance, Mika Metals, Vortex, Rekluse, Renn Fuels, Dunlop, Ride Engineering, Evans Coolant, Guts Racing, 180 Graphics, Twin Air, ICW, Dubya, Lightspeed Carbon, Spectro Oils, Acerbis, Matrix Concepts, Bristol Core, O'Neal, EVS Sports, Arai Helmets, and Tamer.