Oakland, CA
Oakland
Monster Energy AMA Supercross Championship
I've gotta think everyone in the pits is stoked to be heading to Dallas and beyond for Monster Energy Supercross. Yeah, the move away from California means longer flights for the industry now, but the rain that has affected the first five races (not Glendale, but for some reason the track was still super wet in practice and caused a few riders some big time issues) has created a ton of work for everyone involved in the series. Well, except for the media. Our work didn't change but we're lazy anyways.
Oakland was another race impacted by wet dirt, ruts, and bumps. It was tough! Let's take a look at the results yeah?
250SX Results
1 46 Justin Hill Yoncalla, OR Kawasaki KX 250F- Another week, another win for Hill. He benefitted greatly from his teammate Austin Forkner's crash in the second turn. He rode around the outside of the crash to turn a so-so start into a great one. He then he held it for the rest of the race despite a fall. After he got up from that, Davalos was on him, so Hill tried sprinting away and had a few more scary moments before settling down. Hill's on a roll right now. As I've said, if his skills meet some confidence, it would be a scary thing. We're seeing that now.
2 30 Martin Davalos Clermont, FL Husqvarna FC250- Marty didn't make mistakes in the main which is a good thing. It's a bit strange because for all his talent on a motorcycle, it's been front end washouts or weird crashes that have kept him off the top spot on the box in all but 4 races of his 250 career. So on a track that was claiming everyone left and right, Davalos kept it on two wheels and was steady as she goes. Weird, but good for him!
3 38 Shane McElrath Canton, NC KTM 250SX-F- Shane had to go to the LCQ for the second-straight week and has to be giving his manager Tyler Keefe ulcers. Again though, he made it work and got on the box but he can't keep dancing on the tightrope … it will bite him. He had a collision with Jimmy Decotis in the heat where he felt his arm was jacked and pulled off but it was just bruised up. And in the main I thought we were going to see the exact same crash in the same section when Decotis was on him but thankfully for everyone, that didn't happen.
4 57 James Decotis Peabody, MA Honda CRF 250- Jimmy D was very good in Oakland in the whoops. Um, when did he become a whoop master? He switched to air forks and said that helped him out a bit. Whatever it was, he needs to keep doing it because he was strong all main event. He did say that Mike Larocco was making fun of him afterwards for not jumping the triple on the last lap when he was right on McElrath for the third. Never change Mike, never change.
5 37 Phillip Nicoletti Bethel, NY Suzuki RM-Z250- Phil tied a career best finish in Oakland and he held off Aaron Plessinger for half the race before Aaron finally got by him and then promptly crashed, letting Phil ride right on by. With the way JGR's 450 effort is going, if I was Phil, I'd be ready to jump on the 450 when the series heads east.
6 23 Aaron Plessinger Hamilton, OH Yamaha YZ250F- This track was SO good for Plessinger, but he got caught in the Austin Forkner debacle in the second turn. He climbed from 13th to 5th before crashing again. He's got to be bummed as the points leaders pulled further away. And he's got to be bummed Phil beat him.
7 11 Kyle Chisholm Valrico, FL Honda CRF 250- Chiz got his practice bike/race bike situation dialed in a little better and scored a season best in Oakland. What happened to his starts though?
8 71 Justin Starling Deland, FL Husqvarna FC250- Nice ride for Starling who jumped from the Slaton KTM team to the JMC Husky team. I need a "250SX West Region Teams for Dummies" book to keep these things straight.
9 59 Noah Mcconahy Spokane, WA Yamaha YZ250- Noah also got a new ride this week with the 51FIFTY Yamaha team and got a career best finish in SX. Nice work and I have to commend him for this ride because the day did not start off well. He crashed about 73 times (approximately) in practice and 65 of those crashes were in the whoops.
10 68 Heath Harrison Silverhill, AL Yamaha YZ250F- Heath's a good dude who I'm seriously mad at right now. I was on his bandwagon last week and may or may not have picked him in fantasy SX when he didn't qualify and that meant I couldn't pick him this week. So this week he kills it for the team and rewards fantasy SX players everywhere. Except for me.
11 53 Cole Martinez Rimrock, AZ Yamaha YZ250F
12 122 Dan Reardon Menifee, CA Yamaha YZ250F- Reardon got caught up in the Austin Forkner debacle in the second turn and his entire race was destroyed right there.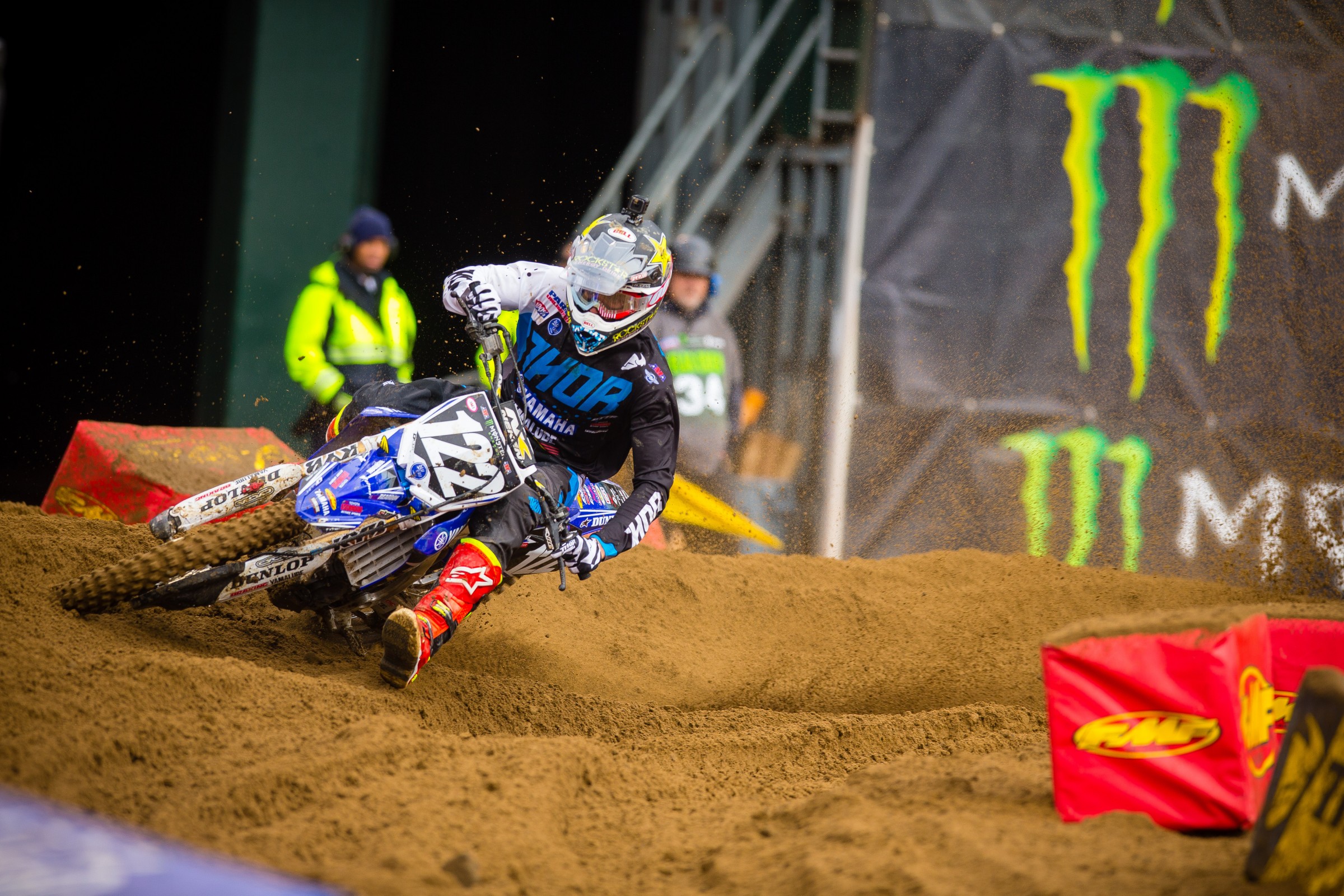 13 902 Killian Auberson Switzerland KTM 250 SX-F
14 99 Chase Marquier Newcastle, OK Honda CRF 250
15 338 Ryan Surratt Corona, CA Kawasaki KX 250F- Wild Willie's kid is figuring this SX stuff out and getting better each week.
16 179 Jon Jon Ames Riverside, CA Yamaha YZ250F
17 244 Justin Hoeft Castaic, CA Yamaha YZ250F- Hoeft rode for TLD KTM at the Glen Helen USGP then I heard he quit the sport for a bit. Then he shows up at Oakland and makes the main event. Weird right? Either way, you can see he's got some serious skills on a bike and yes I watched him for an inordinate amount of time. That's what happens when you pick someone in fantasy SX.
18 87 Chris Howell Spokane Valley, WA Husqvarna FC250
19 95 AJ Catanzaro Reston, VA Yamaha YZ250F- The Cat benefitted from being in the "C" practice for the second set of practices even though he was in the "B" group the first time around. Because the Cat is a known fast dude but not in the top 20, he was put in the B group for the first practice. For some reason, though, he was put in the C practice for the second set of practices, so he got to ride the track when it was fresh, just after some maintenance. So he wasn't in his right practice, but he took advantage of that and laid down the second best time of the day! Nice work by Cat. In the main he was taken down by the Austin Forkner debacle in the second turn and then landed on by Josh Hansen later in the main. Rough night that started out great. Surprised he didn't land on his feet there.
20 76 Scott Champion Orange, CA Yamaha YZ250F
21 100 Joshua Hansen Elbert, CO Husqvarna FC250- Poor Hanny, he doubled, the Cat singled, and he KO'd himself. And thanks to Austin Forkner, his good start was ruined in the second turn. All in all, it was a complete garbage day for the #100. By the way, did you know Hanny turns 33 years old in a few days? Wow. Where did the time go?
22 24 Austin Forkner Richards, MO Kawasaki KX 250F- Forkner had an eventful Oakland that saw him fly through the air a few times. It didn't go well … he did have the tweet of the day though.
---
450SX Results
1 3 Eli Tomac Cortez, CO Kawasaki KX 450F- Tomac was amazing man. Re-watching the race back, he didn't start as far back as I originally thought but it seemed the gap was too much to overcome, as at its greatest, he was nine-seconds back of Ryan Dungey the leader. Eli whittled that down like he was carving a flute out of a Sequoia and used that gnarly three-four jump combo to make up some time. DO NOT ASK ME WHY ELI ONLY HAD THE THIRD BEST TIME IN THE SEGMENT WHERE THE BIG JUMP WAS. I can't figure it that out … Marvin Musquin was fastest and he didn't ever jump it! Tomac did have the fastest average time in that segment though. Guess Marv's sand corner speed was unreal. Anyways, we wondered last week if Tomac was "fixed" and uh, yeah bro, he is.
2 1 Ryan Dungey Clermont, FL KTM 450 SX-F- Three-straight weeks Dungey has be forced to the semi race and in Oakland, he wasn't comfortable all day. His bike looked to be going side to side in the whoops (the whole track was soft except the whoops which were hard as a rock according to the riders I spoke with) and he just didn't look comfortable. Then, just like Anaheim 2 where he looked un-Dungey-like all day only to holeshot the main and win, Oakland was set to be a repeat. He turned his bad day good by getting the lead in the main and getting away … until the Tomac train got going and went by. Still, Dungey said in the post-race press conference, "I'm happy with that. It's not like it's a bike thing. We'll go to work during this week and try to get better. But just was losing some big time in a few spots. Considering where we started out we made a lot of progress today, so I'm really happy with it." Perhaps his bike was okay to him for the night show but to me, it didn't look great. I'd love to ask Ryan some more questions about his races but he hasn't returned numerous texts and either he or KTM seem to have decided that his press conference for Feld after the race is the only time he's going to talk to the media (despite being asked to stick around for one on one interviews) which has frustrated some of us but hey, that's his right and not much we can do about it.
3 2 Cooper Webb Newport, NC Yamaha YZ450F- Webb got his first 450SX pole position and his first 450SX podium of his career in Oakland. Last year in Oakland his bike and 250SX win streak blew up, this year he leaves with fond memories. Webb was one of the only riders getting the 3-4 that Tomac was doing consistently and I think Webb busting that out to pass Tomac back was the sweetest move I saw all day. That was awesome! I know he had jumped it earlier, but he stopped doing it, so to pull the trigger on a shitty track to get by a dude was ballsy with a capital B. The Yamaha guys all tell us that Webb didn't change his bike but c'mon, this can't be the same setting as the first two races, it just can't be.
4 21 Jason Anderson Rio Rancho, NM Husqvarna FC450- Anderson won the heat and looked good early in the main then made some mistakes and settled in behind Cole Seely. Then he kind of picked it up and looked better late in the race than many of the dudes around him.
5 14 Cole Seely Sherman Oaks, CA Honda CRF 450- Seely picked up some plastic on the track that worked its way into his rear brake and stopped his fourth-place ride right there. I'm sure he was stoked his buddy Anderson rode on by him while he was helpless. Earlier in the day Seely's own dad told me to not pick him in any fantasy leagues because he's not great in the mud … looks like Cole showed his old man what was up! Although to be fair to pops, the track got better from the morning and wasn't a total mudder.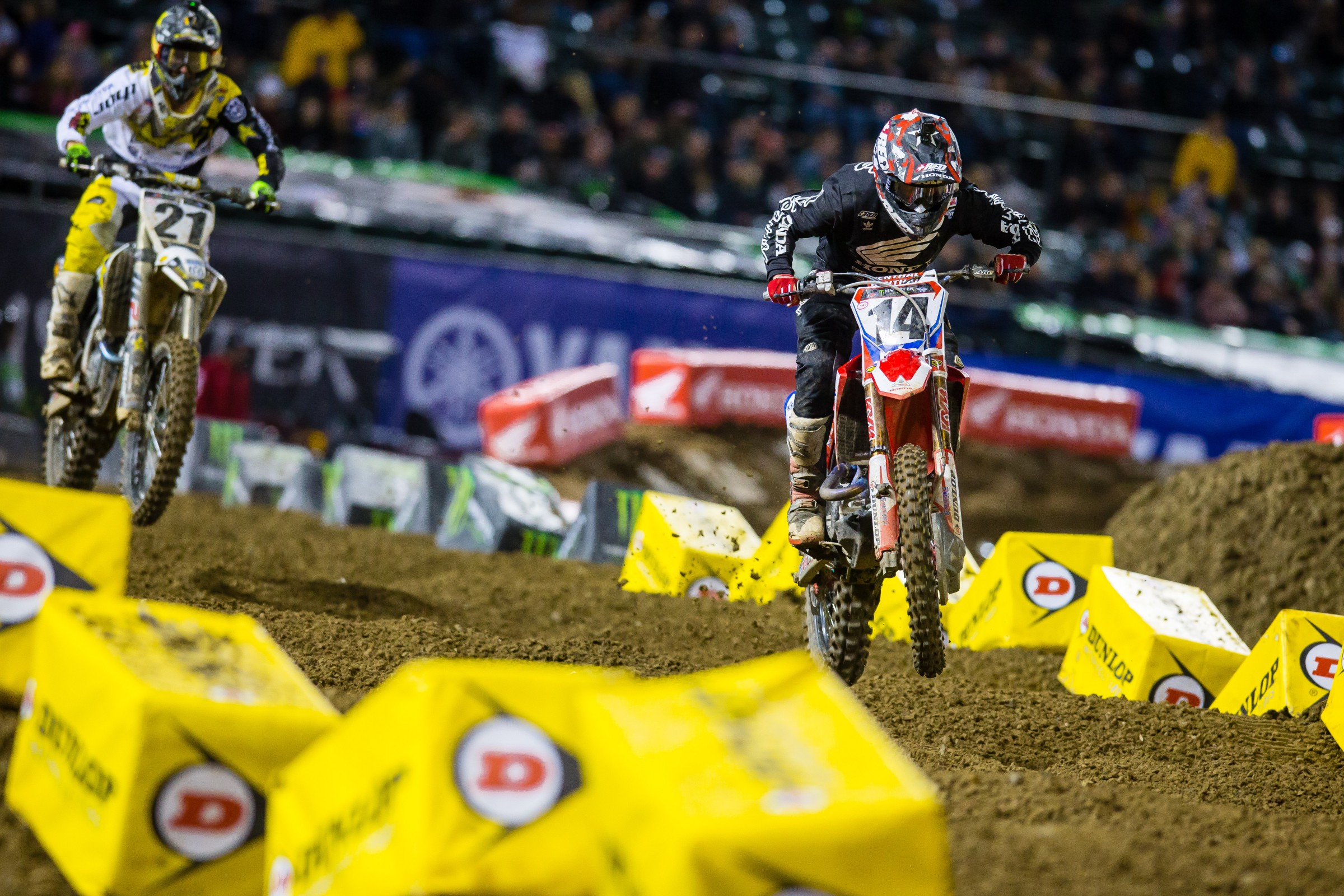 6 18 David Millsaps Lake Havasu City, AZ KTM 450 SX-F- Dungey, Tomac, Seely, and Musquin … and Millsaps. Those are the only five guys to be in the top 10 at every round this year. Millsaps has been consistently fast this year even though he flew off the track in the heat and hit a steel barricade/fence.
7 4 Blake Baggett Grand Terrace, CA KTM 450 SX-F- Baggett rode himself into qualifying position in the heat by passing Dungey. Yeah, you read that right. Baggett was good in the main as well, but he clipped a downed Musquin and shot off the track. You know with these conditions, things were right up Blake's alley. In fact he told me after the race that it was "fun" out there. Wow. I'm scared to ask what else Blake thinks is "fun" because I don't want to have to call the cops on him.
8 22 Chad Reed Dade City, FL Yamaha YZ450F- After a strong race in Glendale, CR22 was invisible in Oakland and I imagine wasn't happy with his riding. It has to be disappointing to him that he couldn't back up Glendale when he looked so great. This weekend Dallas will have similar dirt to Glendale, and it's a football stadium like Glendale (smaller floor though) so we'll see if he can get back on track.
9 25 Marvin Musquin CLERMONT, FL KTM 450 SX-F- Marv got a so-so start, but was very fast after he got up from a crash, but on the Pulpmx Show on Monday he seemed bummed with his ride. He's not happy to be fast and have no result. He expects to get podiums and wins every weekend. That's a good thing people.
10 15 Dean Wilson Clermont, FL Husqvarna FC450- Dean's on the Rockstar Husky team now (more on that below) and gave his new sponsors maximum exposure by riding the heat, semi, and LCQ to get into the main where he got his best finish of the year. Wilson told me that the Husky bike felt pretty much the same as his KTM of last year but "a hair different feel" so whatever that means. I like this pick up by Rockstar Husky, Dean's got a lot of fans, he tries hard, and he's working on trying to get better. So, really, he's the opposite of Christophe Pourcel. #Sorrynotsorry
11 20 Broc Tickle Holly, MI Suzuki RM-Z450- This track was set up to be great for Tickle because he's good at this type of dirt. He rode well in the heat also … it all looked so good for Broc. Then he came around the first lap in 15th and all the best-laid plans went to poop right there. The good part is Broc did score a season best finish!
12 10 Justin Brayton Mint Hill, NC Honda CRF 450- Brayton, like Reed, wasn't stoked he couldn't repeat his Glendale ride but the conditions in Oakland weren't really right up his alley. He's getting more comfy on his bike though and again, Dallas looks, (key word: LOOKS) to be better for someone like JB10.
13 12 Jacob Weimer Huntington Beach, CA Suzuki RM-Z450- Looks like Weimer's going to go to Canada this summer for a Yamaha team (Metcalfe's old team) if he can't score anything in the U.S. For now, though, he'll be on a JGR Suzuki for the rest of supercross I would think. He also told me he was not AT ALL comfortable out on that track.
14 61 Vince Friese Cape Girardeau, MO Honda CRF 450- I went over to the MCR rig to talk to Brayton about his race when Friese came over and thanked me for (rightfully) supporting his move on Anderson at Anaheim 2 … you know the same move the FIM reviewed and had no problem with. The same move where he initiated no contact with anyone, but yet was punched. Vince also said that he thought I didn't like him and was just negative on whatever he did to which I replied "Well, sometimes you have done dumb stuff Vince" and he agreed. Anyways, he holeshot Oakland! But it didn't go as well as he hoped from there. Click HERE to listen to the interview we did after the race.
15 800 Mike Alessi Hilliard, FL Honda CRF 450- The #800 has missed a couple of races but I'm waiting for some starts and some good rides to come back from Mikey. Do you know Mike is 28 years old? Yeah bro, time flies.
16 75 Nick Schmidt Lake Elsinore, Ca Suzuki RM-Z450- Schmidt was in the B unseeded 450SX practices and that's ridiculous. I don't care that there were 20 in the "super-special factory seeded" practice … what, putting 21 riders in there will just upset the whole apple cart? The ONLY reason Schmidt's not in the top 20 is because he skipped a race to go to Germany (which he won). It's ridiculous that Schmidt wasn't in there and I think he agrees. You don't think if some big name factory dude wasn't in there and wanted to be, the AMA wouldn't bend a bit?
17 47 Malcolm Stewart Haines City, FL Suzuki RM-Z450- The good: Mookie has been fast as balls and has qualified out of all of his heat races this year on a privateer bike. The bad: Mookie has crashed (I think) in every single main this year and looks like he needs to be in better shape. But as Mitch Payton likes to say about dudes with talent: "We can work with speed."
18 314 Alex Ray Milan, TN Husqvarna FC450- Ray went out with David Vuillemin last week for some lessons that I paid for (DV gave me a bit of a break on his usual fee) and it paid off with a good main event performance for Ray AND he beat his buddy Cade Clason so it's really a win/win for the Tennessee Tornado.
19 80 Cade Clason Chesterfield, SC Honda CRF 450- Clason scored me some good fantasy points, I don't think a lot of people picked him to make the main in Oakland, but I believed.
20 722 Adam Enticknap Lompoc, CA Honda CRF 450- The #722 rides himself into the main for the second time this year and looks good doing it. I wonder if he's out there thinking of some new rap verses while he's in the air? Or maybe checking out other dudes LIT KITs?
21 67 Jimmy Albertson Shawnee, OK Suzuki RM-Z450- Top Jimmy and wife Georgia are, like, FULL privateers bro. He even took his "good" plastic off his bike this weekend because of the mud. That's something I did back in the day. Plastic and graphics need to be saved! Jimmy's got this little stand by his Sprinter door that holds his fruit and drinks and stuff … that's the only thing that's factory about his set-up.
22 19 Justin Bogle Cushing, OK Suzuki RM-Z450- I saw Bogle after the race and he looked sad. He just came back from injury and crashed out again. He's fast, we all know that, he's just got to keep it on two wheels and build some results here, even if they're 12ths or whatever.
---
Some news and notes:
-We should see JGR Suzuki's Justin Barcia back for Minneapolis or the week after that and it'll be interesting to see how he does. His contract is up with JGR and unless he gets some great finishes, I don't think he'll be back with the team at the same pay scale he's at now. Something that my friends in Europe tell me is that there's some mutual interest in Barcia heading to the MXGPs if everything falls in line. It makes some sense, Barcia's always talked highly of Europe there and word is he's got a girlfriend in England so maybe this works? Who knows, long way to go until 2018 but there's some smoke here. I'd ask Justin myself but he's blocked me on social media and won't talk to me at the races.
-As I broke last week, the Rockstar Husky team replaced Christophe Pourcel with Dean Wilson for the rest of the SX and MX season. It's a good decision although I'm surprised they did it this early but I guess Pourcel has been having numbness from his neck injury suffered last summer and got a late start on the testing and riding. And in every interview I read with Christophe, he talks about how dangerous racing is and how he's got to be careful so it seems like he's not into laying it all out which is what you have to do to be a top five, never mind top-three guy. Props to Husky and Rockstar for continuing to pay Pourcel and finding him something to do this summer and, apparently, next year and onwards.
So Pourcel leaves supercross to go to the Canadian nationals and what does he leave us with? Well two 250SX titles and two near-miss 250MX titles when he was here with Pro Circuit Kawasaki. Since he came back to America to race 250MX on a Yamaha we saw a win and three podiums in 250 and 450MX and plenty of "Did you see that?" and "I can't believe he said that" moments for teams, fans, and sponsors. He didn't have a lot of fans, it was hard for him to do anything with the media and he sort of lurked in the shadows. Probably the way he liked it I guess. He was very talented on a motorcycle and showed amazing skills, but didn't appear to want to do the work needed to match that talent.
If Pourcel's American racing career was a Facebook relationship status it would be "It's complicated."
Thanks for reading, I appreciate it … email me matthes@racerxonline.com if you want to chat with me about Oakland or really, anything.