Dean Matson was a fast racer who grew up in the Bay Area and made a name for himself as a talented and colorful racer during the wild and crazy "big hair" era of the late 1980s. Matson came very close to winning the 1987 125cc Supercross Championship, while racing against guys like "Wild" Willie Surratt, Kyle Lewis, and Michael Craig.
Matson, along with his part-time teammate and mentor (and NorCal resident) Ricky Ryan, would travel the country in box vans, eking out a living racing dirt bikes and having some fun on the side. Later in his career, Matson would spend time in Europe, racing as a hired gun in exchange for a paycheck. Matson raced as a pro for roughly 15 years, and earned a total of five career podium finishes in AMA Supercross.
Today, Matson lives in Las Vegas and has changed his last name back to his birth name, Varni.
Racer X: Dean, thanks for talking to us, what do you have going on these days?
Dean Varni: I am now living in Vegas. I've been here for 17 years or so. When I got out of racing, I just left the Bay Area. I came out here and got into the clothing business at first. My first project out here was doing a denim line for women, which was a lot of fun. I was also doing some modeling as well. But the fashion business is super tough and requires a ton of capital. Today, I'm working on building some houses along with a partner. We basically take a house and knock it down, and rebuild it. I am also working on opening a hookah lounge here in town as well. So I guess you can say that I am an entrepreneur, as I like to work on projects and then sell them off. I definitely have a few good things on the horizon as well.
Lets talk about your early days as a racer and how you got started in motocross.
Well, my mom bought me a 1981 YZ80 when I was around 10 years old. A friend of mine had a mini bike and his parents took us out to Hollister Hills to ride. One of the first days I was there, I met a guy named George Matson. George was super into motocross. He had a big RV with a nice ProTrak trailer that was full of bikes. He was always helping out other kids in the neighborhood with riding, and learning to ride. As it would work out, George started to help me, and would have a huge influence on my racing. He ended up both sponsoring and adopting me as I got more into the sport.
Wow, that's pretty crazy. So he was the guy behind Matson Racing from back in the day?
Yeah. George was an airline pilot. I moved in with him and we were all moto all the time. My mom didn't have the time to dedicate to my racing, but George did. He worked for Can-Am Airlines, and long story short, he adopted me and I could fly for free on the airlines. I could fly wherever I wanted to go; I could fly first class. He also worked with and helped out Ricky Ryan, who was a little older than me and faster than me. I was kind of like Rick's little punching bag; he would thrash on me. Sometimes he was pretty hard on me, but honestly, that's how I learned stuff.
I have spoken with Ricky a few times, and he is still a pretty gnarly dude.
Oh yeah. We were certainly a little crazy back then. Both on and off the track—maybe crazier off the track. We were always pushing the envelope and doing crazy stuff. Stuff you could never, ever do today—it would land you in jail! I think the way it went, Rick learned from Larry Wosick and Darrell Shultz. It was silly stuff, be it trashing hotel rooms or whatever. I remember one time we were coming back from riding, and we were on the 101 freeway and we had our bikes in the back of the truck, and a buddy in another truck. We would purposely stop traffic on the 101 freeway, just to see what happened. Or another time, we stuck a tie down to the bumper of Rick's truck and went and dragged a wheeled dumpster around, just dragging it around and bouncing off stuff. We were wild back then.
I remember another time, I was 11 years old and we were at Baylands Speedway. Rick was giving me grief about something and beating on me a little bit. I got tired of it and hopped on my RM80. With no helmet and no gear, I rode it wide open down the road, for maybe 6-7 miles. It was a main four-lane road with stoplights and traffic. Well, Rick was chasing after me on his bike, and he finally caught me and got me to stop. I was crying and he had me in a headlock on the side of the road, yelling at me for riding through traffic. Imagine if that happened today? We would be in jail. Looking back, I have to laugh. I learned so much about being strong and going fast. And I'm lucky we didn't get in more trouble than we did.
Well, some of those guys were pretty crazy back then, so its not surprising that some of it rubbed off on you guys.
That's for sure. When racing became an every weekend thing for me, I soon earned a Team Green ride. I won the Golden State series in the amateur class, and then turned pro when I was 15. I won a ton of races and was making some money doing the bigger races in California. Then when I was 16, it was time to go out and hit the national circuit. For me, I think I went out too soon. I had a hard time with the pressure to get better results. I started to get hurt. But then when David Bailey got hurt in early 1987, that really messed with me, as I was pretty close to him and his dad and had trained with them a bit.
Your 1985 supercross season was the first year for the 125 supercross series, and you did pretty well. What do you remember about those races?
My very first supercross was at the L.A. Coliseum and I finished fourth. I'm not sure, but I don't think I had ridden a supercross track before that. The second race was at the Rose Bowl and I finished in second place, right behind Larry Brooks. I had some good rides, but also got hurt as well. In 1986, I got some more podiums. By 1987, I was feeling that I was really in a position to win the championship. I was racing and traveling with Ricky and we came into 1987 feeling really good. But then David got hurt and I started to waiver a little bit. I had a ton of injuries to my wrists and ankles, and was always coming back from being hurt. I finished third in 1987 and it was time to move up to the 250cc class for 1988.
I remember the AMA points system back then didn't allow a top-three guy very long in the 125cc Class, and it seemed like a lot of guys got bumped up who maybe were not fully ready.
Yeah, for sure. So then in 1988, I came back and was in the 250 Class. I was at the Meadowlands Supercross and was trying to pass [Johnny] O'Mara. I came over a camel back jump, clipped the top and crashed. I thought I broke my back. We went to the hospital, but I was out for a while. Suzuki had a support ride waiting for me, but I lost it and it messed up my whole 1988 season. On a side note, I did become friends with O'Mara and for a little while was living and training with him. Man, that guy was a total animal. It was so cool, here I was this kid, living with my childhood hero and hanging out with him. It was such a great experience, though I wish more of his training rubbed off on me. Johnny was 10 years older than me and taught me a ton. It was a little strange, as I was coming up, and he was getting ready for retirement. I also hung out with RJ [Rick Johnson] a bunch; he would let me sleep in his hotel room. It was funny because I was #99 back then and he was #1. Overall, I was super fortunate to hang with some of the people I did; I really appreciated that. Those were some pretty amazing memories, though I probably took it for granted at the time.
You ran with Ron Lechien a bit back then. Any good stories?
Well, I remember a lot of partying with him. One time, we were in Barcelona, it was maybe 1990 or 1991, I remember Ronnie and I partied all night during the races. I think it was four-nights long. We were up all night long and wouldn't go to bed at all. We would miss practice, but meanwhile everyone else would be there. When we walked in, they would all be clapping for us. But then Ronnie could go out and win, and I was pretty close as well. It was both fun and pretty crazy. There were a lot of girls. That definitely got in the way of my racing, especially in Europe.
As your career was winding down, you did quite a bit of racing in Europe, right?
I did. In 1992, I got a deal to ride for Honda of Belgium. I went over there to live, but ended up breaking my wrist, which messed up the season. However, I never really liked the GP circuits. Back then, the Euro tracks were like paved freeways, super hard packed and very fast. I was more of a technical rider, and the tracks over there didn't really suit my style. But that ride opened some doors with the Euro Supercross promoters, and I ended up doing a ton of off-season events in Europe. For me, those were some of the coolest. I remember one year at the Paris Supercross I got a third behind [Jean-Michel] Bayle and [Stefan] Everts. That was pretty cool.
Tell us about the decision to call it quits with the racing.
It was in 1997 or 1998. I was still flying to Europe and racing, collecting some start money to race. But I wasn't taking it super serious, the injuries were taking a toll. In 1999, I went out and bought a YZ400F. I raced that a little bit here in the States and did some of the Trans Cal events, but that was the end of it. I decided to move to Vegas, and start over. I had some friends from the Bay Area that retired and moved to Vegas, and they offered to let me live with them for a little bit. So I moved there, and eight months later, bought my first house. I got into the clothing and fashion thing, and was also doing the modeling.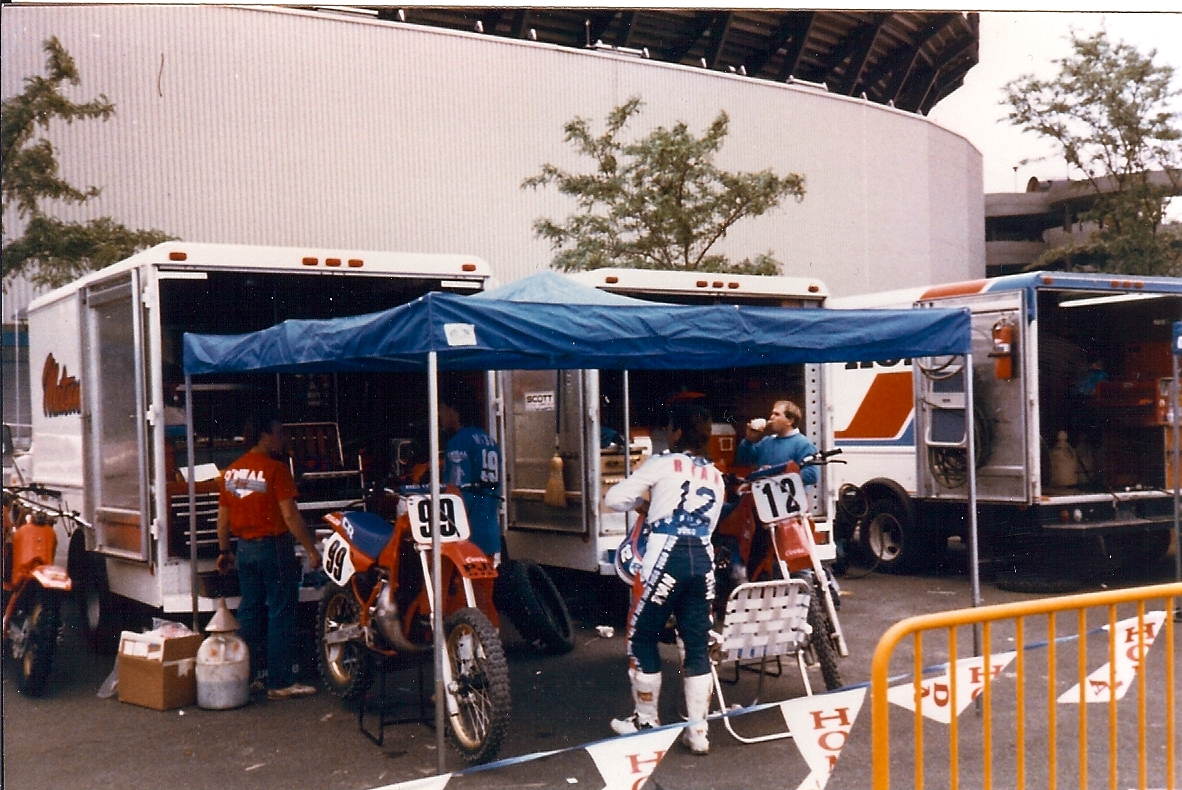 Do you still follow the sport today?
Absolutely! I watch every race, and this year I went to San Diego and Anaheim 2. I was out there shaking hands and seeing some old friends, which was just awesome.
What about your personal life, any family to speak of?
Well, I have an awesome girlfriend and we live together. I have no kids—um, well that I know of at least! There is the chance that there might be a few in Europe that I don't know about it. I'm kidding. But, you know, I wouldn't rule out having a kid one day. I am 48 years old though, so I need to make that call pretty soon.
Well, I would love to hear more Lechien stories, but we need to wrap this up. Any closing words on your time in the sport?
Well, despite a lot of craziness back then, the sport gave me the experiences of the lifetime. I was able to travel the world and see all the different cultures. When you're that young, you're in the moment and maybe don't appreciate things. At my age now, I really appreciate what I had. I had more natural talent than I could ever ask for, and maybe I could have tried harder, but I got hurt a lot as well. It was just an amazing time in my life. I haven't had a conventional life compared to most, and I still don't, but it's been awesome.