Racer X Military Hero Winners Announced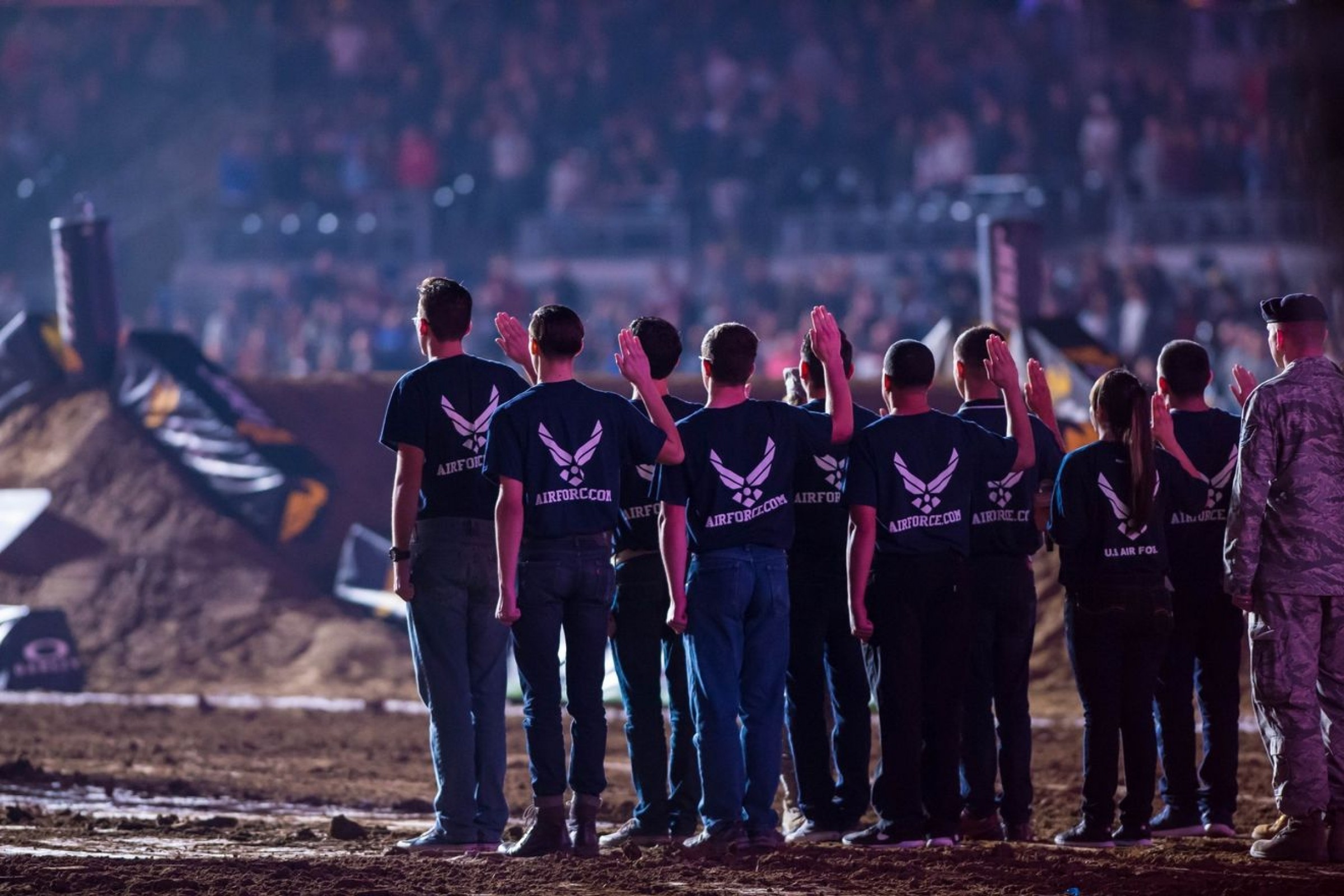 A couple of weeks ago we announced the Racer X Military Hero Giveaway where you, the readers, submitted your military hero to be eligible to win a Racer X care package. We received 55 submissions from family and friends of the contestants, accompanied by a few photos and short letters. We'd like to congratulate Kelli Barton, Gregory Wyne Jr., and Noah Leary for being randomly selected to each receive a care package. We'd also like to thank all the contestants for sending in their submissions and for serving our great country. Below you'll find each entry along with a few photos.
We'd also like to remind you that we are still offering $5 off all one-year subscriptions—up to 50-percent off—to active and retired members of the United States Armed Forces.
Thank you for your service!
Winners
Kelli Barton
Branch: Iowa Army National Guard
Rank: Staff Sergeant
Unit: 2168th Transportation Unit
Stationed Currently: Honorable Discharge

I would like to nominate my sister Kelli Barton for the Racer X Military Hero Giveaway. Kelli was active duty for the Iowa National guard from January 2003- June 2006. While serving in Operation Iraqi Freedom in Afghanistan she received the Global War on Terrorism Expeditionary Medal, Army Commendation Medal, Meritorious Service Medal and the Iraqi Campaign Medal.

Kelli and her husband Michael Barton have 4 children, 1 boy and 3 girls.She is a a teacher at Sangamon County Safe School where she works with students that are at risk youth coming from troubled homes, drug dependency and behavioral issues.

I and my family are so happy to have her as a loving sister, wife, aunt and parent not only for her service to her country but her continued service to her community and church.
SPC Wyne Jr, Gregory A.
PA Army National Guard
Rank: Specialist
Unit: B-Co 1/110th INF
Stationed: Deployed to Jordan
My son is currently deployed and so I'm doing, to hopefully help make his days go by faster! Winning this would make him so happy. Before the military, my son began riding a jr50 around the yard at 4 years old and it all just picked up from there. Plagued with many injuries, he still rides to this day, now 22 years old and still riding every chance he gets. Every weekend we watch motocross and supercross, but this year has been something new, it's not the same watching without him. Especially now that he has joined the military and taken more steps to better himself. My son joined the army 2 years ago, November 2014 and here we are today, missing him.
After joining in 2014 as. PV2, due to some college credits he is now a specialist. He has grown and learned a lot along the way. My son means the world to me and I can't wait for him to be home. We are hoping to attend Met life stadium this year.
Noah Leary
U.S. Navy
Petty Officer 3rd Class
USS Rhode Island (SSBN 740)
Norfolk Naval Station, VA
---
All Entries
Michael Ryan Fletcher
Branch: US Air Force
Rank: Staff Sergeant
Unit: 44th Reconnaissance Squadron
I am so insanely proud of the man my brother has become, and a large part of that is because of his service with the Air Force. Prior to enlisting, he didn't seem to have a direction, and was a bit of a wanderer with no clear path of what he wanted to do and where he wanted to go. When he left for basic training and when we got to see him again at graduation from the Air Force, he was the same Ryan, but actually had a real sense of pride in who he was and a direction. He stood taller, spoke respectfully, and became the man that we always knew he could be. He has been stationed in Las Vegas since graduating from Tech School and has been a teacher within the Air Force to train others in flying the drones as he did while enlisted.
We all grew up riding. While riding recently, Ryan went over a table-top, and at the landing, his back tire stuck in the mud. Ryan, on the other hand, continued forward. He went to the hospital in Bloomington, Indiana and discovered he had fractured his T4-7 vertabrae along with fracturing the bone that supports your head at the base of your neck. He had surgery to place pins and rods along his spine and has only recently begun weaning off of the back and neck braces. He has kept a positive outlook through the surgery, the pain, and all of the emotions that came along with the accident. The one thing he is looking forward to most, is getting back on his bike and going riding. Four months and counting.
Austin Reaves
My son, Specialist Austin Reaves, is stationed at Ft. Lewis Washington with the 16th Combat Aviation Brigade, 46th Aviation Support Batallion, HSC Company. He is working on his first reenlistment as I type this email!
Austin met the love of his life during AIT in Virginia. Mallory was also enlisted at the time. Shortly after they were both stationed in Washington, Mallory was diagnosed with epilepsy. She was medically discharged last August.
But, they are now expecting their first child in August of 2017!!
Even with all of the life changes coming, Austin still continues to have the desire and drive to serve his country. He gave up playing college baseball because being in the Army "is more important and much more worthwhile". And continues with his reenlistment even with the news of becoming a daddy!
I could not be a more proud mom. We are a supercross loving family and this would be a huge blessing for Austin and Mallory!
Thank you for recognizing the Military!
#armystrong
Sarah Mowery
Air Force
Senior Master Sergeant
Air Force Reserve Ammunition Team
Reservist at Crane, IN (detachment of Hill Air Force, UT)
Sarah is currently a reservist in the Air Force. She was active duty for 4 years and has been in the reserves since. She has been an exemplary Airmen and served 2 tours in Iraq during the war. Sarah is my wife and loving mother of our daughter and she means the world to us and we are very proud of her accomplishments.
William Macmaster Jr
United States Army (Infantry)
Sergeant
3rd Platoon D Co. 1-327IN, 1BCT, 101st ABN DIV (AASLT)
Fort Campbell, KY
My son grew up racing dirt bikes, raced professionally in Arizona for 5 years, had always thought about joining the military and decided in 2013 to join the Army as an Infantryman. He graduated OSUT at Fort Benning, GA in the middle of 2013. Was stationed at Fort Knox, KY where he deployed to Afghanistan in support of Operation Enduring Freedom from August 2013 until March 2014. He PMCS to Fort Campbell, KY in 2014 where he is still currently stationed. He has an upcoming deployment scheduled, and after his deployment is attending Ranger School.
His selfless service, honor, integrity, and sacrifice to put his life on the line along with every other service member, past, present, and future, shows the commitment and patriotism needed for a better and brighter future for this country. He is an outstanding person who not only makes me proud to call him my son, but also makes me feel comfort knowing others like him are protecting our freedoms we take for granted so much.
Alayna Portice
Branch: United States Marine Corps
Rank: Private First Class
Unit: LOGISTICS OPERATIONS SCHOOL 3521 MCCSS TRAINING COMMAND
Station: Camp Johnson, North Carolina
Eric Sauve
Air gaurd
Sgt
Green mtn boys
Afghanistan
Cody Allen Rhoads
Army
Specialist
A company, 3-330th Regiment
One tour in Afghanistan, Currently in Michigan training as Drill Sargent!
William Wayne Grubb
United States Air Force
Master Sargent/ E7 (Retired)
241 Engineering Installation Squadron
The reason I nominate my father as my millitary hero is he influenced me to join the Air Force.
Justin Wratten
US Army 11 years
Warrant officer 1 at Fort Drum NY with the 642 Engineers.
Jacob Beebe
US Air Force 6 years staff sergeant at eglin airforce base FL.
Darcy Beebe
US Air Force 8 years staff sergeant
On her way home from overseas deployment back to Warren Air Force Base in Wyoming.
Trevor Knopf
Navy
Navy Seal
E5
Stationed in San Diego
Trevor is a 23 year Navy Seal who was medically rolled from his first attempt at BUDS because of fractures in his leg. He persevered and made it through BUDS the second time after recovering from his broken leg.
Trevor was in Iraq this past year and was involved in a major firefight where at one point 11 Seals were ambushed by over 150 insurgents. His team called for QRF which made the fight a little more fair (23 vs 150+).
We lost one Seal that day but Trevor was relatively unharmed. You can read the article here.
Tom Belcher
My hero's name is FTCS (SS) Tom Belcher and he is a United States submariner currently stationed at Naval Submarine Base Kings Bay, Georgia at Command Submarine Squadron Twenty. He has served his country for 20 year and still serving happily. He is so deserving of the giveaway because of all the sacrifices he has made, all the special events he has missed, birthdays, holidays, births, anniversaries etc. without ever complaining because thats what he had to do for his family, the Navy and the American people. He has worked tirelessly to make a wonderful life for all of us. One of his favorite hobbies is motorcross and he dont get to ride as much as he would like to due to his work! Please consider him for this giveaway as he is truly deserving of it.
Jeffrey C. Williams
Branch: Air Force
Rank: A1C
Unit: 379 EAMXS
Stationed Currently: Qatar
I'm nominating my son, Airman 1st Class Jeffrey Williams, for your Military Hero Giveaway. He has been serving our nation for nearly two years in the Air Force as a jet tech, working on bombers and in-flight refueling jets. He is also a dyed-in-the-wool motorcyclist. Our family outings are he, I and his younger brother loading up our dirt bikes and heading to the riding park. He recently rebuilt an RMZ450, buying the roller from a friend after the engine let go and then buying and installing a newer engine. Jeffrey is currently stationed in Qatar but when his tour is done in a few months he is going to come home for a few weeks and ride his RMZ and work on refurbishing a 2005 YZF250 that we have.
Needless to say, I'm very proud of my son. He joined the Air Force solely to, as he puts it, help keep his loved ones and his country safe.
Andrea Hopkins
Roy Grant
Army
Specialist
1-8 infantry 2nd Brigade 4th Infantry division
Currently deployed to Eastern Europe on a 9 month tour
Patrick Daniels
Branch: US Coast Guard
Rank: Master Chief Petty Officer (E-9)
Last Unit: Coast Guard Air Station Barbers Point, Hawaii
Status: Retired after 30 years of service
Dylan Churby
I am Staff Sergeant Dylan Churby, United States Air Force. I'm currently stationed at Joint Base Charleston, South Carolina with the 628th Logistics Readiness Squadron. I hail from Belle Vernon, PA. (Hiighh Pooiinnttt). I have served almost 6 years on active duty. I have deployed to Southwest Asia and I am tasked to deploy again in April. I have a beautiful, supportive wife (Ariel) and four year old son (Jace). I am a long time fan of motocross and RacerX. I am putting in for the care package, but I just wanted to say thank you for your support. I can speak for a lot of my fellow service members when I say that it truly does mean something when companies do things like this for us. Knowing that we have people back home appreciating what we do makes it a lot easier to get through a deployment. Thanks again!
Garrett A. Nicholas
US Navy
HN (Marine Corpsman)
1st Med BN, 1st MLG
Camp Pendleton CA
Matthew Kellogg
Branch: Navy
Rank: E5
Unit: Naval Submarine Support Facility
Stationed in: Groton, CT
My husband Matt has been in the Navy for eight years now, and this journey has had highs and lows. He has been on three deployments, and numerous missions (which lasted anywhere from a week to a few months). Before meeting my husband five years ago, I was a single mother raising two boys on my own. When we first met, he took to my boys as if they were his own. Over the years watching the three of them bond has been amazing. The bond he has with them and the mutual respect that has formed is just one reason I call my husband a hero. Taking on the role of a parent is stressful and rewarding, but trying to manage an insanely busy submarine schedule while maintaining some semblance of "normal" family life can be extremely hard. The second year of our marriage he was only home 52 days out of the entire year. He missed anniversaries, birthdays, and other important life events in order to go out and defend our country. There were many fights, because trying to maintain a solid relationship through spotty emails and phone calls gets tiresome and can place strain on even the strongest couple. We have been through two deployments, and even now while on shore duty he continues to strive for the best. He works hard so that our sons have someone to look up to, and he provides a stellar example of what a man should be. As I type this letter I realize that a short paragraph cannot begin to describe all of the reasons my husband has been and always will be my hero. Every morning after he has his uniform and boots on he kisses me goodbye, and I can't help but smile. I feel so lucky to have found such an amazing individual to share my life.
Ethan Poteet
I nominate Joseph Ethan Poteet as my military hero. He is active duty Air Force and has been serving for 11 years. He is a Technical Sergeant in the 57th AMXS Raptors at Nellis Air Force Base.
Larry Curry
Branch: Army
Rank: Master Sergeant (promotable)
Unit: United States Sergeants Major Academy
Base: Fort Bliss, Texas
I am nominating Larry Curry, he has been deployed over seas 5 times, 3 of which were in combat. He is currently in the United States Sergeants Major Academy in Fort Bliss, Texas. This is his 19th active year serving our country.
Brent Griffiths
Air Force
Senior Airman
86th LRS
Ramstien Germany
I nominate him because he's sacrificed so much to better his life.
He's spent two years in Japan and is currently to spend 2 more in Germany. Every holiday is spent by himself mostly using facebook messenger to talk with me about life here back at home where he misses his baby girl Shelly, an American Bulldog. On top of missing home life he's also currently working very hard on obtaining his bachelor's degree to become a commissioned officer in the medical field.
We've been friends since 4th grade and best friends since our senior year in high school. Ever since I've known him he's always been obsessed with motocross. He used to make me watch videos when he came over hoping to get me interested but was unsuccessful being that I was a 17 year old girl who liked makeup.
He's about to deploy to the middle east this month and being that he won't be able to talk to anyone as much as he has these last few months I know that if he won it would give him so much to look forward to when he gets back.
He has mentioned to me several times how much he misses it but has not had the opportunity to get back to riding because he lives in Germany.
I know this would mean the world to him and can not stress to you hope much this guy deserves it.
Anthony Maki
Army
E4/specialist
18CSSB 1st ICTC
Zac Becker
Marine Corps
Corporal
Head quarters squadron Yuma Az
Retired
Justin Farrow
Army
Specialist
Bco 1-179 45th Infantry
Afghanistan 2011-12
Veteran (no longer active)
My name is Jake Farrow and I would like to nominate my brother Justin Farrow to whom I served with in afghanistan in 2011. We both were in the same unit and was also in the same Mortar section. We grew up riding motocross, our father introduced us into riding at young ages of 4 and 5. We grew up riding in Oklahoma at 59th in Douglas in OKC training and riding with Trey Owens. It would mean a lot to me for my brother to have won something like this, we have many memories and good times to tell, in knowing that I know he deserves it.
Tim Lemas
US Coast Guard
E-7 (Chief Machinery Technician)
USCGC SPAR
Kodiak, AK
Jordan Sheldon
US Coast Guard
Chief Marine Science Technician (E7)
Stationed at Sector Charleston - Prevention Department
Andrew Hemsath
United States Air Force
SSgt 51 amxs osan ab, South Korea
Juan Cabal
Branch USAF
Rank MSGT
Unit 305 MXS
Stationed Currently (if still active) JOINT BASE MCGUIRE DIX LAKEHURST, NJ.
My son asked me to enter this. I am a 22 year veteran of the United States Air Force. Aerospace maintenance on KC10, C17 and C5 cargo aircraft. Despite deployments and high ops tempos I still make the time for my family and to raise my 3 kids. Our littlest is my 7 yr old son, Ian who has chosen to ride motorcross and has turned our world around. We spend every weekend we can together trying to make a race so we can watch him grow faster and faster. We look forward to your magazines for the epic photos and articles keeping us in the loop on everything moto. Keep it up and thanks for your consideration.
Brandon Block
Navy
Construction Men
NMCB3
Port Hueneme, Ca
We're from Belle Plaine Minnesota hometown of Ryan Dungey! We met 4 years ago and just got married September of 2016. We've been through boot camp, 3000 miles of distance for 1.5 years and soon to be two 6 month deployments! We're best friends and enjoy all racing especially motorcycles and sprint cars! We also enjoy weekend Harley rides with no particular destination. His military career is just starting out and we are away from home for 3 more years and a few more deployments. This would mean a lot to him and I so we can enjoy it together whatever it may be! Thank you! God Bless
Tommy James
USA
Staff Sergeant
100th AR
MILDENHALL AF
BBURY ST EDMUNDS , U.K.
Jesse Hawk
I would like to nominate my husband Jesse Hawk for your Military Hero Giveaway. Jesse is currently serving as a SSgt in the US Air Force stationed at Luke AFB, AZ in the 309th Aircraft Maintenance Squadron. He's been in for 11 years as a weapons troop. During those 11 years we have been to the UK stationed at RAF Lakenheath, he has been on numerous deployments all over the world, and most recently has been fighting to get treatment for a work related back injury. In 2013 he was on the flight line hand loading a missile on an F-16 with a crew of 2 other people when a nearby jet throttled up and blew the other 2 people off leaving my husband single-handedly holding a 300lb missile. Anyone familiar with the military knows they think ibuprofen is a cure-all, and it's taken over 2 years to get the right people involved so he can get treatment. He would love to make it to 20 years before he retires but we have no idea how this will play out. I know you guys will get a lot of great candidates but I just wanted to try to win this for him because he never wins anything (except for me, haha). Jesse is the type of person to go way out of his way to help people. Most recently one night he was coming home from work on his motorcycle around 2am and a car was coming at him going the wrong way. He managed to avoid an accident with the driver and got them to pull over. It was a very confused elderly man that was lost and had been driving around for hours trying to find home. Jesse got the man's address from his driver's license and had the man follow him to the man's house. When they got there the man's family were relieved to have him home safe and wanted to give Jesse money but he refused. He is also a great supervisor because he takes care of his troops when they need it, he stands up for them which is rare, and he makes sure they get the recognition they deserve, which none of his supervisors ever do for him.
David J. Diehl II
United States Air Force
Senior Airman
48 Munitions Squadron
RAF Lakenheath
Wesley Hogan
US Army
PVT2
173rd Airborne
Vincenca Italy
Jackson Hughes

Kansas air national guard
Senior airman
190th air refueling wing
Stephen Orodi
I would like to nominate Sergeant first class, Stephen Orodi (aka SteveO), of the US ARMY reserves, he is a with the 3-338, now stationed in Columbus Ohio.
He began as a Marine, and was one of the first units deployed at the time of 9/11, then was HONORABLY discharged. He then joined the National Guard, and did yet another tour in Afghanistan, and then was HONARABLY discharged. He then joined the Army reserves, only to do ANOTHER tour! He has MANY medals, in including 3 bronze stars and one with valor, yet he is humble about his achievements, stating that he was only "doing his job".
I am, and i feel we ALL should be, very proud of Steve, for what he has done for our country! Aside from putting his life on the line for us, he has sacrificed time from his 2 beautiful daughters, step son, as well as his wife Christina. I am very honored to call him my friend, and he IS a hero!
Matthew Grant
Marine Corps
Sergeant
VMFA 323 (Death Rattlers)
MCAS MIRAMAR San Diego, CA
Stephen Wayne Heal
MGySgt /E-9
United States Marine Corps
Retired 30 years
Tyler Hansen
Branch Navy
Rank E5, Military Police
Unit Naval Expeditionary Combat Command Boat Detachment 922
Tyler Hansen is my husband and a father of a wonderful 8 months old baby boy. When I first met him he was a pretty poor young boy studying at the University of Colorado, Denver in between deployments. Despite his humble upbringing, being a middle child in a family of 5 children, from a small town of 8000 people, he was always very respectful of other and always showed character and empathy for other in ways that don't require money. Whether its holding doors for others, digging out stuck cars out of the snow or shoveling our elderly neighbors' sidewalk and walk way even though they don't ask for it, he always found ways to be of a help to others.
I knew then that he was a man of high morale standard. Over the last six years of our marriage my initial feeling only got stronger. Tyler was honorably discharged from the military after serving two deployments in the Middle East. He is currently serving our community as a Police Officer. He is a wonderful husband, a loyal friend, a good son and a crazy avid fan of dirt bikes anything. He rides whenever he has a chance, even in winter time if there is no snow on the ground. He religiously watches all of the races and cheers for his riders of choice.
Brennan Holshu
Army
Corporal
Don't know the unit he was with. He was wounded in combat in Iraq and medically discharged
Jared Henden
Branch: US Air Force
Rank: E-5 (Staff Sergeant)
Unit: 2nd Maintenance Squadron
Currently Stationed at Barksdale AFB in Louisiana.
He has been stationed at Barksdale AFB his entire military career so far - 7 years. He works in Metals Technology which requires machining parts for the B52 airplanes and welding. I have never met anyone who loves their job more than he does. He stays late and goes in early even when he doesn't have to. This year, I am especially proud of him making the rank of Staff Sergeant as this time around was his last chance to test. He is an outstanding role model to the other airman in his shop and always makes himself available when they need to ask him questions, even if he is off shift. I am nominating my husband because he is so extremely dedicated to his troops and his country, and I know he plans to retire in the Air Force. On top of all of that, he is a local pro motocross rider in the Shreveport, LA area and manages to excel in his sport as well as his job.
Brian Christensen
Branch NAVY
Rank E6
Unit ACU 5 LCAC
Stationed Currently CAMP PENDELTON CA
Glen Brott
My best friend in the world is SSgt Glen Brott, USAF, 824 BDS Moody AFB. Glen will have served in the Air Force for 10 years come this May. We have been serving together for almost nine of those years. We have been at two duty stations together and deployed once to an undisclosed location. Glen and I have been riding together for six years and constantly push one another to do better in every aspect of our lives. My wife and Glens fiance like to joke that Glen and I love one another more than we love them...... their not wrong. Glen and I have been through the best and worst that life has to offer and I am honored every day to serve with him.
Oscar E. Flores
Branch: Army National Guard
Rank: Master Sergeant
Unit: 46 Military Police Command
Stationed Currently: Retired in August 2016
A little bit about this man- He is my father and a veteran of 33 dedicated years to our wonderful country. He has a handful of tours under his belt including Kuwait and Afghanistan. During his military career he worked in numerous positions from being a mechanic for military vehicles to his most recent and longest position of being the State Equal Opportunity Specialist for the state of Michigan. Growing up with an active duty parent has created a close bond between us that I hope every father and daughter experience. Between work trips, drill weekends, annual training and deployments, my father always kept a positive attitude and gave 110% to his career and family. I couldn't be more proud watching my father serve his country as well as set an example of hard work and dedication.
Carrington Fleming

Branch: United States Air Force
Rank: SSgt
Unit: 379 EMXS
Station: Al Udeid AB, Qatar
My husband has proudly served in the USAF for eight and a half years as an Electronic Warfare technician. He is responsible for the protection of fighter aircraft through jamming capabilities. I have watched him give his all to his job and to his country day after day. I have seen him leave for deployments for six months,then turn around and leave his family behind for a year. No matter the sacrifice he knows that what he does have a purpose. I'm proud of him and what he does to protect our family and our country.
Cole Lewis
U.S. Army
PFC
2nd Infantry, HHB 210 Field Artillery Brigade
Camp Casey, South Korea
Taylor Payne
Branch: United States Air Force
Rank: SrA
Unit: 3rd Maintenance Squadron
Stationed Currently: Anchorage, AK
Taylor joined the Air Force after he graduated high school. He was stationed in Missouri for a few years and then in the fall of 2015 he got moved to Anchorage, Alaska. He has done one tour over seas so far. Taylor and I have been best friends for about 10 years now. We met racing motocross and have stayed in contact ever since. He has been the one stable friend in my life for this long, I know if I need anything even though we are on total opposite ends of the country he will be there for me. Unfortunately with him being stationed so far away we haven't seen each other in about 2 years but we still talk about once a week.I know it isn't easy for him to be in Anchorage he just bought a brand new dirt bike before he moved now with short summers he isn't able to ride as much as he did. He is my military hero and every day I am proud of the choices he made to defend our country.
Dustin Manns
Air Force
Staff Sergeant E-5
8th Maintenance Squadron
Kunsan, South Korea
My military hero is my husband, Dustin Manns. He joined the Air Force in 2012. We had been together for 4 years when he went to basic training and he proposed to me when he completed his training. We moved to Florida for his first duty station. While he was stationed there he got deployed several times. He traveled to different bases across the world.. Alaska, Afghanistan, South Carolina, Qatar, and a few more. In March of 2016 he found out he would be moving to South Korea for a year and it would be an unaccompanied tour. We had just found out that we were expecting our first baby before he left. In October we welcomed our baby boy, Jagger into the world. Dustin had scheduled leave to come home a couple days before his due date but Jagger decided he wanted to come a couple weeks early. Dustin missed the birth of our first son serving in South Korea. He means so much to us. He is the worlds best husband and father. Even though he's half way around the world he continues to make us feel special. We cannot wait to have him home in March. Our family will finally be complete!
Logan Southwell
Branch: United States Navy
Rank: E-3
Unit: 1st Dental Bn, 1st MLG
Stationed: MCAS Miramar
AGUSTIN ZAMANIEGO
USMC
E-4
SERVED WITH 1/7 FROM 1998-2007
29 PALMS CA
Ian Tracey
Branch: US Army
Rank: SGT
Unit: 317TH SMC (Support Maintenance Company)
Stationed Currently in Baumholder, Germany
My Husband is truly a motocross fan. He has been ridding dirt bikes since he was 10 years old. we still have old (and new) copies of Racer X at our home in Germany. He has not been able to ride very much here and truly misses it. even when we do obstacle runs or go for a bicycle rides I can hear him making BRRAAPP sounds. A day that he comes home tired, dirty and smelling of dirt bike fumes and fluid, is a great day for Ian.
So far during his time in the military he spent most of it with The Old Guard in Washington DC. he he was a big part of Arlington Cemetery and frequently worked at the Tomb of the Unknown Soldier. He was the Armorer for the entire regiment for 5 years and responsible for the maintenance of all the ceremonial weapons including the Presidential Salute Battery. When we arrived here in Germany his job remains the same, inspecting and maintaining weapons keeps him at the shop and office very late at night. he also is sent on several missions all over Europe meaning that he does not get to ride his bikes or really get time off. He works extremely hard to make sure that we have a great life. I would love him to know how much I appreciate him and all that he does. He is an amazing man and means everything to me. Racing dirt bikes means everything to him.