San Diego, CA
San Diego
Monster Energy AMA Supercross Championship
By Chase Stallo and Jason Weigandt
The implementation of timed main events (20 minutes plus one lap in 450; 15 minutes plus one lap in 250) certainly paid off in San Diego—one of the shorter tracks on circuit—Saturday night. We witnessed a record 24 laps in the 450 main event and 18 laps in the 250 main event. But was it actually longer? Well, yes and no. Yes, it was much, much longer than San Diego 1 in 2016. But it wasn't significantly longer than Anaheim 1 2016 or '17.
450 Class
| | | | |
| --- | --- | --- | --- |
| Race | Year | Time | Laps |
| San Diego | 2017 | 21:28.796 | 24 |
| San Diego | 2016 | 16:34.00 | 20 |
| Anaheim 1 | 2017 | 21:08.409 | 20 |
| Anaheim 1 | 2016 | 20:57.823​ | 20 |
250 Class
| | | | |
| --- | --- | --- | --- |
| Race | Year | Time | Laps |
| San Diego | 2017 | 16:39.591​ | 18 |
| San Diego | 2016 | 12:32.000​ | 15 |
| Anaheim 1 | 2017 | 16:11.289​ | 15 |
| Anaheim 1 | 2016 | 15:43.670​ | 15 |
Entering their second year together, Monster Energy Kawasaki and Eli Tomac had high hopes entering the 2017 season. Tomac was healthy, they had made changes to the bike that they thought were in the right direction, and there was a confidence entering the opener that Tomac could win the title. And while that plan could still come to fruition, the first two rounds have certainly been a struggle. Tomac suffered from arm pump at Anaheim, and couldn't hold off Jason Anderson and Cole Seely at San Diego and finished sixth. In a team statement, Tomac said he "hit a wall around the halfway mark and lost my momentum."
"The day started off well," he said. "I had a great start in Heat 1 and led for the majority of the race. My jump out of the gate in the main was great but I let off early and came around turn one inside the top 10. I quickly made my way into the top five but just hit a wall around the halfway mark and lost my momentum. Overall we learned a lot tonight and it's only the second race, lots more to come."
We broke down Tomac's lap times into three segments, and you can tell where, as he said, hit the wall.
| | |
| --- | --- |
| Laps | Average Time |
| 2-8 | 53.894 |
| 9-16 | 55.254 |
| 17-24 | 56.580 |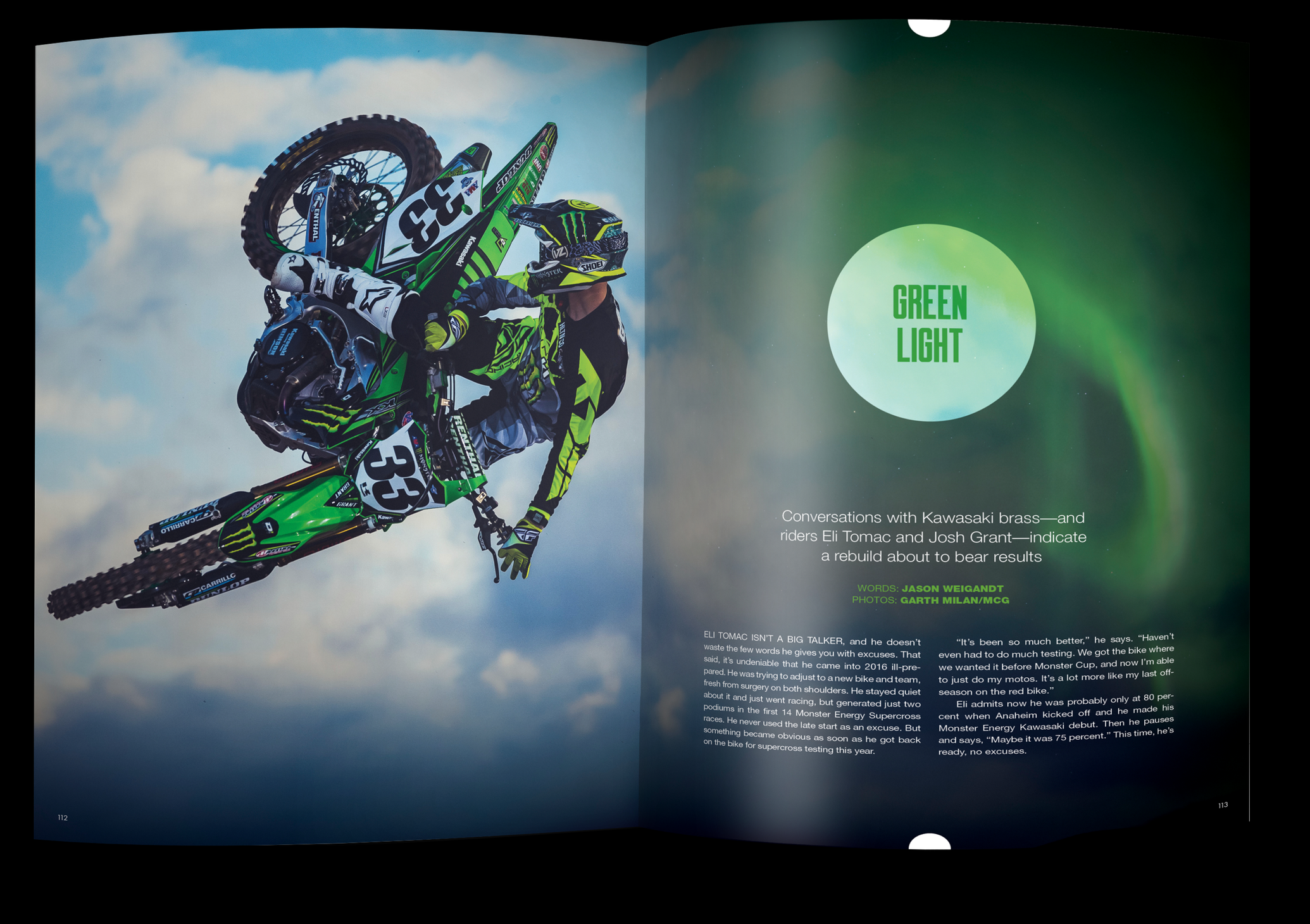 Through two rounds, AutoTrader.com/Monster Energy/JGR Suzuki's Weston Peick already has two top 10s—nearly half as many as he had in all of 2016. After a 2015 season in which he collected 10 top 10 finishes despite missing four rounds due to injury, Peick had just five top 10s a year ago came. Peick told us after the race he felt he could have passed Tomac for sixth, but a lapper he has a long history with got in the way.
"It was a good day overall, kept building, and the main event wound up pretty good," he said. "I didn't get the start I wanted, as usual, since I suck at starts. I made it happen, I made my way from outside the top 10, I think, to seventh, and I was catching Seely and Tomac. Last lap I think I would have got Tomac, but a lapper, Vince Friese, yet again, 24 laps on the damned track, and he gets in the way. He's getting blue flags in every turn and every jump and doesn't move out of the way for either of us, so I wasn't able to get around Tomac there. So I screamed at him after the race, I said, 'Dude, you're getting blue flags! Move out of the way. You're in the way!' He said he thought I was passing him for a position. I'm like, 'You're out of control, dude.' There's no winning with him, so it is what it is. I just need to keep on building."
Consecutive top 10s to begin the year for Rocky Mountain ATV/MC-WPS-KTM's Davi Millsaps. "It was a tricky night," said Millsaps in a team press release. "I got the semi win, and it felt good to be up front. We are making progress and I'm ready for next weekend at A2."
It wasn't a great night for Millsaps' teammate Blake Baggett, who looped out in his heat race off the start. We spoke to Blake briefly in the pits after the race and he said his clutch was malfunctioning on the line, and he pretty much knew he was going to be in trouble when he released the front brake. Baggett had problems in the main and finished 20th. "Tonight wasn't my night," he said in a team statement. "I have the speed to race up front. We will make some changes and look forward to next weekend at A2 for a better finish."
RCH/Yoshimura Suzuki's Justin Bogle locked down his first top 10 of the year in San Diego. In a team press release, Bogle said they have room to improve, and will dial some things in. "Overall, San Diego was better than the week before," commented Bogle. "We still have a lot of room to improve but practice was better and we qualified a lot better than we did at Anaheim. We qualified for the main right out of the heat race, which was a big plus. Got in the main event and just got a bad start again. It's tough to make it through with these guys when you start in 18th-place. We'll do some work on starts. That's been one of my strengths so I'm not too concerned. I'll get it figured out. We'll dial some things in, make a few minor adjustments and keep it moving. With a good start, I'm very confident I can be up front. We'll keep trying to improve and come back with the intent of being better than the week before."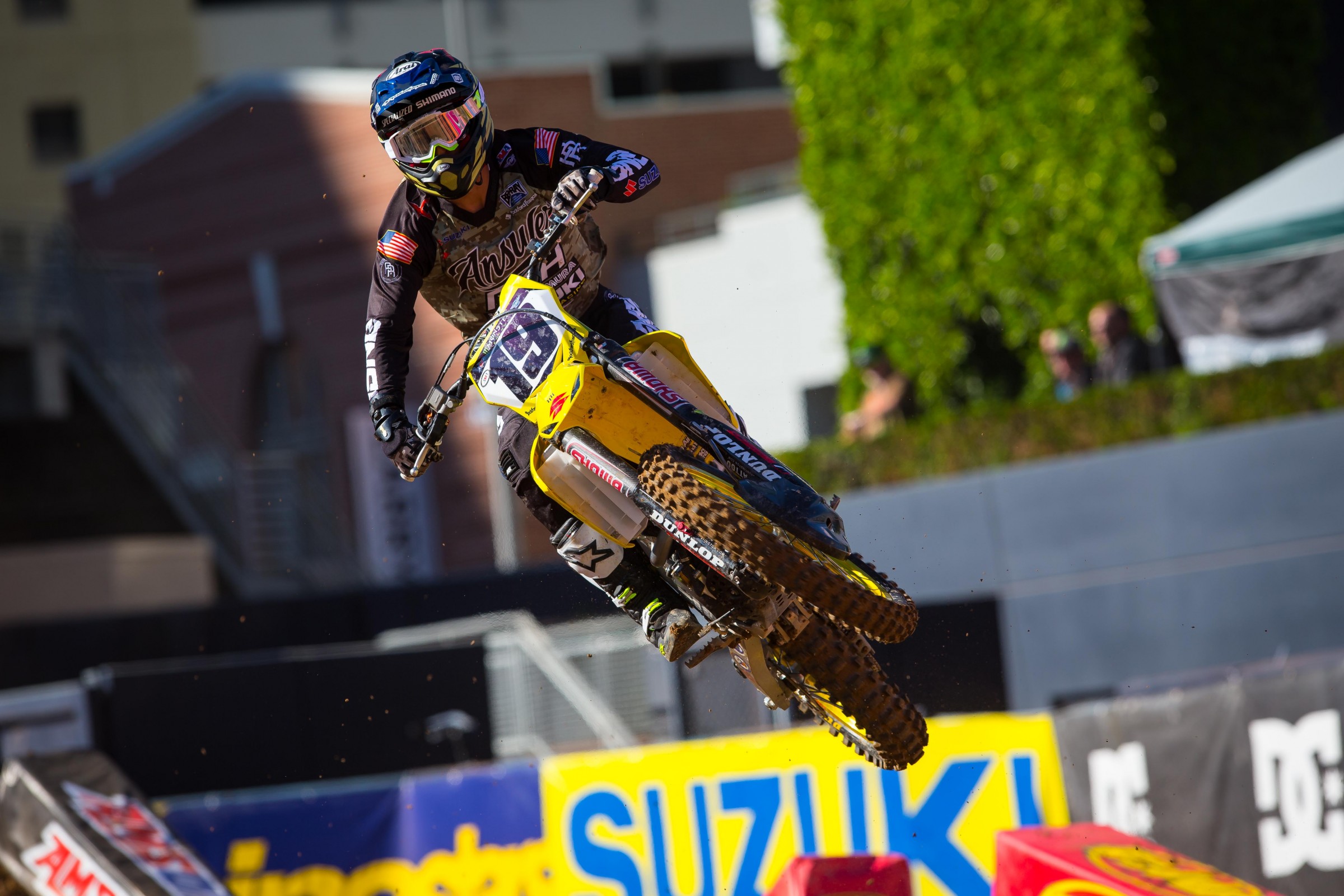 Josh Grant finished just behind Bogle in 11th and said he can take a lot of positives from the night. "The weekend isn't exactly what we wanted, but there are still a lot of positives to take out of it," said Grant. "I went down in the first heat but bounced back with a solid second in my semi. In the main event I started 15th and worked hard to get up to 11th, which is really all the track would allow for. It was really difficult for anyone to make up a ton of time on this track."
On his privateer Yamaha, Dean Wilson finished 12th. He wrote on his Instagram page that he needs to keep building his confidence. "A better weekend for me. Last off the start worked into top 10 then fell a couple places back to 12th. Just need to keep progressing, building my confidence and being at the races is so important. I know what I need to work on and can't wait to get back at it this week!!"
Fredrik Noren will compete in the 250SX East Region with TiLUBE/Storm Lake Honda. In the meantime, he's using the West Region to prepare, racing a 250 in the 450 class. He nearly qualified at the opener, and sealed the deal in San Diego. He finished 19th in the main event.
Not a great start to the season for Christophe Pourcel. After failing to qualify for the main event last week in Anaheim, the Frenchman dealt with the flu all week leading into San Diego. He was running third in his heat but ended up crashing all by himself. Afterward team owner Bobby Hewitt told us about Pourcel's illness and said he went to the Alpinestars Mobile Medical Unit for an IV, which, in accordance with the AMA rulebook, disqualified him from any further competition for the rest of the night.
Jimmy Albertson's night ended early after going down in qualifying in the same section that claimed Mitchell Oldenburg and Jeremy Martin. Albertson released a statement on his Instagram page and said he's "pretty much back to normal": "Thankful to be all good after a big crash this weekend. I'm just taking it day by day at this point. I'm pretty much back to normal today but these guys are way to fast this year, so competing at anything less then 100% is hard! Thanks to everyone for the kind words and support"
The start of the 250 main event offered up 10 laps of glory for GEICO Honda's Jimmy Decotis, who shot out to an early lead, but started pulling away at an alarming rate. Unfortunately, that hard sprint took a toll, and Decotis ended up losing the pace and falling back through the field, finishing sixth.
"This weekend was a tough result," said Decotis in a team statement. "I've been riding really good and I feel my time is coming. I executed the main event start perfectly and laid down eight-solid laps. I felt smooth and comfortable out front just hitting my marks and staying focused. Around lap 10 I suffered from a pretty bad cramp in my stomach I think from eating too close to the main event. I also had a few mental errors that cost me big. It was my first time leading multiple laps and I struggled a bit at the half way mark. I think I showed myself and this industry that once I figure out my 15 minute motos I can be a threat. I always thought I could win but last night showed me deep down that I have the ability to win a main event. I was extremely bummed after that race and I really have to thank my crew at GEICO Honda for keeping me positive. I know what to take from this night and I'm looking forward to getting some redemption in these next couple weeks."
While Decotis was leading lap one, his GEICO Honda teammate Jeremy Martin was in last place after getting stuck in the starting gate and crashing on lap one. And that was just a continuation of the day, which saw Martin crash spectacularly in practice. "Round 2 at Petco Park in San Diego was a bit rough," said Martin. "Qualified third fastest after a big get off in practice. Struggled in the main event due to some mistakes I made on the opening lap. I was so cranked up to get the start, once Josh Hansen went and hit the starting gate it moved and I smashed it. That was a big mistake. Then later in the lap, I lost the front right before the triple. I sent it in trying to pass someone and lost the front when I landed. From there I put my head down and charged my way from last to seventh place on the night. Looking forward to Anaheim 2."
Oh, Martin Davalos. After Decotis started making mistakes, Davalos took the measure of him and held the lead until two laps to go, when mistakes of his own dropped him from first to fourth. "I took some positive things out of this race," he said. "It's still kind of frustrating that I lost the race with a lap and a half to go, though. I made a mistake twice in the rhythm section and it allowed the guys behind me to catch up. It's only the second race, but I just wanted to win so badly. Hopefully we get some good weather this week so I can get some solid training in. I'm looking forward to the next round."
Austin Forkner hasn't come out with guns blazing in his rookie season, but his fifth in San Diego was an improvement over eighth in Anaheim. Steve Matthes checked in with Forkner's Monster Energy/Pro Circuit Kawasaki boss Mitch Payton, and Payton indicated the team is fine with these finishes to start Forkner's career.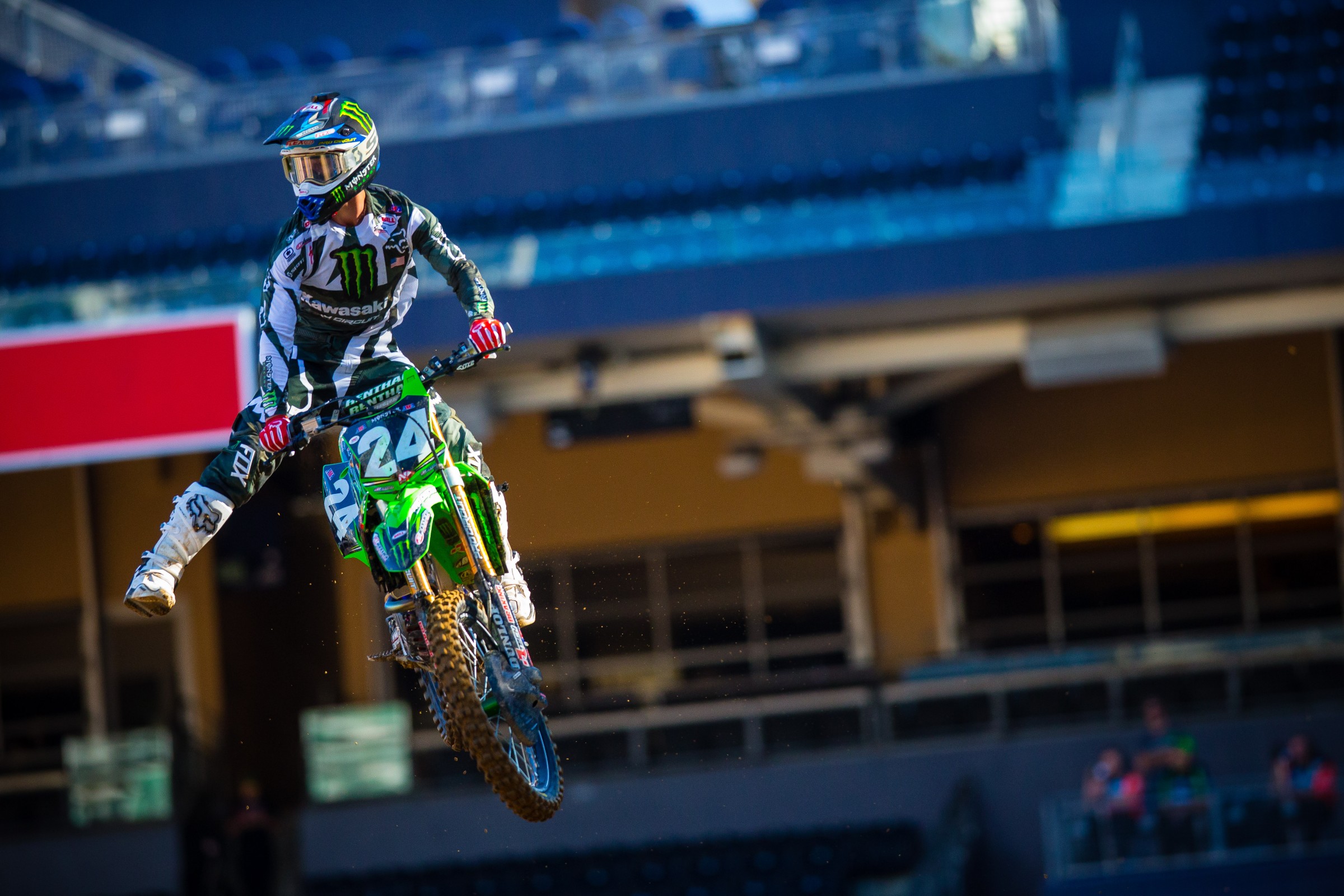 "We got a lot faster as the day went on," said Forkner in a team statement. "A few changes to the bike throughout the day led to being able to loosen up and ride better. In the heat we got the holeshot and raced really hard for third. In the main event we had a great start but tangled with another rider and dropped back to eighth. I felt a little tight but made some solid passes and overall rode well. The lap times were competitive and we're making progress, so we are happy so far."
Tyler Bowers matched his 11th place finish from last week in Anaheim, but in a 51FIFTY Energy Drink Yamaha team statement, said he felt much better this weekend. "I definitely had more juice in the tank this weekend," remarked Bowers. "I rode well in the heats and showed what I had for a few laps in the main when I was battling with some of those guys. Just need to work on holding that intensity and there's no reason I can't run up front like that. Definitely a good weekend to build on along with a lot of positives we can take into this coming week."
Bowers' teammate Hayden Mellross had a rough go in Anaheim, as his bike broke while he was running third in the main event. The Australian has been showing speed in U.S. supercross for two years now, but San Diego represented one of his first nights of putting it all together. He netted his first top 10 with ninth. "Mate, I feel good after that one," said Mellross after the race. "All day the bike was working great and I put together some solid laps in qualifying and was pushing myself in the heat. I didn't back down and ended up hitting the deck, but it's no big deal. A bit of a bummer being bumped off in the main, but I was happy with how I rode all the way until the end. I didn't give up and was able to put in a career-best ninth."