San Diego, CA
San Diego
Monster Energy AMA Supercross Championship
Oh, what a race. After Ken Roczen dominated last week's proceedings in Anaheim, Ryan Dungey turned up the heat for round two in San Diego. Dungey led early on his Red Bull KTM before Roczen got around, and then the duo stayed within about a second in lap time the entire way—a total of 24 laps under the new 20 minutes plus 1 lap format.
Roczen rode error free under pressure out front on his HRC Honda, but Dungey set up one more attack on the last lap, which was ultimately undone due to a bobble. It was close all night, though. They talked about it together in the post-race press conference.
Racer X: Kenny, obviously you felt the pressure of Ryan Dungey behind you there. A little bit different win than last weekend. Last weekend you finished up with a 16-second lead, but this week he was on you all the way until the end.
Ken Roczen: Yeah. First off, thank you guys for coming out. I wish I could have jumped in my suit [from Anaheim 1] real quick, but I didn't have enough time. [Laughs] It was good. It was an awesome race. I found myself right behind… Actually I was third I think coming around the turn. Found myself behind Ryan and kind of watched what he was doing. I got peppered pretty good by him from all the roost and stuff. I was behind him and was able to make the pass past the mechanics' area and just rode my own race. I knew it was going to be a tough one just because the track broke down so much and I didn't want to get ahead of myself. Rode conservative and tried to really hit my marks. I think I could have switched up my lines a bit here and there, but sometimes with the track being this rough it could be a risk. You could end up taking a line that's a little bit worse. We just had to hit our marks and do all the rhythms at all times. So overall though I'm happier with how this weekend turned out than last weekend.
Ryan, this weekend it looked like in that second qualifying session you said, "Look, I am the guy with the number one plate, even though I don't have the red background." You set the fast time. You came out in the heat race and looked good. That main event it looked like you wanted it. He gets by you early. Then it looked like you kind of went to school and studied a few lines. You said, "Okay, I see we got about five minutes to go here. I'm going to make my push."
Ryan Dungey: It's good. We started out the day really nice. Last weekend wasn't the case. We were trying this, trying that. So I tried to just really put the effort into the track. It was nice to have the fastest time going into the night show. I had a decent heat race. Made a couple little changes for the main and felt much better. Kenny, like he said, we were pushing the pace. I was out front first, he got by, and then the pace stayed the same. It was going to be a fast pace to the end regardless. We all took the same line and I don't blame him—I was kind of in that line. I didn't want to try nothing different because it was really rough. We didn't really have much time to do much maintenance—the [track] guys didn't. So the track was even rougher from the 250s. So a few things changed, but [the only real changes] were kind of when a lapped rider was down or a lapper in your way or something kind of made you venture off a little bit. I found a couple good lines towards the end there and kind of picked up on a few things. With Kenny out front I just tried to keep that pressure. I feel like I accomplished what I wanted to coming into this weekend, just with the setup and a couple changes here and there, but really minor, really. I was really happy with the weekend moving forward.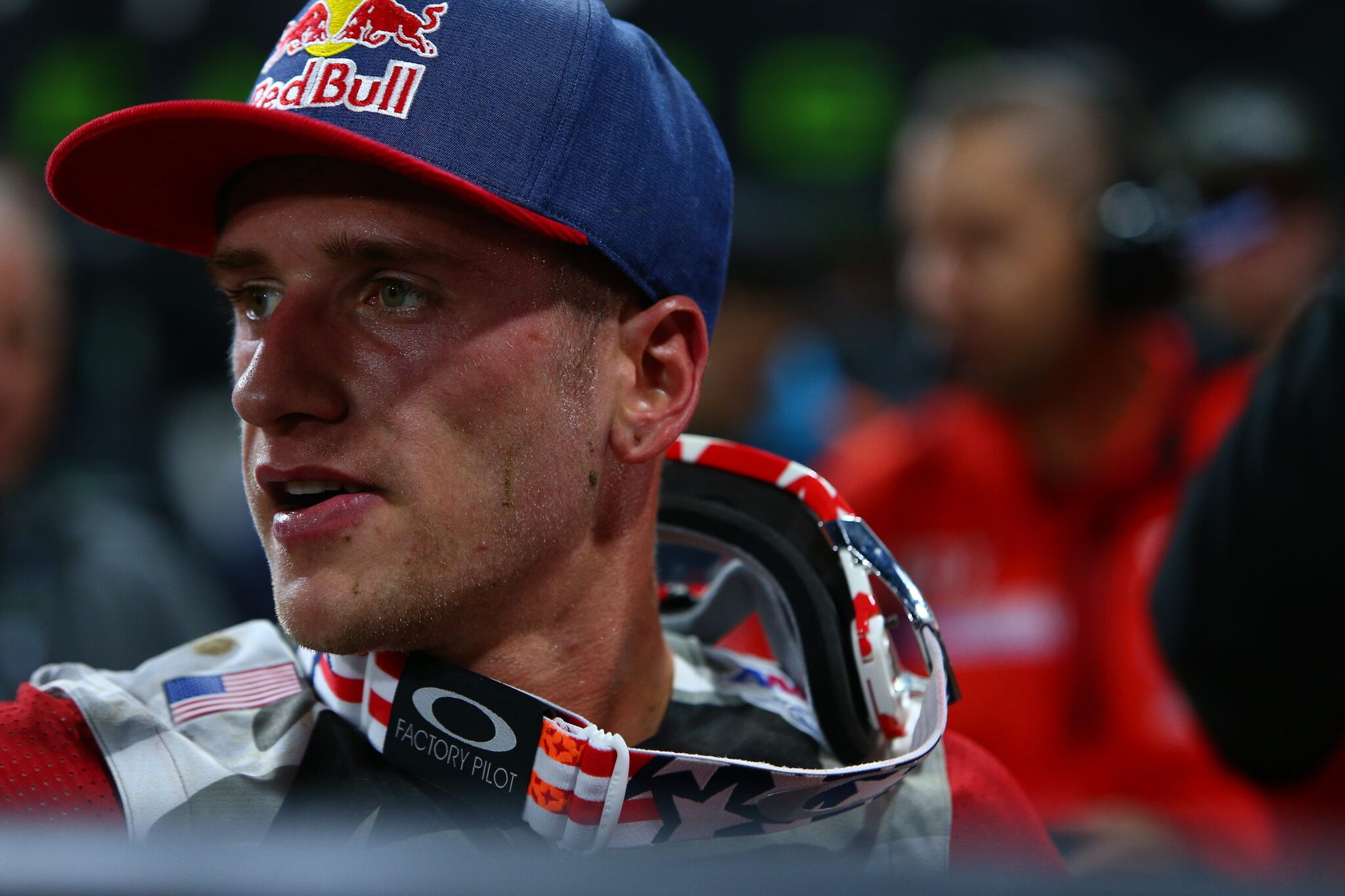 Kenny, composure and patience was the name of the game today. How important was that for you to maintain that throughout the day and what did you learn from it?
Roczen: Absolutely. It was important to keep the focus and not get too confident and let it possibly hurt you, so it was good. I wasn't too worried about not being first in qualifying practice. I'm not the greatest at putting down just one fast lap. I always look forward to racing. That's where I have the most fun, too. So I was looking forward to the night show.
For Ryan, how much does it help having another fast guy to train with [Marvin Musquin, Jason Anderson] throughout the week?
Dungey: Yeah, absolutely [it helps]. I think for me now, I'm not 22 anymore. I'm 27 and for me it's nice to have other riders there. During the week when you're able to ride with top caliber guys like Marvin and Jason and we've got Zach [Osborne] there now. We're all on that same program as far as putting in the same laps. Whether I'm chasing them or I'm leading up front, we all kind of take our turns, but it's kind of that nice race pressure type situation without the stress of a real race. So for me, it's the best. It keeps me sharp. It pulls it out of me. I need that these days. Not that I'm not motivated to do the work, it's just better for me. Then to be able to bring that intensity so it ain't such a shock when you get to a race and guys are around you. You're already kind of used to somebody coming up on the inside or trying to make a pass or whatever the scenario.

This is for Kenny and Ryan. After you guys got the white flag, Ryan, you got inside Kenny around that sweeper a little bit. I'm sure you knew he was there, Kenny. Can you guys each talk about sort of what was going through your head? Because Ryan, then you had the error on the last rhythm section over there.
Dungey: Yeah, when we hit the white flag I had two spots. I was like, I can do this. I got inside on Kenny coming in [to the sweeper turn]. Nothing to make a pass or anything, but when we came around the sweeper to do the triple-triple and then the left before the whoops, I made a mistake there and I found a new line there. I was really making some progress there, and then I rushed it after the whoops because I knew I lost a little time. I hit the turn and he was kind of right there and I got off centered. [It's too bad because] At the end of that straightaway I would close in. I was like, maybe I can make a dent. The possibility was very good, I just didn't make it work.
Roczen: I love being up front. [Laughs] Obviously I knew [he was there]. We were probably within a second or a half second throughout the whole 20 plus one. Honestly, there was no real thinking. It's hard to really describe what you're thinking. I feel like my mind is empty and I'm just focused on what's ahead of me. Obviously Ryan was behind me but there's no turning around or anything like that. I want to look forward. Sometimes when you're behind somebody you can pick it up somewhere and pick out a couple spots to make the pass, but at the same time with the ruts being there, you can cut to the inside but then you can't jump the rhythm and stuff. So being up front you can't really just protect the inside, compared to some of the other tracks that we ride, like last weekend for example, there were no ruts in the berm so you could go to the inside and make a pass and still jump the rhythm and stuff. But I'm happy with tonight, a good spot. Took the main and it was a good race.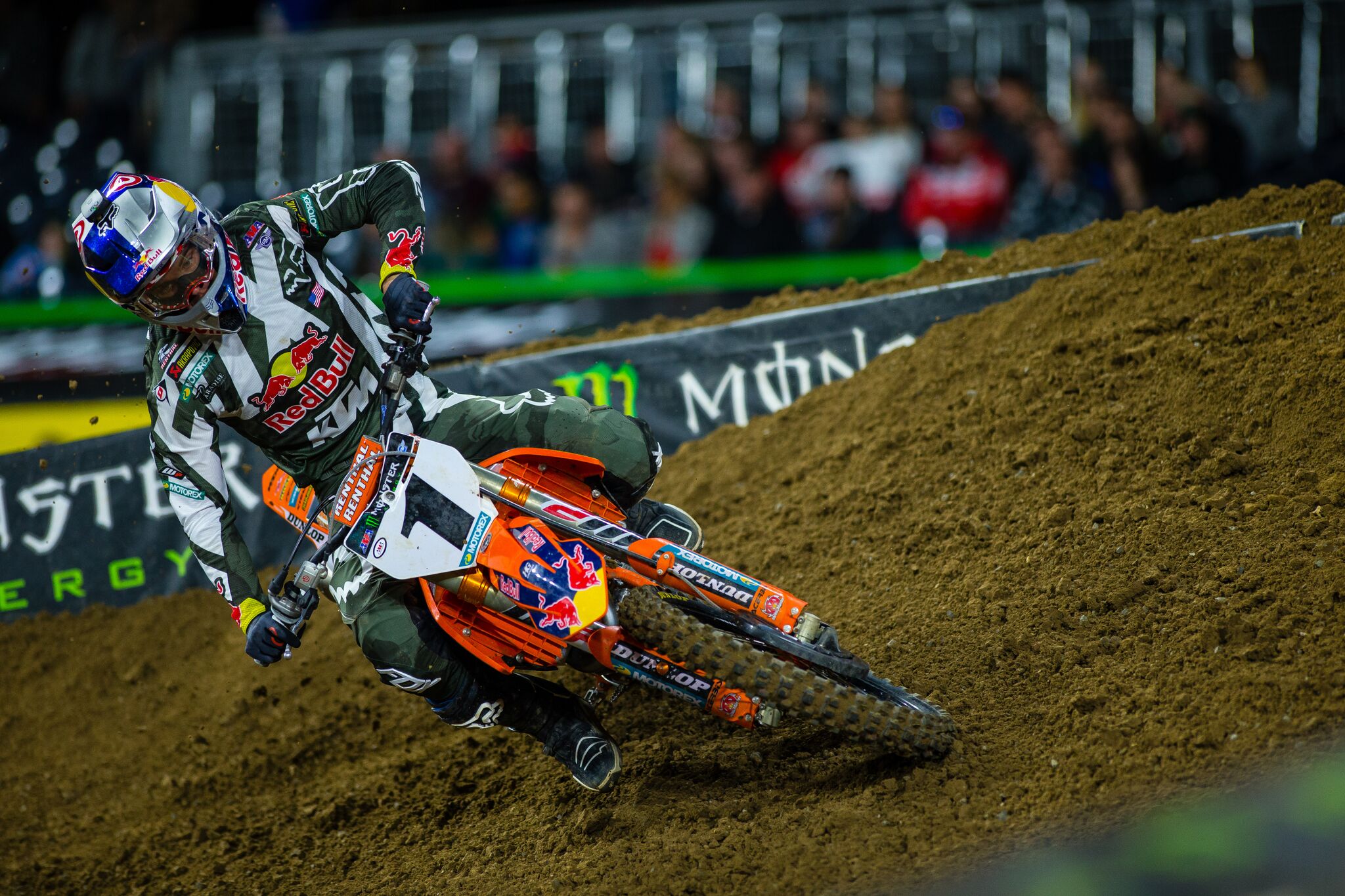 Kenny, coming into those last two or three laps, was that all out? Was there something left on the table or not, speed-wise?
Roczen: It depends. He was so close that I couldn't just let loose and ride around, but at the same time again I feel like with the track being like that you can easily try too hard and rush it a little bit and possibly make a mistake. I couldn't do that. Being up front I pretty much had everything to lose, so it was tough but it was good. I love it.

Kenny, a little off topic. Over the weekend it was announced that you were going to do the Motocross des Nations again for Germany. What brought that decision about and can you talk a little bit about that?
Roczen: It's pretty simple. Just that I'm in a good position and there's no team switches or anything like that in mind. Every year I plan on racing, but in the last couple years, it didn't play out to where I was ready to go. I want everything to be on point and 100 percent perfect to go there and race and win and not just go there just to go. So right away when I came with the team, rode the bike, and everything was going a good direction and where we're at right now, I decided that I'm going to commit because that's what I want to do.
Ryan, it looked like for the first half of the main Kenny was a little bit better in the whoops, and then you seemed to get better as the race went on. Were you working on that or did you just send it? What was the difference there?
Dungey: It was a little bit of… [laughs] I wasn't like sending it, but I noticed in practice he was going good through the whoops and I needed to pick it up, and I was able to. Then when we came into the whoops after he got by me in the main, he was just making a tenth, maybe two. I just tried to carry my momentum into it and then let the bike carry it, because you ain't going to build speed in those things. They were so slick. So I carried a lot of momentum into it and just tried to really stay light on the bike, and it worked really well. I was like, "I wish I would have figured this out a little earlier!" But halfway in [to the race], it's all right. I was pumped. The bike felt great. The whoops were nasty too. There wasn't much bite. I was really happy with the setup tonight.
This question is for Ryan. Ken's talked about his mindset of staying calm and focused. What's your mindset going into the next race?
Dungey: It's a long series. For me, to keep the focus on myself and not to get over-thinking on anything. I'm having a good time. I'm having fun. I can't forget that and I'm enjoying that. We made a lot of progress from the past week. I knew the fitness and everything was there. We got a little bit better with the bike. So the package is coming together and the plan is just keep getting better race by race. Not that we want to start off way off the pace by any means. We were second and he had more of a lead last weekend, so I needed to position myself better. Being there up right off the front helps, I lost a lot of time last weekend in the beginning, and I was able to do that [get up front] this week. So there's a lot of positives to what I wanted to do tonight. Kenny's a good rider. He goes fast. He's consistent. He's been in the sport now in the 450 class for multiple years. So he's getting the hang of it as well, but that's where I'm going to have to use my experience to make up the gap and the difference and just keep applying myself the best that I can. I've got to keep the focus on myself. I saw what happened outdoors when the focus shifted and you chase things a lot. So, keep a calm mind. I'm confident. My mentality is good and physically we feel good, and trusting the people and the team of people around me with Red Bull KTM and working with Aldon [Baker] and riding with the boys during the week. Just keep raising the level. It's intense. It's racing. It's what it is, but it's a good challenge. It tests a person for sure.
Kenny, it's the first time main event we had more than 20 laps. I think we did 24. Did it seem different? Did it feel different? We've never gone that many laps before ever.
Roczen: Obviously before without the time, with a short lap time we would get done a lot quicker but I like it like this. Obviously you have to ride more laps but at least it's consistent. Compare last weekend, next weekend, it's going to be the same. So there's no more thinking when the tracks get longer or whatever, "Oh, it's going to be a lot longer." Or when the track's shorter it's not going to be any shorter. It's just good to keep it consistent.