Angel Stadium
Anaheim

,

CA
Anaheim 1 (A1)
Monster Energy AMA Supercross Championship
Yeah! Anaheim 1! Yeah! We're back! We have actual racing on an actual racetrack to talk about! Thank God. The absolute zenith of off-season "nothingness" talk came two days before the race when Ken Roczen showed up in a suit and some people lost their minds. That was when I said a prayer that it was only one more day to return to racing. The 2017 Monster Energy AMA Supercross Championship is back and we're here to talk about it.
I'm trying to shorten this column this year. [Note from the editors: It's still more than 4,000 words, so we're not sure what Matthes' definition of "shorter" is.] You already know what happened at the race—it's Wednesday for Pete's sake! So Observations will be a bit shorter with some random thoughts at the end, and Weege said to keep the results part of the column in. By the way, this is the start of the ninth year of this "Observations" column that started over on Racer X Canada so thanks for your support.
With that, let's get into the results, shall we?
250SX Results
1 38 Shane McElrath Canton, NC KTM 250SX-F – What a day for Sugar Shane. Way under the radar when he came into Anaheim 1, he caught and passed Jeremy Martin for a heat race win then led every lap of the main. Nothing flashy for him on or off the track, he just puts sections together, is in shape, and it's nice to see him get his first win at such a massive event like A1. This result will even make his Grumpy Cat manager Tyler Keefe happy methinks.
2 23 Aaron Plessinger Hamilton, OH Yamaha YZ250F – AP was way fast. I watched him lay a lap down in qualifying that was so fast I was ready to give him the trophy. Then J-Mart went out and somehow went .8 faster! My eyes, perhaps they're not what they once were? Anyway, Pless was coming aft Shane hard, but I'm sure McElrath was marking him late in the race. I had Forkner and AP as 1A and 1B for the title coming in and I think Plessinger moved ahead. He was steezy and LitFam all at once.
3 30 Martin Davalos Clermont, FL Husqvarna FC250 – Marty's fast, he's on a great bike and he should be a podium or race winning threat the entire series. In Anaheim he was a few laps away from getting caught by Oldenburg so you'd like for him to have the fitness thing down a bit better. Then again, I'd like to have the fitness thing down better for myself. Jenny Taft from Fox Sports asked him about this being his 12th year in a class that's supposed to be for up and comers, and the look he had as she was asking was priceless.
4 28 Mitchell Oldenburg Alvord, TX KTM 250SX-F – A very quiet finish for "Freckle" and a good one at that. A lot of big names behind this kid were probably thinking that there was no way Oldenburg was going to beat them. Mitchell's never made the podium and this is his third fourth place of his career. Want to bet he gets on the box this year?
5 46 Justin Hill Yoncalla, OR Kawasaki KX 250F – A little underwhelming day for Hill, but it is the opener. Remember last year on the KTM he came out in the 250SX East Region on fire.
6 6 Jeremy Martin Millville, MN Honda CRF 250 – I spoke with J-Mart after the race at the press conference (?!) and he was a bit bummed but was happy with his speed. As he told me, his entire day consisted of qualifying fastest, finishing second in the heat, but his plan to crush the opener went to poop five feet out of the gate. A poor start is a tough thing to overcome. Twelfth on the first lap to sixth is a decent salvage job.
7 122 Dan Reardon Menifee, CA Yamaha YZ250F – Welcome back to America, Dandy Dan! The ex-GEICO Honda rider has a bit of a second act here thanks to Colt Nichols injury at Yamalube/Star Racing Yamaha and his own improvement Down Under since he left the U.S. His best finish here back in 2008 was a fourth with lots of sixths and sevenths, so this finish seems about right.
8 24 Austin Forkner Richards, MO Kawasaki KX 250F – Forkner was just okay. I expected a bit more to be honest but he admitted that the nerves got to him and all that. I like the honesty! After his somersault he got up in 16th and raced back to this. He'll figure this thing out soon and be a race winning threat. Sometimes it takes kids a bit to figure out supercross.
9 57 James Decotis Peabody, MA Honda CRF 250 – Jimmy D had to make the main via the LCQ and being a factory dude in the LCQ is a tough deal. Especially in the 250SX class where everyone has lost a grip on their sanity. So a top 10 is a fine start for Decotis who really needs to step up his finishes in 2017 to hold onto this primo bike another year. By the way, has there been a shorter team in history than Jimmy D and J-Mart? Together they equal one Benny Bloss.
10 11 Kyle Chisholm Valrico, FL Honda CRF 250 – Brett Metcalfe is helping Chiz out and that's sort of morphed into a coaching role with the entire MotoConcepts Racing team. Metty wasn't really helping me get stoked with Chiz for A1, though. He mentioned to me that Kyle was still getting used to the bike and the aggression needed on a 250F, he was still testing and so on and so on. But hey, Chiz is a racer, he got a good start and hung in there for most of the main just outside the top five before he got a bit tired and lost spots. Still, I think this is good, right? By the way, his bike looked very fast out there, which is good because he's a bigger dude.
11 52 Tyler Bowers Corona, CA Yamaha YZ250F – The Bear wasn't very fast in qualifying, nor in the heat race, nor the main. I have been on the Bear bandwagon and one shaky race isn't going to throw me off. Yes, I lost $40 in bets because of The Bear but "we'll" buckle down, figure out the bike and show up to San Diego a new and hungrier bear. Maybe get us some honey or something? The less I talk about this result the better off I'll be.
12 99 Chase Marquier Newcastle, OK Honda CRF 250 – I always look at dudes with #99 and think Wayne Gretzky—I just do. By the way, NHL legend Teemu Selanne was there and I think I was the only industry person who knew who he was that didn't get a pic or a stop and chat. Teemu and his buddy, some soccer player, did two laps around the track after practice and that was cool. Teemu seems like a good dude.
13 74 Bradley Taft Nixa, MO Yamaha YZ250F – Taft isn't talked much about because he came in late last year and all of us were still talking Forkner and he's not on the Yamaha "A" 250F team, but some people that have watched Bradley (can't we just go with Brad? I mean I'm not "Steven") are quietly pumped on his potential. Not a bad race to start off for him and his team.
14 138 Blake Lilly Wildomar, CA KTM 250 SX-F – Eight Yamahas in the main and six KTM/Huskys tells me one thing: Motor matters in this class.
15 902 Killian Auberson Switzerland KTM 250 SX-F – I know that Killian really helped out Adam Cianciarulo's fantasy team and I know he's raced here a bunch before. With Arnaud Tonus gone, he's our only hope for Swiss SX greatness.
16 71 Justin Starling Deland, FL KTM 250 SX-F – Starling is on the Slaton KTM team and a veteran of the 250SX wars at this point.
17 37 Phillip Nicoletti Bethel, NY Suzuki RM-Z250 – I don't know what's the best part of Filthy being in the 250SX West Region. 1.) The fact that he's on a factory Suzuki bike and some of the parts he tested were marked "Stroupe 45" meaning they were from 2009. 2.) The fact he already had a run in with another rider which is something I predicted would happen a lot because 250 dudes lose their mind out on the track sometimes. 3.) He tipped over on the first lap or two of the new 2017 season, bent his brake pedal early in the main and had to pull into mechanic area and then rode with so much Phil anger to get something out of nothing. Phil's 250SX foray is going to be so great (picture me rubbing my hands together like how RV used to do). This is going to be gold every week.
18 53 Cole Martinez Rimrock, AZ Yamaha YZ250F – Martinez is on a Yamaha team and has Ryan Hughes as a team manager. I didn't know any of this until a few days ago.
19 203 Zachary Commans Seal Beach, CA Kawasaki KX 250F – Commans had Scott Champion, a 250SX main event regular, all over him for most of the LCQ for the last spot. He kept his composure and just when I thought Champion was going for the kill, he crashed on the last lap.
20 95 AJ Catanzaro Reston, VA Yamaha YZ250F – The Cat turned pro in 2011 and he's never done the 250SX West Region. So when I saw him out there, I was confused. Nice work by him, though, to come to the unfamiliar west side and put it into the main event. Someone told me the Cat had quit—bad sources I guess!
21 64 Hayden Mellross Clermont, FL Yamaha YZ250F – Oh man, Mellross was third on the first lap when his bike suffered a malfunction. And just like that, the chance for a stellar finish went out the window. Anyone who reads my stuff knows that I do not approve of riders throwing their bike down on the ground no matter how mad (or happy) they are. Outside of winning a title at the final race/moto, never do that! It seems that Mellross had been having some problems with electronics on the bike coming into this race and enough was enough I suppose. SOMEWHAT excusable, but still. His fifth in the heat and this main event start is the positive for Hayden to take out of A1.
22 179 Jon Ames Riverside, CA Yamaha YZ250F – I thought "Jon" was a stage name for "Zach" because I'd never really heard of Jon Ames before. Great work putting it into the main event but unfortunately for Jon, he hurt something in his arm/shoulder first lap and that was it. [Editor's note: This was Jon's first supercross. Zach is a former AX contender. Now you know.]
450SX Results
1 94 Ken Roczen Clermont, FL Honda CRF 450 – Wow! This was a riding clinic by the #94. We saw that at the Monster Energy Cup, but no one takes that race that seriously. I don't know what was better: Roczen or the new CRF450R. Both were poetry in motion out there. Roczen's so-so qualifying time means nothing—you people know that, right? He's not a guy that gets into a pissing contest over qualifying laps—although he was fastest in the slower, first qualifying session. He's a racer and he showed that all the talk in the off-season and all the hubbub was nothing more than knowing he had done his work and was feeling confident. What a ride in both the heat and main and congrats to Dan at Honda and all the guys there. This had to be a real relief. CAUTION: Ken Roczen did the exact same thing (although not by 16 seconds) a couple years ago on the new RCH Suzuki machine and then he cased a triple and it went downhill. So this means nothing other than a three-point lead over Dungey unless he keeps on winning. Then it means everything.
2 1 Ryan Dungey Clermont, FL KTM 450 SX-F – Dungey's not worried. He rode great to pass Tomac and Musquin to get second. What Ryan will do is take his podiums, know that it's only a three-point difference whether he lost by .16 or 16 seconds and move onto the next week. He's the Terminator of SX—he'll just always be there. He can't be stopped, he can't be reasoned with and if you can stay error-free (a VERY hard thing to do) then you beat him.
3 25 Marvin Musquin CLERMONT, FL KTM 450 SX-F – Marv was good. Marv qualified fastest and ended up with a podium spot. Nothing wrong with that to start and somehow, even though the whoops were small, Marv jumped through them!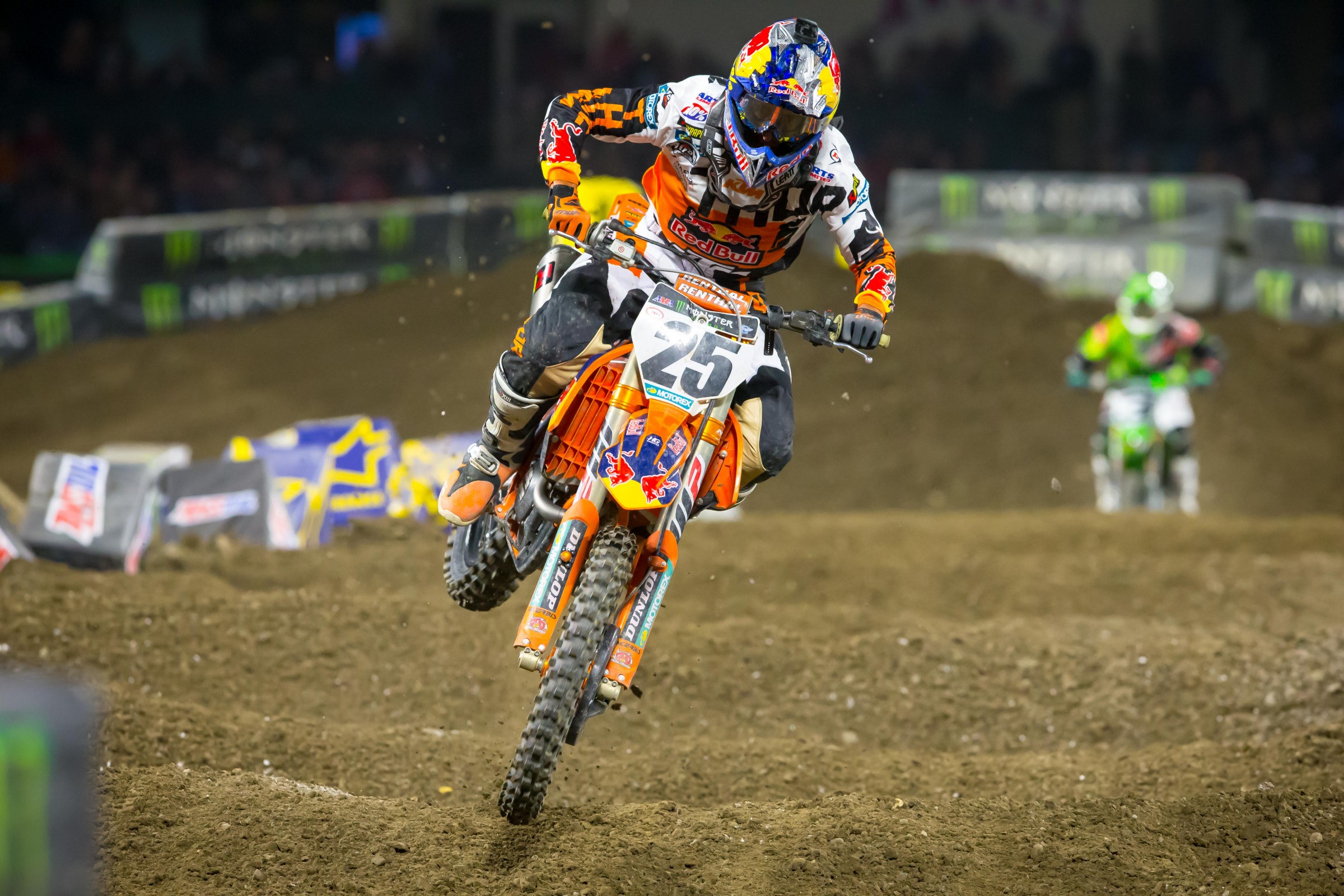 4 21 Jason Anderson Rio Rancho, NM Husqvarna FC450 – Anderson's start did him in and he rode well to get this spot. I debated with JT on our 450SX preview pod that Anderson, a guy that no doubt has title aspirations, will need to get a little rough to get by his two training buddies, Musquin and Dungey, on the days where he's a bit faster. Thomas felt like his starts weren't an issue but to me, more times than not, he's coming up through the pack. He's got no problem banging around dudes he feels he's faster than, but doesn't aggressively attack the elite riders. That's going to have to change if he wants to win the title. Or his starts have to get better, either one.
5 3 Eli Tomac Cortez, CO Kawasaki KX 450F – Tomac was locked in for second place (don't listen to what JT says in our post-race podcast). He had it! And by the way, he looked good in winning the heat. But then arm pump struck and he went backwards which had to be alarming for the Kawasaki guys and most of all, Eli. BIG weekend for Eli now in San Diego to show us that it was a one week only thing. Props to Tomac for showing up to the press conference despite probably being really pissed. I've always said that about Eli: shitty races or not he shows up to talk to the press. Can't say that about everyone.
6 14 Cole Seely Sherman Oaks, CA Honda CRF 450 ­– Seely had Anderson pass him late in the race and he had to be just cursing the #21 after all their run-ins last year. More times than not it's Anderson passing Seely, and sometimes it isn't pretty. The #21 got by and Seely was left to try and catch the pumped up Tomac which he almost did before the checkers flew.
7 18 David Millsaps Lake Havasu City, AZ KTM 450 SX-F – Millsaps was sick coming into the race so he'll take this finish all day long. I thought he looked pretty good out there and was far enough in front of Peick that he could ride his race and not have to protect anything. He was a ways back of Seely, but you take a finish like this at the opener where crazy things can happen.
8 32 Weston Peick Menifee, CA Suzuki RM-Z450 – I think this finish is pretty respectable for Peick. As I said before the season I think there's a Big Six and then everyone else. Not saying someone like Peick can't get into the top six if a Big Six member has issues but we can see from the lap times there is a clear division from the top six to Millsaps in seventh. I think Weston rode a very good race although I'm sure Chad Reed doesn't agree.
9 33 Joshua Grant Wildomar, CA Kawasaki KX 450F – Considering he went to the LCQ, Grant will take this finish all day long. If you told Kawasaki that Josh will be a top 10 guy all year in this field, I think they'd sign off on that. Good ride!
10 2 Cooper Webb Newport, NC Yamaha YZ450F – All day long Webb didn't look great. He'll take this 10th for his 450SX debut and move on but he can't be pleased that Weimer, a guy with a day on the JGR Suzuki, beat him in the semi and that he couldn't catch JG in the main. The opener is weird, man, so let's give the new #2 a few weeks before we just crush him in the comment section yeah?
11 12 Jake Weimer Huntington Beach, CA Suzuki RM-Z450 – With virtually no time on the bike Weimer did pretty well. He won a semi race for the first time in his life and hung just behind Webb for most of the main event while a Bogle/Tickle/Wilson battle royale was going on behind him. Weimer finished 10th in the series last year and wasn't going to be in the opening ceremonies until some people behind the scenes fought for him to be in it. I mean, c'mon Feld! The dude was 10th! Weimer's got a four-race deal to replace Justin Barcia but I bet he gets into more than that number of races between the JGR and the RCH crew.
12 19 Justin Bogle Cushing, OK Suzuki RM-Z450 – Bogle, like a few other guys, got lost in the shuffle at Anaheim 1 when talking about who could do what. He was thought of more like Webb (a bit anyways) last year as a rookie with a 250SX championship under his belt, but we didn't know he came in hurt. This year he's healthy, and his Anaheim was steady and better than last year so we'll see from here which way Bogle goes.
13 15 Dean Wilson Clermont, FL Yamaha YZ450F – Privateer Dean Wilson did okay and tweeted that he had some brake problems in the main event. Maybe he should fire his mechanic, that Andy Wilson guy? Wilson was pretty good, I'm sure he'll get a bit better as the series rolls on. His bike is pretty stock, a piston, some head work, and a GET ECU. He's got factory KYB stuff from Yamaha so they're working with him on that. The interesting thing to me is he said he's going to do five races and that's it. Does he keep going as privateer if he's doing well? Is Yamaha making him "earn" a spot with #22 and #2 and after five will put him in the truck? Stay tuned.
14 4 Blake Baggett Grand Terrace, CA KTM 450 SX-F – Baggett was good! You won't hear much about him this week from other media but he finished second in his heat and fell on the opening lap of the main. So he was way, way, way back and got back to this spot while setting the fastest lap out of anyone not named in the "Big Six" (Roczen, Dungey, Marv, Anderson, Tomac and Seely). Blake Baggett was sneaky good!
15 10 Justin Brayton Mint Hill, NC Honda CRF 450 – Brayton wasn't as good as I thought he'd be, just never had that flash I expected of him on the new MCR Honda ride. Not sure what is up with his ride, I'm sure he'll get better.
16 20 Broc Tickle Holly, MI Suzuki RM-Z450 – I thought Tickle would do pretty well at Anaheim because he always seems to sneak in a good ride when no one is talking about him. Unfortunately he fell while trying to inch toward a top 10.
17 61 Vince Friese Cape Girardeau, MO Honda CRF 450 – Good for Friese. This is a good finish for him and all the guys ahead of him make more money and probably have better equipment than he does (maybe you could debate Wilson). Last year, I predicted Friese would beat his teammate Mike Alessi in his jump up to 450s, but the Peick, um, "incident" affected him at round one and sent his whole season south.
18 67 Jimmy Albertson Shawnee, OK Suzuki RM-Z450 – I was surprised that Top Jimmy made the main, I really was. Good for him as a total privateer and I like the look of his FMF/Merge Racing/Suzuki. He rode well in the 450SX LCQ in holding off his buddy Trey Canard who had to have been wondering what the heck is going on here, bum shoulder or not.
19 75 Nick Schmidt Lake Elsinore, Ca Suzuki RM-Z450 – All Schmidt does is beat some highly paid dudes and get into the main event. Every single week. I didn't watch him too much so I'll have to see if he improved on his fitness because last year I saw him settle in once he made the mains.
20 22 Chad Reed Dade City, FL Yamaha YZ450F – Reed was trying to get by Peick for eighth and told me he hit Weston as hard as he's ever hit someone … and Peick didn't move! Unfortunately for Chad, his water pump DID move and actually broke on impact. So that was it for the #22 who showed that in 2017, his popularity hasn't waned and that he's still pretty fast. I bet had he finished 8th or 9th, he wouldn't be happy but at this point, Reed needs to get a start to run with the kids.
21 800 Mike Alessi Hilliard, FL Honda CRF 450 – The 800 had a scary crash where he faced the triple as bad as anyone can face a triple. Then he fell over like he'd been shot. I heard he's fine but it was bad. The whoops, as stated, weren't huge but I liked seeing Mike pass Schmidt in them to take the final qualifying spot in the semi!
22 41 Trey Canard Edmond, OK KTM 450 SX-F – Canard's day started off badly with a crash where he had to step through the bars in practice. I think that's where he hurt his shoulder and the rest of the day was a battle for TC41 on the new KTM machine. Strange that he did the parade lap and then decided that he couldn't go (usually dudes like Trey know if they can race or not).
Some news and notes:
– J-Mart's first practice session was ok, but as I stated in the notes above, his second session was very fast. I was over at the GEICO truck eating some Italian food with Weege (free food with Weege) when I asked team manager Mike LaRocco what was the difference in the two sessions. Mike, a man of few words, just sort of shrugged his shoulders and mumbled something about not really changing the bike much.
– Lots of new bikes, new graphics, and new semis, etc., at Anaheim 1 so let's dive into that:
– Ken Roczen switched to Shift (surprise, right?) and came out in some sort of yellow bumblebee kit. Looked alright on the red bike.
– I liked the Fly stuff on the Rocky Mountain ATV/MC-WPS-KTM guys (last year's BTOSports.com guys). The team had a new rig there but the front of the rig was red from the RM ATV/MC team last year, or maybe someone thought orange and red matched? I'm confused.
– I liked the TLD stuff Seely wore because it had big a big Honda logo down the sleeves which took me back to when all gear had the OEM's names on it.
– Christophe Pourcel was the winner of the "Highest Paid Dude that Didn't Make the Main" award for A1 and I have a feeling he'll have company every week.
– Last year the air forks versus spring forks debate raged on every week to the point where Showa came out with a top secret air AND spring fork to confuse us all. Like Sammy Hagar said, you want the best of both worlds! Well this year more and more riders are leaning toward air as the suspension guys get smarter and smarter. KYB dudes like springs still but at some point, in my opinion, air will win out. By the way the new Showa dual spring fork on the 2017 CRF450R is, from what I've been hearing, really good and a close copy to kit forks. Most tuners don't think the single sided spring (SFF) is long for the cause in the pits so a switch to this new fork is coming.
– I know everyone loves two-strokes and loves two-stroke guys like Stank Dog, so I'm risking being an a-hole to some of you kooks fanatics but there was a guy on a Husky two-stroke out there in qualifying that simply did not belong. He was 12 seconds off of the next slowest guy in qualifying and watching him, he was a menace to himself and others. Yeah, yeah I'm the jerk for being worried about this guy's safety. Sue me. I read that he's over 40, which makes this whole thing even sillier. Hopefully his family and friends got photos of him racing a supercross and he understands he's in real danger of being hurt.
Oh, and by the way, this guy being allowed in a supercross just reinforces to me what a joke the RC Road to Supercross is. They just need to change that to "The RC Road to More Ticket Sales in AX by Making Future Stars Race it Even Though We All Know These Kids are Ready" rule, because clearly they're not worried about this guy's "readiness" for supercross.
Thanks for reading, I'll be here all year getting you two-stroke people mad! Email me at matthes@racerxonline.com if you want to chat about this or anything else.