In the October of 2015, a mere 48 hours before he would compete in the Amateur All-Stars class at the Monster Energy Cup, then 17 year-old Austin Forkner laid out the pro transition plan Mitch Payton and the Monster Energy/Pro Circuit/Kawasaki had carefully pieced together for the amateur star. First would come a new day-to-day existence of training, testing, and riding as an official member of the Corona, California-based racing outfit. That box got checked off immediately. Next he had to earn enough points to be eligible to race supercross via AMSOIL Arenacross. All went to plan and that box was checked (Forkner even won a AX race). Then came Forkner's premiere season in the 2016 Lucas Oil Pro Motocross Championship. That box, too, got resolutely checked. Now there's one lone box left without a check in it and that box is the 2017 Monster Energy Supercross Championship. It's likely that box will be checked this Saturday with expectations that Forkner will be dispatched to the 250SX Western Region. As you're about to find out, is very excited and enthused about it.
Racer X: Austin, the holidays are now behind us and we're on the eve of the 2017 racing season. What are you doing this week and how are you feeling?
Austin Forkner: I feel pretty good. I think the pre-season has gone pretty good. I'm feeling good going into the season. I'm not totally sure what coast I'm doing yet, but I have an idea; I'm pretty sure I'm doing West. I'll be ready for whatever.
What have you been up to during the last month? Were you back in Oklahoma riding and training?
I was in Oklahoma for most of the first week of December, or so. I was also in Oklahoma pretty much all of November. In fact, I kind of hit California and Oklahoma a little bit on-and-off in November doing testing. During the first week in December it got too cold in Oklahoma, so we went to Florida. We had to go to Florida anyway because I had to do a photo shoot down there. So I went to Florida and rode some down there like at [Blake] Baggett's and [Chad] Reed's and [Tim] Ferry's and places like that down there. We did the photo shoot and then I went back home. I rode one day in Oklahoma because it was actually nice for one day. The day after that we went back home for Christmas for about four days and I didn't train or really do anything. Now I'm back in California and I went riding today. I'm not really doing a whole lot off the bike right now. I'm trying to stay fresh going into Anaheim.
When you go down to Florida and want to ride at a Baggett or Reed or Ferry track, what do you do? Just call those guys up and show up there? I'd assume there are some privacy issues.
My trainer Clint lives in Florida and he knows a lot of those guys and has worked with some of them, so he has a lot of their numbers. If we don't have a number, we can find somebody that does. We'll just hit them up and say, "Hey, if you ride tomorrow, is it okay if we come out and ride?" Most of the time they're like, "Yeah, no problem." Like Reed wanted me to come ride with him. He told me a couple of months ago, "Yeah, anytime you want to come out and ride, you're always welcome." Yeah, most of the time I just hit them up and most of the time they're okay with it.
So did you end up riding with Chad while you were in Florida?
Yeah, I rode with Chad. And Tim Ferry had some guys like [Trey] Canard and [Martin] Davalos and some of those guys riding. I got to ride with some good guys down there. It was a solid trip and we got some good riding in. I also rode at Blake Baggett's track and it was pretty cool.
Have some of the veteran guys you know helped you with not only riding, but maybe even with some mental and psychological advice as you head into your rookie supercross season?
Yeah, me and Jimmy [Albertson] and Trey, we all talk about pretty much everything when we're in Oklahoma. I mean Trey helps me out as much as he can with on the bike stuff and he'll tell me about how race conditions will get and how ruts will form. From that, we can form the ruts on his track sort of like how the race ruts will form [at the races] and we'll practice on that.
I remember talking to you at the final supercross last May, and when we talked about your pro motocross debut coming at Hangtown, you seemed to realize you were headed to the great unknown. But that season went well. You're about to head into the unknown again with the '17 supercross season, but I'd have to imagine you have to be pretty confident. Any thoughts?
I'm confident, especially coming off of the outdoors like I did. I came out of that pretty strong with a win and a number of solid podium finishes. Yeah, I'm pretty confident and I expect to battle for race wins and the championship this year. Outdoors and supercross.
Back in the fall of 2015, you talked about the entire program you would follow leading up and into 2017. Two thousand and seventeen is now here and you and Pro Circuit have been able to totally adhere to that plan, haven't you?
Yeah, it's kind of been like a long training camp. I mean it's only a week until A1. It's going to happen quickly and once it gets going, we'll go for six weeks and then we'll get a break. I feel I'm doing West Coast, which it's looking like I will be. If so, that'll be the case. If I'm doing East Coast, then I have some more time to get ready. Once East Coast starts it's pretty much all-in until you're finished with outdoors. West Coast kind of has a little bit of a break while the East Coast starts up, so that's a little bit better, I think. Honestly, though, I'd prefer to ride the West.
Yeah, it totally sounds like you're ready to get it going. No time like the present, huh?
I've been training for over two months, so I'm just ready to get it going. It's like, "Let's go." I'm ready and I'm as ready as I'm going to be and you don't really know how ready you are until you go racing. I just want to go racing. If I'm not exactly where I need to be, then I'll know what I need to work on. I think I'm ready to go.
As far as riding and training, you've been on the supercross test tracks a lot, haven't you? And, the tracks you've been bashing laps out on will likely be very close to what you'll be racing on here soon.
Yeah, I've been riding a lot of different tracks which I think is a good thing. I've been on different types of dirt so I think that I have a pretty good idea of the different dirt that will be at the different tracks. I think that riding different tracks with different dirt that form different lines is a good thing.
And as far as race bike, you and your mechanic Olly Stone have been working hard on it. Is it exactly where you guys want it?
Yeah, it's good. I don't even know if we're going to do much more testing before Anaheim. I'm pretty comfortable with the bike right now. I mean obviously some things can change at the races, like we might have to go stiffer with suspension and make adjustment at the races, but for now it feels pretty good. I think the new bike is good. I'm pretty happy with it.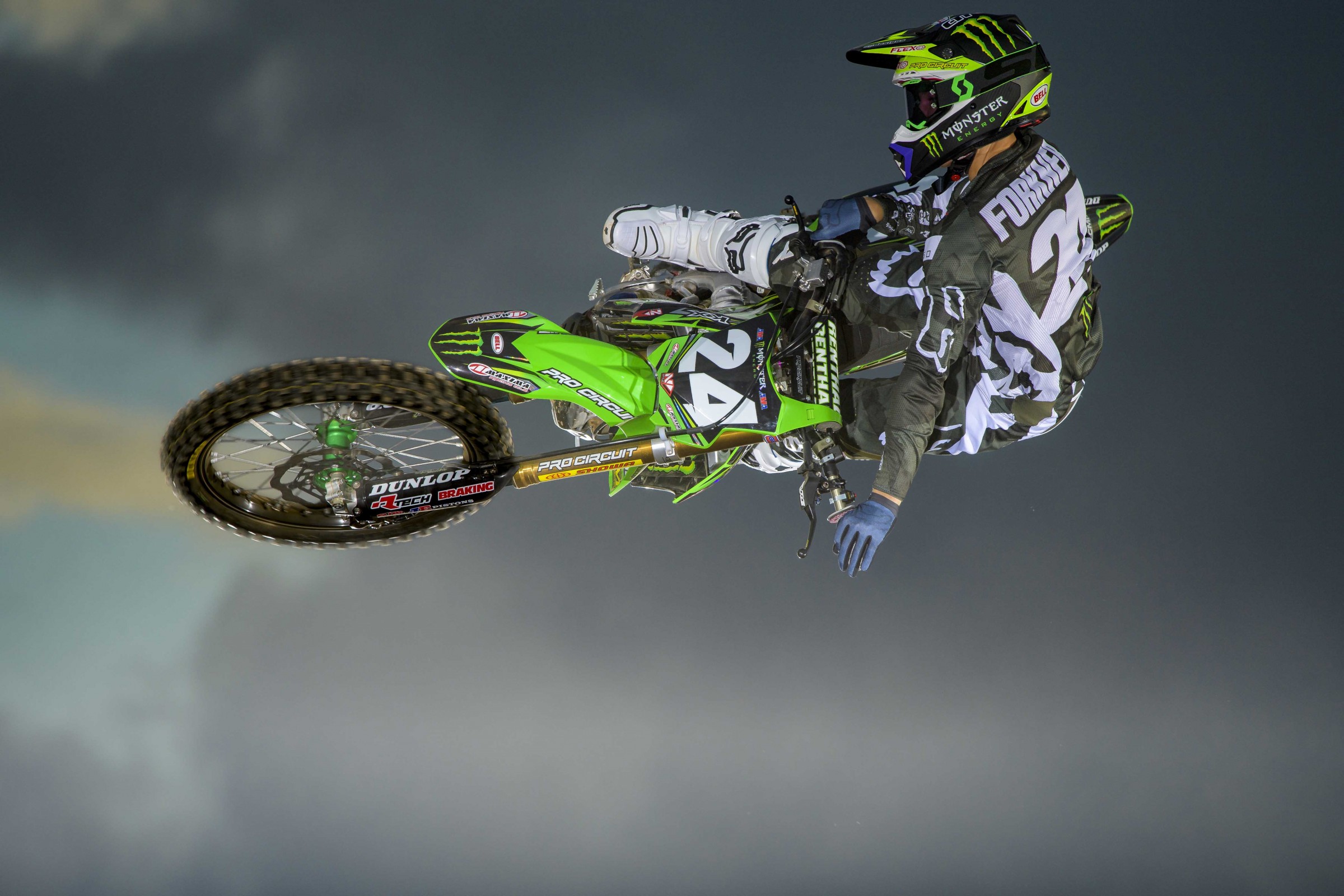 If your first race is Anaheim and with you being a rookie competitor, do you have a pretty good idea of how race day will play itself out as far as the practice and qualifying sessions, heat races, and main event?
I've done Monster Cup for a few years, so it's going to be pretty much exactly how that was. I mean, we're going to get three qualifying sessions and then instead of two motos like it was at Monster Cup for us, we'll get a short sprint heat race and then a long main. For the most part, I pretty much know how it's going to be. I don't think anything is going to surprise me.
When you go to line up for that first heat race before a likely sold-out stadium of spectators, is it going to be something like a fulfillment of a dream come true?
Yeah, it's going to be cool. I've been just waiting for that for the past couple of weeks. That's going to be the point where it's like, "Game on." I'm just ready to get to racing. I haven't raced in a few months, and at least once I'm out there I'll know what I need to work on. I've trained and trained and trained for months and have been thinking, Man, am I actually doing what I need to do? I'm pretty sure that I am. I've got Robbie Reynard as my riding coach and my trainer Clint who helps me off the bike and on the bike, too. I think I'm doing the right stuff, but you don't really know what you need to focus working on until you figure that out when you go racing.
Rookie riders have told me before that the thing that takes some getting used to in supercross is how tight and close and frantic everything is. Are you prepared for that?
Yeah, those guys aren't going to be easy on me. They weren't really easy on me in outdoor, so I don't expect anything different in supercross. I'm ready. If they shove, I'm going to shove right back. I'm not going to take anything from them. Hopefully, I can get out front and not have to deal with any of that stuff.
Have Mitch Payton and Olly and all the team guys been coaching you at all on how you approach this first race?
No, not really. They'll probably talk to me a little bit more once we get towards race day. Not really. I think that they kind of think that I don't have it handled, but have have a good sense of what to do. Obviously, you're not going to win the championship in the first race, but you want to just put yourself in a good position. I don't know. We'll probably talk about that as it gets a little bit closer to race day.