On March 6, 1976, 22-year-old Keith McCarty watched on while his rider, Tony DiStefano, rode to 2-1-1 "moto" scores to win the prestigious Daytona Supercross. It was the very first supercross main event win for both rider and mechanic. Exactly 364 days later, McCarty, now with Team Yamaha, wrenched his new rider, a young Californian named Bob Hannah, to victory at the Atlanta Supercross in Atlanta-Fulton County Stadium. It was the very first supercross victory for two men who would ultimately define the rider/racer relationship like no other.
Four decades have passed since that rain-lashed night in Atlanta and Keith McCarty is still at Yamaha, now the division manager for all Yamaha U.S. racing activities. The AMA Hall of Fame member will lead the YZ invasion of Angel Stadium of Anaheim come Saturday, January 7, 2017. Yamaha's first true full-on factory race team in over a decade, two-time AMA Supercross Champion Chad Reed and 450 class newcomer Cooper Webb have all the interchangeable parts required to make a run at the Monster Energy Supercross Series championship. A guy can learn a lot from talking with a wise not-too-old man like Keith McCarty, and well, we learned a few things from this conversation.
Racer X: Keith, I went back and dug up this old issue of Cycle News. It's dated January 13, 1976 and the title of the article is Dr. Endo and Cheese. It was written by Jody Weisel and it features you and your rider at that time, Tony DiStefano. In the piece, there is a paragraph about when you accepted the Tuner of the Year award for helping DiStefano win the 1975 250cc National Championship. In the speech you gave at the AMA awards banquet, you said, "I suppose that my small success this year can be attributed to a metric hammer, an adjustable crescent wrench and a fast rider." I laughed when I read that. Do you remember that acceptance speech?
Keith McCarty: Yeah, something like that. Yep.
Where were you going with that?
You get an award like that, it's never a one-person thing. There are always multiple people involved. Certainly there were a lot of guys out there that were great mechanics and deserved to be rewarded for such. When one guys wins in that arena—and having a great rider didn't hurt my chances—when they gave some homage to me, I wanted to talk about everyone else who worked as hard, or maybe even harder, than I did during that year. I guess just to be humble is what I wanted to be. I think I know how to work hard, and I do, but there were a lot of other guys, too. I never want to seem to be too egotistical or that sort of thing.
In knowing you pretty well, that seems to be the same sort of mindset or stance that you utilize to this very day.
Yes. I'm proud of our team and have a lot of really good guys and nobody is ever too knowledgeable to listen—including myself. I'm really impressed with who we have on our team right now and what we're doing and I'm looking forward to the new year.
One more way back question. In that same Cycle News article from '76, it mentioned that it cost U.S. Suzuki $300 a week to keep one mechanic, such as yourself, out on the "national trail." $300 a week? That wouldn't even pay for the bagels and donuts we now see in the team 18-wheelers on any given Saturday.
Yeah, we used to stay in the cheaper hotels and the expenses have now gone up. And you're right, $300 wouldn't pay for a whole lot. But we were very thrifty back then, you know? We had a couple guys in a Dodge Maxi Van and we were sleeping in the Days Inn in Jacksonville, Florida, so it wasn't like it is today.
We're basically two weeks out from the opening round of the 2017 Monster Energy Supercross Championship. Are you as excited as you've ever been to go supercross racing?
I am. One of the things that makes our sport so great is that there is always change. This is the beginning of 2017 and I don't think there has ever been more spotlight on winning supercross than this year and we have some new young guys coming into the 450 class and some strong guys changing rides in the 250 class. Yeah, this time of year I reflect back on what I would be doing if I was a mechanic. You know, what we did in the past to prepare for this opening round event because we always felt like we needed to come out strong and to start setting the tone for how you expected the season to develop. Not everybody thinks that way these days.
And as far as the full-on factory team Yamaha will send out for the 2017 season, are all the pieces in place?
Yep. Chad has been working hard and I think he's motivated by having a teammate. You know how that goes. And for Cooper, this is his debut out here and he wants to win. He believes he can. He believes he has all the speed. He's been working on his conditioning and preparing himself mentally for what's coming up. And everybody has got a little bit of a curveball with the change in the way the events are going to be run. Rather than laps, we'll be running 20-minute races and one lap or whatever, so that's something new for everybody. But we're excited and the team is very optimistic and we can't wait to get there.
Can Cooper run for title in 2017?
Yeah, I think that has to be one of the guys who has a chance, you know? We can give you 10 reasons why it shouldn't be him, but we can probably give you 10 more why it should be him. Racing is racing and that's why it's exciting. If we all had the answers ahead of time, we wouldn't really want to watch it. But right now Cooper is tied for the lead with everybody else. We'll find out after Anaheim where he stacks up. Some good starts and some good riding should do well for him. We'll see.
As you mentioned, this will be Webb's rookie 450 season. Have you guys been coaching him a little bit and telling him he may not need to take the world over in the first heat race come A1?
Yeah, I don't think we've had that level of conversation yet. That's something we'll probably save more for the week of the event. I think he's been working hard and I think he thinks he can be competitive. I don't know if he's bold enough to say, "I'm going to win the championship this year", but like I said before, nobody really knows. I think we made a great choice in Cooper. I know deep down he's not going there to get seconds and thirds, he's going there to win. Will we settle for a little bit early on? Maybe he needs to. Maybe he learned a lot in the Nationals when he hurt his wrist and how that all came together for him. I think he's a smart kid—probably smarter than people would think at his age. I know he's got the heart of a lion, so we'll see what happens.
How is the dynamic between Cooper and Chad? Are they good with one another? Are they helping one another? Is the dynamic going to last when they start getting competitive with one another?
Yeah, I think they're okay with one another. There's no doubt. I don't think Chad is ready to hang up the towel and be the total mentor. He's going out there to do what he can do. And Cooper certainly knows Chad is there if he needs to talk to him, but nobody really wants to go do that right at this point. My sense is that they're good enough guys and they understand that we're one big team and ultimately we'd like a Yamaha to win. Who will be that Yamaha rider [to win], that remains to be seen. We'll see. I think that they're both professional guys and we're going to treat them like that. You know that deal, you want to beat your teammate first and everybody else after that. Our goal is to win, so whoever can get it done, that would be okay with us.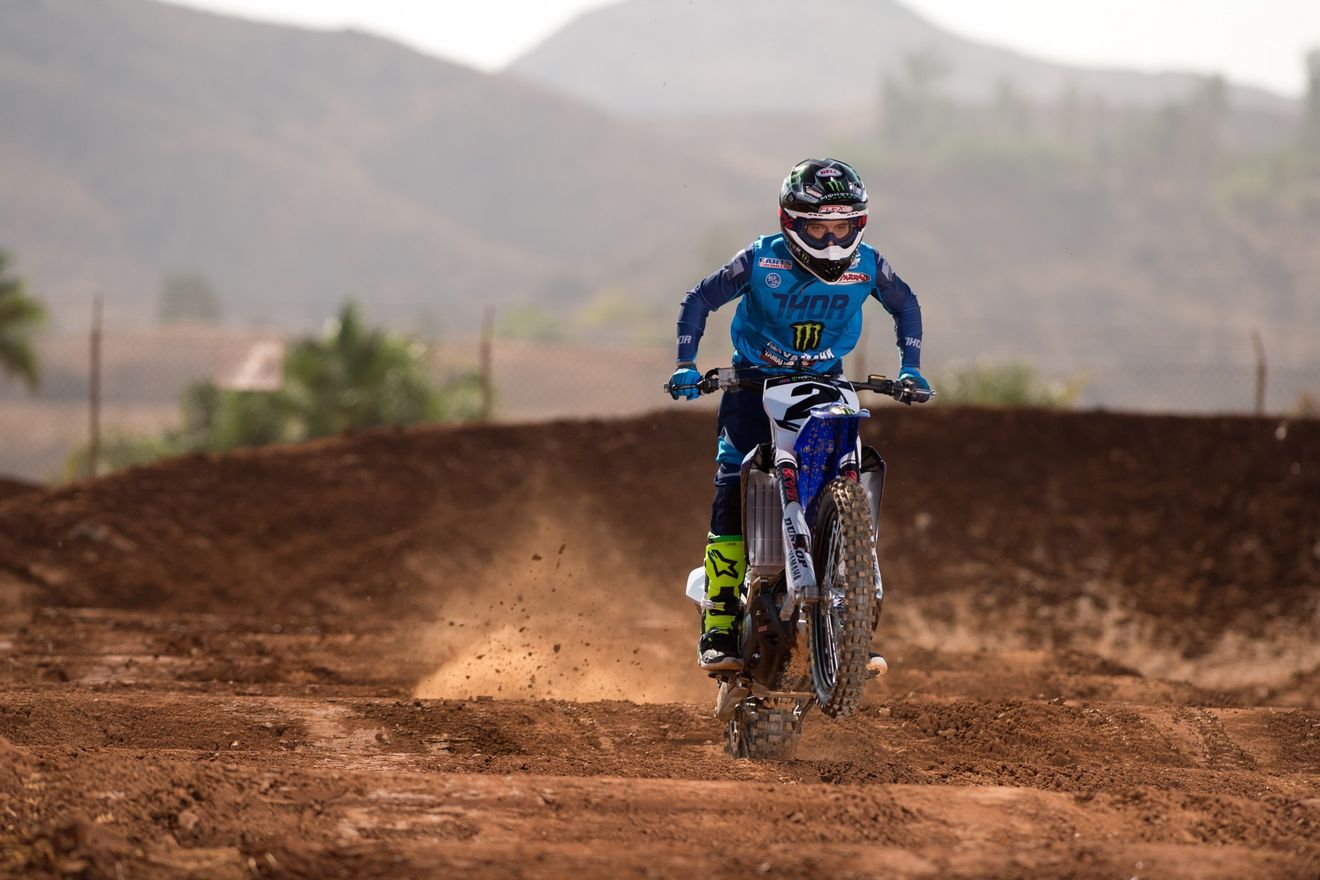 No JGR Yamaha this team this forthcoming year. As we all know, they went to Suzuki. Does that streamline things at all for you and your team? Is it a setback?
Yeah, you know they did a great job for us while they were on Yamahas and I hope they feel we did a good job for them. Again, this is a business as well as a sport and so everybody has to do what they think is right and maybe they thought that since we have our factory team they're would be less from us for them, so Suzuki seemed to have a bit of a void with this change in riders and things on their end, so maybe they thought this would be a better fit for them. In terms of us, it's certainly less to worry about right now.
Is the YZ450F race bike where you guys want it to be for '17? Do your guys seem pumped on the bike?
Yes, we've been having a great off-season in testing. Both Cooper and Chad went to Australia and went one-two there and had a pre-season race, so to speak, and they came back and we did some more testing and improved in a few areas, so we're ready to get to this first race and see where we are. I think everybody has got smiles on their faces, but we have to be cautious. I mean, racing these guys is tough and you can't count anybody out and there are some big names coming into Anaheim this January. Our guys are just waiting to see where they are at just like everybody else.
Heading into Anaheim, I've spoken with a host of riders as well as team principals and a number of them have said that there is no more warming up into the new season. They talked about the fact that you have to be "in it" almost right from the beginning of the season now. In other words, those early rounds are really important, aren't they?
Yeah, not normally. I mean there have been years when several of the top guys went out with injuries early and that kind of shook up the dynamic, but I think everybody is getting a little bit smarter and they're hoping for a top three position rather than winning and so if you get four or five guys thinking that way it's less likely they're going to put themselves out right away. I think if you come away in the top five at the first race, maybe for the first few, that's nothing to worry about. But you certainly don't want to put yourself behind the 8 ball and not qualify for the main or come up in 20th place, that would be a real hard thing to overcome—but possible. With 17 races anything is possible, but yeah, you want to be in the top five for sure.
There is a lot of chatter about how competitive this season will be and just how deep the talent pool is. You know, maybe seven or eight guys capable of being on the podium on a consistent basis and even winning races. Do you see it that way?
Yeah, and I think more so is that it may not be seven or eight guys that have that level of consistency, but for sure there are seven or eight guys that can get in there once or twice and take those meaningful points away. They can be a fourth or a third and whatever and snatch something away and put you back to sixth or seventh or whatever. That's where it becomes a little dangerous and I think there are a lot of those guys out there.
As far as Yamaha as a company, I'm thinking there are Yamaha people all over the world who are excited to see a two-rider factory Yamaha team back at the races. What do you think?
I think they are. We're kind of setting the tone with our Monster Energy sponsorship and a couple of the Yamaha brands, like Yamalube and Yamaha Financial Services, that have stepped up to help us. And Chaparral is back with us. We have a really good set of support sponsors to really help propel us. I think the team is really looking good for the Yamaha brand around the world. So yeah, it's all very exciting.
In 1978 at the Mid-Ohio Trans-AMA round, I was able to get an autograph from both you and Bob Hannah. I was pretty young, but I'll always remember that. Having said all this, do you have a favorite supercross memory? One race or one thing that is super-close to your heart or just stocks out above all others?
I think the times when we've swept the podium have been really good for me. On a personal note, there have been so many great times that it's hard to pick just one out, to be quite honest. If I had to pick one out, there was the Daytona win with Bob Hannah in '77. He was really sick and he had the flu and he couldn't ride all week long. He talked about mental depression from that, because that's what riders need to do to keep themselves in check, and he ended up winning the race. Just to go there thinking, "Hey, we're just in damage control, we're not trying to win." The fact that he did win on his worst day was really memorable for me and I'll probably never forget that one.