When the original press release came out after Chris Alldredge's crash in Las Vegas last year, it stated that he would be out for four to six weeks to recover from a broken pelvis. Well it turns out his recovery was much more complicated than any of us knew. In fact, it left him wondering if racing motorcycles was the best way to get the bills paid.
In this week's Privateer Profile, we catch up with the Barn Pros/Home Depot/Yamaha rider to discuss that crash, his time with Pro Circuit, and working a daily job.
Racer X: Let's start at the end of supercross last year. You fractured your pelvis in Las Vegas. Can you talk about what happened with that crash and what your recovery was like?
Chris Alldredge: You know, that wreck was really unexpected. At the last second the back end spit out and I kind of jumped and hit the tower. I remember when I initially landed, I couldn't feel anything from about the neck down for a while. The feeling came back … I don't' really know how long I didn't feel anything because time flew by really fast. Eventually the feeling came back, but I couldn't move. They put me on a stretcher and took me away and I went to one hospital and I laid on a gurney for six hours and it was like three in the morning. I finally called the doctor and was like, "Dude, are you gonna do anything?!" He was like, "Well, I'm slammed right now." I'm like, "Dude, I'm literally laying here on a gurney. All I can do is lift my head and my arms. I can't sit up, I can't move my legs. Like, are you gonna do something?" He ended up getting really, really mad at me and we ended up kind of having a cussing match [laughs] and I told him I'm gonna go to a different hospital. So at three in the morning we left there and went to a different hospital! I still couldn't move so people had to pick me up and carry me and put me in wheelchairs … I went through X-rays, CT scans, MRIs, and they couldn't find anything except for a broken pelvis and they were like, "Well, you're cleared. Go home." So I'm like, "I can't move! [Laughs] I can't even stand up."
I ended up going back to my buddies' place in Vegas and went to sleep for a couple hours and woke up and I still couldn't move anything and the pain was excruciating. The people I was with were like, "Dude, this isn't normal." And an old military vet of mine said, "Yeah, we would send you home if you were in the battlefield." So, we called an ambulance and they came and picked me up and took me to a third hospital which is the only Level 1 Trauma Center in Nevada. I spent a couple days there in the ICU because they just wanted to know what was wrong. I got in there and they couldn't even tell what was wrong. I got on my feet like three days after, and I could stand up but I couldn't move my legs and I still couldn't' sit up. It was like that for another three weeks and then I could kind of start to get my own self up. But I was still having to move my legs with my hands for a while, then I ended up using a walker for quite a while. It was about 14 weeks until I ditched everything and then the next week I was at Budds Creek. I really had no time on the bike, but I knew with how bad supercross had gone and with my strong point being outside and I didn't get to do it, I really didn't have a shot [at a good ride] unless I could show people I could still race. So I showed up at Budds Creek, and tried hard but it just wasn't there. You know, with 14-16 weeks all off all together, you can't do that and expect to race with the guys up front.
So going into Budds you kind of knew that your chances with Pro Circuit were slim next year?
Oh yeah. I knew way before that, that it probably wasn't going to happen. I probably knew that in supercross, just because I had so many of my own problems and was just never comfortable on the bike. It wasn't the team's fault, just me not meshing well and being inexperienced. I just didn't make it happen.
Then earlier this summer, you get a call from Crankt Protein Honda in Australia to go fill in and they say you need to be there in a week in a half. What was it like getting prepared for that and how do you think your time in Australia went?
If I wouldn't have separated my shoulder, it would have been way better! [Laughs] I actually just got home from work when I got the phone call from Jimmy Button [to fill in for the injured Dlyan Long]. I left a day later. [Laughs] I flew there and that was super fun. The bike was really good once I figured it out because I had never been on a 450. Just the learning curve. I tried to go really, really fast at the first round and made a crucial mistake and ended up wrecking and separating my shoulder. I actually started riding like two weeks later; I started pretty early and I was just super pumped to actually make both of the main events there at the AUS-X Open because I was hardly even four weeks out of a separated shoulder. So it was a really fun experience and hopefully I get to go back someday. When I was there I ended up signing this contract with Barn Pros/Home Depot/Yamaha.
So you didn't have anything lined up here in the States when you decided to go to Australia?
Nope! Kind was just like, "Maybe I won't race a motorcycle again." [Laughs] And then this came along. I had been talking to BPR, but I just was not sure whether I wanted to try and make it work. I was making money working a daily job. So I made the choice and decided to do it. I'm giving it another shot, I guess.
What were you doing for your daily job?
My step-dad owns a fabrication shop. I've worked there since I was a kid and always during the summer when I wasn't racing or whenever my step-dad was mad at me or something! [Laughs] It's kind of what I've done for most of my life. And to be honest with you, I really enjoyed it. I learned a lot. Welding, building stuff, corporate meetings, my step-dad wants me to be more versatile than just a motocross racer so he's trying to get me involved in all of it. It was a fun experience, I wasn't complaining.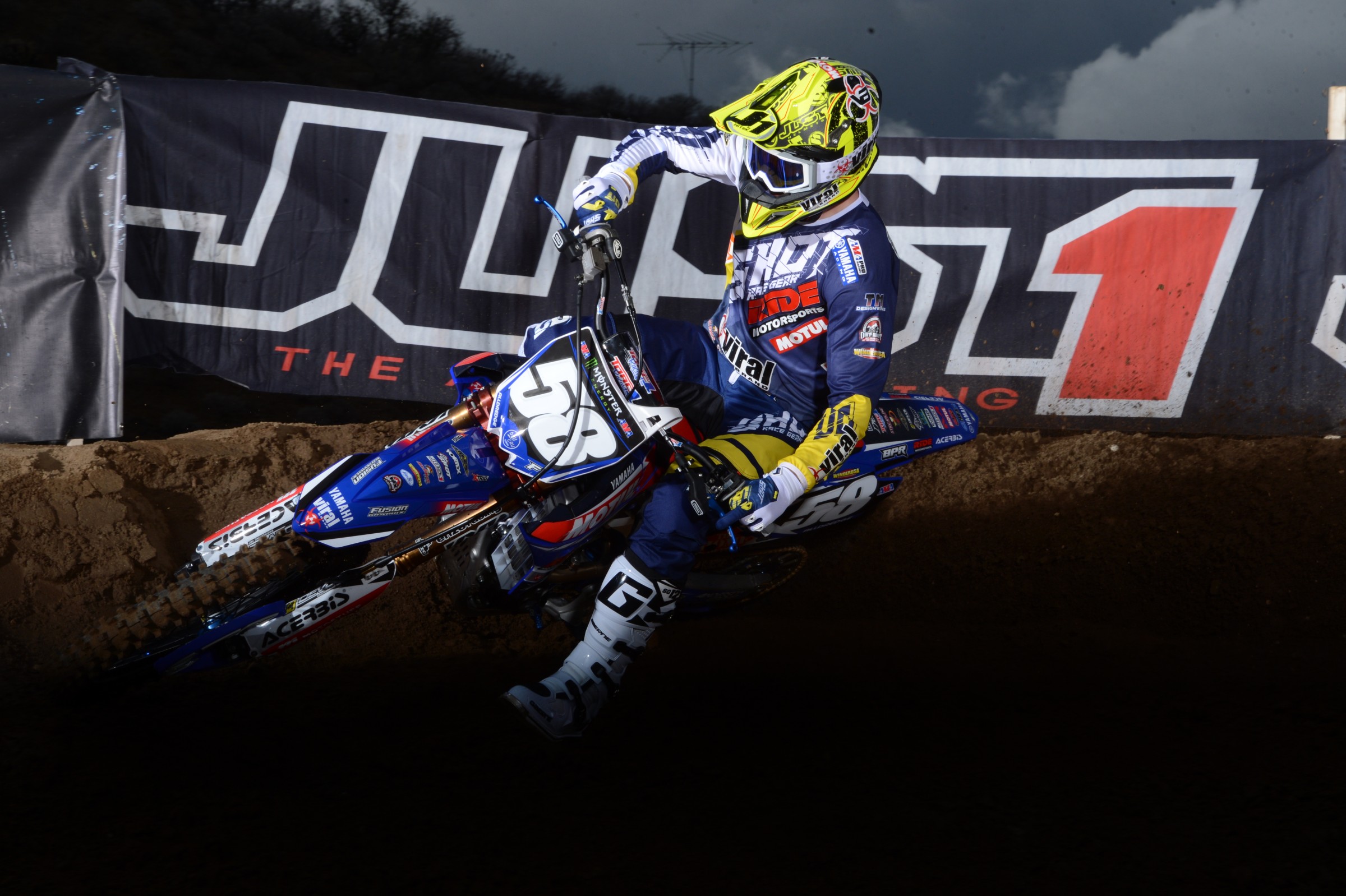 You spent two years on a Kawasaki with Pro Circuit, then you were on a Honda 450 for a couple weeks, now you're on Yamaha 250. Has it been hard for you to adjust?
No, actually it wasn't that bad. Being on Kawis I felt really comfortable on them but I rode Yamahas ever since like 2009. So I've been a Yamaha boy for my whole life. It was easy to come back to Yamaha, but obviously getting off a 450 and getting on a 250 in supercross was pretty hard. That was not easy by any means. I remember my first day back on a 250 and I went to seat bounce a triple and I gave it like quarter-throttle-second-gear—on a 450 you'd normally overshoot shit. I came up SO short, and I was like, "Oh right, you're on a 250." [Laughs] That was the hardest learning curve. But actually getting used to the bike, the Honda bike handles great and the Yamaha handles great. They've made a lot of changes since I've been on them and I was super happy when I jumped on both of them right away.
This is your third year as a pro. Do you still get the same joy or excitement to call yourself a professional motocross racer as when you first turned pro? Did you think you would make it this far?
You know when I was growing up as a kid, I was always racing Adam Cianciarulo and Cooper Webb. It was always hard because, sure I won races here and there and I showed glimpses and I beat them occasionally, but for the most part I was really overshadowed. I remember I didn't win the title in one of the supermini classes in like 2010, but I won the second moto over Adam by like 10 seconds. And the headline was, "Adam Cianciarulo wins both motos to win overall supermini." I'm like, "Really dude? I won the second moto." It was always kind of like—like I knew I was good enough but I always suffered from the confidence thing.
I still get the same enjoyment, but I probably didn't the last two years racing. You know, it was really cool in 2014 for the last three rounds. I was super pumped. I went and did really good in my debut races and then supercross came around and I was super excited but I had so many bad things happen. Just by circumstance or my own fault, and it just really brought me down. I was just like, "Man, I feel like I'm trying to do everything right but it's just not working." And that's kind of how it was for the first year, and then for outdoors too it was a lot like that. I showed a few glimpses of what I could do, I just wasn't consistent. Then last year in supercross I was super confident heading into the first round, I just wrecked a lot and had a lot of tip overs. Then it was just a cluster of things happening one after the other. The Monday after Anaheim 1, I cut my eye open and it swelled shut. I raced San Diego 1 with one eye swelled shut. Then the next week I kind of endoed over a dragon's back and sprained my wrist. So I had to race the next three rounds with a wrist brace on, and I've never done that. Probably the topping on the cake was unfortunately the one that I was leading and I'm thinking, Man here's my shot! And the bike blows up on the second lap. It was just one of those things, whether it was me, whether it was the bike or luck or fate … whatever you want to call it. It just wasn't working. It really just kind of took its toll on me. I was just so low. Here I am with a shot and I'm not doing anything with it. It was just disappointing and then the wreck in Vegas made it even worse.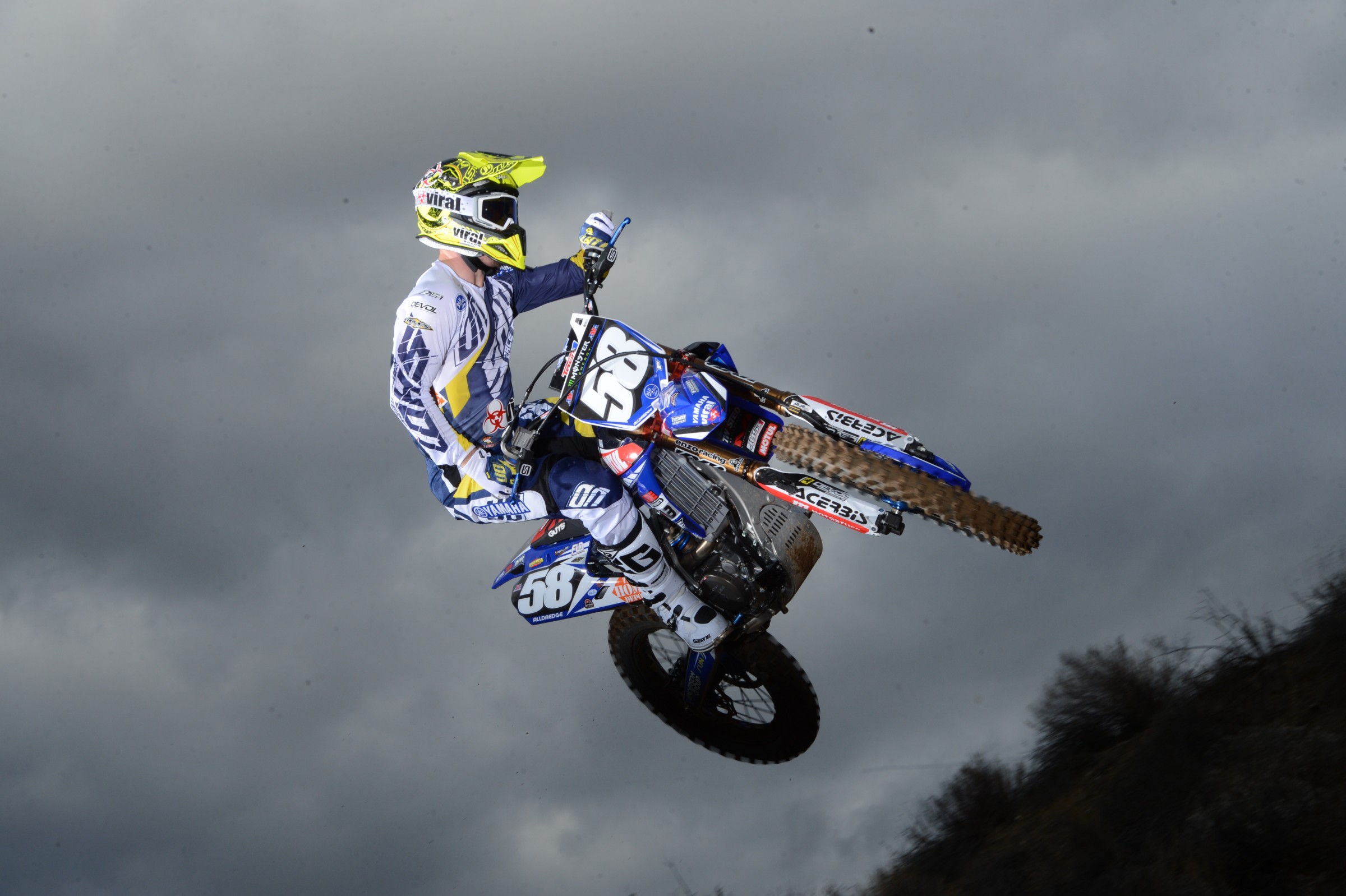 But, I'm one of those guys who when I go home I really get humbled and it feels really nice. After spending all that time at home with my injury and then after doing a couple races at the end of the year for Mitch, and then going back home and going to work and enjoying my time going to Australia, I definitely have a new found love for the sport. I wouldn't even say new found love as much as a new found determination. I really want to pursue this and I've always liked being the underdog. Whenever I was an underdog I always seemed to do really well. I like the atmosphere that's behind it. And I really like the team where I'm at right now because it's all on me. All the decision making, it's all on me. Nobody else is making the calls and you know, if I make the wrong call I learn from it. If I make the right call, I learn from it and I also get to enjoy it. It's a big learning curve for sure.
Do you feel like some of the pressure is off you now?
You know there is a lot pressure when you're on those teams, but that type of pressure didn't affect me as much. I think I put too much pressure on myself. I kept saying, "Man, I'm on arguably the best team out there. I need to do good." I couldn't handle it. The team was … Mitch [Payton] and Bones and everybody, they were amazing. They were really good about trying to keep me loose, keep me confident, keep me going forward. If I had a bad practice, which I don't think I had a good practice in supercross, they were always very, very uplifting. They were like, "Dude, you're a racer, you can do it in the race. You can do this!"
Is it nice to get a break right before the season starts with the holidays, or are you just ready to get it going at Anaheim?
Well, here's the funny part. The reason that I'm talking to you today is because I leave at like 5:50 a.m. tomorrow from Ontario to go home back in Oregon. I don't get back until next Wednesday. So I'm taking a lot of time off and then heading back into it. Like I said, I like going home and like being humbled. Just being around family and having a good attitude going into the race, it seems to always be good. I think going home truly does help me, and I'm trying to integrate that this year. I don't like to look at myself as just strictly a motocross racer. I like to look at myself as a well rounded human being.