In the midst of a chaotic off-season where top riders are still scrambling to find a ride for 2017, things have been relatively calm for Mike Alessi. After spending the summer racing the Canadian Nationals, Mike will return to the U.S. to race supercross for the SmarTop/MotoConcepts Racing team once again. With support from Honda and the addition of three riders to the team, things are looking stable for Alessi and MotoConcepts.
Chris Ganz (BrownDogWilson) sat down with Mike at the MotoConcepts team intro last week to talk about racing in Canada, the upcoming supercross season, and retirement.
Racer X: Michael, what have you been up to since you were racing your dirt bike up in the Northern Tundra?
Mike Alessi: I was having a good time up there [Canada], the team was great and the bikes were really good. I was hoping to bring them [Monster Energy Leading Edge Kawasaki] a championship, but as luck would have it I went down and broke two ribs and my collarbone. That pretty much put an end to that series for me.
What have you been doing since you came back home?
I was able to take a full month off and just relax and get healthy again. It was nice to do a whole lot of nothing for a little while, but then it was time to get back on the bike again.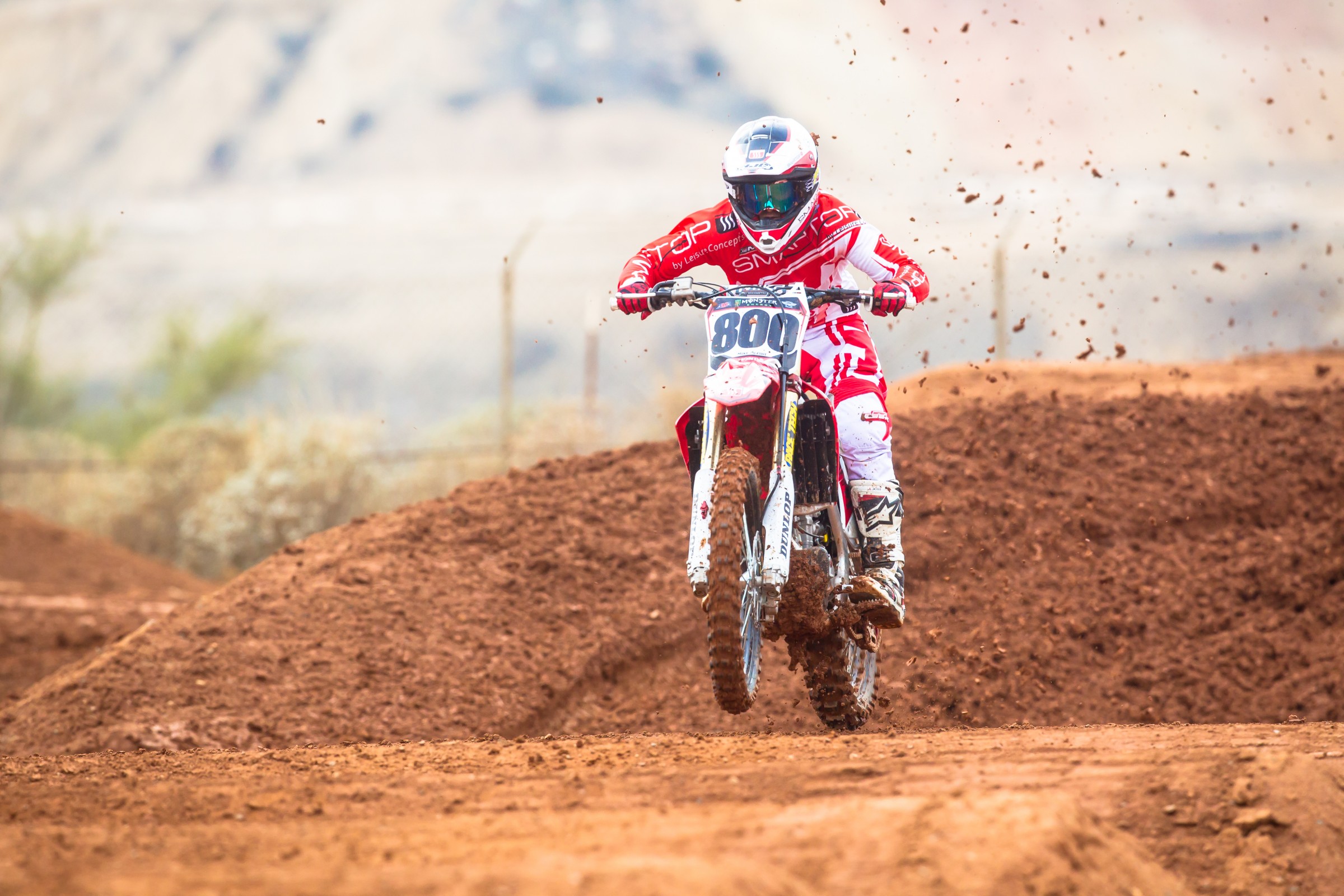 Getting back into the SX mode, have you been hitting the local SoCal tracks, or have you had access to the Honda test track?
Actually we haven't been out here at all. I have been spending almost all my time at Club MX [in South Carolina]. It's getting pretty cold back there now, but the track is awesome and there are always a handful of good riders out there at the same time so it never gets boring.
Speaking of the Honda track where we are today, you will be riding a Honda CRF450R this season, will you be riding on the 2017 model?
No, Vince Friese and I will both be on the '16. Our new teammate Justin Brayton will be the only one on a '17 to start off with. Today is actually the first time he has had the chance to ride his new bike. He was like a little kid at Christmas waiting for today to start!
Why not a '17 for you?
I am totally fine with the '16 model. We have a lot of time invested in testing and getting all of the settings dialed in. I can't completely write it off, but more then likely the '16 is what we will run this season. I am not sure if Honda would even be able to supply the '17 model and all the parts that would be needed to go along with it. I think the big earthquake in Japan may have set them back a little bit in production, but it's all good. I really like my bike a lot and maybe once they have the new bike dialed in with some testing and racing, we can see what happens. We are all just so thankful for the all of the support Honda is giving us this year, it will make things that much better.
So what does the future hold for Mike Alessi?
We have been thinking about that, and my wife and I have decided that I am going to give moto two more years, and the 2018 season will be my last. I have been doing this for a long time, and we would like to settle down and start a family.
What will a retired rider such as yourself do once you hang up the boots for good?
You know what, I have no idea. Right now I am just going to focus on doing my best for the next two years, and worry about my future later. Moto has been my life, and in one way or another I am sure it will be a part of our future. I am not stressing about it.
One last question: You have been fortunate enough to have a ride lined up all these years. MotoConcepts and Mike Genova have become like family to you which is awesome for you personally and for your career. What do you think about all the guys still looking for rides with A1 just around the corner?
Yeah, it's a rough year for some guys for sure. I think most of it comes down to money. The teams only have so much, and some guys may want more then they are able to offer. I am sure it will work out for all them one way or another. But yeah for sure, I am very grateful for the opportunities I have been given, and continue to receive. Mike Genova has given us everything we could ask for, and I can't thank him enough for that.