You may know Broc Schmelyun from his spectacular crash at the High Point National in 2015. That crash resulted in a laundry list of injuries—severe concussion, compound fracture of his left femur, broken left fibula, torn ligaments in his left ankle—but he eventually recovered and made his way to the starting gate for the 2016 supercross season. Unfortunately, his season (and professional racing career) would come to an end at the Detroit Supercross when his injured his scapula in crash. Broc decided it was time to hang up his boots and pursue a different career path, team management.
Now the manager for the team that he once rode for, Broc is learning to tackle a whole new set of challenges off the track. From booking flights, connecting with potential sponsors, and managing the team personnel, the former professional racer is doing it all for the small BLUE Buffalo/Slater Skins Yamaha team.
Racer X: Obviously everyone knows you from your crash High Point in 2015, but a lot of people may not know that you were the unofficial/assistant team manager for BLUE Buffalo this past summer, and you also helped with some supercross too.
Broc Schmelyun: Yeah, I started racing supercross at Daytona and I did a few rounds and ended up crashing and breaking my shoulder blade at the Detroit Supercross. So when that happened, it was kind of a long-term team goal to have me managing the team long term—like a three to four-year plan. Then when I got hurt it kind of sped things up and they started to give me a little more responsibility. In this sport, being a privateer when you don't have a paycheck coming in, I was obviously eager to have something coming in to help out. So when I got hurt and they said, "Hey, we'll give you some responsibilities and cover some of your expenses" I was pretty pumped. And then heading into the outdoors I started to get more and more involved and after about round three of the series is when I took over officially, well unofficially [laughs], took over and started running the team from that point forward.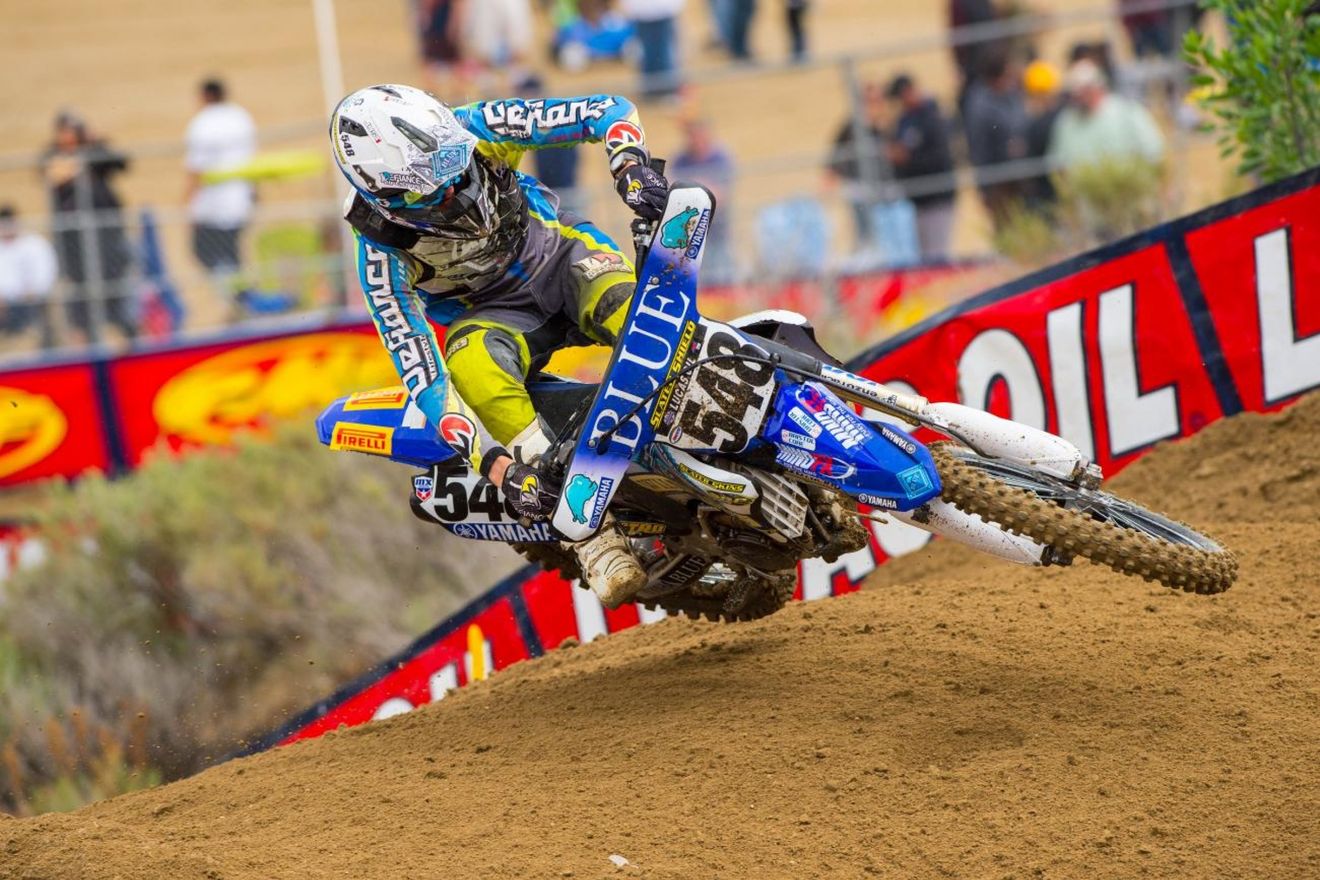 Was it a little tough to call it quits on your professional career or did it help a lot knowing you're moving into a position where you're going to earn a consistent paycheck and still be heavily involved with racing?
It was really tough because I had to put pride and ego to the side. I felt like I still had plenty of life left in me and I felt like I was still competitive. In the time when I was riding supercross in California I felt really strong. It's tough growing up on the East Coast because the first time I was ever on a supercross track was when I was 21 years old. So it makes it really tough coming from the East Coast and I thought that supercross would be more of my thing than motocross. But at the same time, I realized I'm 24 years old and how long can I continue to have injuries and not get a steady paycheck? So both of them kind of weighed in together, but ultimately it came down to swallowing my pride and ego a little bit and knowing that this was a better move for the future.
Do you help with testing on the team or anything?
I do occasionally. I need to learn to mellow out a little bit [laugh]. Because I don't have fun riding a dirt bike, I have fun riding a dirt bike as fast as I possibly can. And when you ride it as fast as you possibly can but you hardly ever ride, bad things happen. I definitely know that will be my future, but as of right now I'm working on mellowing out a little bit. And honestly, I've been so busy with all the work that comes into play. BLUE Buffalo just got on board four and a half weeks ago now, we've had 45 days to put a program together that other teams have had 120 days and three times the personnel. Were in crunch time so I haven't had a whole lot of time to ride recently.
Can you tell what some of your responsibilities are as team manager? I think a lot of people underestimate how much team managers actually do, especially on smaller teams such as BLUE Buffalo.
So number one, I book all the flights, hotels, everything for the riders. I do the budgets for the team, and the team owner does as well, but I assist with that. I've locked down all the sponsors that we have to date so far, outside of BLUE Buffalo. During the race days, I take video and break down the video for the riders. I actually cook on race days because we don't have a chef right now. There are so many things that come into play. I help Chad [Sanner] however I can and just the overall management of everyone on board. I think 10 people total will be underneath the team this year. So it's pretty hectic and non-stop; it's definitely a full-time job.
When you were racing did you have an appreciation for the team manager? Has this job helped you to realize that appreciation?
It's weird because I've always been, I feel, way more appreciative than most people are that race dirt bikes professionally. Maybe it was just my upbringing or something or being from the East Coast. I've never quite understood how people feel like they're owed something just because they can ride a dirt bike fast. I knew I was in a short window of what I could do. Understanding that and trying to make the most of it and understanding that people don't have to help me, people choose to help me, I think that kept me really humble and understanding throughout the process.
So this your first time managing a team through the off-season. You mentioned you just got BLUE Buffalo on board. What have you learned through this process of the off-season and getting ready for next season?
That our deals need to be done sooner [laughs]! Because it's been such crunch time trying to get everything together. When we first got the word, I think Chad and I probably slept like six hours out of four days. I mean we were wide open creating budgets, creating a list of riders of who we thought might be capable. Chad is amazing at finding great riders as well; I mean he pretty much found Darryn Durham and Alex Martin. I definitely lean on him with my decisions as well. I feel like I bring a new big-business thought process, in a way, I guess you could say. I feel like a lot of these teams are kind of politicized a lot and I feel like with our team, if I can gather everyone's opinion on the team, it can only help us.
You guys just announced Chad Sanner would be joining the team. Can you talk what his role will be? Will he just be working on engine development? And how has his experience as Eleven-10 Mods helped you?
Yeah that's the great part. With Chad, not only do I get possibly the greatest engineering mind in the pits but I also get what kind of led that team to ultimately not work out. They say you learn a page from a win and a book from a loss and I feel like Chad's really learned a book and he's able to help me out. He definitely doesn't push me one way or the other, but adds his insight and I think it's a great dynamic. I'm able to think of some things that he didn't think of back then and he's able to play some things back to me that might not work out because of his previous experiences. Both of us have a very open forum, the whole team is a very open forum. All of us explain ideas to each other and no one is really put down or judged by their opinion. It's all just open flowing ideas to make the team better.
His actual job with the team is simply engine development. He'll be at every single race leading the mechanics; he's kind of like the mechanic manager. Chad is simply the mastermind behind the engines and making the process run from a mechanical standpoint.
Do you have any specific goals for both yourself and for the team this year?
We definitely want to be top-10. We feel like we deserve to be top-10 every single round. I believe that with Chad and the guys that we have, I believe that we can be podium level. Maybe that's not a week-in-week-out thing, but I believe that we can be there especially with the bikes that we have. Our goal is to ultimately be a player by the start of next year. With a little bit more time in the off-season to prepare and have everything ready, I believe that we can be one of those contenders leading into the 2018 season.
Anyone you'd like to thank?
First of all, I'd like to thank John Slater and Tyler King. They saw something in me and believed in me and I appreciate that more than I can explain. I'd also like to thank Billy Chamberlain and Chad Sanner and our sponsors BLUE Buffalo, Slater Skins, Enzo, FMF, Defiance, Mika Metals, Vortex, Hinson Clutch Components, Renn Fuels, Dunlop, Waynesburg Yamaha, Twin Air, ICW, Dubya, and all of our amazing fans and supporters. Our posts always do well on social media and Racer X with shares and views. It all helps us as a team, helps sponsors, and shows BLUE Buffalo that they have found a great home for 2017 and their future marketing.