Colton Haaker Clinches First EnduroCross Championship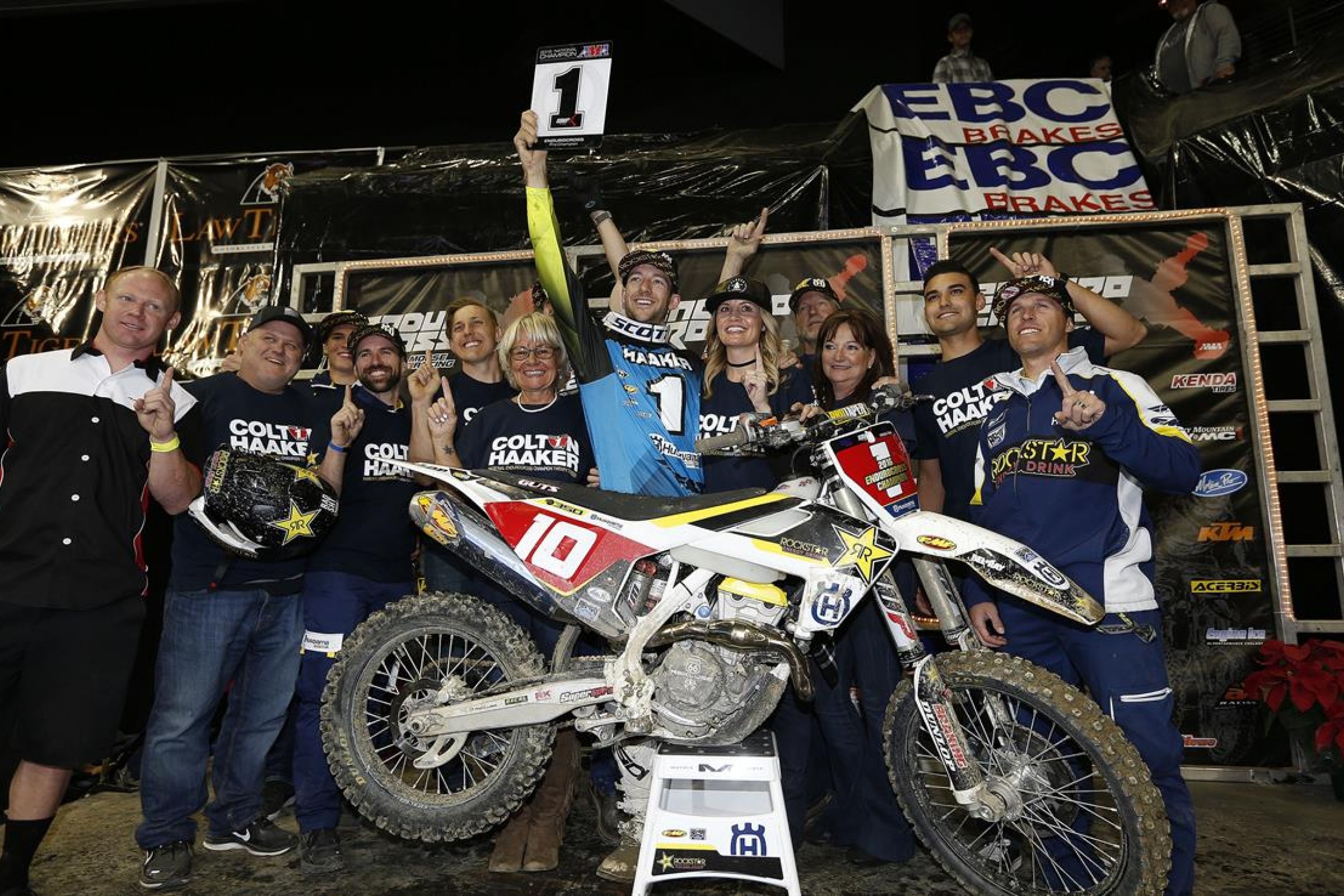 Via EnduroCross
ONTARIO, CA. – Husqvarna's Colton Haaker earned the 2016 AMA EnduroCross Championship with a second place finish to KTM's Cody Webb at the season ending race in Ontario, California. It was the first AMA title for Haaker, who had a strong season with five wins and three second place finishes. SRT Racing backed Cory Graffunder had a great night to finish third in the race on his KTM.
Ty Tremaine rode his RPM KTM to a fifth place finish on the night to move past Mike Brown for third in the overall championship. He also earned his third consecutive EnduroCross Junior Championship for riders twenty one and under.
In the Women's class, Canada's Shelby Turner sealed the championship with a second place finish. She also had a dominant season, winning six of the eight events.
The evening got started with Webb and Haaker squaring off in the first heat race with Webb taking the win and bonus point to keep the pressure on for the title. Tremaine came out on top of a multi-rider battle win heat two over Ty Cullins and Max Gerston. That point would prove critical as he ultimately beat Brown for third in the championship by one point. And another youngster, Noah Kepple, took his first ever pro heat race win in group three. This after playing the National Anthem on his guitar during opening ceremonies.
When the top two finishers form the three heat races came back out for the evening Hot Lap, Webb barely edged out Haaker for the fast time to take another bonus point and first gate pick for the main event.
Despite the second gate pick, Haaker blasted out of the first turn to take the $500 Nexen tire Holeshot award and the lead. Haaker led across the line on lap one but then Webb took the lead on lap two and the two championship contenders stayed close for a few laps before Haaker started to go into championship conservation mode, which seemed to lead to a few mistakes. That allowed Webb to stretch out a solid lead to take a comfortable win, his third of the season.
The crashes from Haaker kept the championship battle interesting as he needed at least a seventh place finish to lock up the title but in the end, Haaker held on for second to earn the championship with a nine point lead.
"Winning the championship is awesome even though I crashed a few more times tonight than I wanted to," Haaker said. "Really, nobody would expect me to come out here and charge with so much on the line, but I'm always trying to push myself and I did that tonight. It's what pushes me and it worked out for the championship even though going hard had me crash a few more times than I wanted."
"I was determined to try and lap everyone," Webb said. "I felt good tonight and Colton was starting to crack under pressure a bit and I was ready to make a statement to end the year with this win. A few little things went wrong this year and I let the championship slip away. Colton was so solid and I couldn't chip away at his points lead this year. I'm really happy I got a convincing win tonight and look forward to carrying the momentum into next season."
The battle for the final podium spot was intense and Graffunder managed to take the position. Beta's Ty Cullins had another strong ride to take fourth, the best ever finish for the teenager. Tremaine rounded out the top five on his KTM. Kepple capped off the season with a solid sixth place finish. Geoff Aaron finished seventh on his GasGas. Kyle Redmond rode his Beta to an eighth for the night. Nick Thompson took ninth on his KTM. Brown rounded out the top then on his Husqvarna.
"The race was pretty exciting tonight because somehow I got a good start from the back row and came out fifth by turn two," Graffunder said. "And after that I had a good battle with Tremaine back-and-forth a few times and I had one scary moment where I jumped into the water pit and landed on an upright log that shot me off the track. I didn't crash but it was intense. After that it was smooth sailing. The key tonight was being smooth in the matrix. I got back into the United States after racing the Baja 1000 at about midnight and I've ridden more than 1200 miles in the last week or so I'm pretty tired."
"I couldn't be happier to win the Junior Championship for the third year in a row and to finish third in the points for the year," Tremaine said. "It was really hard-fought and racing with Mike Brown for the third position in the championship, man, I don't even know what to say. But I moved into third tonight by one point and I couldn't be happier."
Gerston, Trystan Hart and Eric Rhoten finished eleventh through thirteenth in the main.
2016 Ontario AMA EnduroCross Main Event Results
Cody Webb, KTM
Colton Haaker, Husqvarna
Cory Graffunder, KTM
Ty Cullins, Beta
Ty Tremaine, KTM
Noah Kepple, KTM
Geoff Aaron, GasGas
Kyle Redmond, Beta
Nick Thompson, KTM
Mike Brown, Husqvarna
Max Gerston, Beta
Trystan Hart, Husqvarna
Eric Rhoten, Yamaha
2016 AMA EnduroCross Championship Final Points
Colton Haaker, Husqvarna, 201
Cody Webb, KTM, 192
Ty Tremaine, KTM, 127
Mike Brown, Husqvarna, 126
Kyle Redmond, Beta, 116
Cory Graffunder, KTM, 111
Max Gerston, Beta, 104
Noah Kepple, KTM, 100
Trystan Hart, Husqvarna, 97
Geoff Aaron, GasGas, 90
Morgan Tanke rode her Beta to the Ontario Women's main event win but it over Canada's Shelby Turner but it was not enough to take over the championship. Turner held on for the championship with 194 points to Tanke's 176. Rachel Gutish held on for third in the Women's championship despite sitting out the final round with a knee injury. Tarah Geiger rounded out the podium for the Ontario final on her Honda.
For the EnduroCross support classes (Amateur, Vet and TrialsCross), the Ontario event is the AMA Grand Championship with number one plates on the line.
Dustin McCarthy took an exciting win in the Amateur class on his Yamaha just ahead of Tyler Kinkade on a KTM and Spenser Wilton on a Honda.
In the Vet class, Stephen Foord had a good battle with Kurt Nicoll. Foord was riding a Beta and Nicoll was riding an Alta Electric bike. Jason Gitchel rounded out the podium on his KTM.
In the TrialsCross class, Kyle Larson and Shad Petersen took first and second on their Beta's. Brian Martinson rounded out the podium on his GasGas.
The Ontario EnduroCross finals is scheduled to air on the CBS Sports Network on Sunday, December 4th. For CBS Sports Network information, please visit www.cbssportsnetwork.com