Villopoto, Malcom Stewart, Keefer, and Marx on Pulpmx Show Tonight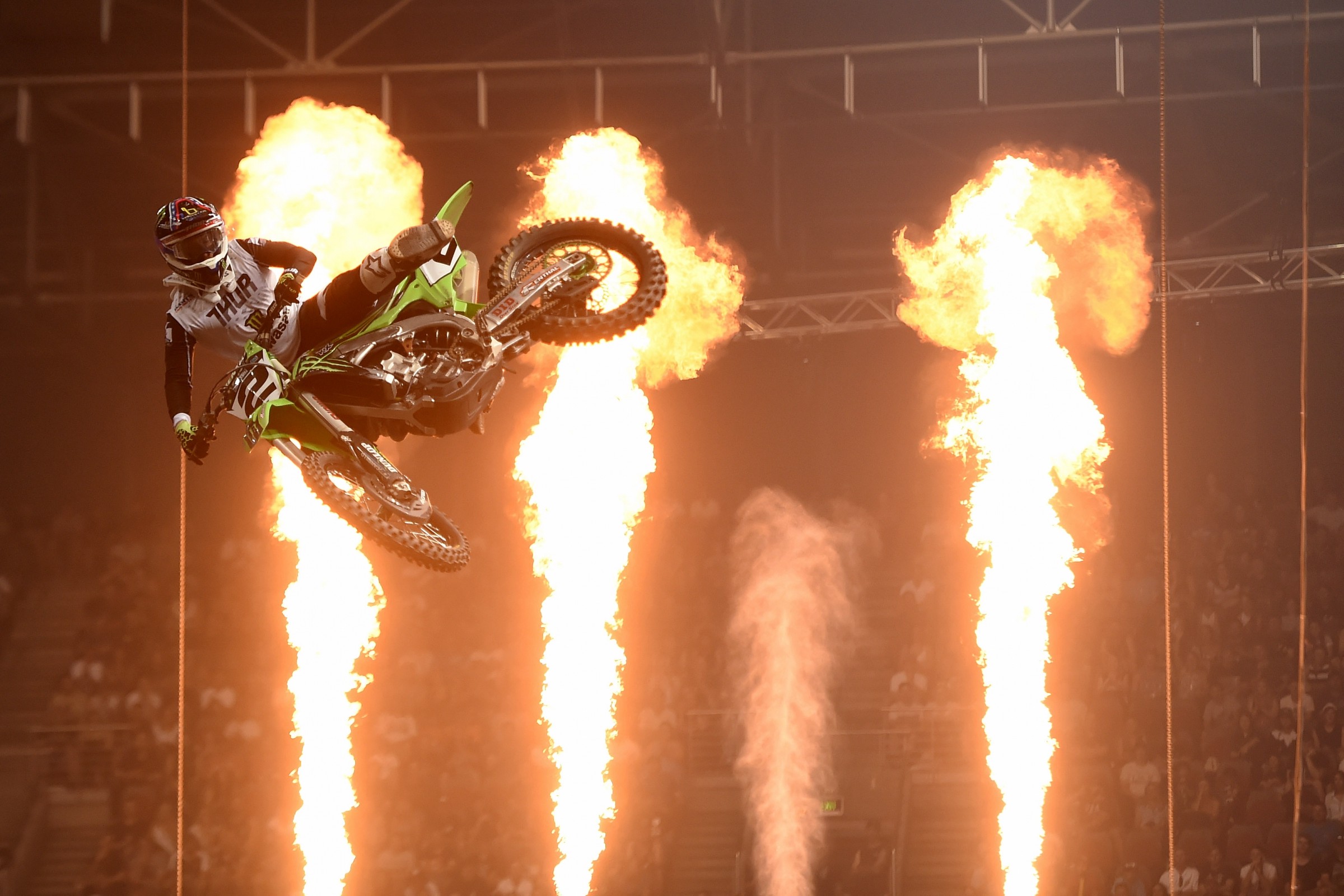 A special Tuesday edition of the Pulpmx Show presented by BTOSports.com and Fly Racing comes in tonight with a look at Lille SX, Sydney SX, and checking in on the Dune Goon. Hosts Steve Matthes and Kris Keefer of Dirt Rider Magazine will talk about all of this plus Keefer's crash, the 2017 CRF450, and more on tonight's show.
Well he came back. Four-time Monster Energy Supercross champion Ryan Villopoto raced the Sydney SX and did pretty well holeshotting both main events and acquitting himself pretty well. We'll talk to RV tonight to see what he thought and if the comeback is on!
Malcolm Stewart comes back on the show to talk about how his Lille SX went, his off-season preparation with not having a ride, what he's going to do for Anaheim 1, and why JT doesn't like him.
We'll also call Pastrana-Land tonight to check in with our producer Travis Marx and Michelin Motorcycle's Randy Richardson to see how Marx did with his attempt at a backflip. Hopefully Travis is around to talk which means it went ok and if not, Randy can take the phone and describe the carnage.
Got a question for the show? Tweet @pulpmxshow and our guy Tits Legendary (he's back!) will do his best to get it answered on the BTOSports.com Tweet at Travis segment.
We'll also answer the N-Fab Question of the Day as well as read off some Race Tech emails. Our hosts will be under the gun with the EKS Brand goggles Tear Off segment. The Gear Alloy Cold Call is always fun also right?
What you'll want to do is log-in to Pulpmxshow.com at 6:00 p.m. PST/9:00 p.m. EST and we'll be streaming live and hosting a chat room. As usual, you can call in at anytime during the show to talk to the guest or the hosts at 702-586-PULP (7857).
You can listen live on your smartphone with the Tune In App by searching Pulpmx Show and listen live on the Pulpmx App as well.
You can listen to the show the next day on Stitcher.com as well as the Pulpmx App on your smartphone or iTunes for download. It will also be available the next day on Pulpmxshow.com.
Thanks to our sponsor BTOSports.com. BTOSports.com is your #1 source for motocross gear and accessories with Free Shipping Worldwide. BTO Sports is your number one source for all of your motocross parts, gear, accessories and apparel. BTOSports.com is a motocross company who is truly dedicated to the sport.
The PulpMX Show is also presented by Fly Racing. Fly Racing is the industry standard for motocross and off-road gear, as well as our hard parts and accessories. Also Fly Racing and parent company Western Power Sports are now a premier-level partner for the Lucas Oils Pro Motocross Championship. These are just a few ways that Fly Racing is becoming more and more involved in the sport that we all love. Check out what Fly Racing has been up to at their website FlyRacing.com and on social media @flyracingusa.
The Pulpmx show is also brought to you by X-Brand Goggles, FMF Racing, Race Tech Suspension, Hot Cams, Vortex Racing, Gear Alloy, Roost MX Graphics, KTMpartsexpress.com, Atlas Neck Braces, N-FAB Jeep and Truck Parts, Michelin StarCross 5, Works Connection, DUBYA Wheels, 2UNDR, and Guts Racing.