Milestone: Kailub Russell Earns 40th Career Win at Ironman GNCC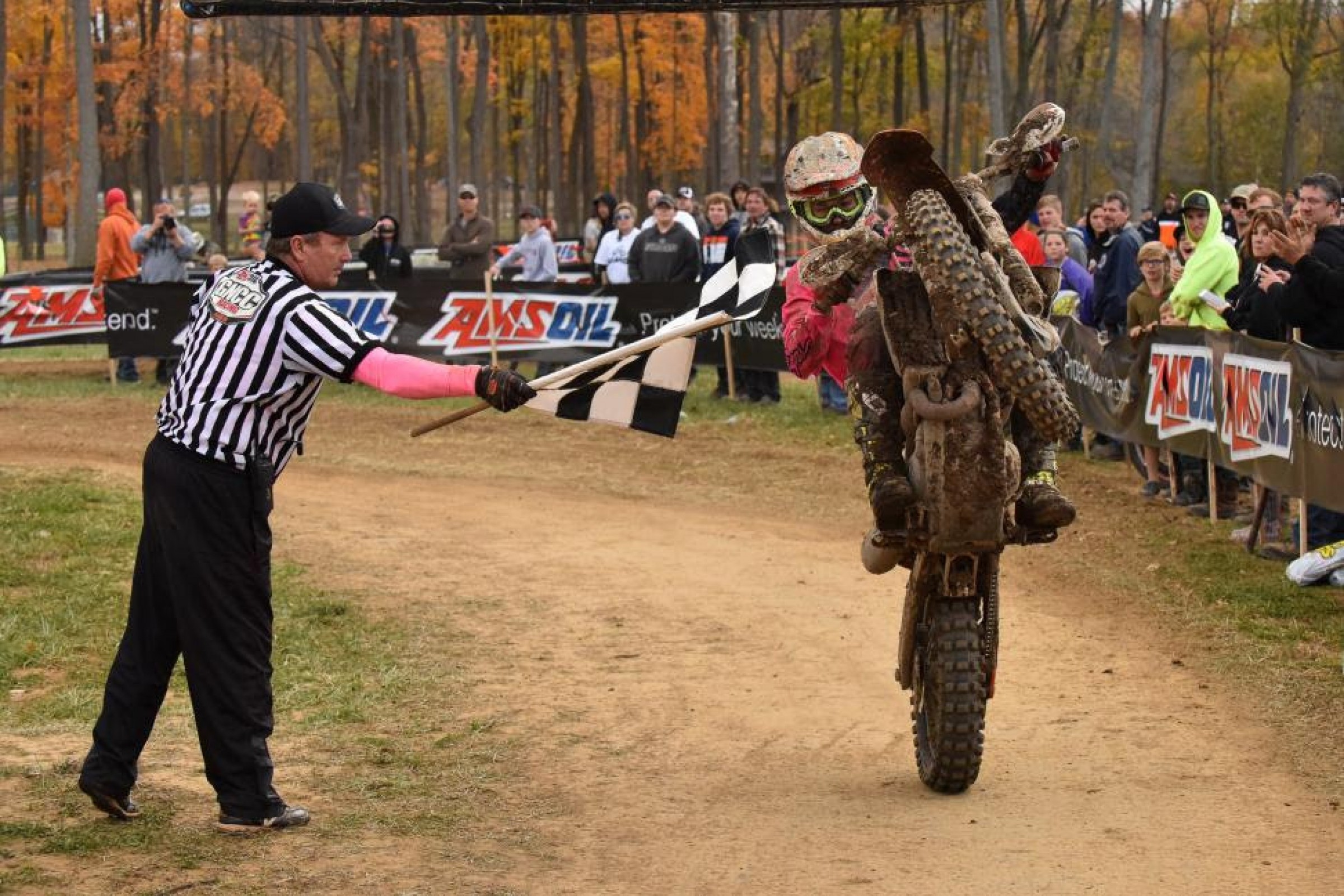 CRAWFORDSVILLE, Ind. – It was a bittersweet day as the 2016 AMSOIL Grand National Cross Country (GNCC) Series presented by Maxxis, an AMA National Championship, came to a close for the season in Crawfordsville, Indiana. Ironman Raceway hosted over 2,400 riders in the course of the two-day Ironman GNCC event, but at the conclusion of today's 1:00 p.m. pro bike race it was FMF/KTM Factory Racing's Kailub Russell who stood on top of the podium and earned his 40th career overall win.
As the green flag dropped for the XC1 Pros, it would be MCS Racing Suzuki/Obermeyer/Kenda/MX Tech/Fly Racing's Ricky Russell who jumped out ahead of the rest of the field grabbing the $250 All Balls Racing Holeshot Award. While R. Russell lead the way into the Indiana woods, it did not take long for K. Russell to secure the lead position.
Even though K. Russell was in a familiar position, he had to fight off the pressure he felt from Rocky Mountain ATV*MC/KR4 Arrive-N-Ride Team's Thad Duvall where only a mere second separated the pair as they checked through timing and scoring for the first time. The duo continued charging hard and before long they had gapped Westfield Powersports KTM Presented by Moose Racing's Jordan Ashburn who held the third place position.
As the season was coming to a close it was evident that Duvall wanted to end on a high note and by the third lap he had secured the lead position. K. Russell continued to hang with him and was able to make the pass back for the lead when Duvall pitted and he did not. Duvall raced out of his pit and managed to keep K. Russell in his sights.
K. Russell and Duvall showed no signs of slowing down as the race reached its halfway point. Duvall would eventually find himself in the lead once more until K. Russell made quick work in the open field section and took the position once more.
It wouldn't be until the two-lap card came out that Duvall faced some issues. "There was a hill climb that had two different lines around it. Kailub went up one side, so I went to the other. I thought it was clear, but when I got to the top there were about five lappers who were stuck," said Duvall. "I tried everything I could do to get around them, but I fell when I went up on the bank and thanks to another racer I was able to get going a lot quicker than I thought I was going to be able to."
As the race wore on, another battle began brewing between the Baylor Brothers and R. Russell. SRT/KTM/Kenda Tires-backed Steward Baylor Jr.'s strong showing ended on the white-flag lap when he was forced to pull off the track due to a mechanical issue. His brother, Grant Baylor continued to power through on his N-Fab/AmPro Yamaha-backed machine when R. Russell also faced a setback.
"I had a lot of trouble in the beginning with my setup and thought about calling it a day," said R. Russell. "But I just couldn't do that because it was the last race and I refused to go out that way. I was determined to give it my all, and then I came back up and was fighting for a podium position. I was running third on the last lap, and I got pointed the wrong line in a mud hole. I ended up going down pretty bad, and Grant [Baylor] was able get around me, which he was definitely hard charging, but I still wanted and feel like I deserved the podium."
While Duvall was able to recover quickly, K. Russell was well on his way to adding valuable time to his lead and by the time the checkered flag waved K. Russell had a thirty-eight second lead on Duvall who finished in the runner-up position. G Baylor's consistency paid off as he crossed the line in third, marking his third podium finish of the year.
"The fans just make this race an awesome experience," said K. Russell. "I had a great day riding with Thad. I haven't ridden for a week and a half so it made it a tough day, but it's unbelievable that I was able to capture my 40th career overall win today."
Indiana native and RPM/KTM's Mike Witkowski found himself in a favorable position after the green flag waved on the XC2 Pro Lites start to earn the $100 Hot Cams Holeshot Award. Coastal Racing/Husqvarna/MSR's Layne Michael powered through the field and quickly took the lead. Michael continued leading until the checkered flag. Vance Francis worked his way from outside of the top-10 to land his first ever podium finish. N-Fan/AmPro Yamaha's Joshua Toth filled the podium in third.
"I just tried to get to the front and ride like I know I can," said Michael. "I had a small crash on the first lap but regrouped and kept going. As the race went on I started feeling sick, but I maintained on the last lap and came out with the win. The year didn't start out that great, but it feels great to come back after summer break and get these results."
With a 16th overall finish, Nathan Ferderer was awarded the $125 American Kargo Top Amateur Award. Cody Barnes and Braxton McGee held the second and third place positions on the afternoon amateur overall podium.
FLY Racing/Maxxis/Seat Concepts/Yamaha's Becca Sheets capped off her championship season with another WXC and 10:00 a.m. overall win. The two remaining spots on the 10:00 a.m.overall podium also consisted of WXC competitors. Kacy Martinez placed second, and Mackenzie Tricker found herself in third, just one day after she took the WMX win in New Jersey.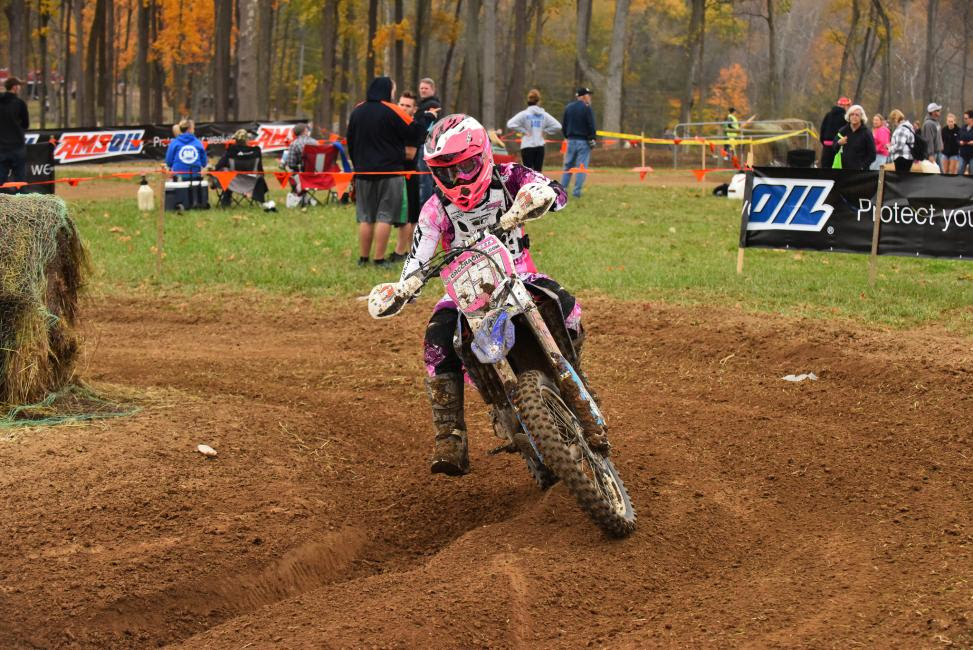 It did not take long for the battles to begin on the famed Ironman racecourse. Michael Beeler Jr. and Peyton Whipkey traded placed multiple times in the 8:00 a.m. youth race until a mechanical issue took Beeler out of contention. Whipkey capitalized on Beeler's misfortune and claimed his first ever youth overall win. Super Mini Jr. class winner, Shawn Myers and Tanner Collins rounded out the overall podium in second and third.
The 1:00 p.m. race was broadcast LIVE in its entirety on RacerTV.com and can be viewed as an archived video now. Please click here to view the full three-hour race coverage. In addition to the archived race coverage on Racer TV, a highlight show featuring the event will air on NBC Sports Network Sunday, December 17 at 4:00 p.m. Complete results from today's racing can be found here.
For more information on the series, visit the official website at www.gnccracing.com call (304) 284-0084. Join the conversation on the series Facebook page, follow us on Twitter and Instagram, and be sure to always hashtag #GNCC.
---
AMSOIL Ironman GNCC
Crawfordsville, Indiana
Round 13 of 13
Sunday, October 30
XC1 Pro Event Results:
Kailub Russell (KTM)
Thad Duvall (HSQ)
Grant Baylor (YAM)
Ricky Russell (SUZ)
Russell Bobbitt (KTM)
Jordan Ashburn (KTM)
Benjamin Kelley (YAM)
Cory Buttrick (KTM)
Andrew Delong (HSQ)
Steward Baylor Jr. (KTM)
*Overall National Championship Standings
Kailub Russell (316)
Josh Strang (236)
Trevor Bollinger (166)
Jordan Ashburn (161)
Thad Duvall (155)
Steward Baylor Jr. (148)
Ricky Russell (141)
Craig Delong (137)
Grant Baylor (132)
Layne Michael (122)
*Indicates that the Overall National Championship Standings will determine the 2016 National Champion.
XC2 Pro Lites Event Results:
Layne Michael (HSQ)
Vance Francis (HON)
Josh Toth (YAM)
Craig Delong (HSQ)
Michael Witkowski (KTM)
Jesse Groemm (KTM)
Zack Hayes (KTM)
Samuel Evans (YAM)
Evan Smith (KTM)
Tegan Temple (KTM)
XC2 Pro Lites Series Standings:
Trevor Bollinger (301)
Craig Delong (254)
Layne Michael (235)
Benjamin Kelley (182)
Josh Toth (171)
Jesse Groemm (158)
Vance Francis (135)
Michael Witkowski (125)
Samuel Evans (121)
Zack Hayes (113)