Justin Brayton Captures Third Consecutive Australian Supercross Victory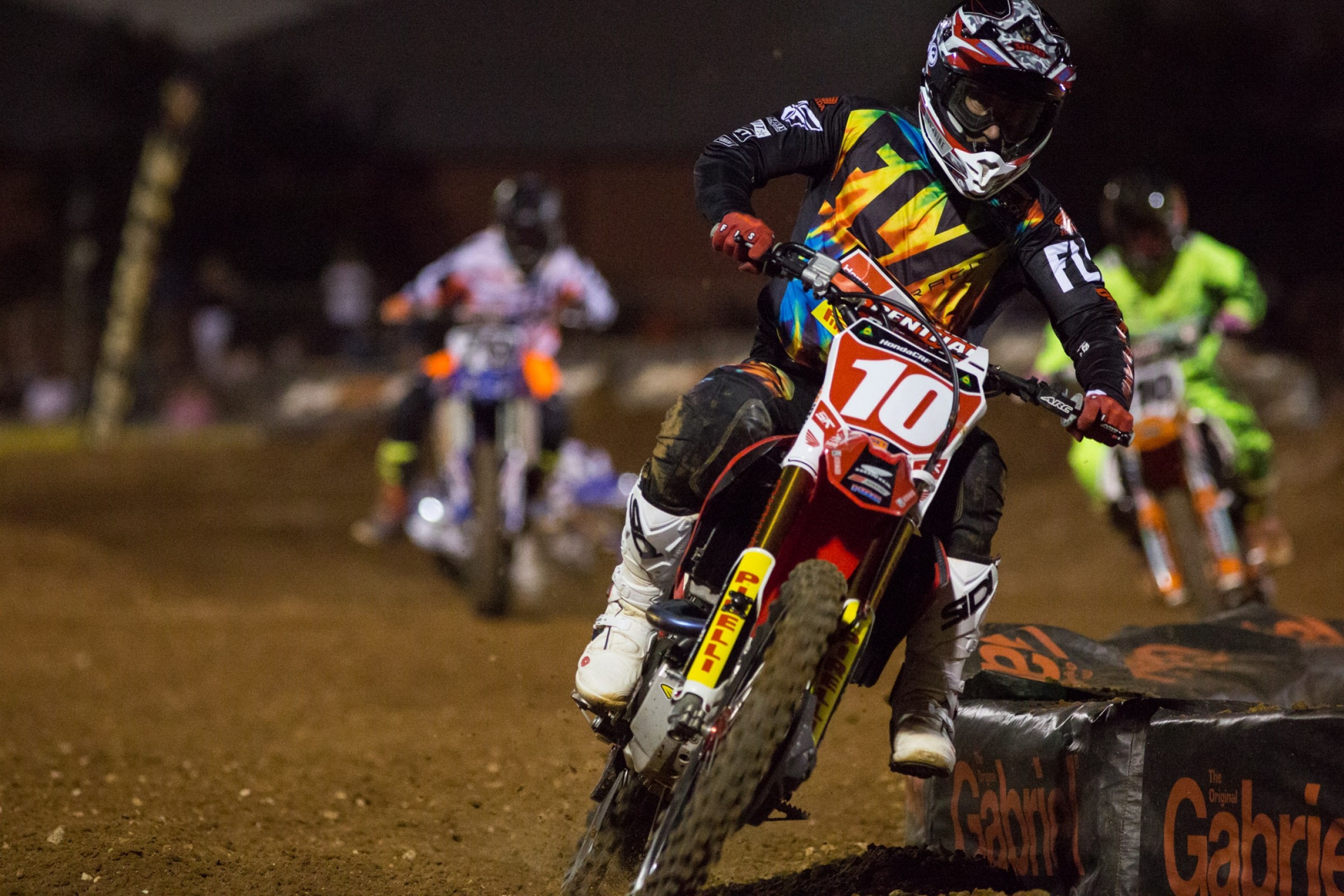 American Justin Brayton stretched his points lead in the Australian Supercross Championship with a third consecutive win to start the season at Round 3 of the championship in Adelaide, South Australia.
Brayton now holds an 18-point lead over Dean Ferris at the midway point in the series.
The former BTOSports.com KTM rider topped the charts in qualifying over the weekend, but had to regroup in the main event after finishing sixth in his heat race. He claimed the SX1 holeshot and led all 20 laps en route to the victory.
Defending SX1 Champion Dan Reardon finished second ahead of American Kyle Peters, who finished on the podium for the first time in his career.
Former Monster Energy Kawasaki rider Wil Hahn finished fourth. American privateer Adam Enticknap finished 10th.
Despite entering the weekend with a knee injury, Hayden Mellross extended his points lead in SX2 to 10 after his first victory of the season. American Gavin Faith finished second ahead of Wade Hunter.
Defending SX2 Champion Jimmy Decotis is out for the remainder of the series after suffering a concussion at Round 2.
Round 4 of the championship takes place this Friday.
Australian Supercross Championship
Round 3 - Adelaide, South Australia
SX1 Overall
1.
Justin Brayton
2.
Dan Reardon
3.
Kyle Peters
4.
Wil Hahn
5.
Jay Marmont
6.
Dean Ferris
7.
Kade Mosig
8.
Jesse Dobson
9.
Jay WIlson
10.
Adam Enticknap
SX2 Overall
1.
Hayden Mellross
2.
Gavin Faith
3.
Wade Hunter
4.
Wilson Todd
5.
Jackson Richardson
6.
Dylan Wills
7.
Kyle Webster
8.
Tomas Ravenhorst
9.
Josh Cachia
10.
Joel Wightman
SX1 Series Standings
1.
Justin Brayton
75pts
2.
Dean Ferris
57pts
3.
Wil Hahn
56pts
4.
Dan Reardon
52pts
5.
Jay Marmont
45pts
6.
Kade Mosig
44pts
7.
Kyle Peters
38pts
8.
Jay Wilson
37pts
9.
Adam Enticknap
36pts
10.
Luke Wilson
35pts
SX2 Series Standings
1.
Hayden Mellross
69pts
2.
Jackson Richardson
59pts
3.
Wade Hunter
58pts
4.
Gavin Faith
47pts
5.
Joel Wightman
38pts
6.
Geran Stapleton
36pts
7.
Dylan Wills
35pts
8.
Jordan Hill
34pts
9.
Wilson Todd
31pts
10.
Tomas Ravenhorst
28pts