Pomona, CA
Red Bull Straight Rhythm
Red Bull Straight Rhythm
Welcome to Racerhead, and Happy Halloween to everyone. That means I get to break out the Evel Knievel costume and bicycle and ride around my neighborhood entertaining the kids with some wheelies on my sweet bike. Or maybe I will put the old Team Tamm gear on and go as Tom Carson in the mid-eighties. And there's always the option of going as "Tall Ricky" with some of his old riding gear, or Art Eckman with my yellow shirt, blue blazer, and old ESPN 2 microphone flag…. If you're doing something moto-related, or you just are moto-related, please send us your costumes to online@racerxonline.com and we will share them.
As far as racing goes, we have one left this weekend for the AMSOIL Grand National Cross Country Series, presented by Maxxis: the grand finale Ironman GNCC in Crawfordsville, Indiana. FMF KTM factory rider Kailub Russell already has the title on lockdown, but he could get an unprecedented 10th win on the season. He was part of the winning U.S. Trophy team at the International Six Days Enduro (ISDE) in Spain and could cap off a banner year with a win in Indiana. You can watch the Ironman GNCC live on Sunday, beginning at 1 p.m. ET, on www.racertv.com.
Beyond that, there hasn't been a whole lot going on. With Red Bull Straight Rhythm finishing up last Saturday with a bunch of KTMs on the podium, led by Marvin Musquin (450) and Shane McElrath (250) and the one electric Alta we mentioned here last week just missing out. Josh Hill guided the nearly silent bike to an impressive debut, knocking out Suzuki 250 rider Kyle Cunningham in a best-of-three match-up. What the Alta lacked in noise it more than made up for in hype, as the bike proved that you can have a lot of fun and still go pretty damn fast on a bike you fuel up with an extension cord. With battery technology evolving rapidly, I can only imagine these electric bikes getting better and better.
Let's get into the news of the week.
Straight Up (Jason Weigandt)
When Red Bull first announced that Straight Rhythm would become a real event in 2014, I was pumped and intrigued. We'd never seen anything like it. What was going to happen? When the 2015 event added Ken Roczen and Ryan Dungey to the entry list—to challenge 2014 winner and returning-from-suspension James Stewart—I was pumped and intrigued. What was going to happen? But after seeing the 2016 rider list, I was far less pumped. Roczen passed, Stewart has gone MIA, and no other big names signed up to fill those shoes. After the first two years, I really thought Red Bull was onto something here. Now, in year three, I was left wondering if this event was going to stick around at all.
Luckily, this year's race turned out pretty good. The racing was much closer this year; nearly every run in the semifinals and finals came down to the final jumps—and some of them were photo finishes. Track builder Jason Baker and company have learned a lot through the first two years of the event, and I think the track was much more even than the first editions. Dragon's backs were removed from the course, and I think that tightened things up, because some dudes are willing to huck those and some aren't, and in a race like this, one obstacle can make all the difference. Seemed like this year's track was more basic, and that helped the racing. Simply, a rider could just charge harder and scrub bigger to make up time.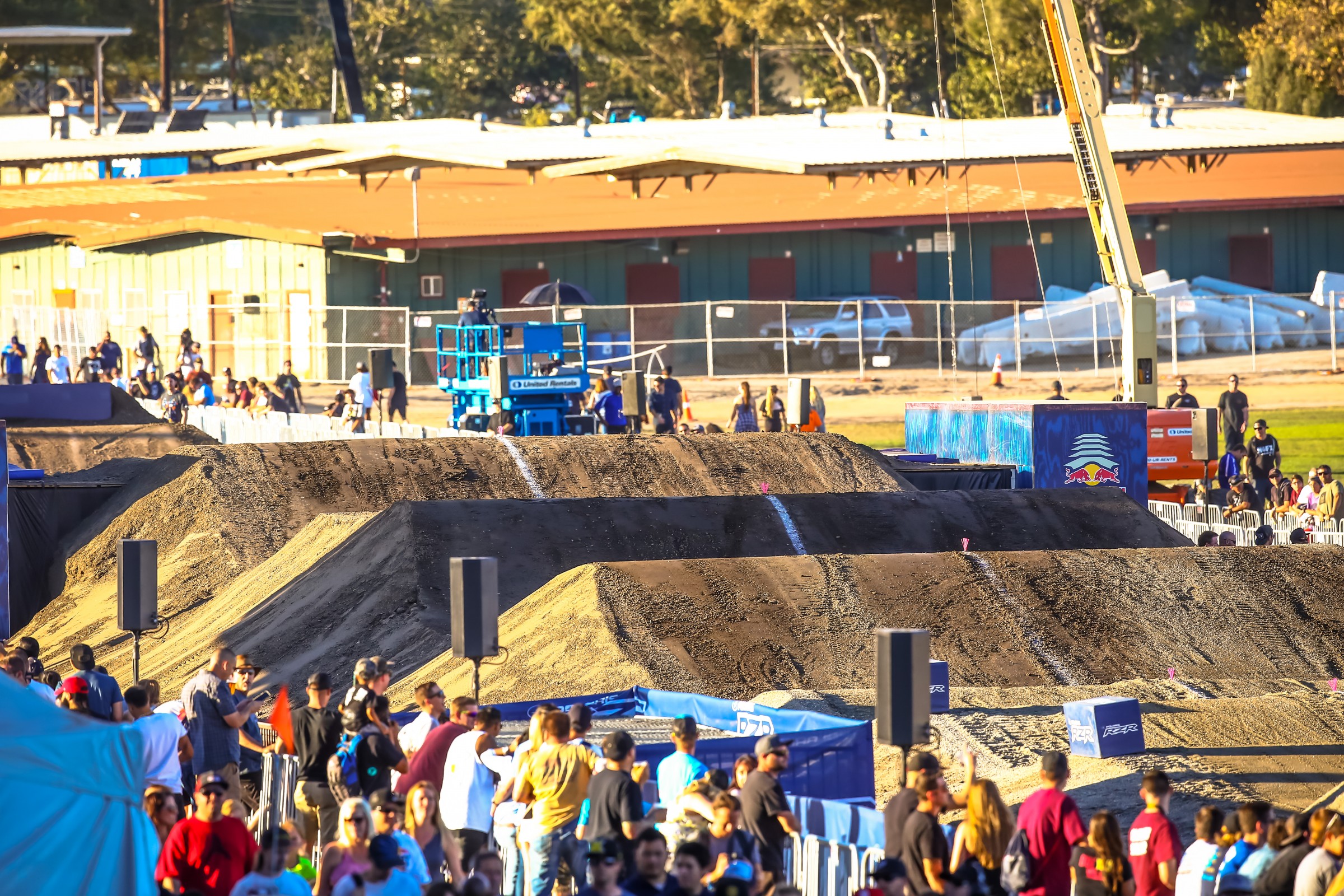 Shane McElrath was the best example of this, as he looked only so-so all day before teammate Jordon Smith put him against the ropes by winning the first of their semifinal races. That lit the fire in McElrath, who charged harder in the next two races to edge his new Troy Lee Designs/Red Bull KTM teammate. All day, Mitchell Oldenburg had been logging the fastest Lites times, but McElrath finally beat those times in the semifinal while eliminating Smith. In the final, McElrath kept the heat on and beat Oldenburg to take the win. Shane finished second at the event last year to Malcolm Stewart (who missed this year's race due to a big-money deal in Holland).
Josh Hansen was also really good, beating Ryan Dungey straight-up in a run. Dungey dug deep the next two times, pushing harder and coming back to eliminate Hansen. I bet Dungey was happy to have his factory bike and motor in the whoops, where he did most of his damage on Hansen.
The big names weren't there, but we finally saw the event as it was intended. Some close racing, some upsets, some gimmicks. Dungey would be the favorite against Marvin Musquin in just about any race—even including the SMX Cup and Monster Energy Cup on consecutive weekends, where Dungey bested his teammate each time—but Marvin was better than him all day and night in this unique event. If points and championships were on the line, maybe that's not good, but this isn't a championship event, it's just for fun (although I believe Marvin collected $20,000 for his victory).
As for the gimmicks, yup, they only work here too. Last week we posted an online poll about the expectations for Josh Hill and the Alta Red Shift, and the comments section devolved into a political battle about global warming. Yet at the race, everyone seemed to put that aside and just cheer the bike as the ultimate underdog. And when Hill actually beat Kyle Cunningham, the fans went nuts. As Davey mentioned here last week, someday that bike will be under serious scrutiny regarding its fairness and legality to race against 250Fs. But at this race, everyone just thought it was cool.
Only one thing to regret: as he said he would, Ronnie Mac showed up at the race and did a few practice runs on Friday, and he was absolutely hauling ass! I headed down to the pits to see if his 1998 CR250 was maybe hiding some tricks, like modern A-kit suspension, but no, the thing looked as roached as you'd expect. But Ronnie wanted into the Lites class and said he would qualify. Unfortunately, after one qualifying run, the bike broke, and Ronnie's day seemed over. Mechanic Jimmy McGarth and Ronnie's "cousint" Ricky Mac got to work—changing a spark plug! The plug looked like it was the original from 1998.
Anyway, Ronnie's one and only qualifying run was still seventh fastest, which got him into the eight-rider field (11 Lites riders were entered). But he had to go against second-fastest qualifier Smith on the factory TLD KTM machine. Ronnie got beat, and his night was over, although he claimed Red Bull paid him $2 million to let "Michael Jordon" win the round. Anyway, here's what I'm getting at: had Ronnie Mac gotten a few more qualifying runs, he might have improved his qualifying time by a position or two. With that, he would have been paired with Hill, putting the electric bike against the two-smoker. Who wouldn't have wanted to see that battle?
The weirdo matchups and intrigue created by this event makes me believe there's still some life here, even if Kenny, Stew, and the others don't show up. Remember, Red Bull runs tons of these wild events, and when I'm watching dudes hucking mountain bikes off of a mountain at Rampage, I don't even know who they are. Could be the best racer in the world or the hundredth best, I have no idea, I just know they're doing bad ass stuff. Anyone who ends up catching Straight Rhythm clips on YouTube—or sees the NBC show on TV next month—will be impressed by even the privateer guys, as well as the electric bike and the random dude wearing overalls and pinning a 1998 CR250R. I hope that's enough to keep this going.
Good News, Bad News (Chase Stallo)
It's been a week of ups and downs for former Monster Energy/Pro Circuit Kawasaki rider Chris Alldredge. First, the good. The third-year pro announced a new deal for 2017, signing with the upstart Barn Pros/Home Depot Yamaha team.
"I'm super excited to be getting back on Yamahas with Barn Pros Racing this coming supercross season," said Alldredge, who spent a majority of his amateur career riding Yamaha. "After riding the Yamaha motorcycle for most of my amateur career, it's nice to be back on the bike that I had so much success on. And I can't thank the Barn Pros team enough for giving me another opportunity to show the supercross world what me, and the team, are capable of doing."
Now, the bad. Alldredge, who is currently in Australia racing for Crankt Protein Honda Racing, will miss the third round of the Australian Supercross Championship this weekend after injuring his shoulder at Round 2.
According to MotoOnline.com.au, the injury isn't as serious as the team initially thought, and there is hope he can return for the fourth round.
"Obviously he dislocated his shoulder at Toowoomba," team manager Paul Free told MotoOnline.com.au. "It's not too bad from what the doctors are saying to us, but it's around a six-week recovery.
"They're going to try and speed it up by monitoring it closely through physiotherapy to try and have him ready for possibly Melbourne, but most likely Sydney. Chris wants to finish off what he came over here to start, and he wants to stay and give it a shot as soon as he is well enough."
Big in Japan (Andras Hegyi)
Honda HRC factory rider Cole Seely took the first outdoor motocross win of his professional career when he won the All-Japan Final in Land of the Rising Sun. Seely took double moto wins in the final round of Japanese 450 Championship. The 26-year-old has raced as a pro since 2009. Between 2009 and 2016, he has had several wins in AMA Supercross but has not been able to get any wins in AMA Motocross. So far, the Californian has taken part in 62 rounds of Lucas Oil Pro Motocross, but he took only one podium, finishing third at the 2014 250 season opener at Glen Helen.
But on October 23, in Sugo, Japan, the ice was broken. He was the fastest in timed practice, in qualifying, and in both motos. Moreover, this was only the second race for Seely after his painful finger injury in June. Before his journey to Japan, Seely was fourth at the Monster Energy Cup in Las Vegas. And thanks to Seely, this is the third consecutive season that the Japanese season finale at Sugo was taken by an American rider. In 2014, Cooper Webb won in the 450 Class. Last year, Trey Canard was victorious in 450, while Jeremy Martin was on top in the 250 Class.
RACER X AMATEUR FILM FESTIVAL BEGINS (Jordan Roberts)
The 2016 Racer X Amateur Film Festival presented by MotoSport, WASPcam, and BAK Industries is underway. Everyone at Racer X would like to thank the many amateur videographers that put in the hard work to film and edit a quality entry. It was as tough as ever for our internal panel of judges to hand-select only eight semifinalists from a large group of talented up-and-comers, which is why we featured a handful of honorable mentions earlier this week.
2016 Racer X Amateur Film Festivals Semifinalists
| | |
| --- | --- |
| Semifinalist | State/Country |
| Mason Churchill | California |
| Casey Cole | Florida |
| Uwe Froehlich | Austria |
| Mitch Goheen | Ontario |
| Jared Hardy | Colorado |
| Kenny Kaplan | Connecticut |
| David Wells | Texas |
| Tommy White | Pennsylvania |
The first round of semifinals began yesterday, with California's Mason Churchill squaring off against Pennsylvania's Tommy White. Each round of the semifinals are a weeklong head-to-head, single-elimination bracket format, where viewers can vote for their favorite entry into the finals once per day. Round 1 ends at 2:00 p.m. ET on November 3. Watch and vote!
Oscar by Alpinestars (Kyle Scott)
Last Monday, Alpinestars held an event in L.A. at Arch Motorcycle Company for their new Oscar by Alpinestars TV commercial, Instagram feed, and Spring '17 line. One-of-a-kind bikes were on display throughout, including Roger DeCoster's championship-winning Suzuki from 1975, a custom 1965 Honda CT90, a BMX Racer by Lossa Engineering, Brad Pitt's custom Triumph Café Racer, and more. Their Spring '17 line consists of their street line, which entails a classic style with technical features. Technical features such as jeans with knee CE certified knee protection and boots with CE certified ankle and feet support all woven into their classic Italian style and craftsmanship.
In 1966, a company sales representative suggested to company president, Gabriele Mazzarolo, that Alpinestars should take part in a competition organized by the Fashion Academy in Turin, Italy, which annually awarded a prestigious fashion award. With the recent motocross footwear gaining huge acclaim for design, Alpinestars decided to enter the revolutionary boot.
Alpinestars won this prestigious award, further validating the innovative and stylistic nature of the boots and was again awarded the illustrious award in 1967. Until then, the awards revolved around fashion and rarely, if ever, recognized any product outside of the endemic, tightly knit fashion industry.
Understandably proud of this achievement, Sante wanted to publicize the accomplishment and devised a way to incorporate the award into Alpinestars' product. Replacing the company's original Edelweiss (Alpine Star) flower logo with a mesmerizing spiral graphic, Mazzarolo released a line of boots, branded Oscar by Alpinestars.
In a short time, the Oscar by Alpinestars brand logo came to not just reflect the honor bestowed on Alpinestars, but to signify a zeitgeist that permeated an entire era of motorcycle racing. With the spiral emblazoned across the chests and shins of motorcycle champions and weekend warriors alike, the Oscar by Alpinestars brand logo became one of the most recognized in the sport. While the logo itself would eventually evolve back into the original Alpinestars brand, the legacy of the prestigious award and Alpinestars' commitment to design would live on.
Now, over 40 years later, the Oscar by Alpinestars name has been resurrected. Merging a history of innovation and Italian craftsmanship, the current Oscar by Alpinestars line will exist as a fusion of classic styles and silhouettes, punctuated by technical features and modern protection. Much in the vein of the original Oscar by Alpinestars branded product, an equal balance of form and function will be meticulously maintained, creating unique, premium protective garments, guided by the timeless rebel-style essence of motorcycle racing.
Arch Motorcycle Company is co-owned by Keanu Reeves and Gard Hollinger and they sell a $78,000 motorcycle. Check it out here:
CRF450R Intro (Kyle Scott)
Last week, Honda hosted Racer X and several other motocross media outlets in Montgomery, Alabama, for two full days of motos to introduce the all-new 2017 CRF450R at an epic track called Monster Mountain MX. I've never had so much traction on a track. Was it the CRF450R? Was it the beautiful red clay? Put Monster Mountain on your bucket list of tracks to hit, and pay attention to the new CRF450R.
This is the 15-year anniversary of the CRF450R, and the bike didn't disappoint. Some of the highlights include an all new chassis, completely updated geometry switch back to spring forks, increased torque, increase in rear load allocation, lower center of gravity, lightened fuel tank, (aluminum), reduced exhaust length (78mm), rear shock lowered in chassis, improved handling with lower CG, mass centralization, slimmer layout, and there is a big emphasis on starting, acceleration, and traction performance. Honda is calling it the #AbsoluteHoleshot. Andrew Short, Honda's new brand ambassador gave us some highlights of the new bike here as well.
Charles Bright rode the bike for us Wednesday and Thursday and he had a tough time finding something bad to say about it. In fact, the only bad thing we could find was the coating on clutch cover doesn't last very long, but that's nothing new.
Ken Roczen and Short spun some laps with us on stock bikes, and let's just say there's no excuses for not being able to go fast on these off the show room floor. Ken was absolutely ripping and looks like he's been riding a Honda for years.
LitPro, the company that you saw on TV at the Lucas Oil Pro Motocross Championship this summer tracking the rider's lap times, speed, air time, and much more was in attendance and each outlet was given one to compete against each other. There was a holeshot and ironman competition throughout the two days and our own test rider, Charles Bright, won the holeshot competition.
Using their software, you can compare your laps and lines to previous laps or even against other riders, which gives a lot of insight on how fast guys do what they do. We compared Ken against the fastest test rider and you can imagine what that looked like, no comparison. For those of you that have a LitPro of your own or are thinking about getting one, if LitPro has already been to the track (and they've been to a lot), the track is already mapped for you. If you LitPro doesn't have the track mapped, you are able to create a map of your own with the assistance of a drone. And for those of you who don't have a drone, not to worry, it still tracks your laps and gives the same data without a visual reference to the exact track layout. I'm personally a big data guy so I definitely see the value in a tool like this and think many other pros and amateurs alike could benefit from the insight LitPro provides.
Shot Race Gear (Kyle Scott)
Yesterday, Shot Race Gear had a ride day at LACR in Palmdale, California. We originally had planned to go to Zaca Station, but rain—yes, rain in California—prevented us from going. LACR is a great track and I definitely wasn't too disappointed.
Shot Race Gear came over from Europe last year and are making a push in the U.S. Apparently the tracks aren't the only difference between European and U.S. motocross riders. One thing I learned yesterday during the presentation is that it is very common for Europeans to wear a chest protector under their jersey and kneepads instead of knee braces. This makes a big difference when you're designing gear. Think about the extra room required for a knee brace versus a kneepad in the pants and the extra bagginess required for a chest protector versus the slim fit that has become quite popular here. Because of these differences, Shot Race Gear is designing European and U.S. gear to make the gear fit better for you, the customer. Their gear has come a long way from last year and it the lightest on the market, which is something I noticed right away. It's not a cheap light either. I'm looking forward to putting some more motos with this stuff. They have three tier gear levels and their pant/jersey/glove combos: Devo Squad for 116.97, Contact Claw for 159.97, and Aerolite Magma for. 189.97. Check them out.
Head-Scratching Headline/s of the Week
"Parrot squawking saucy words exposes man's affair with his housemaid as wife marches the bird to the police station demanding justice" – DailyMail.com
"Woman's car accidentally stolen, returned with gas money and note" – CBS News
"Former Miss Finland says Donald Trump Groped Her" – Politico
Hey, Watch It!
THEN AND NOW - The Making Of - ft. Phil Smage
Cycling fans in southern California, be sure to check out the Spandex Stampede Road Fundo ride in Temecula in December. This is hosted by pro motocross racer-turned-cycling pro Jon Hornbeck and is attended by plenty of pro moto riders. "Horny" has been part of the powerful Hincapie Racing Team recently, and he is expanding his line of Spandex Stampede cycling gear (which is amazing) and his ride events. Check out www.spandexstampede.com for all the info.
That's all for this week. Thanks for reading Racerhead. See you at the races.