Tim Gajser Crowned King of Arnhem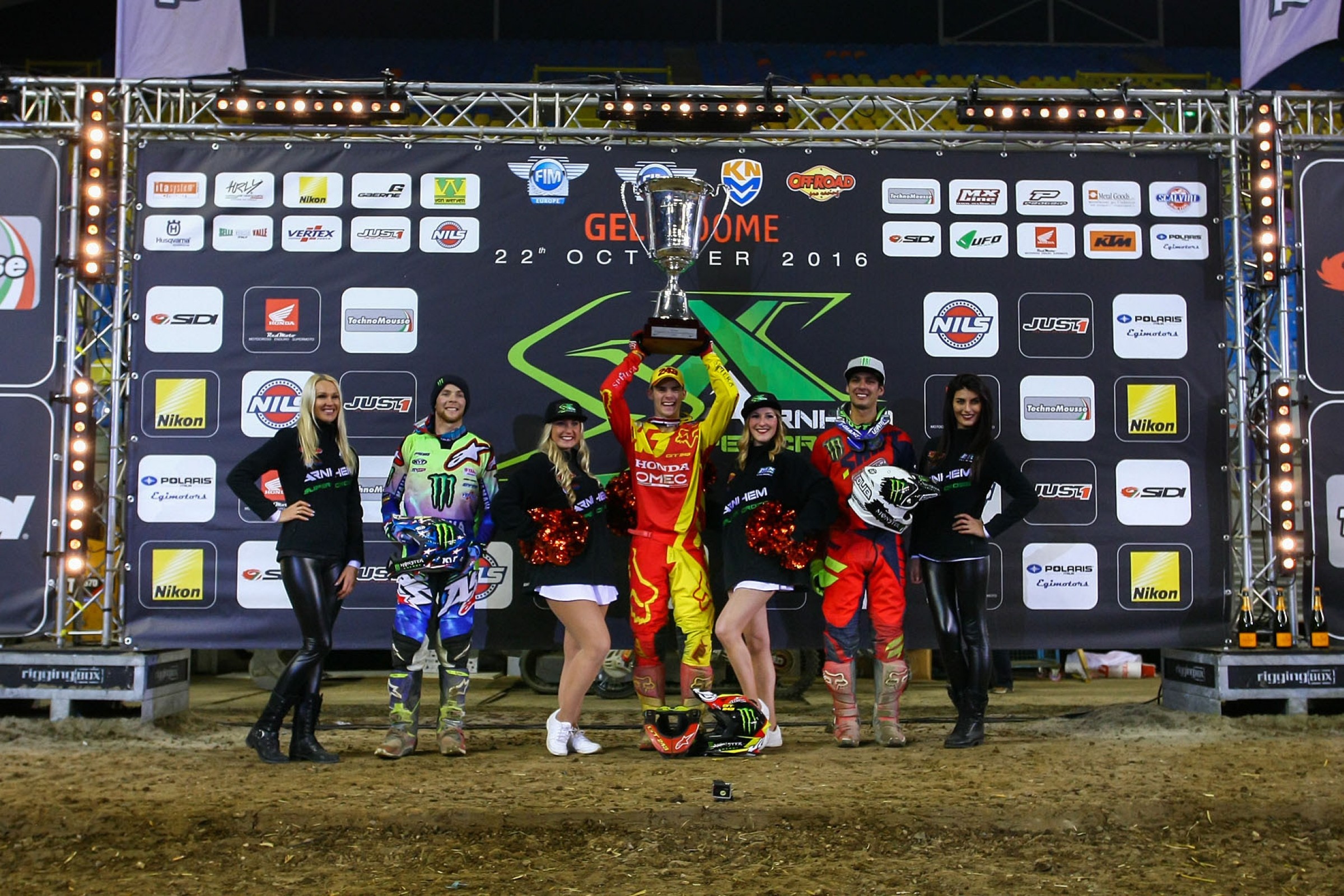 MXGP world champion Tim Gajser was crowned King of Arnhem yesterday after outlasting fellow world champion Romain Febvre in the Superfinal at the Gerledome in Holland. The event featured a two main event format for SX1 before a combined Superfinal (SX1 and SX2) to determine King of Arnhem.
250SX East Region Champion Malcolm Stewart led the American contingent after Jason Anderson and Justin Bogle had to withdraw from the initial lineup. Stewart crashed in the first SX1 main event and finished 16th. He rebounded to win the second main event and finished fifth overall.
Febvre took the SX1 overall behind consistent 1-2 scores, with Gajser and Thomas Ramette rounding out the podium.
King of Arnhem Superfinal

1. Tim Gajser
2. Romain Febvre
3. Cedric Soubeyras
4. Malcolm Stewart
5. Angelo Pellegrini
6. Matteo Bonini
7. Thomas Ramette
8. Morgan Lessiardo
9. Matt Bayliss
10 .Zonta Filippo
…
11. Ricky Renner
15. Steven Mages
SX1 Overall

1. Romain Febvre 1-2
2. Tim Gajser 2-7
3. Thomas Ramette 5-3
4. Cedric Souberyas 3-6
5. Malcolm Stewart 16-1
6. Angelo Pllegrini 4-5
7. Matteo Bonini 8-4
8. Jack Brunell 6-8
9. Matt Bayliss 10-9
10. Sullivan Jaulin 9-12
11. Nick Kouwenberg 12-10
12. Kevin Fors 11-11
13. Cole Martinez 7-16
14. Ricky Renner 13-13
15. Joan Cros 14-14
SX250 Overall
1. Morgan Lessiardo
2. Steven Mages
3. Kade Walker
4. Zonta Filippo
5. Luca Nijenhuis