Pomona, CA
Red Bull Straight Rhythm
Red Bull Straight Rhythm
Welcome to Racerhead—time to get those tinfoil hats on. Tomorrow could be a pivotal day in the timeline of motocross. The annual Red Bull Straight Rhythm event will take place at the Pomona Fairgrounds in Southern California. It's a fun event meant to give riders and fans something to look forward to during the off-season. This year it will have the added bonus of maybe looking even further ahead. Former AMA Supercross winner and Yamaha factory rider Josh Hill is going to line up in the Lites class (250) aboard the Alta Motors electric bike. No one really knows how he's going to do or how the bike will match up with modern 250cc four-strokes, but by the looks of the video Hill posted on Instagram, this is not like the electric bikes we're used to seeing!
For years, we've been waiting on something like this to come along, but past bikes haven't quite been up to the task of competing alongside gasoline-fueled dirt bikes. For some, electric bikes always seemed kind of silly and non-moto—dirt bikes aren't supposed to be silent, right? But at the same time, we're seeing electric cars go further and further in development, and as the batteries get more sophisticated and efficient, electric bikes are getting faster and going farther. Recently, Kurt Nicoll raced the Alta in an EnduroCross and won the Vet class. Now Hill may have a shot at doing something special at Red Bull Straight Rhythm.
The AMA has been working quietly (pardon the pun) on where to place electric bikes. When the National Promoters Group (NPG) met earlier this week in Pickerington, Ohio, an Alta sat charging in the front lobby of AMA headquarters. Some of the staff have been riding it at local tracks and are impressed with the performance, though it is a little heavy at 251 pounds. They told me the immediate power is awesome, which is why Straight Rhythm, with all of its jumps scattered down a half-mile stretch to check speed, seems to be the perfect setting for this bike in the hands of a very capable rider like Hill. (The AMA's Kevin Crowther told me the hardest part the guys were having was knowing how fast they were going due to the lack engine noise, and how it's weird to only hear the chain when you're riding alone—and the engines of other bikes when they are around them on the track.)
No matter how Hill does, remember that this is where we are in the evolution of electric bikes. Like four-strokes in the late nineties, they are only going to get better. And that puts the AMA in a tricky spot, just like they were back then when four-strokes came along and needed to have more cc to compete with with two-stroke 250cc motorcycles. After Doug Henry's breakthrough win at the 1997 Las Vegas Supercross finale on a prototype YZF400, 450cc seemed to many like the right number to place in the rulebook for four-strokes, and 250cc in the 125cc class. In hindsight, those numbers probably should have been a lot lower, like maybe 300cc and 150cc, but the AMA wanted to promote the development of these new models, and so did all of the OEMs.
Now, four-strokes dominate the sport, for better or worse. Two-strokes aren't dead, but they are so rare in pro motocross that a lone privateer on a 125cc two-stroke like Gared Steinke can become a crowd favorite for simply lining up on one. Two-strokes are still on the market, much less expensive and easier to work on that four-strokes. There's also a nostalgic feel to hearing or smelling the exhaust of a premix-burning screamer that will probably never go away.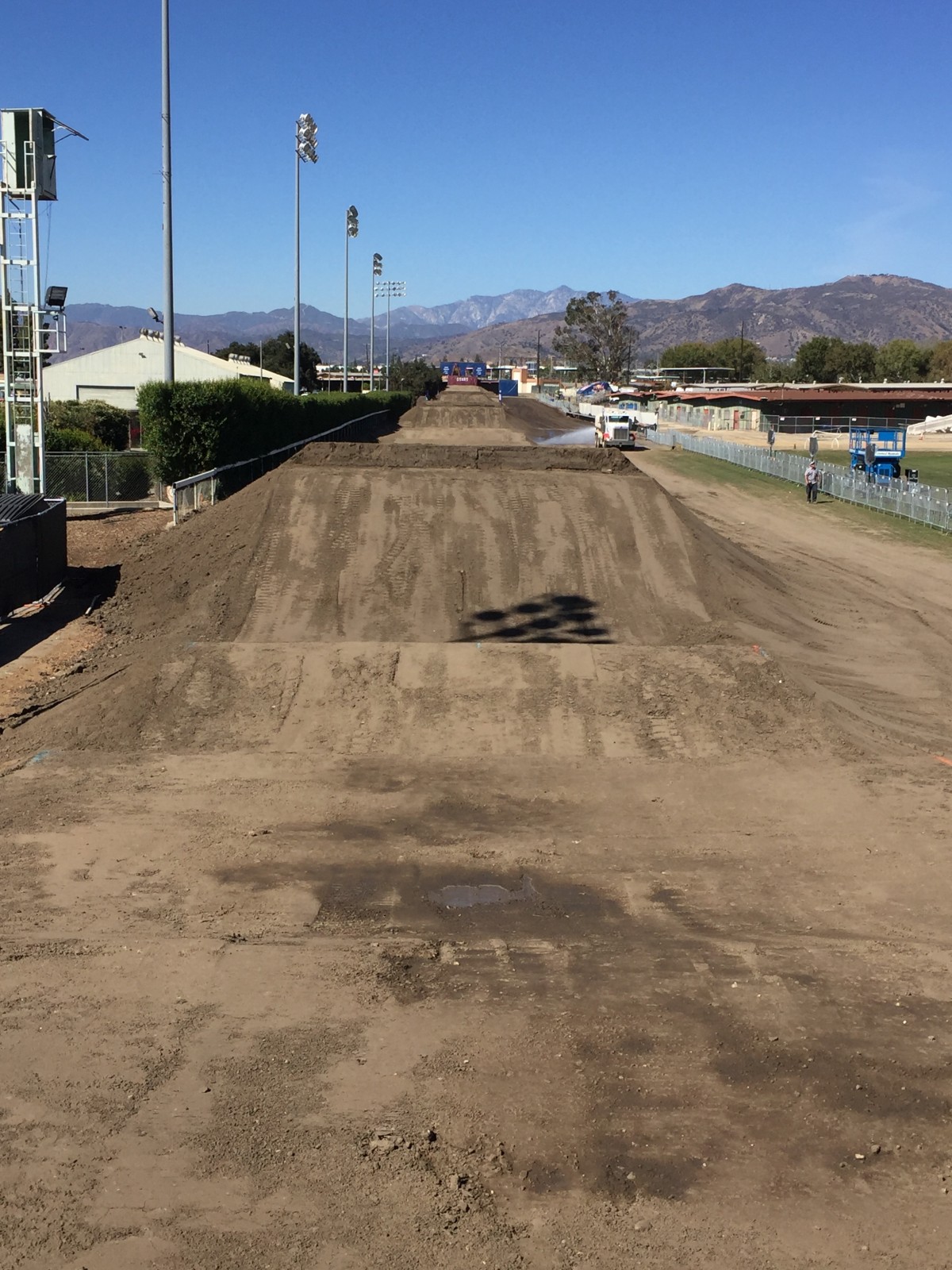 Now we have the developing market of electric bikes like Alta and the possibility that we may soon have another option to not only ride, but soon race too. The question is, where does something like this Alta fit into the current class structure, and how might it fit in a few years down the road? We'll know a little more after tomorrow. And I hope they get it right this time.
Pro Motocross Schedule Announced (Chase Stallo)
MX Sports Pro Racing (a sister company of Racer X) announced the 12-round Lucas Oil Pro Motocross schedule today, and for the fourth consecutive year, the championship will begin with a California double-header, with Hangtown in Sacramento, California, serving as the season opener. Glen Helen will host Round 2 before the series heads to Thunder Valley, then travels east for High Point and Tennessee. All 12 venues featured on the 2016 schedule will return for next year. Tickets will be on sale for all rounds on November 25, with early-purchase sale prices available.
The championship will once again feature exclusive broadcast coverage on NBC, NBCSN, MAVTV, and the NBC Sports App, with a full TV/streaming schedule to be announced at a later date.
All 12 rounds of the series will also feature an amateur day. The schedule will vary per track, with most taking place on Friday and Sunday, bookending the pro race on Saturday.
JGR SHUFFLE (Steve Matthes)
We had Jeremy Albrecht on the PulpMX Show on Monday to talk about Joe Gibbs Racing switching from Yamaha to Suzuki. As usual, J-Bone was way too honest about everything, but that makes for a good show. I asked him if factory Yamaha had not signed Cooper Webb, would they still be on blue, and after a pause, he said, "Probably." After running the Yamaha flag for a long time when there was no official Yamaha team, JGR definitely felt like they would be rewarded with being able to sign the hometown superstar who once got support from JGR on a Honda CRF150R.
JGR made a play for Webb, but sources tell me that Yamaha factory pushed the salary way over what JGR could afford with them also paying Justin Barcia big bucks. Anyway, the team is yellow now, and along with 450 help, they got two 250F rides from Suzuki also. It was like a two-for-one deal. Yoshimura will provide the motors for the two 250 riders, and in talking to J-Bone, he said one 250 rider from SX will stay to ride MX for the team. I'd bet on current rider Phil Nicoletti being one of the 250 riders, and I'd say the second one will be Matt Bisceglia. So Nicoletti will go to the 450 for MX while Matt stays down in 250s.
Weston Peick has had some good success on the Suzuki before, and Albrecht says Barcia is happier on the Suzuki, but when has anyone ever said "the new bike we switched to is no good?" So we'll wait and see.
Meanwhile, back at Suzuki, Yoshimura Suzuki team manager Mike Webb left a little while ago and is figuring out what he wants to do next year, in or out of the industry. Another shocker was Ray Tetherton (Buzzard) also being let go. Tetherton had been at Suzuki forever, since somewhere around the mid-eighties, I believe—maybe earlier, even. Webb himself was there early nineties, and both guys made the move from Suzuki to Yoshimura when Suzuki folded up its factory team. A couple of guys who have worn yellow for a long time no longer do. Strange days.
TRANSITIONS (DC)
When Swiss rider Arnaud Tonus came to America two years ago, hopes were high that the MX2 Grand Prix contender would be the next AMA Pro Motocross Champion churned out by Mitch Payton's Monster Energy/Pro Circuit Kawasaki team. Tonus is very fast, and he was slightly older than his competition and well-traveled, kind of like a Ben Townley or a Tyla Rattray. But no sooner did Tonus get here than bad luck started to unravel his results—also kind of like a Townley (who hailed from New Zealand) or a Rattray (South Africa). Arnaud fell into a vicious cycle of injuries and illness, including a broken wrist and an energy-sapping virus that he just couldn't seem to shake. Now Tonus is headed back to Europe to race the 2017 FIM World Championships on a Yamaha for the Wilvo team in the MXGP class. His AMA career ended without him ever really having a chance to show how fast he is. Here's hoping he gets some good momentum going in 2017 and maybe comes back to visit for another run on the AMA circuit.
Coincidentally, two young American riders are headed the other way. Tristan Charboneau and Ryan Surratt will race the EMX circuit for the France-based Bud Racing/Monster Energy Kawasaki team. Surratt hails from California and is the son of former AMA 125cc West Region Supercross Champion Willie Surratt, and he won the College (16-24) class at Loretta Lynn's in August.
Charboneau is from Washington and won two B classes at Loretta Lynn's back in 2014. He got some help from GEICO Honda this past summer in Lucas Oil Pro Motocross, but an injury robbed him of much of the summer. The Bud Kawasaki team will put both of them in the 250 West Region in Monster Energy AMA Supercross before heading back across the ocean for the start of the EMX Championships.
The Number: 13 (Andras Hegyi)
In winning the International Six Days Enduro Trophy for the first time last week, the United States became only the 13th country to win the ISDE title in 91 years (though Team USA did not compete in the early years of the event).
Germany is tied for the most wins in history, though there were different "kinds" of Germany. In the 1930s, Nazi Germany took three World Trophies, and in the Cold War era, both East and West Germany were very successful. But since the German reunification in 1990, Team Germany has not been able to win. In all, a German team has won 16 times.
Sharing the record for most wins at 16 is Great Britain. In the first four decades of the ISDE (which was actually the ISDT back then, as the T stood for Trials before it was changed to Enduro), Great Britain was the most successful squad, getting 16 trophies. But since 1953, the British have not been able to win again. This year, Great Britain placed a solid second to the Americans, a step closer to getting back in the winner's circle.
In the Cold War era, between 1945 and '91, the former Czechoslovakia was the most victorious national enduro squad at the ISDE. But after Eastern Bloc collapsed and Czechoslovakia dissolved into two parts, neither the Czech Republic nor Slovakia were able to win. But this year, Team Czech Republic got a surprising result, finishing third and recalling the past Czechoslovakian successes. All told, they've won 15 times.
Team Italy has become the top competitor since the end of seventies. Between 1979 and 2016, the Italians collected the most wins at the ISDE, getting 12 trophies.
Team France is presently the most victorious nation. Between 2008 and 2016, they took six wins. But this year Team France boycotted the ISDE because last year they were deprived of the trophy at a later date under protest. In all, France has eight trophies.
Among other winning nations are Finland (8), Sweden (5), Switzerland (3), and then Austria, the Netherlands, Poland, Australia, and now the USA, all with just one win.
This has been a historic year for American enduro and off-road riders. First, Colton Haaker became the first American world champion in an FIM Enduro series, winning the Superenduro world title, which is the indoor world championship. Then Team USA got its very first trophy at the ISDE, the oldest world championship ever. Team USA's members were the individual overall winner, Taylor Robert, plus Kailub Russell, Thad Duvall, and Layne Michael. Huge congratulations to them and all the staffs of Team USA.
Hey, Watch It!
Watch Honda HRC repair Roczen's CRF450R.
Random Notes
Earlier this week we posted our "First Americans" list in honor of Team USA winning the ISDE World Trophy for the first time last week in Spain. Gary Bailey was on the list for his breakthrough win against the Europeans in 1969 and sent these photos along that he recently found from that day.
---
In a terrible coincidence, shortly after Team USA finally won the World Trophy at the ISDE, a former member of the team passed away. Bill Hamilton, who rode as a member of Team USA on three different occasions in recent years and was the only man from Montana to ride in the ISDE, passed away after suffering a blood clot. Godspeed, Bill.
---
Everyone at Racer X Online wishes to send our best wishes to "Mad" Mike Jones after he suffered numerous injuries in a street-riding motorcycling accident.
---
Subscribe now for as low as $9.98 and get a free $20 RIDE365.com gift card!
Zip-up hoodies are now in stock! Check out the different colorways and the rest of our Fall '16 Collection at www.racerxbrand.com.
---
For the latest from Canada, check out DMX Frid'Eh Update #43.
---
Connor Fields, the BMX Gold Medalist from Rio De Janeiro, has been on the PulpMX Show a couple of times, and one of those times we gave away a signed red-white-and-blue Fly Racing F2 helmet. The winner of that contacted us and re-gifted it to us to put on eBay, with all proceeds going to R2R for Jessy Nelson. So it's a way cool piece for the man-cave signed by an American hero! Get it now!
That's all for right now. Thanks for reading Racerhead. See you at the races.