Ryan Sipes' ISDE Update: U.S. Holds onto Lead after Day 4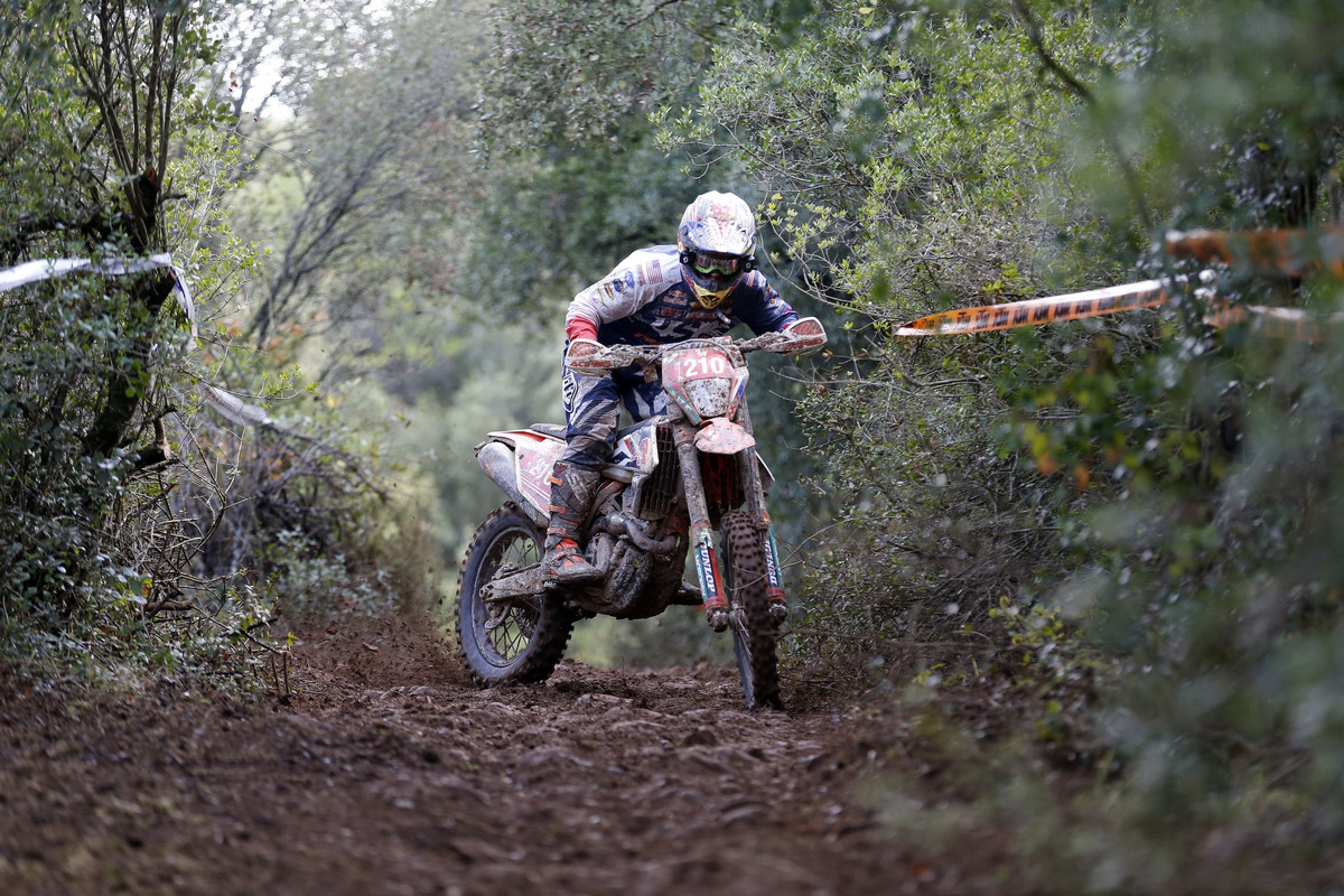 Last year's International Six-Days Enduro overall winner, Ryan Sipes, is out of the event this year with a broken arm. But he's checking in with us each day with reports from the race, which started on Tuesday in Spain.
By Ryan Sipes
Team USA has led the World Trophy division for the entirety of this year's International Six Days Enduro in Spain, and they continue that trend after Day 4 of competition. With tough conditions leading to a few mistakes, Italy gained some time on us, but our team of Taylor Robert, Kailub Russell, Thad Duvall, and Layne Michael still hold a one-minute and twenty-two second lead.
"It rained again last night, so the first time through the tests were slippery like yesterday, but it got better as the day went on," Duvall said. "I had a really good day going until the fourth and fifth tests. I fell in both and lost some time."
Even the smallest tip-over can cost you five-seconds, so they add up fast. The hardest thing for me last year was finding the balance between being careful enough to not make mistakes, but still fast enough to win the tests. It's a fine line—we all want to give 110 percent and go as fast as we can—but sometimes slowing down is better in the long run. And sometimes, you make mistakes no matter what level of effort you're putting in. It can be frustrating, but when you find the right balance it leads to good things.
Taylor Robert also had one big mistake that cost him some time, but still ended up being the second fastest rider for the day. "Today was tough. It rained a lot last night and made the tests even more slick than Day 3, which I didn't think was possible," he said. "I lost 17-seconds in the first test but was able to gain most of it back over the course of the day."
Team USA has never won the Trophy division in the 91 years of ISDE's history, and it would be a huge deal if they could this year. They are definitely on the right path. But there's also an award they give to the fastest rider of the week; the list of guys to win it is short and star-studded. Taylor has the best time right now, and although winning as a team is more important, I think he will be extremely happy to add an Individual Overall Winner award to his trophy case.
The Junior team of Stew Baylor, Grant Baylor, and Trevor Bollinger had an awesome day, winning their division for the day by a minute and a half over Sweden. Their deficit is now only 24-seconds with two days to go.
"I had a rough day and am sore, but as a team we rode really well," Stew Baylor said. "We are gaining on Sweden and if we can stay smart and fast tomorrow, we have a good shot at the win."
I'm pumped for these guys. They had a tough first few days but are really riding well now. Stew and Grant were on the winning Junior team two years ago in Argentina, but some bad luck last year has given all the guys extra motivation to get that title back. After their great rides today, it is within striking distance.
Four days down, two to go. At this point the end is in sight, so mentally you almost get fired up again for a push to the finish. "Only two more? Let's do this." Our guys are still going strong and have the speed, fitness, and mental fortitude to get the job done. We're cheering for ya boys. Keep up the good work!