Justin Brayton, Wil Hahn Finish 1-2 at Round 2 of Australian Supercross Championship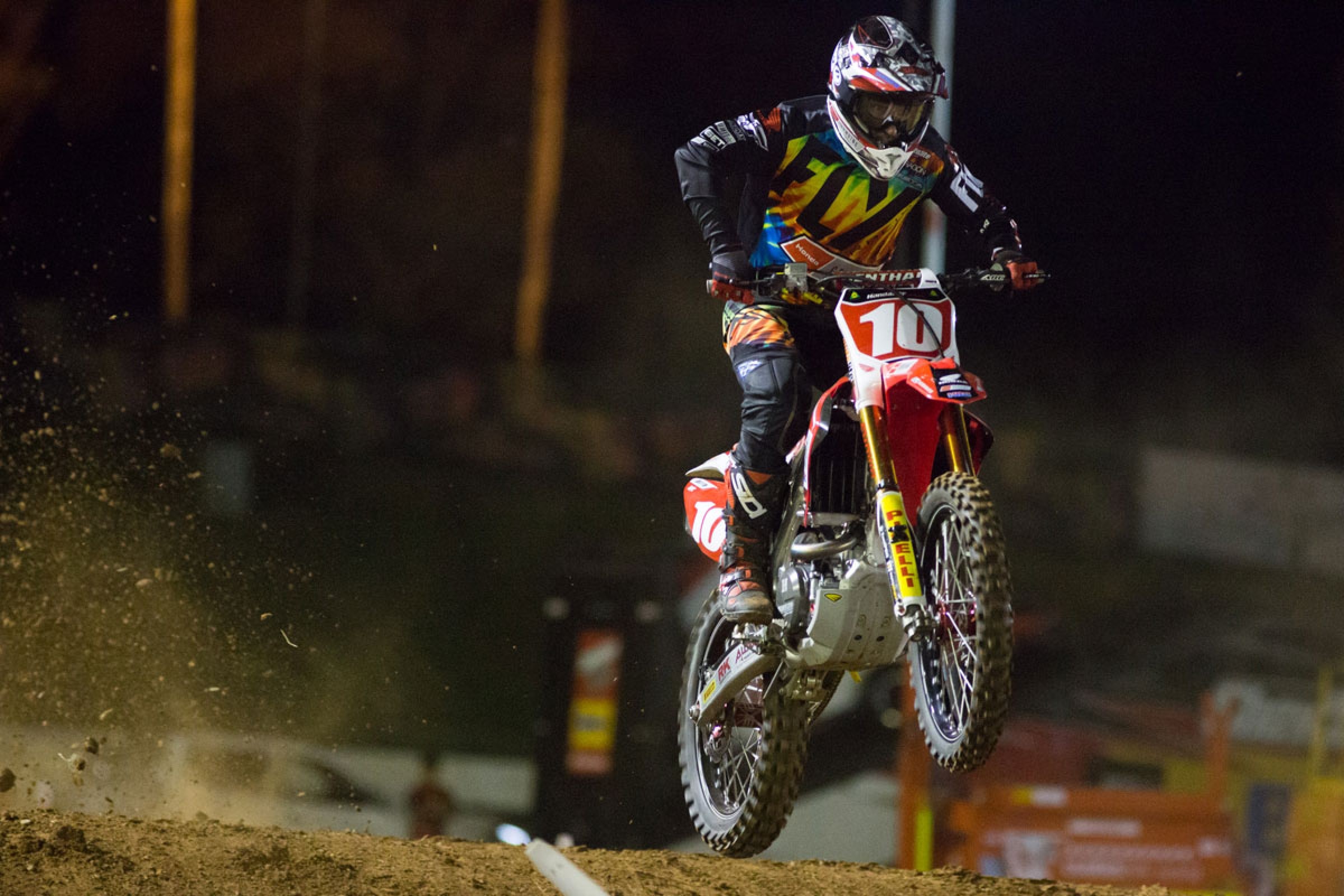 American rider, Justin Brayton, captured a second consecutive win to begin the 2016 Australian Supercross Championship Friday at Toowoomba Showgrounds.
Brayton won the 20-lap main event over fellow American Wil Hahn. American riders made up three of the top-four, with Kyle Peters finishing fourth behind Australian Dean Ferris.
"Stoked to get the win tonight!! Huge thanks to everyone at American Honda, and The Honda Genuine team here in Aus for making this all possible," Brayton wrote on Instagram after the main event.
Popular American privateer Adam Enticknap finished seventh overall.
It was a tough night for American riders Gavin Faith and Jimmy Decotis in the SX2 (250) class. Decotis, the defending SX2 champion, crashed hard in his heat race and did not line up for the main event.
Decotis wrote on Instagram that he's "sore and banged up" but lucky to avoid further injury.
Faith, a two-time champion of the class, was leading the main event before crashing heavily on the opening lap. He finished 20th.
U.S.-based Australian riders Jackson Richardson and Hayden Mellross finished 1-2, with Richardson picking up his first win of the season. Australian privateer Geran Stapleton rounded out the podium.
SX1 Overall
1. Justin Brayton
2. WIl Hahn
3. Dean Ferris
4. Kyle Peters
5. Jay Marmont
6. Kade Mosig
7. Adam Enticknap
8. Jay Wilson
9. Luke Wilson
10. Lawson Bopping
11. Dan Reardon
12. Boyd Hocking
13. Nicholas Brennan
14. Damien Harrison
15. Nathan Crawford
16. Barry Surawski
17. Jesse Dobson
DNF
Todd Waters
Joel Newton
SX2 Overall
1. Jackson Richardson
2. Hayden Mellross
3. Geran Stapleton
4. Wade Hunter
5. Nathan Crawford
6. Dylan Wills
7. Wilson Todd
8. Jordan Hill
9. Lewis Woods
10. Jesse Madden
11. Kyle Webster
12. Tomas Ravenhorst
13. Aaron Tanti
14. Cooper Pozniak
15. Joel Wightman
16. Jamie Harvey
17. Connor Tierney
18. James Brown
19. Brody Cassidy
20. Gavin Faith