Ryan Sipes' ISDE Update: USA Stretches Lead on Day 2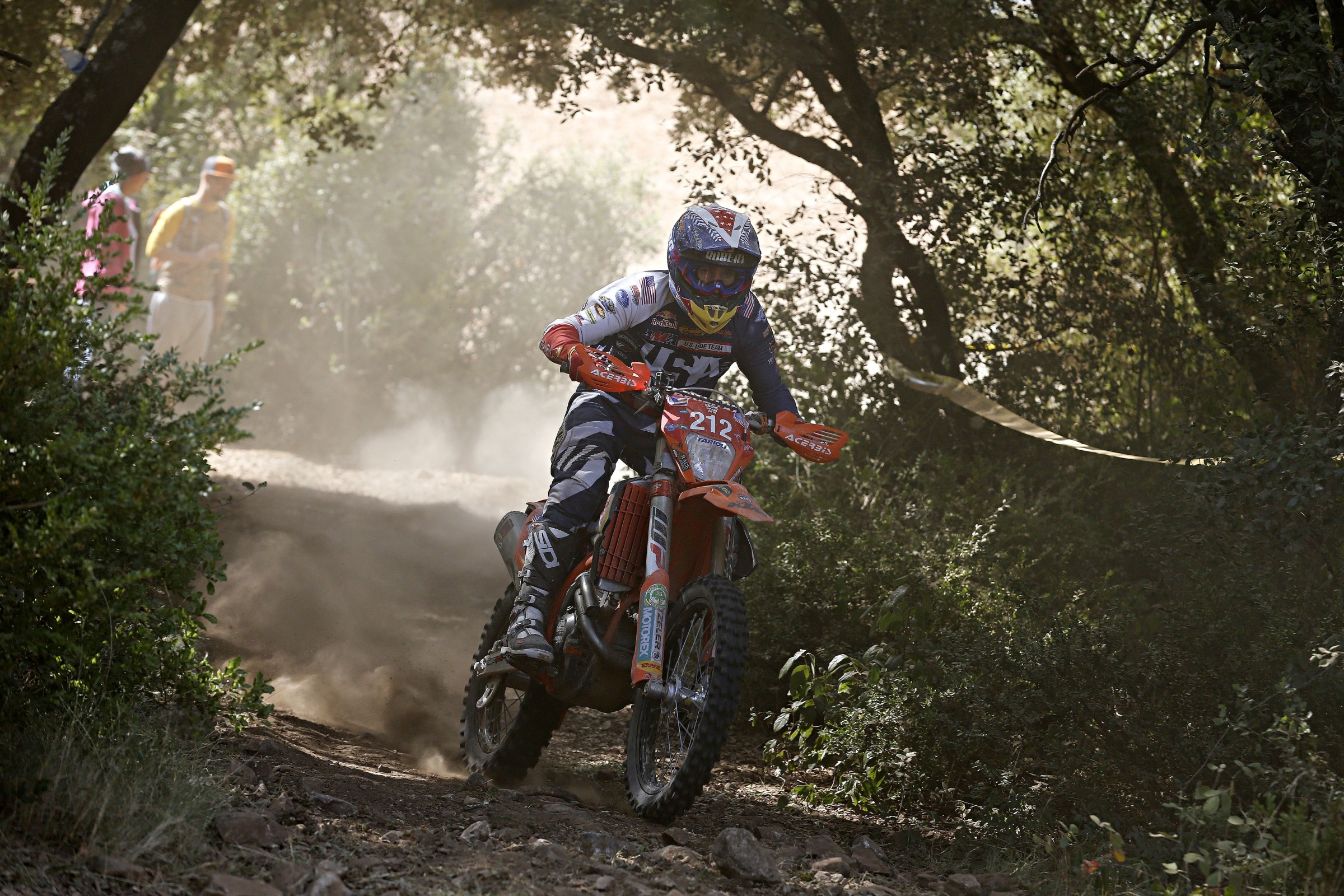 Last year's International Six-Days Enduro overall winner, Ryan Sipes, is out of the event this year with a broken arm. But he's checking in with us each day with reports from the race, which started on Tuesday in Spain.
By Ryan Sipes
Day 2 of ISDE 2016 is in the books, and it was another good one! The World Trophy team rode excellent and extended their lead over Italy to 32 seconds. Individually, Taylor Robert is leading the overall with one test win, Kailub Russell is 5th, Thad Duvall 19th, and Layne Michael 25th overall.
"We ran the same tests and transfer sections today that we ran on Day 1, so everything was really, really rough, but today I rode a lot better," said Michael. "I actually backed off just a bit in the tests to limit my mistakes, which ended up being faster in the end. I'm really looking forward to some new terrain tomorrow."
Last year in Slovakia was the same way. We ran the same exact course the first two days, which left it rougher than any motocross or GNCC ever thought about being! There are 600 riders hitting the same course twice per day, and it gets gnarly. I'm encouraged by the fact that, so far, our team has gotten better when the tracks are rougher. Motocross guys know what I mean when I say that a smooth track doesn't separate anyone, and I'm happy our guys are stepping up to the challenge of tough courses.
Thad has had two really good days, but it wasn't all smooth sailing. "Halfway through Day 1, I damaged the rear brake and had to change the whole system in about five minutes, which was stressful! The team was really good though, making sure I had the right tools and the right parts to get it switched in time. Then today, I had to change a clutch in just a few minutes! My 300 two-stroke is a handful, and finding traction has been tough on this dry, slick terrain. But we got everything handled and I'm feeling good for tomorrow."
As Weege wrote earlier in the week, the rider must do all maintenance and repairs on the bike at ISDE, within the time limit, which is at most 15 minutes. This means both tires every day, engine oil, air filter, and sometimes brake and clutch systems! If it takes you too long to get it done, you incur a time penalty. Kudos to Thad for staying calm and getting the bike fixed. Things like this can be a game changer for the team.
Team manager Antti Kallonen was pleased with today. "Taylor and Kailub rode great, although Kailub had a few mistakes/crashes that cost valuable time. Thad rode solid and Layne really picked it up today and is doing well. And our Junior team passed into third overall, which is good. We lost another 10 seconds to Sweden and Spain, but the weather is changing; its raining now and tomorrow is a new day. I think this will be good for our Junior team and hopefully we can reel in Spain, who is only 24 seconds ahead of us. Sweden is 39 seconds ahead of us but still within reach."
Stew Baylor once again had an amazing day, and currently sits 13th overall and third in Junior classification. His teammate, and brother, Grant is 31st overall, and Trevor Bollinger is 35th.
"It was still super dry today, and really, really rough! But, it started to rain just as we finished up today, so I'm sure tomorrow will be slick and technical," said Stew Baylor. "Today was better since we weren't so far back and catching guys in tests, but the dust was still brutal. I'm pumped we get to ride some new tests and transfers tomorrow. These are beat!"
Stew is riding really good right now. I'm not surprised, because when he's feeling it, he's as good as anyone. But to see him really bring it this week and limit his mistakes is awesome. If they keep riding like they did today, they have a really good shot at being in the hunt for the lead.
ISDE is six long days of tough racing. Day 2 is when you're starting to feel the fatigue set in a little. "My back is sore, my hands hurt, my butt is raw." Then you realize, I've got four more days of this??? It can be daunting to think about in those terms, but if you can compartmentalize the race and break it down day by day, you can keep your confidence and energy up and not see your performance drop-off. It was a struggle for me last year trying to stay focused on the present, and not let the tough days ahead or mistakes of days past creep in. It's a game you play with yourself. "How tough am I?" Here's to hoping our guys are tougher than the rest. I believe they are.