The Format
Think Motocross of Nations, only with manufacturers replacing countries. The six manufacturers (KTM, Honda, Husqvarna, Yamaha, Kawasaki, and Suzuki) will have a team of four riders—three main riders and one Joker. The Joker rider can be subbed into the racing, but, don't expect it to come into play, as only KTM (Jorge Prado) and Kawasaki (Filip Neugebauer) have an official Joker listed. Yamaha had a Joker rider, but now Justin Barcia and Benoit Paturel will not race, so they're down to three. That's all you need, anyway. Each team will have three members racing in three main events (think Monster Energy Cup) with the lowest team score winning. Each team will also have a captain that will compete in a two-lap Superpole race. This will be important, as the team whose rider is fastest in Superpole will have the first, eighth, and fifteenth gate picks, the second will have 2-9-16, and so on.
The Track
Since the track has yet to be completed as of this writing, it's hard to tell exactly how it will develop, but we'll give it a shot. The track more resembles Bercy (now Lille) than it does Anaheim. That was the expectation, though, as most of the European riders aren't as familiar with standard supercross. According to the track map, there will be no whoops and there doesn't appear to be anything too technical (at least by what U.S.-based riders like Dungey, Musquin, Weimer, and Osborne have dealt with). Again, until the track actually gets some play, it will be impossible to tell how it will form, but here are a couple previews you can check out in the meantime.
The Players
We'll delve more into the major storylines, but first let's take a look at who will be competing this weekend.
Honda: Tim Gajser, Gautier Paulin, Evgeny Bobryshev
Husqvarna: Zach Osborne, Thomas Covington, Christophe Charlier
Kawasaki: Jordi Tixier, Tommy Searle, Vsevolod Brylyakov, Filip Neugebauer (Joker)
KTM: Ryan Dungey, Jeffrey Herlings, Marvin Musquin, Jorge Prado (Joker)
Suzuki: Jake Weimer, Jeremy Seewer, Arminas Jasikonis
Yamaha: Romain Febvre, Yannis Irsuti, Brent Van doninck
Dungey Returns
He's been missing, but we're about to see a lot of the 2016 Monster Energy Supercross Champion in the next three weeks. Dungey will return to action this weekend, his first race since the Thunder Valley National. Out since early June due to a cracked vertebra, Dungey has also been confirmed for the Monster Energy Cup on October 15 and Red Bull Straight Rhythm the following weekend. Dungey is the most accomplished supercross rider in this weekend's pack. How will he do in his return to racing?
Herlings Rides SX
One of the determining factors in Jeffrey Herlings decision to stay in Europe has been supercross. "Supercross is obviously a really big thing in the U.S., and if you want to do well in the U.S., you have to do well in supercross. I went to the States a couple of times to practice supercross, and I went down a couple of times, and I really got homesick, too, after being there for like four weeks," he recently told Transworld Motocross. We'll see our first glimpse of the three-time world champion in supercross competition this weekend, albeit a tamed down version. Herlings has been posting videos of his SX-prep on social media this week and he looks to be adjusting quite nicely. Let's see how he'll fare this weekend.
Gajser Preview
While the Monster Energy Cup next weekend will cast a broader spotlight on the new MXGP World Champion, this weekend should serve as a good barometer on Gajser's level of fitness after missing the Motocross of Nations. Gajser has been vocal about an eventual move to the United States to race full-time (including supercross), with many pointing to that happening in 2018. The industry has yet to see Gajser's skill level on a supercross track and while this weekend, and the upcoming Monster Energy Cup, aren't full-on supercrosses like Anaheim, it will be interesting to see how Gajser adjusts.
Osborne Moves Up
Zach Osborne is moving up to the 450 this weekend to lead a Husqvarna team that has undergone significant lineup changes. In the initial announcement, both Jason Anderson and Max Nagl were set to represent the brand, but due to injuries sustained at the Motocross of Nations they've been replaced by Thomas Covington and Christophe Charlier. Osborne has the most supercross experience of the trio, and is expected to be the leader of the team. How will he do in his transition to the bigger bike?
A KTM Challenge?
I've never seen a poll as lopsided as the one we proposed earlier this week. I think we could have asked: "Do you want a free dirt bike?" and gotten less of a majority vote. At the time of writing this, a whopping 93.6 percent of you voted that KTM would take the overall this weekend. But look at those team lists above and it's really, really hard to argue that point. They have two very accomplished supercross riders and a three-time MX2 world champion. If anyone is going to challenge the KTM team, it will probably be the Honda team of Gajser, Paulin, and Russian Bob who got the second-most votes in our survey, at three percent. Could 94 percent of our readers be wrong?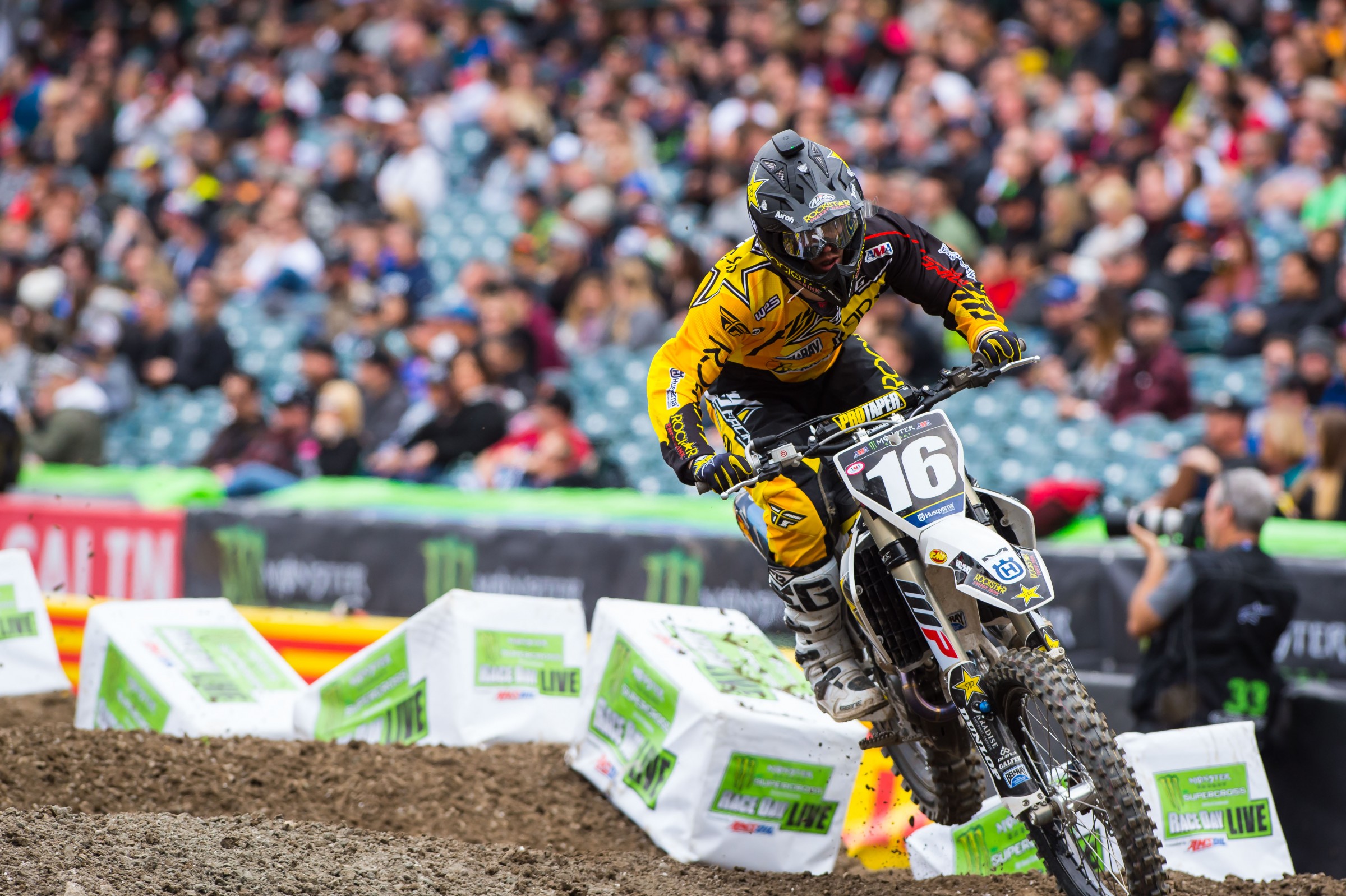 Paulin
Remember when Gautier Paulin rode for Star Racing in the U.S.? It did happen, promise. When Star was shuffling riders in and out, Paulin rode for the team briefly in 2010, contesting three rounds of the 250SX West Region. He was good, putting in 15-12-6 finishes during his time in the States. Aside from the U.S.-based riders, most would agree that Paulin is probably the next best in SX. Can he help Honda pull a major upset this weekend?
Weimer Ride
The former Lites SX champion will lead a team that doesn't have much SX experience. Paired with Jeremy Seewer and Arminas Jasikonis, Jake will need to have a strong outing if Suzuki has a chance of pulling out a win. Weimer hasn't raced since the Las Vegas Supercross after undergoing surgery to have a plate removed from his arm, but he's been back on the bike for a while, so don't expect much rust.