Maggiora Park
Maggiora

,

Italy
Motocross of Nations
Motocross of Nations
The Swiss have been on the rise in the global motocross scene lately, which puts a greater spotlight on them at the annual Motocross of Nations. Once just a top 10 team, the squad has the talent to contend for a podium, and that's generating a lot more buzz these days.
But the talent alone doesn't mean everything. For Team Switzerland to succeed, it takes organization, funding and planning. We talked to the team manager to find out exactly how that works.
Looking around the paddock at Maggiora, there is a real disparity among the 38 countries/teams that arrived in Italy to take part in the 70th Motocross of Nations. Efforts from Eastern Europe are cobbled together in the living area while champions like Team France have their own plush hospitality unit. Traditionally strong motocross nations are well versed in organization, logistics and support for this annual event but other aspirants like Team San Marino or Team Israel, Team Hungary or Team Greece have pushed hard to forge a trio of athletes and make it to the confines of the compact but superb racing facility north of Milan.
Carrying a curious story is Team Switzerland. Thanks to the presence of Valentin Guillod (MX2 Grand Prix winner in 2015 and decent rookie year in MXGP this term), Jeremy Seewer (MX2 World Championship runner-up) and Monster Energy/Pro Circuit Kawasaki's Arnaud Tonus, the Swiss have evolved from ritual top 10 fillers over the past decade to the position of genuine podium contenders. There is a buzz around the team's truck in the lower Maggiora paddock that is something of a fresh sensation for the red-and-white flag bearers; a vibe of hype and expectation.
We caught up with team manager Diego Clement—who heads up motorsport marketing for Scott Sports in his day job—to ask about the effort to ensure the Swiss make the entry list and finally (possibly) grasp some overdue fruit from the project.
[Ed Note: This interview was conducted prior to Sunday's final race. Switzerland would finish sixth overall.]
Racer X: So how long is it now for you putting Team Switzerland together?
Diego Clement: This is my eighth year and I did it for the first time in 2009 at Franciacorta together with [former GP racer] Marc Ristori. We did it for three years and since then by myself.
How do you start to make a team happen?
Well, I started because the Federation never really moved for it and I thought "How is that possible? It's the biggest race of the year we have to do something." So I started step-by-step and first you have to confirm the riders and in Switzerland we don't have that many to choose from; it's not like in France where it is more complicated. Once you have the riders then you have to organize the helmets, riding gear, and team wear and then also work a lot with the teams to make sure they can get to the event and be set-up. For the second year in a row we are putting on hospitality. Then there are schemes like a Fans Package…
What's that?
A cap, team t-shirt, entry to the hospitality for the whole weekend, and a ticket for the race. It is 280 Swiss francs and we limit it to 50 people because we want to create a nice atmosphere and not just pack the place out. So I think it gives some value for the money as it involves food, lunch, dinner. Moving on, then we also look for and confirm sponsors because the Federation cannot pay for everything.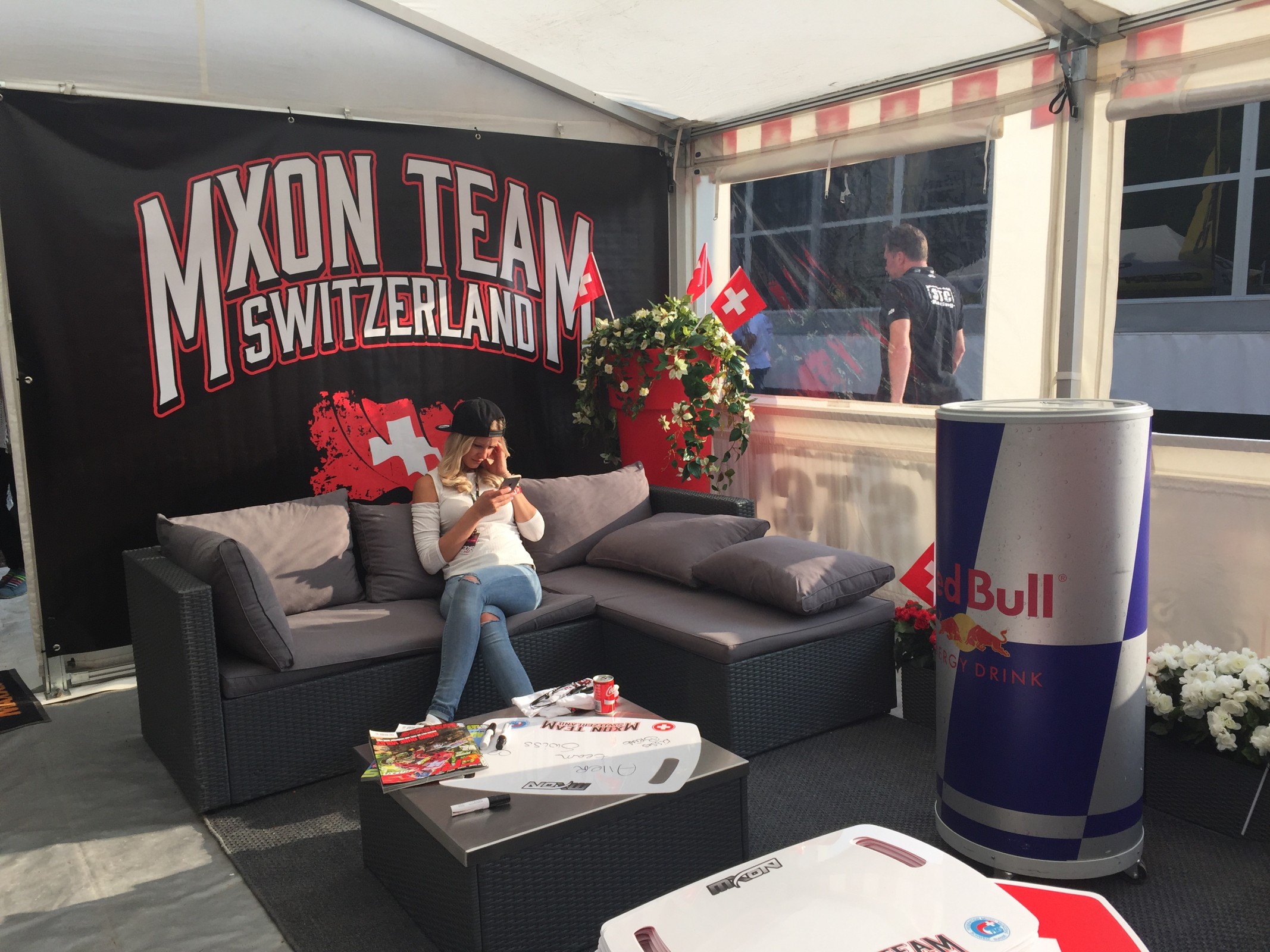 What does the Federation contribute?
They bring about a third of the budget. Then they help with the paperwork and admin but otherwise I do it by myself with some help from others for things like the banners and presentation.
What is a ballpark figure for creating a team and coming to 'Nations?
A budget for us is around 30,000 euros [31,000 dollars].
If you have a rider like Arnaud, who needs to come from Southern California, how does that happen?
This year was a bit complicated but typically we talk with the rider who then makes a request to the team. In Arnaud's case we were able to rely on some support from KRT [Kawasaki Racing Team] who gave us a KX450F. Jon Primo, Arnaud's mechanic, flew over with suspension and other parts and the bike was built here. Arnaud's helmet was painted in the U.S. instead of Europe and little things like that involves coordination and organization. Race stickers also. The riders help me and I help them but we have been friends since we were 15 and racing together so I think that is a bit unusual for a typical team. Instead of there being a team manager and three riders we are like a bunch of friends. We have a nice atmosphere here.
"We try to please everyone as much as possible and have an open door policy here because we know that 10 years ago it was not like that at all. So we want to enjoy this situation and hopefully extend it for a few years."
Has it ever become political for you then? The Federation maybe saying they want a particular rider or sponsor?
Never. We don't have that problem and I'm happy about that.
This year we saw the first Grand Prix in Switzerland since 2001 and it was a hit with a lot of people. So what does that mean for finding sponsors?
Well, we have more or less the same sponsors every year but there are more and more people coming because they see what we are doing and they want to be part of it. It might be a little sum but everything helps. The Swiss GP was a success and importantly we have three top riders so it has been getting better to organize the Nations team.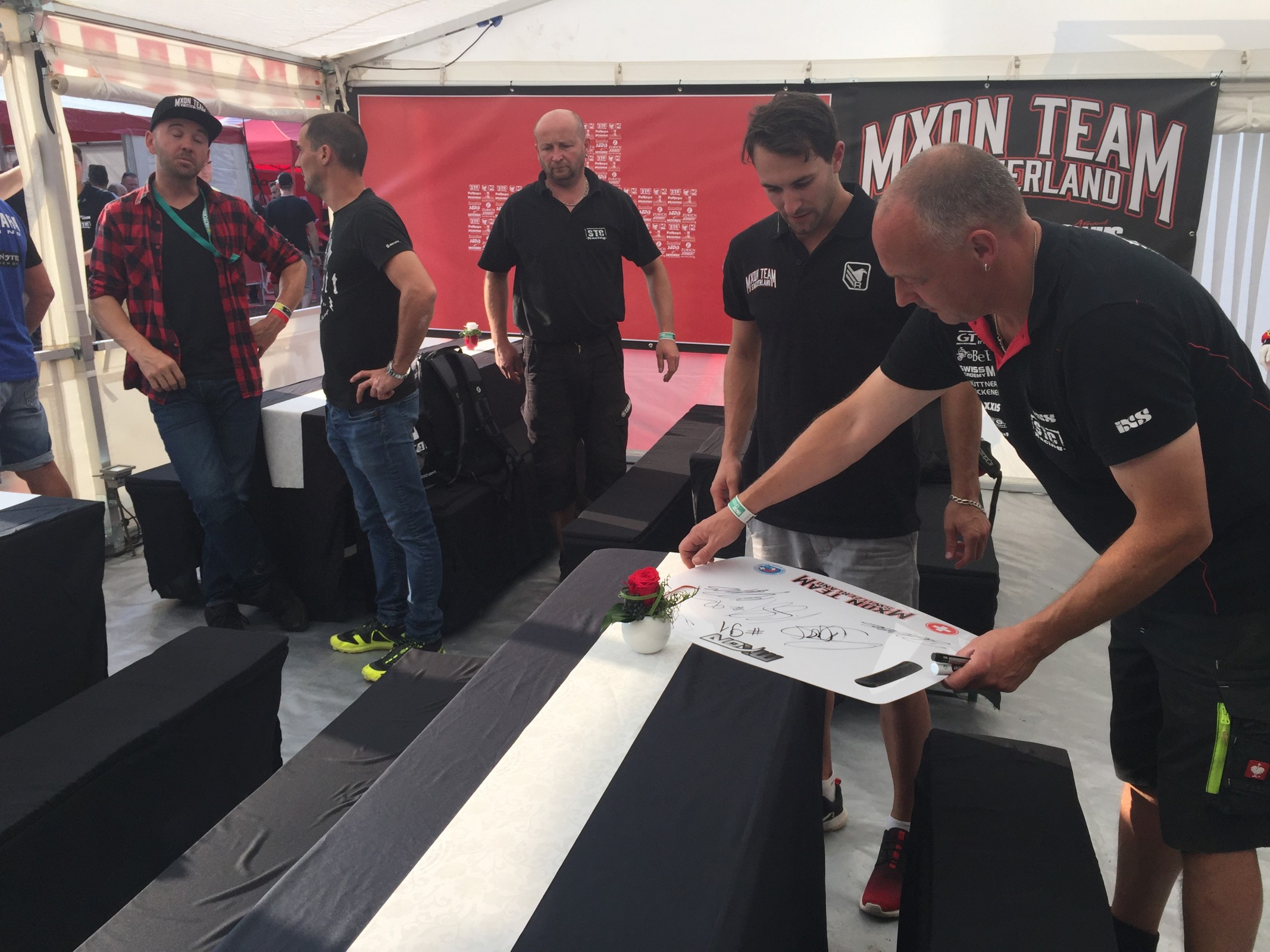 Having riders must be such a key point because 10 years ago the Swiss might be lucky to get in the top 10, now you are being talked of as podium contenders. There is also a good level of presentation here.
That helps a lot, and we are all motivated because we know the results will help. There are more and more fans with more interest. We find we are doing more media work now at this event. We try to please everyone as much as possible and have an open door policy here because we know that 10 years ago it was not like that at all. So we want to enjoy this situation and hopefully extend it for a few years.
There are different levels of presentation and unity of teams here. To present a professional image is something important for you?
Absolutely. It is important that we have the same look— the riders and the team staff—because we are representing our country. We want some consistency and want the fans to be proud of the team, so the image helps I believe. We have five people running the hospitality, myself and an assistant and then a group of friends that also run around. So overall there are 10 of us and we are all volunteers. I do this from 6:00 a.m.-7:00 a.m. and then 5:00 p.m. to midnight because I also have the day job. But when you see the end result and everybody is happy to be here at the race then you are pleased to make that effort.
1